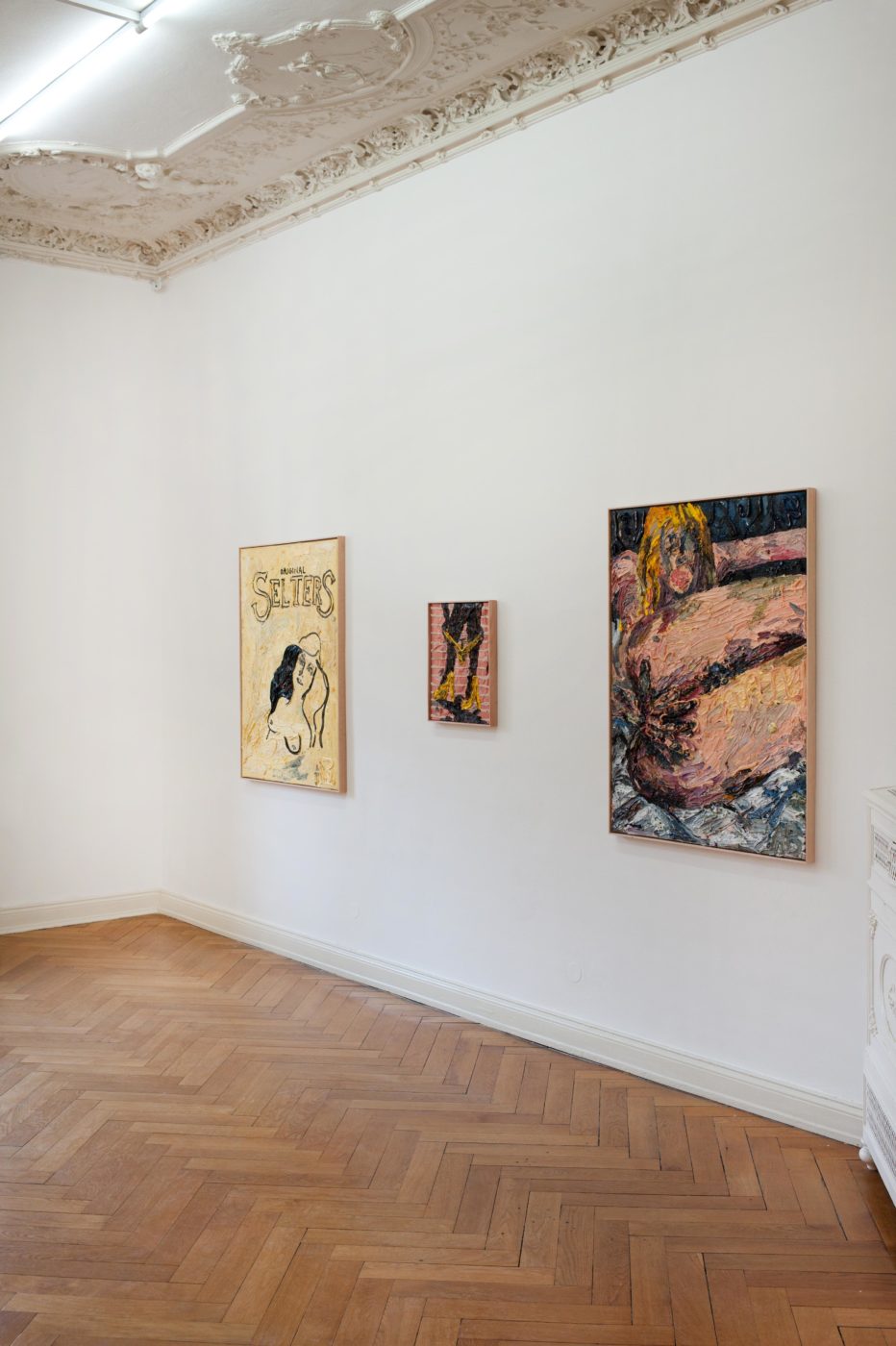 Installation view
Alex Becerra
Yes Yes Yes & Pink Flamingo
Apr 29 to Jun 4,2016
Tattooing from Drawing*
April 29, 2016
20 h – late
[Deutscher Text nachstehend]
We are proud to present Yes Yes Yes & Pink Flamingo, Alex Becerra's first exhibition with Weiss Berlin. This new body of works comprises paintings, airbrush drawings, and sculptural works. His viciously grotesque universe clearly locates itself in the history of European, and yes, German, painting. Alex Becerra's picture planes are heavy with unbounded, massy forms of oil paint. Working in traditional figurative genres, his still lifes, portraits, and nudes have been developed from an incessant practice of drawing in various media including graphite, ink, ballpoint pen, or airbrush. The works' depth and weight has been built up in multiple layers by a process of an adventurous and determined search for the right palette, the right composition, the right line. Paint has been thoughtfully applied and reworked; the airbrush gun was operated with masterly tenderness and expertise.
In its intensification of modernist tropes the group of paintings in Yes Yes Yes & Pink Flamingo brings expressive gesture and emphatic materiality to the discipline of painting along with references to macho clichés and occasional obscenities. Beer bottle sculptures are scattered about illustrations of everyday objects, female genitalia, auto repair shops, and guns. At the same time, Becerra's work cannot help but display sensitivity, vulnerability, intimacy, and desire. Portrayed in a lusciously green forest, Fletch, Becerra's white German shepherd, keeps the shady nocturnal figures depicted in the other works company.
Alex Becerra (*1989 in Piru, California) lives and works in Los Angeles. His work has been shown at ltd los angeles; Artist Curated Projects, Los Angeles and at the Hammer Museum, Los Angeles and has been covered in the Los Angeles Times, Frieze, Zoo Magazine, and Modern Painters. Alex Becerra plays in the band Los Tres Pericos and will be giving tattoos based on his drawings on the opening weekend of the show.
*In context of the exhibition, Alex Becerra will offer black and white tattoos based on his drawings. For more information or appointments, please contact Weiss Berlin. Both walk-ins and appointments are welcome.
___
Wir freuen uns, die Ausstellung Yes Yes Yes & Pink Flamingo mit Werken des Künstlers Alex Becerra zu präsentieren. Diese neue Werkgruppe umfaßt Gemälde, Zeichnungen und Kleinskulpturen. Becerras lasterhaft groteske Werke sind klar in der Geschichte der europäischen, ja deutschen, Malereitradition verankert. Die Bildflächen der Gemälde, deren Sujets aus klassischen figurative Genres stammen, sind schwer von scheinbar grenzenlosen, pastosen Massen von Ölfarbe. Die Stillleben, Portraits und Akte entstehen gleichzeitig aus einer unaufhörlichen Auseinandersetzung mit dem Medium der Zeichnung in Graphit, Tusche, Kreide, oder Kugelschreiber. Gewicht und Stärke werden in Becerras Arbeiten in einem Prozess des abenteuerlichen Suchens nach der richtigen Farbpalette, der richtigen Komposition, der richtigen Linie aufgebaut. Farbe wird bedacht aufgebracht und bearbeitet, die Luftdruckpistole wird mit Zartheit und Präzision bedient.
In ihrer formalen und inhaltlichen Intensivierung moderner Ausdrucksformen verbinden die Werke der Ausstellung expressiven Gestus und emphatische Materialität mit machohaften Klischees und gelegentlicher Obszönität. Bierflaschenskulpturen stehen inmitten der Illustrationen von Alltagsgegenständen, weiblicher Genitalien, Szenen aus der Autowerkstatt und Schusswaffen. Dennoch, die Arbeiten Alex Becerras offenbaren Sensibilität, Verletzlichkeit, Intimität und Verlangen. Inmitten eines in sattem grün ausgearbeiteten Ölfarbenwaldes, leistet Fletch, der weisse Schäferhund des Künstlers, zwielichtigen Gestalten Gesellschaft.
Alex Becerra (*1989 Piru, Kalifornien) lebt und arbeitet in Los Angeles. Seine Werke wurden unter anderem gezeigt bei ltd los angeles und Artist Curated Projects und am Hammer Museum, Los Angeles. Über Becerras Werk wurde berichtet unter anderem in der Los Angeles Times, Frieze, Zoo Magazine, und Modern Painters. Alex Becerra spielt in der Band Los Tres Pericos und wird am Wochenende der Eröffnung Tätowierungen nach seinen Zeichnungen anbieten.
*Anlässlich der Ausstellung bietet Alex Becerra kostenlose Schwarz-Weiß-Tattoos an, die auf seinen Zeichnungen basieren. Es ist sowohl mit als auch ohne Voranmeldung möglich, sich tätowieren zu lassen. Für weitere Informationen stehen wir unter info@weissberlin.com zur Verfügung.
Hoolah Hoolah Dance in Berlin, 2016 Oil on canvas 122 x 92 cm 48 x 36 in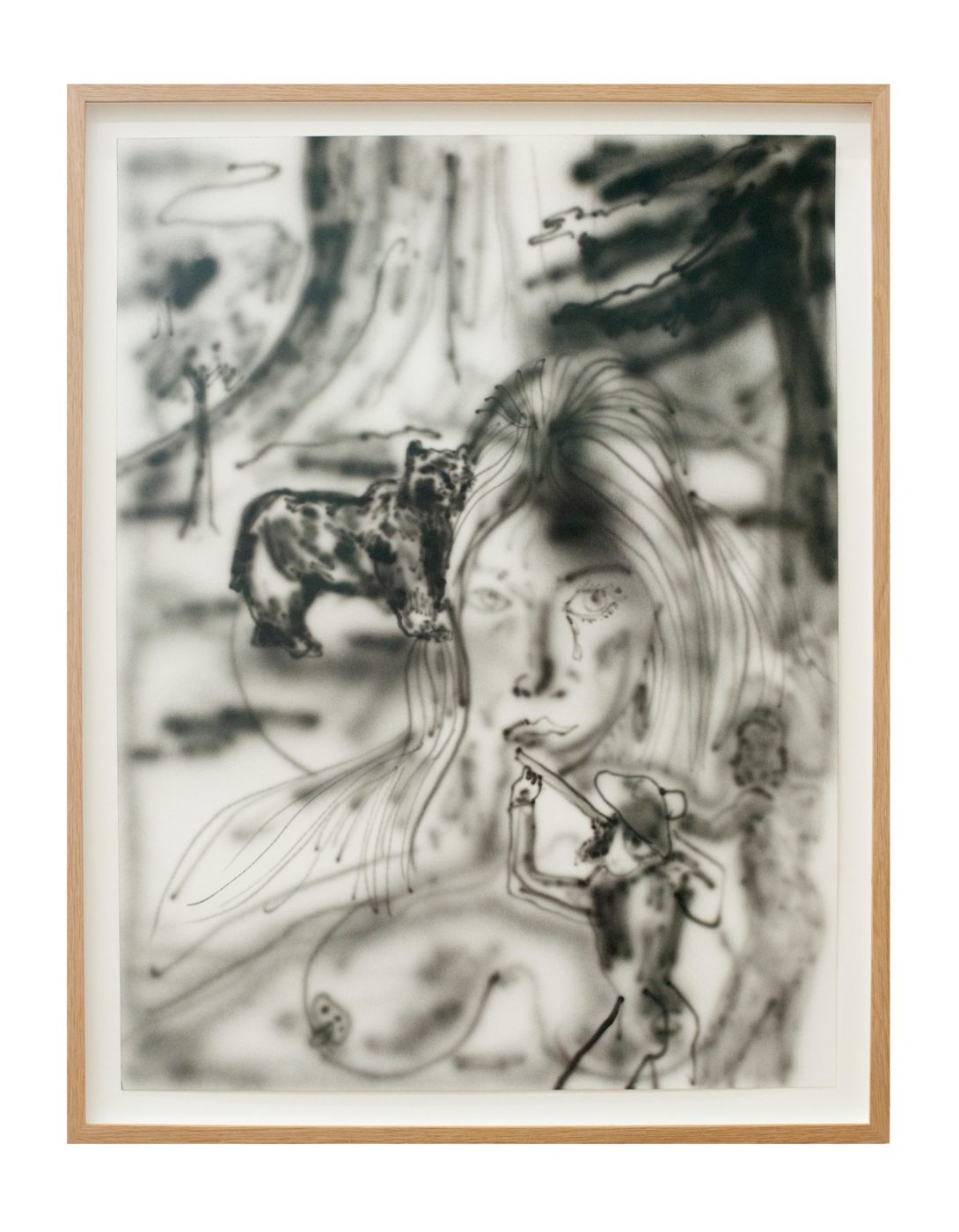 The Sad Vegan (Hunting Season), 2016 Acrylic airbrush on paper 67 x 52 cm 26 x 20.5 in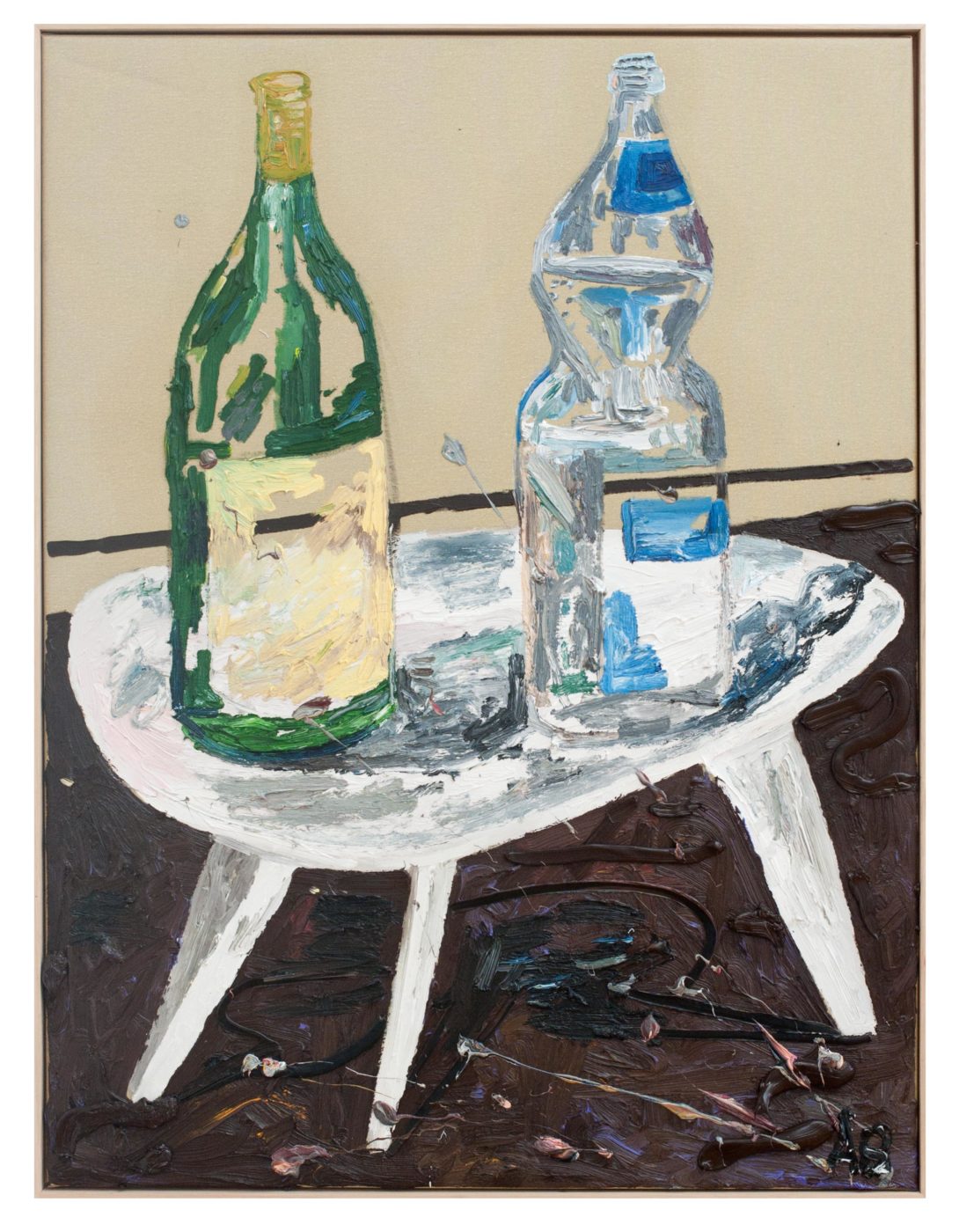 Still Life with Bottles, 2016 Oil on canvas 122 x 92 cm 48 x 36 in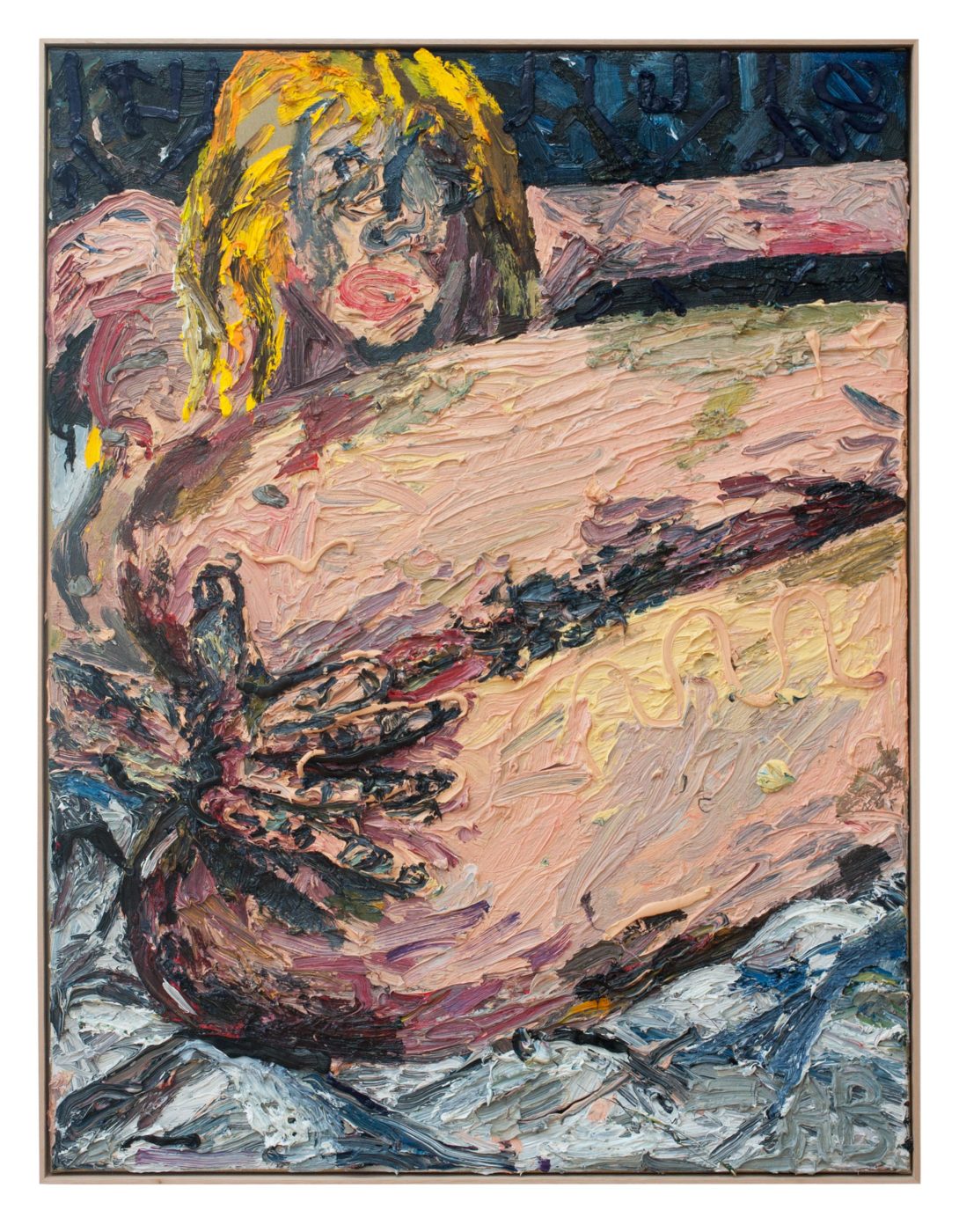 The Nude, 2016 Oil on canvas 122 x 92 cm 48 x 36 in
Yes Yes Yes & Pink Flamingo 2016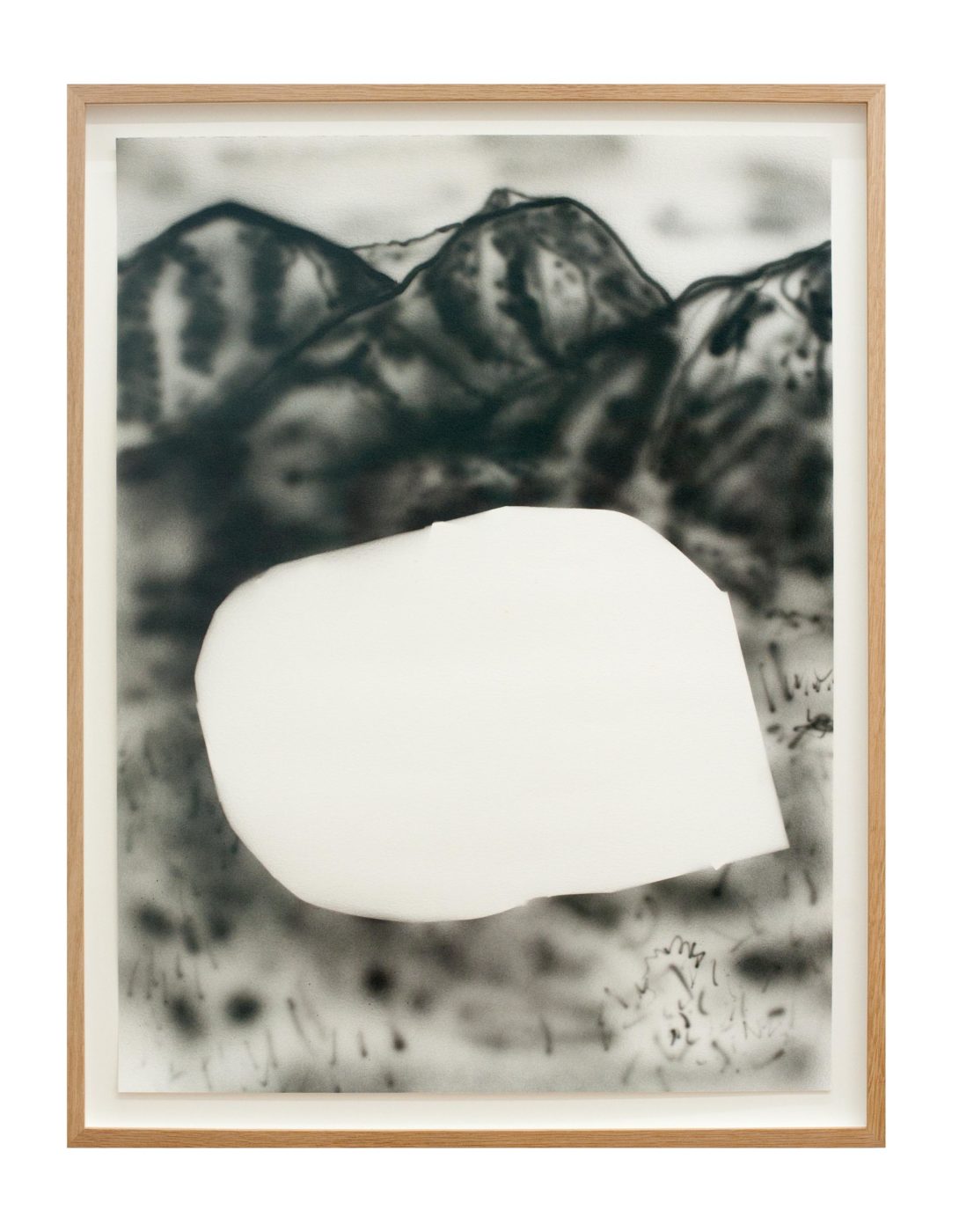 Missing Landscape, 2016 Acrylic airbrush on paper 67 x 52 cm 26 x 20.5 in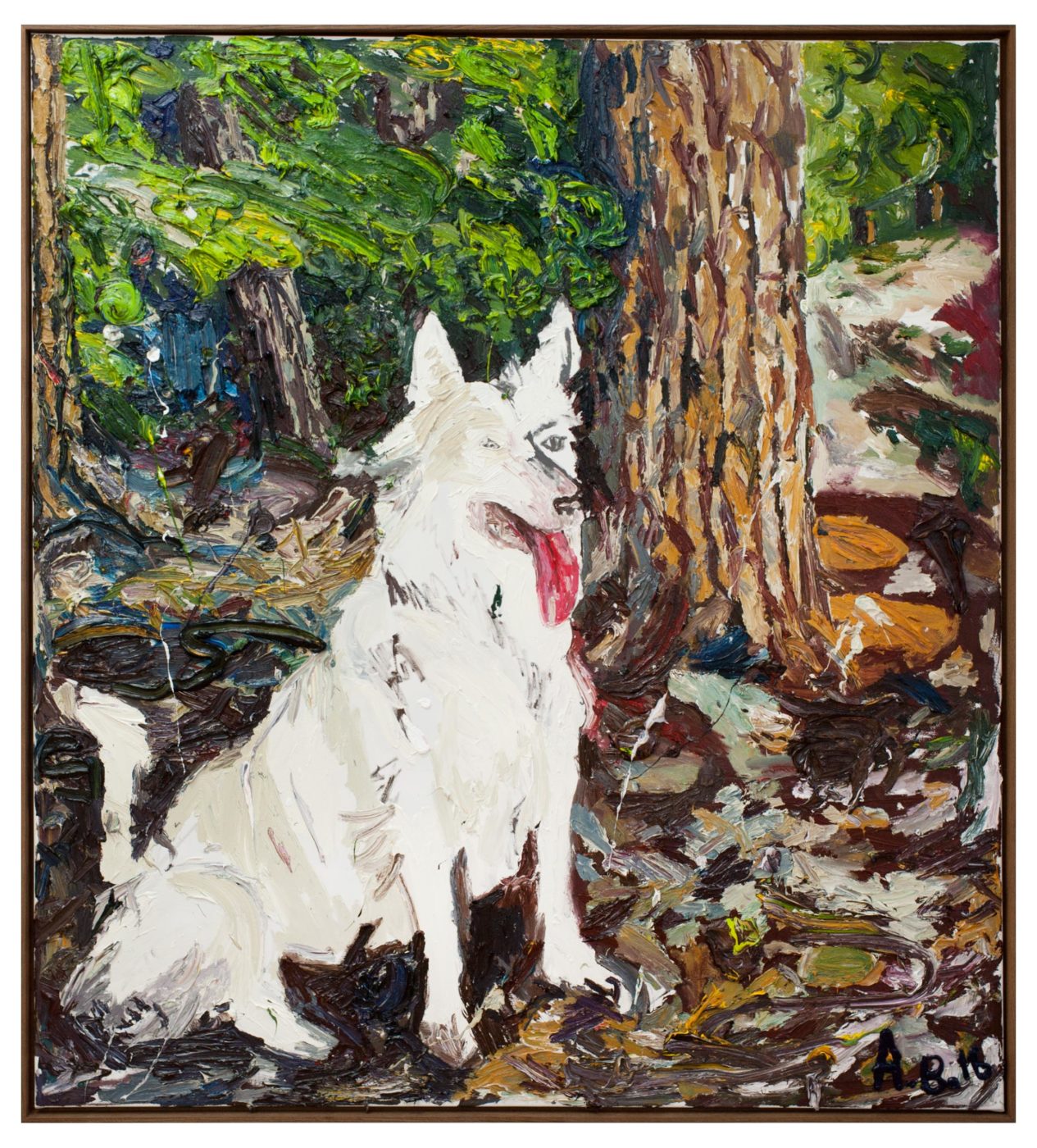 Fletch, 2016 Oil on canvas 202 x 184 cm 79.5 x 72 in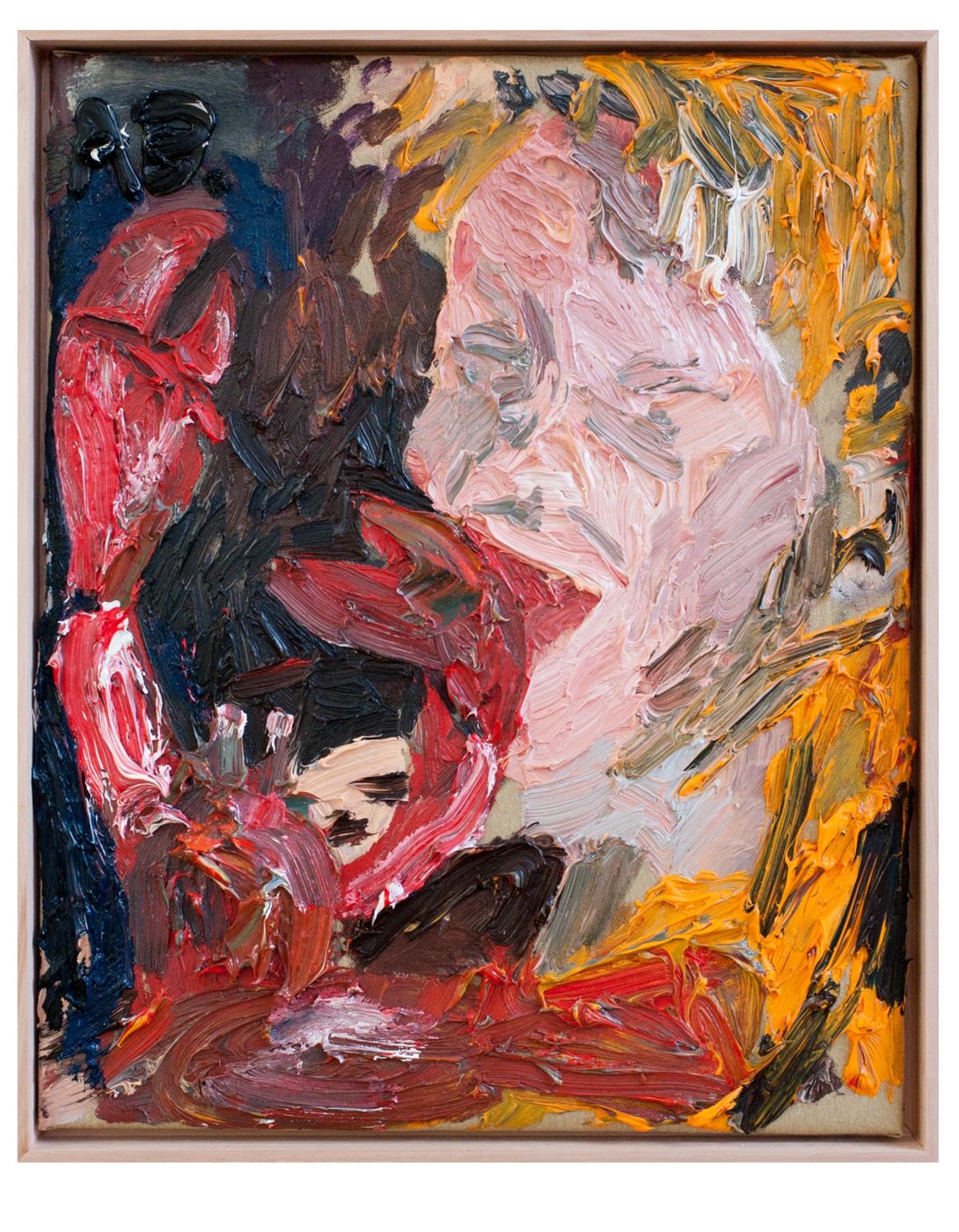 Lobster Fest 2016, 2016 Oil on canvas 52 x 42 cm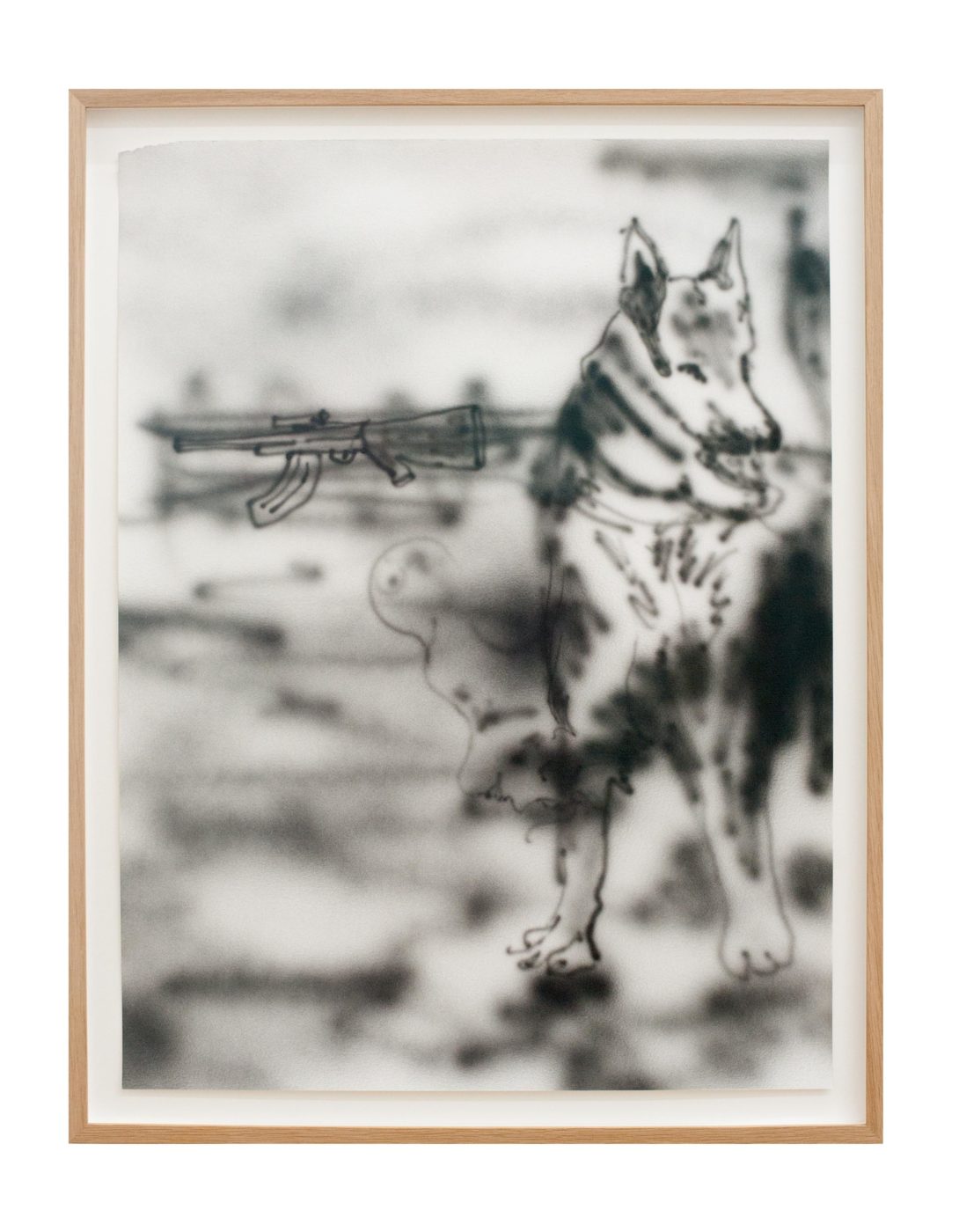 Relax, 2016 Acrylic airbrush on paper 67 x 52 cm 26 x 20.5 in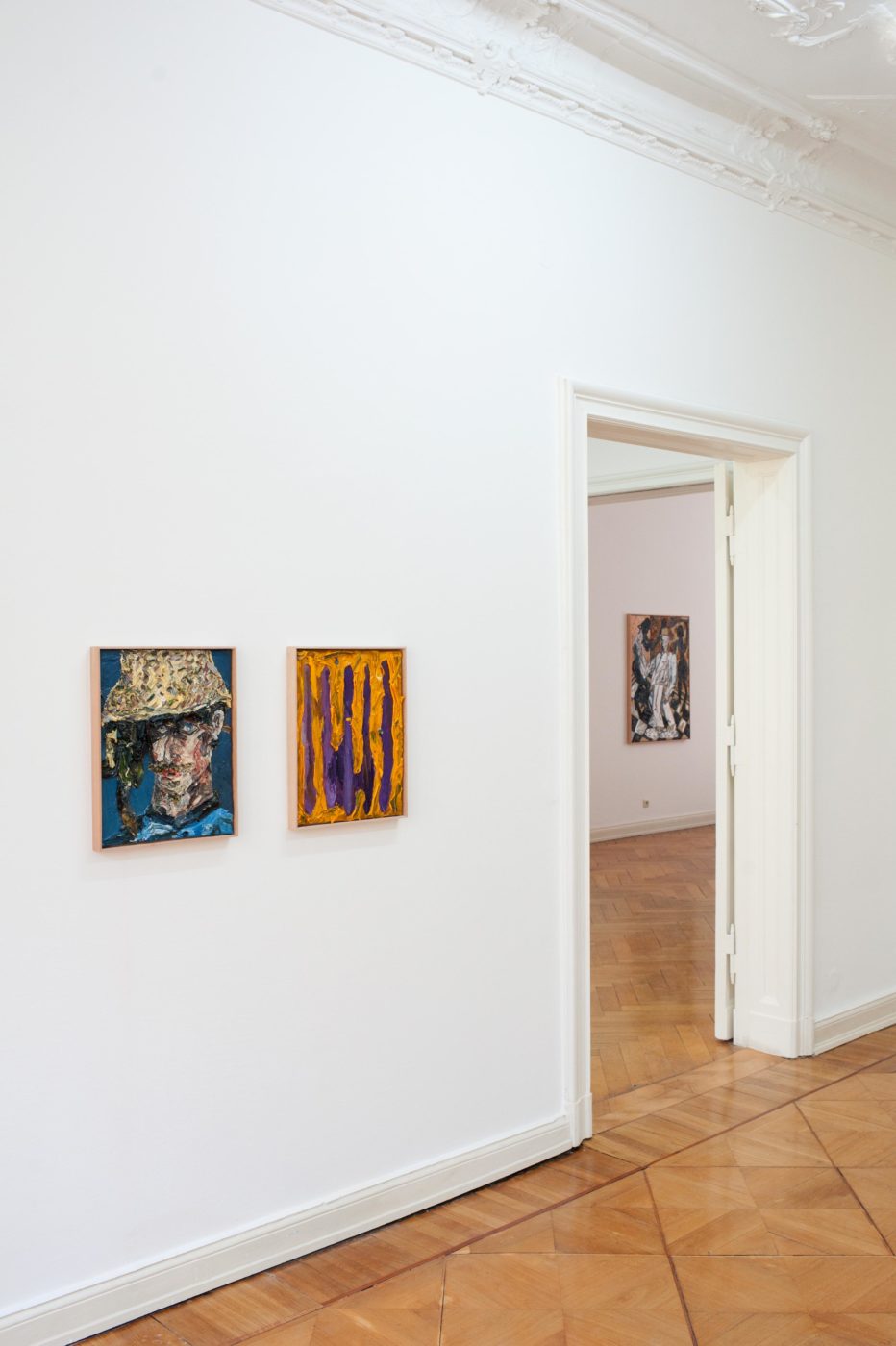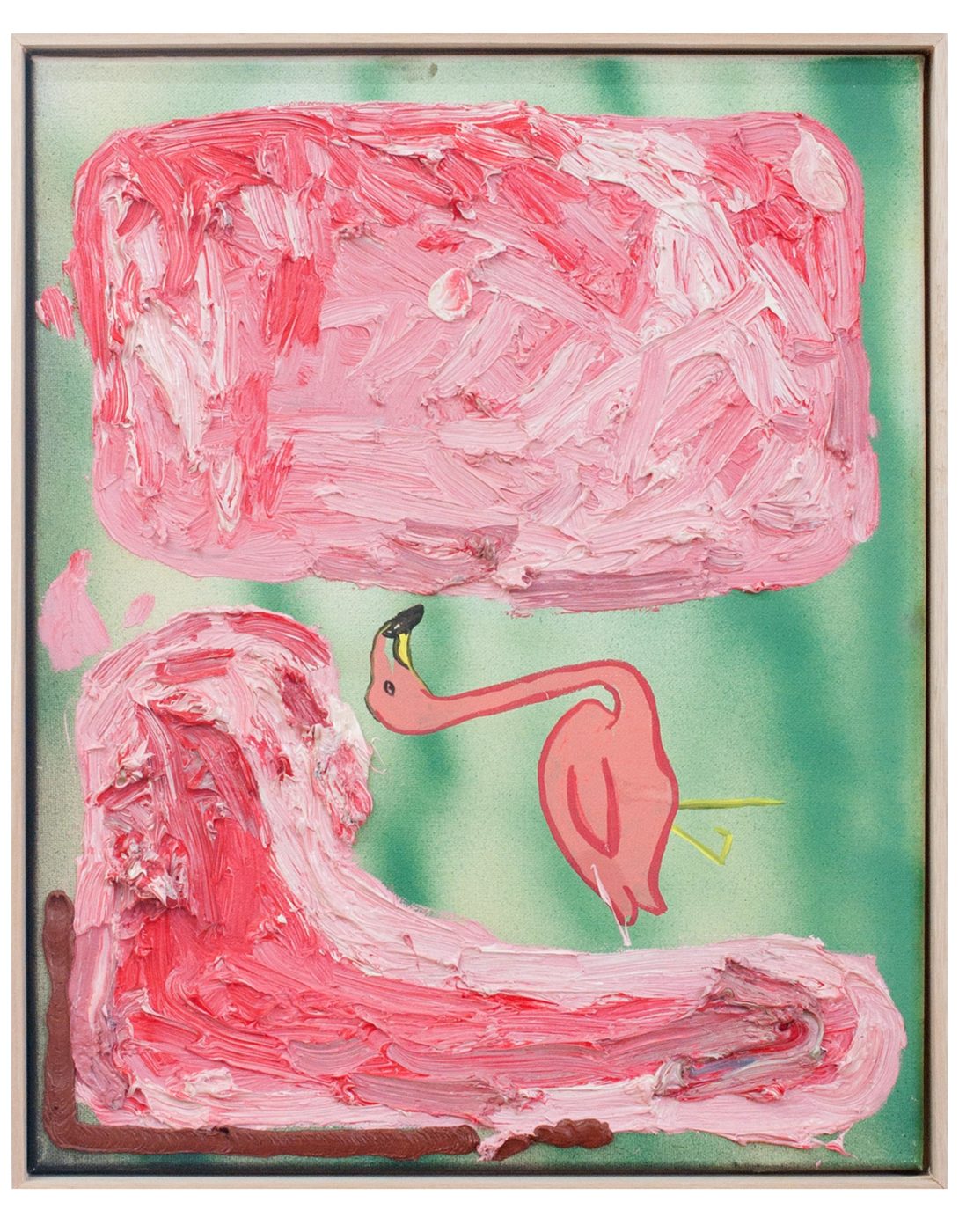 Flamingo, 2016 Oil and acrylic airbrush on canvas 52 x 42 cm 20.5 x 16.5 in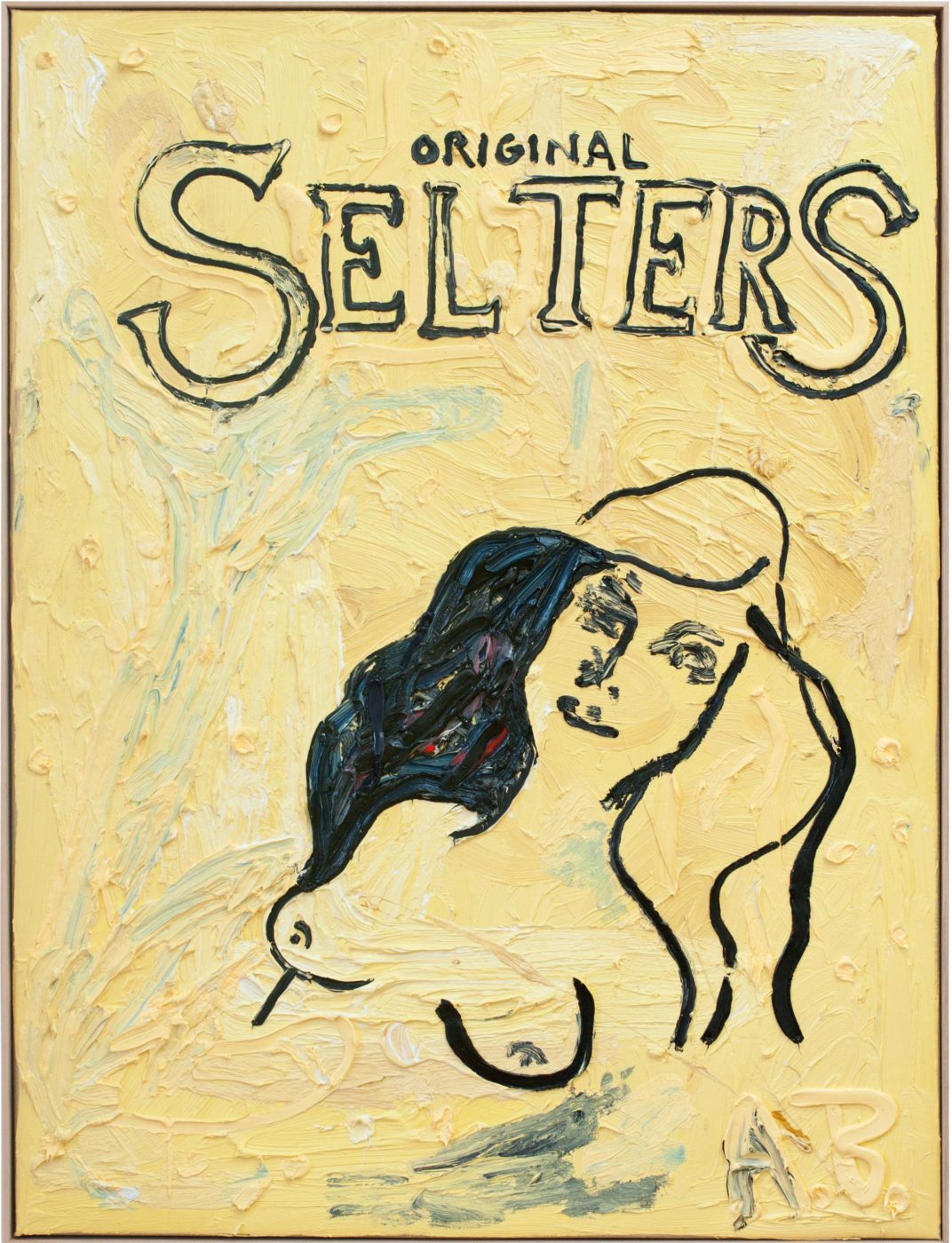 Original Selters, 2016 Oil on canvas 122 x 92 cm 48 x 36 in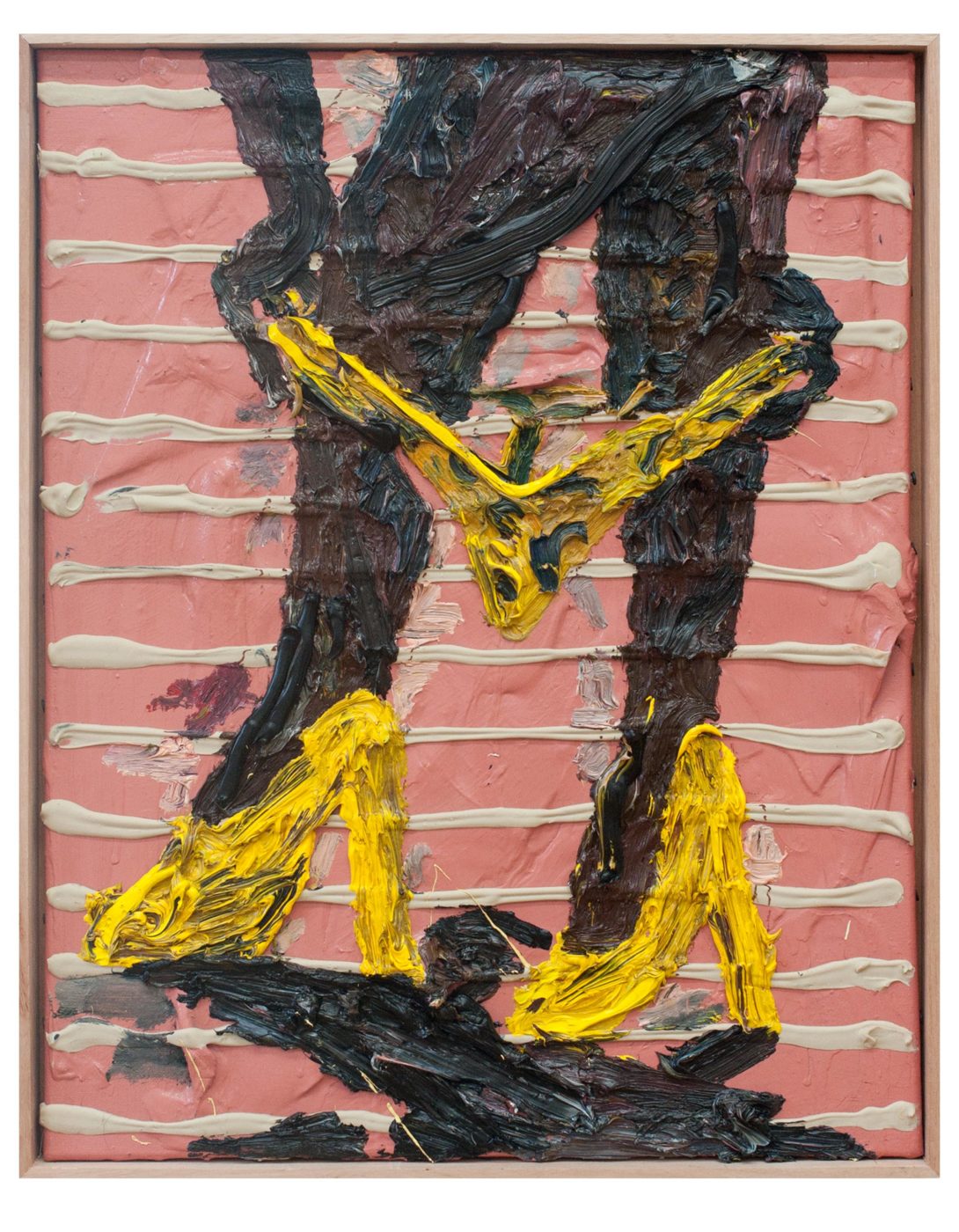 Yellow Heels and Leopard Panties, 2016 Oil, acrylic, and Liquid Nails on canvas 52 x 42 cm 20.5 x 16.5 in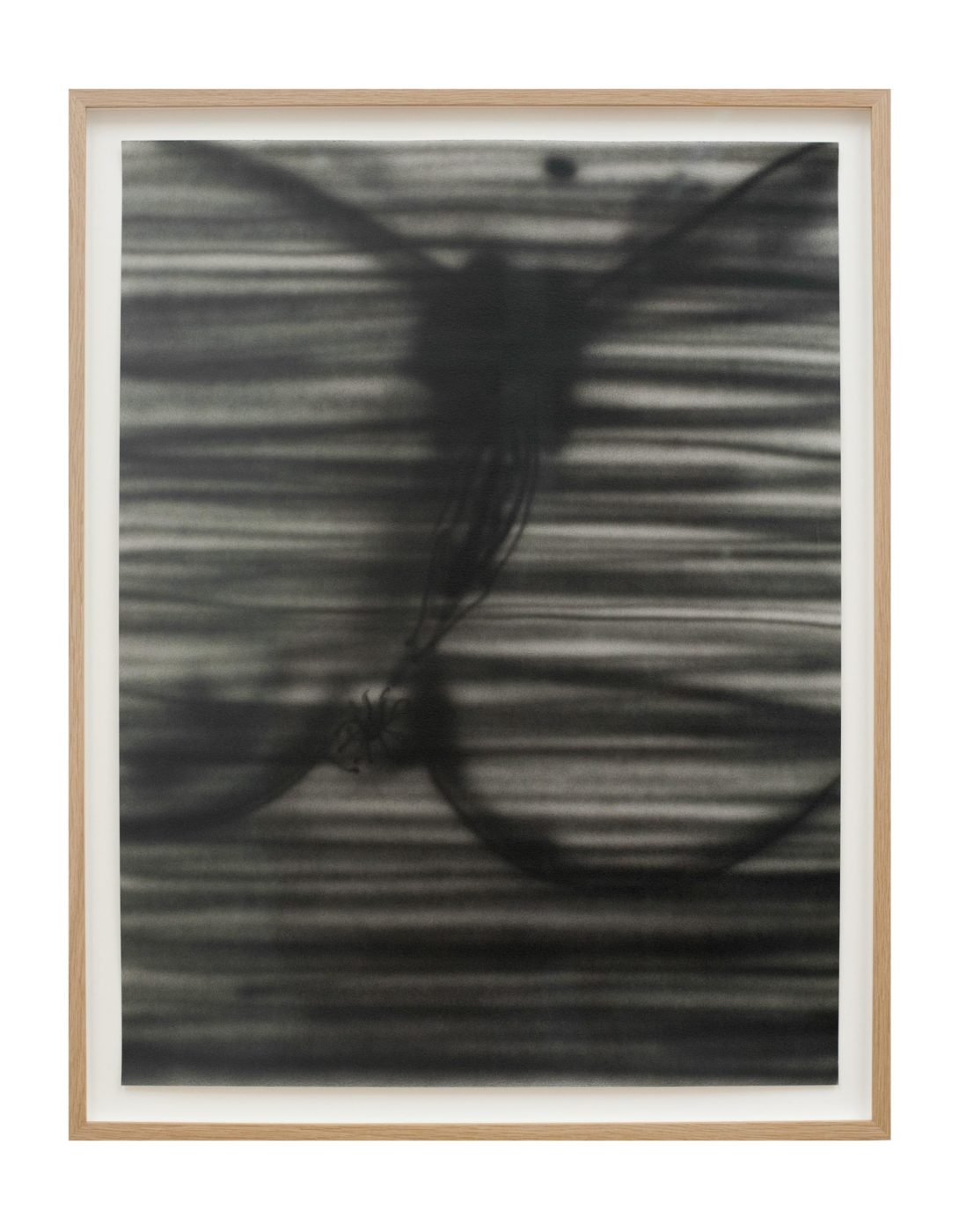 My Dad said "Eat the Sandwichon", 2016 Acrylic airbrush on paper 67 x 52 cm 26 x 20.5 in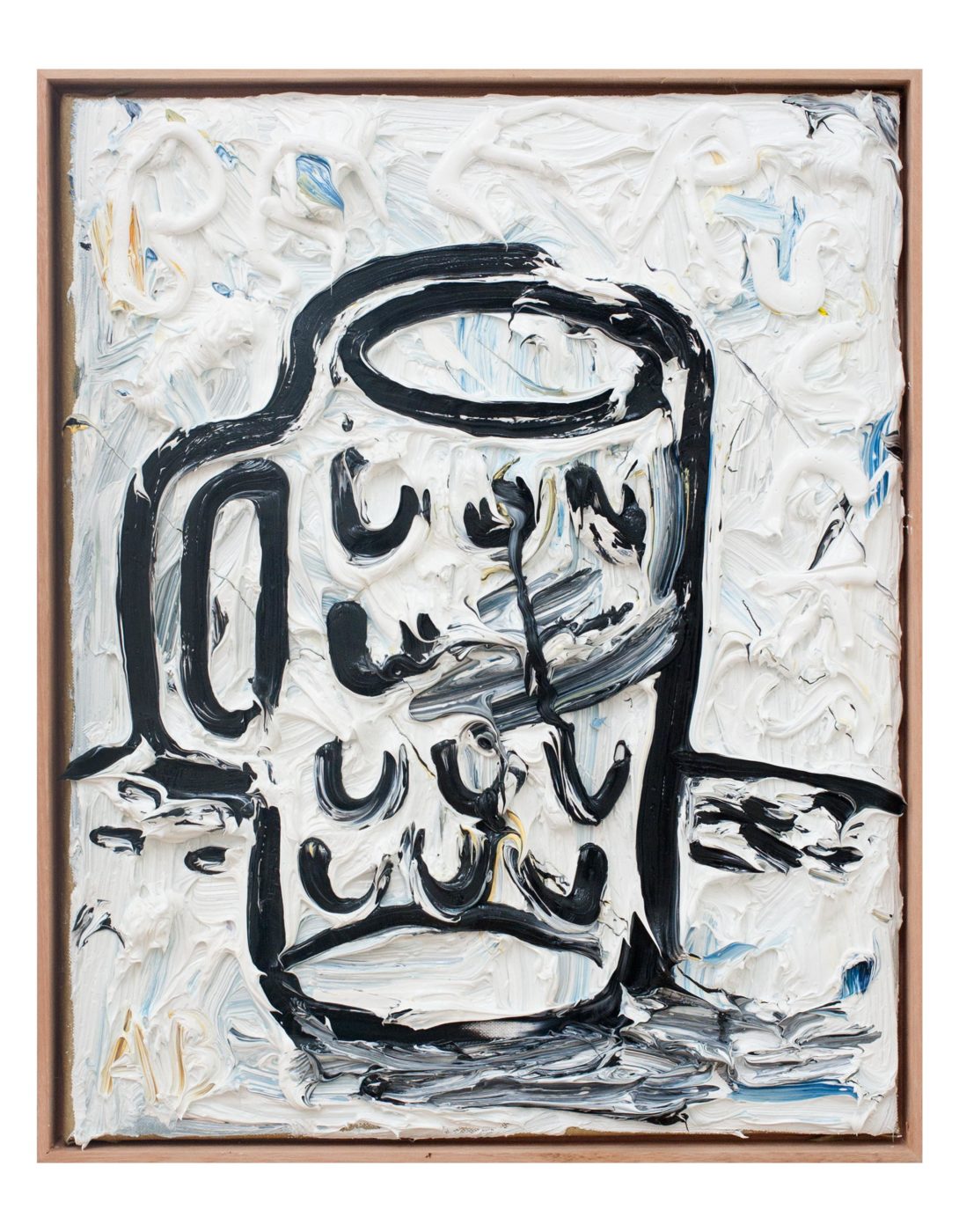 Beer Sucks, 2016 Oil on canvas 52 x 42 cm 20.5 x 16.5 in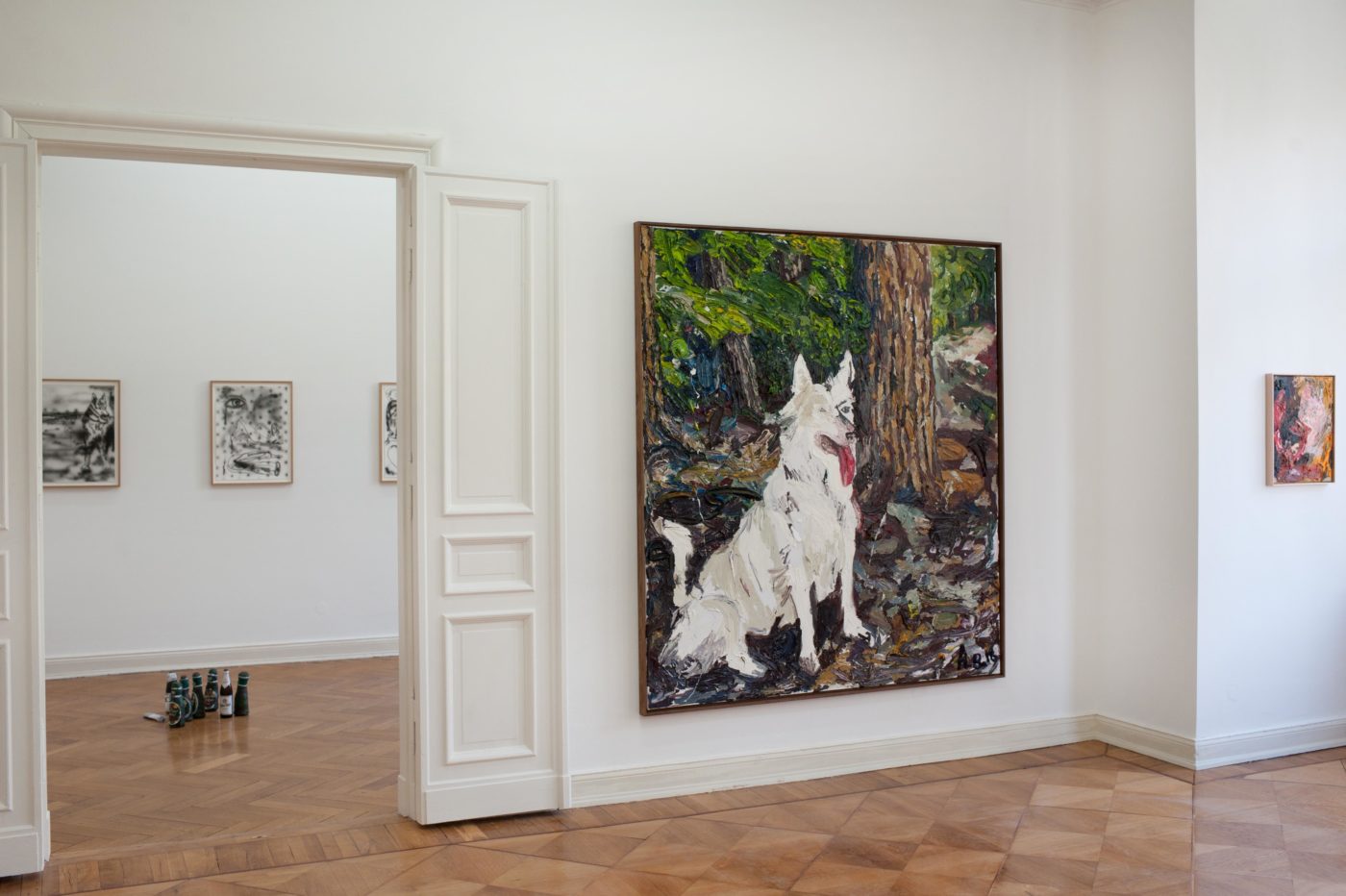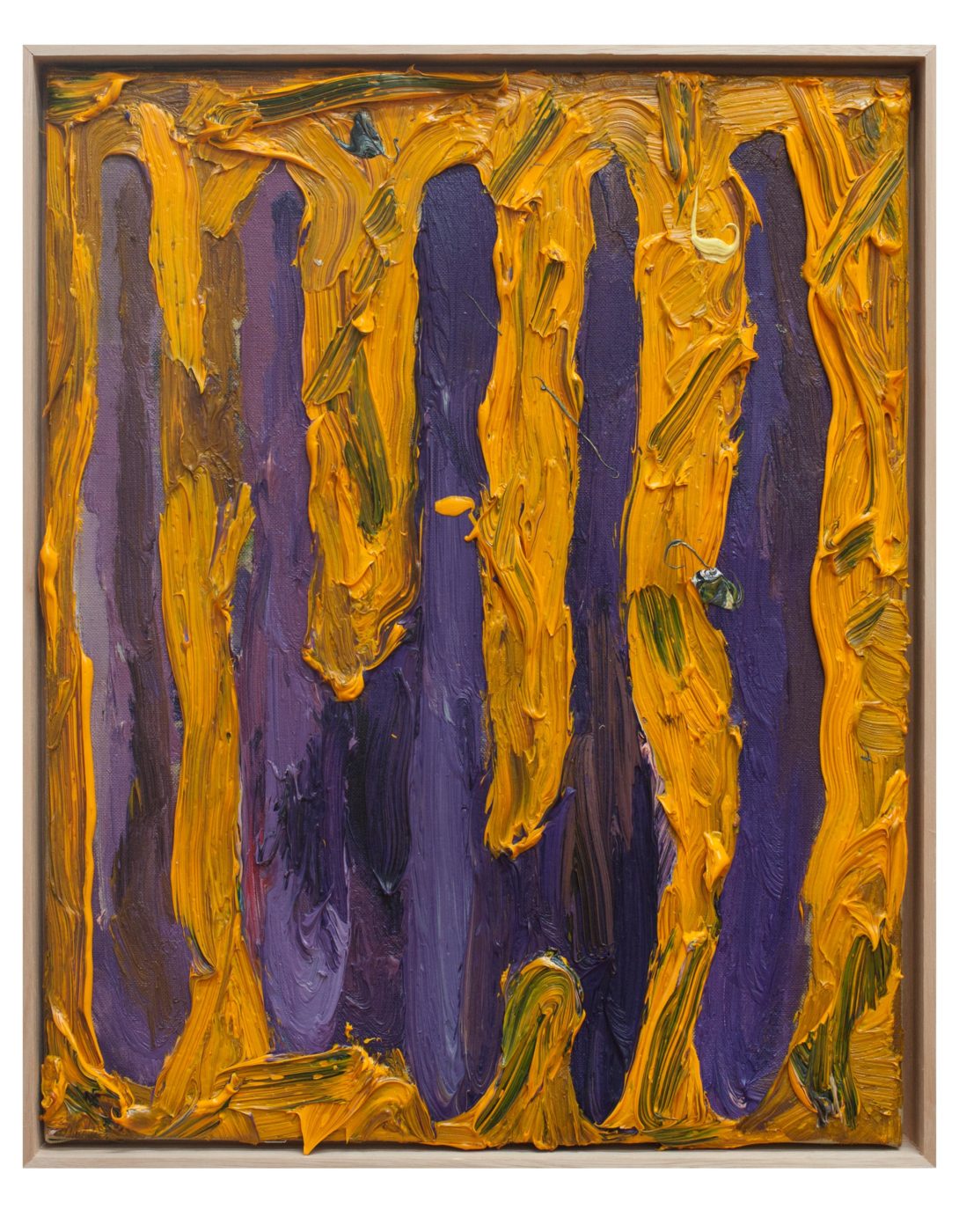 Doner Kebab, 2016 Oil on canvas 52 x 42 cm 20.5 x 16.5 in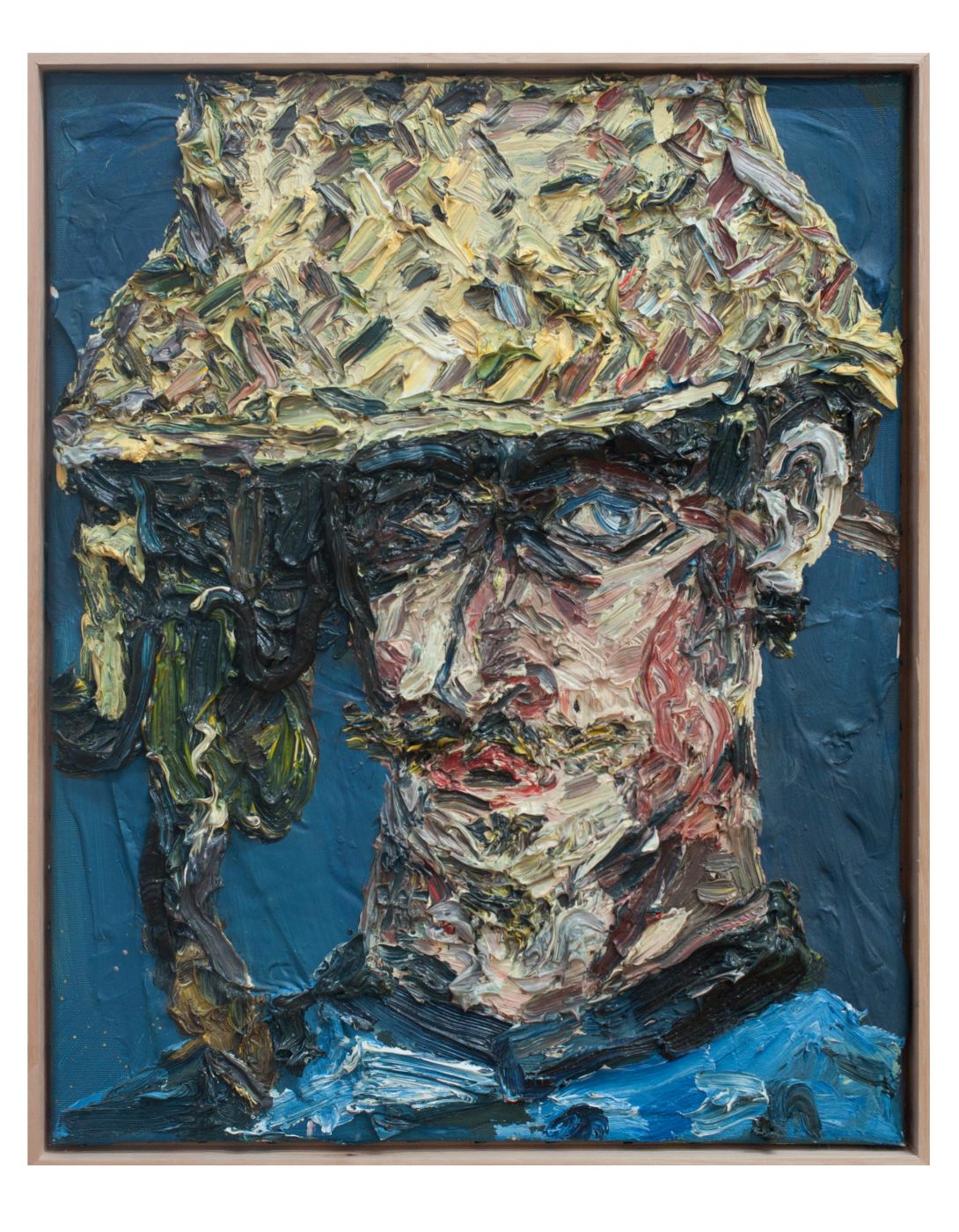 Portrait of Joey, 2014-2015 Oil and acrylic on canvas 52 x 42 cm 20.5 x 16.5 in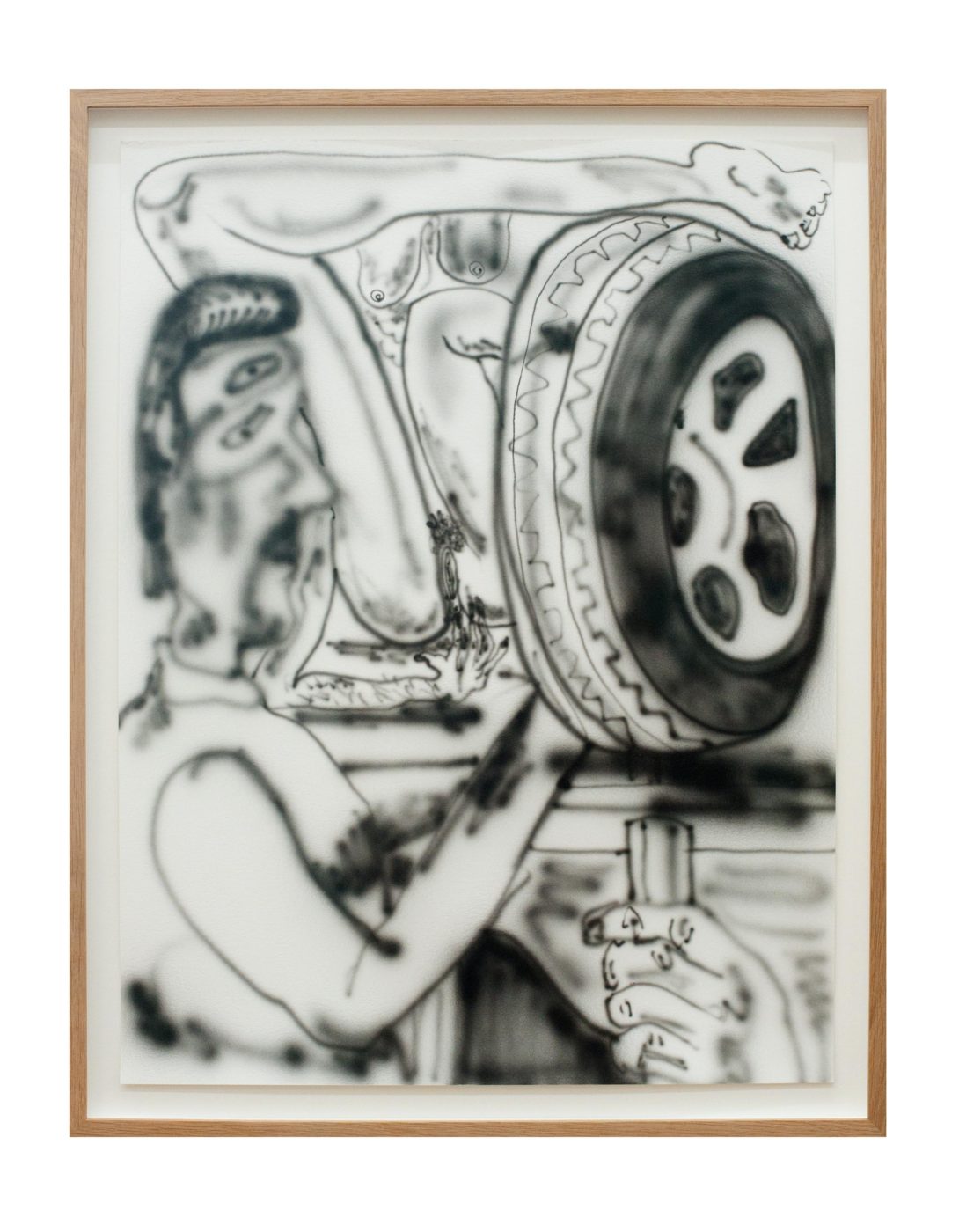 Tire Repair, 2016 Acrylic airbrush on paper 67 x 52 cm 26 x 20.5 in
Still Life (Nike Cortez), 2016 Oil on canvas 52 x 42 cm 20.5 x 16.5 in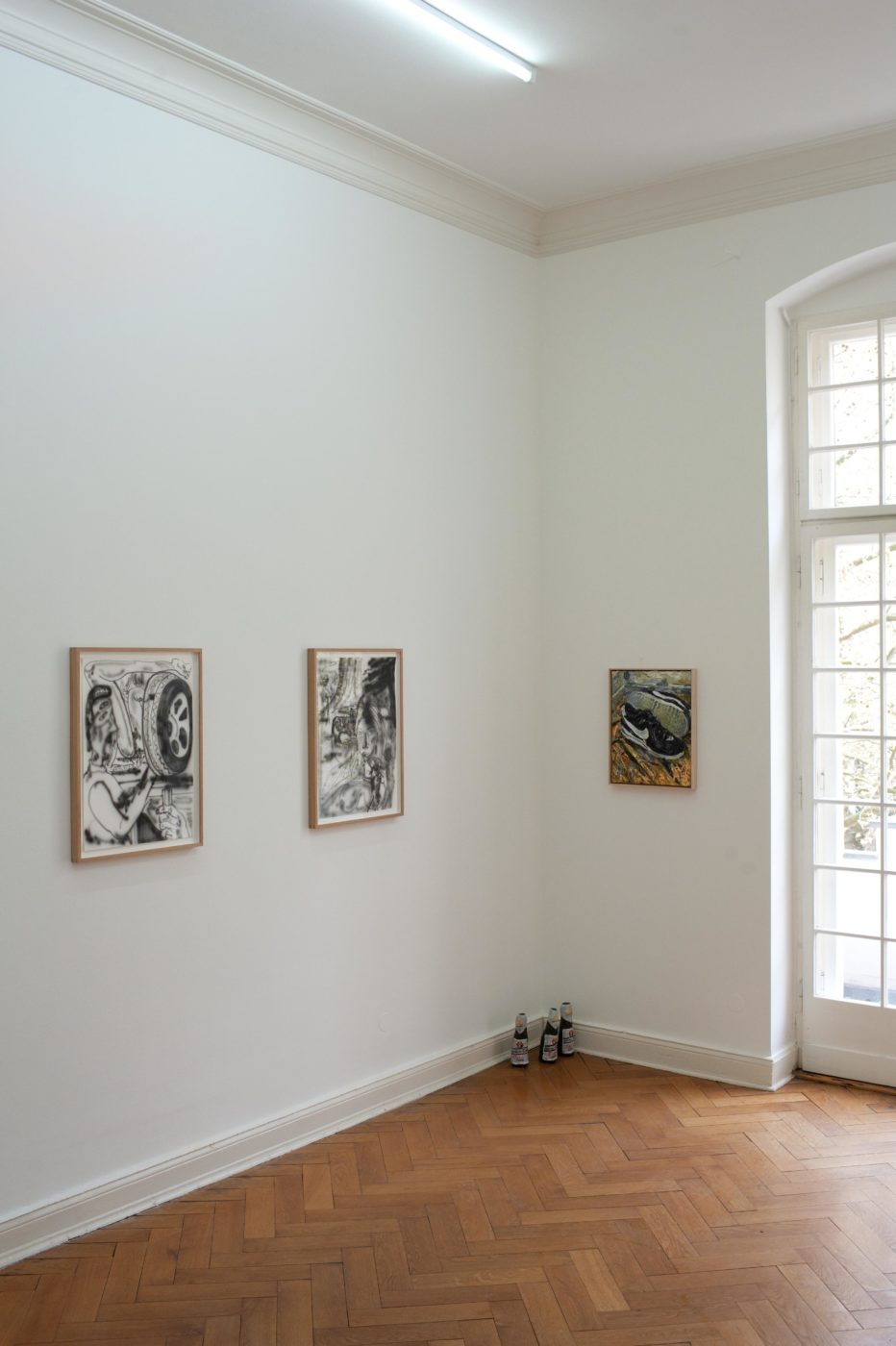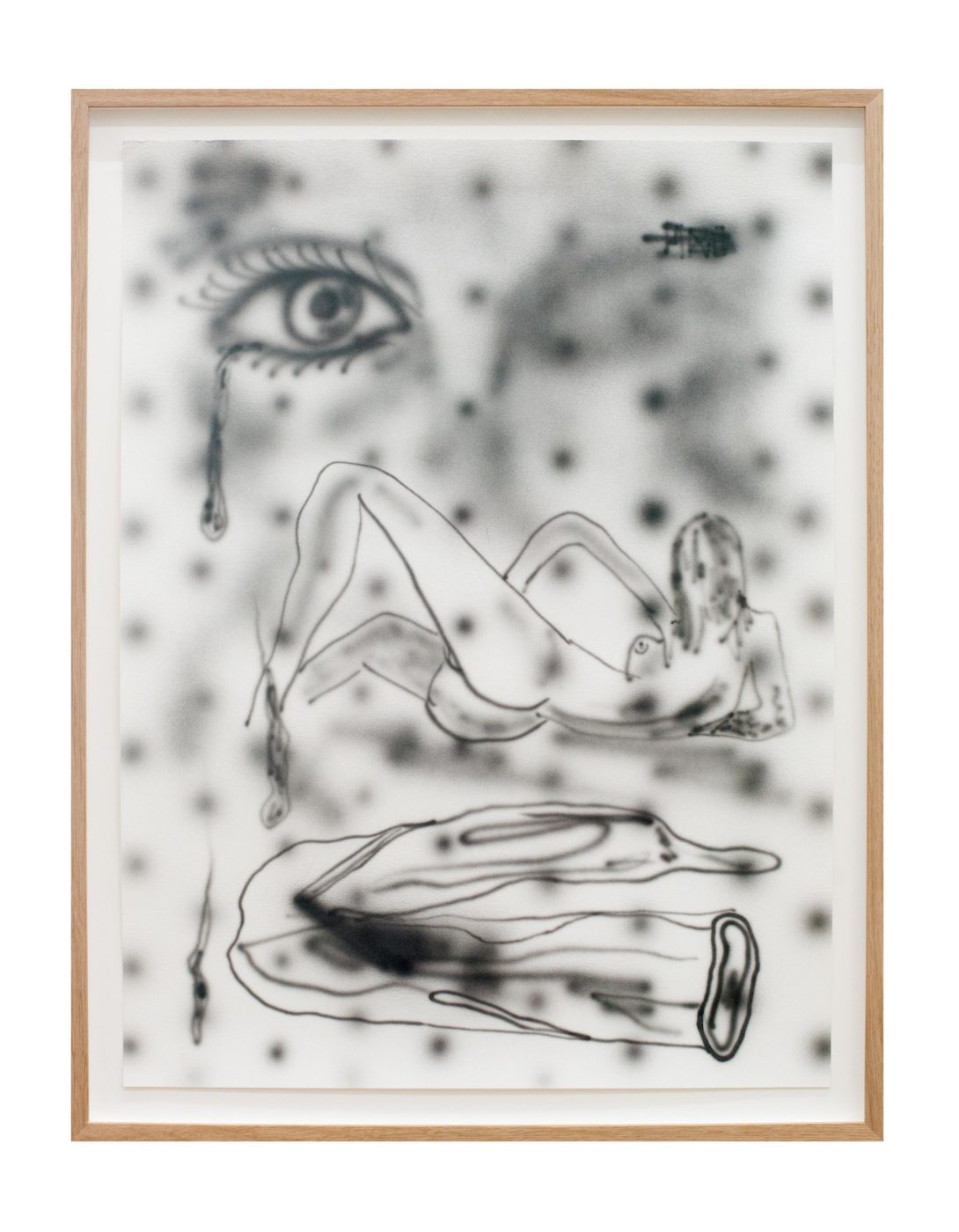 Don't Cry Little Puppet, 2016 Acrylic airbrush on paper 67 x 52 cm 26 x 20.5 in