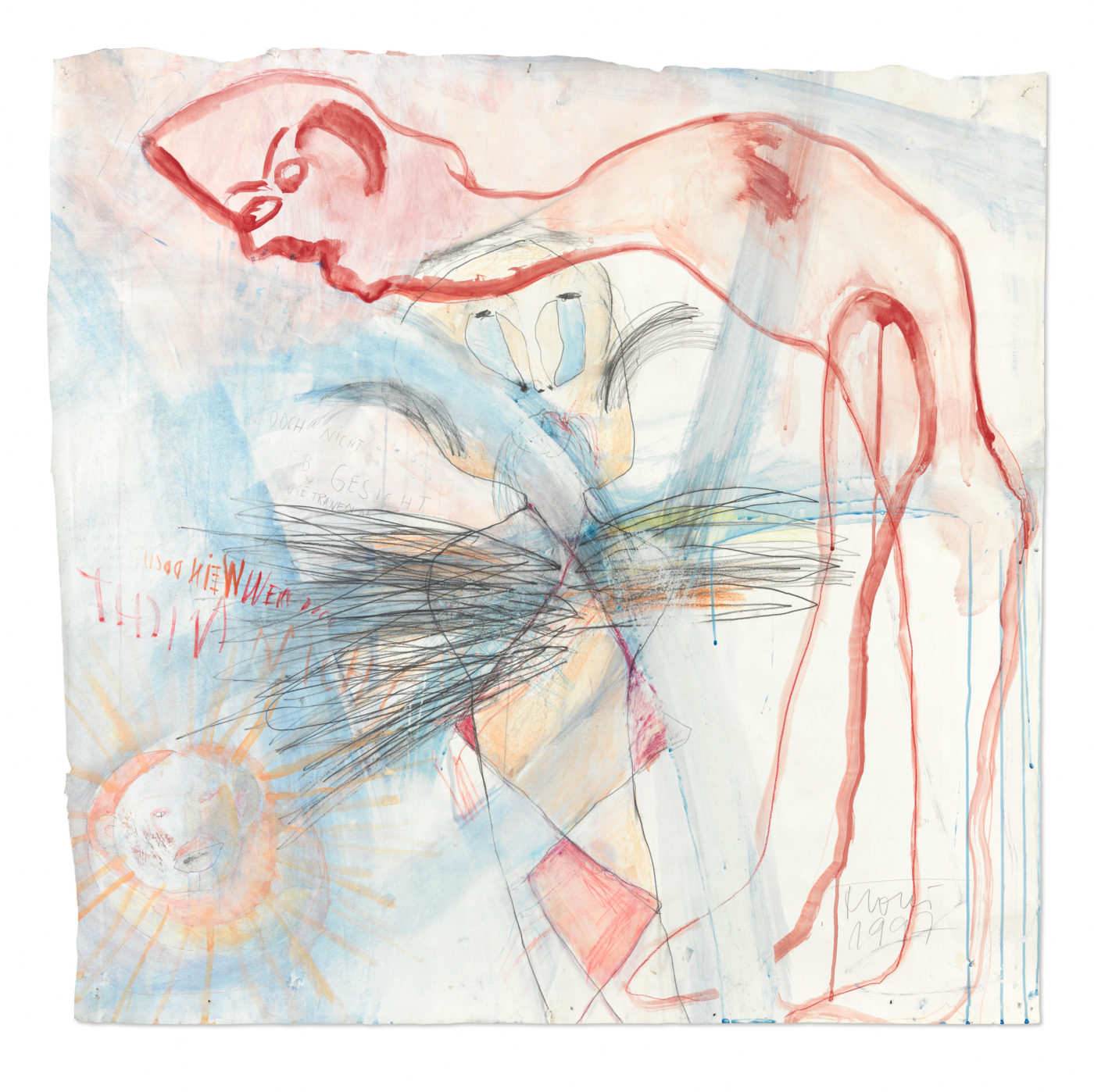 Wein doch nicht (Don't Cry) 1997 Grafit und Wasserfarbe auf Papier Graphite and watercolor on paper 100 x 104 cm 39.5 x 41 in
Monika Maurer-Morgenstern
[Deutscher Text nachstehend]
Monika Maurer-Morgenstern (* 1942 in Leipzig) is an experienced artist. Her works have been exhibited in New York, Munich, Cologne, in the Swiss Oberwallis and in Berlin. Important private and public collections, such as the Graphic Collection of the Staatsgalerie Stuttgart, the Kupferstichkabinett in Basel, acquired her drawings. However, her path to and with art is not straightforward. Maurer-Morgenstern's works are created because she has inner antennae that reach far into her childhood, into her soul life. "The only true source of art is our heart, the language of a pure childlike mind." Caspar David Friedrich's view of Romantic art, as illustrated in this sentence, is a precise reflection of her artistic practice. An abundance of sheets, united in series visualize intertwined paths of memory from life experiences: colorful, detailed, erotic, sometimes full of grotesque comedy.
"I paint because I don't act, and in the paintings I stage the dramas of my impatient soul." (Monika Maurer-Morgenstern)
Outtake from: Annelie Lütgens, "The Woman Who Flies" (2020)
***
Monika Maurer-Morgenstern (*1942 in Leipzig) ist eine erfahrene Künstlerin. Ihre Werke wurden in New York, München, Köln, im Schweizerischen Oberwallis und in Berlin ausgestellt. Bedeutende private und öffentliche Sammlungen, etwa die Grafische Sammlung der Staatsgalerie Stuttgart, das Kupferstichkabinett in Basel, erwarben ihre Zeichnungen. Ihr Weg zur und mit der Kunst ist jedoch kein geradliniger. Maurer-Morgensterns Werke entstehen, weil sie über innere Antennen verfügt, die weit in ihre Kindheit, ihr Seelenleben hinein reichen. "Die einzige wahre Quelle der Kunst ist unser Herz, die Sprache eines reinen kindlichen Gemütes." Die Kunstauffassung der Romantik, verdeutlicht in diesem Satz von Caspar David Friedrich, trifft ihre künstlerische Praxis ganz genau. Eine Fülle von Blättern, vereint in Serien visualisieren in verschlungenen Erinnerungspfäden erlebtes Leben, farbenprächig, detailgenau, erotisch, bisweilen voller grotesker Komik.
"Ich male, weil ich nicht Theater spiele, und in den Bildern inszeniere ich die Dramen meiner ungeduldigen Seele." (Monika Maurer-Morgenstern)
Auszug aus: Annelie Lütgens, "Die Frau, Die Fliegt" (2020)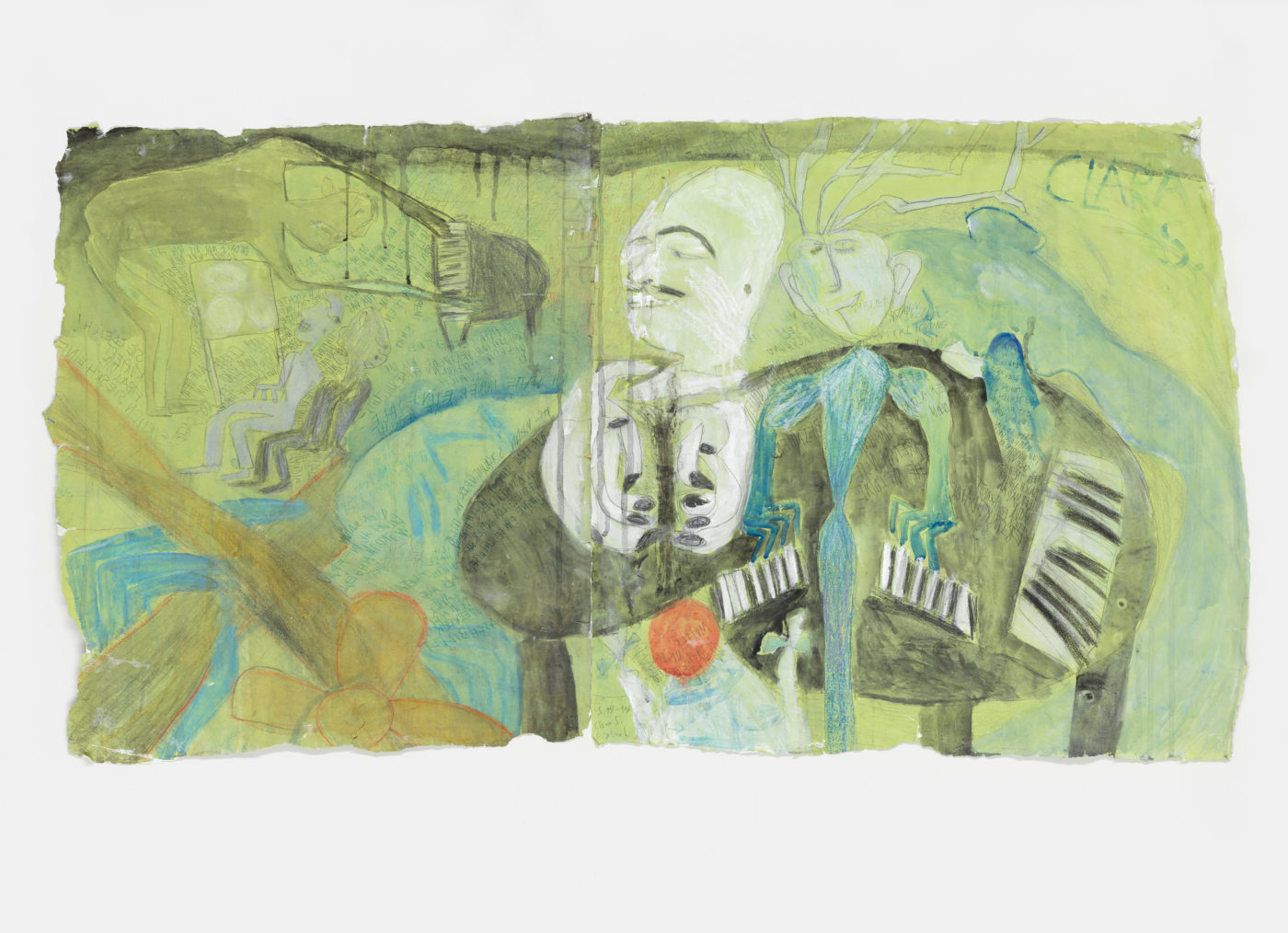 Clara S., nach Elfriede Jelinek (Clara S., After Elfriede Jelinek) 1998/99 Bleistift, Buntstift, Deckweiß und Wasserfarbe auf Papier Pencil, crayon, opaque white, and watercolor on paper 70 x 129 cm 27.5 x 51 in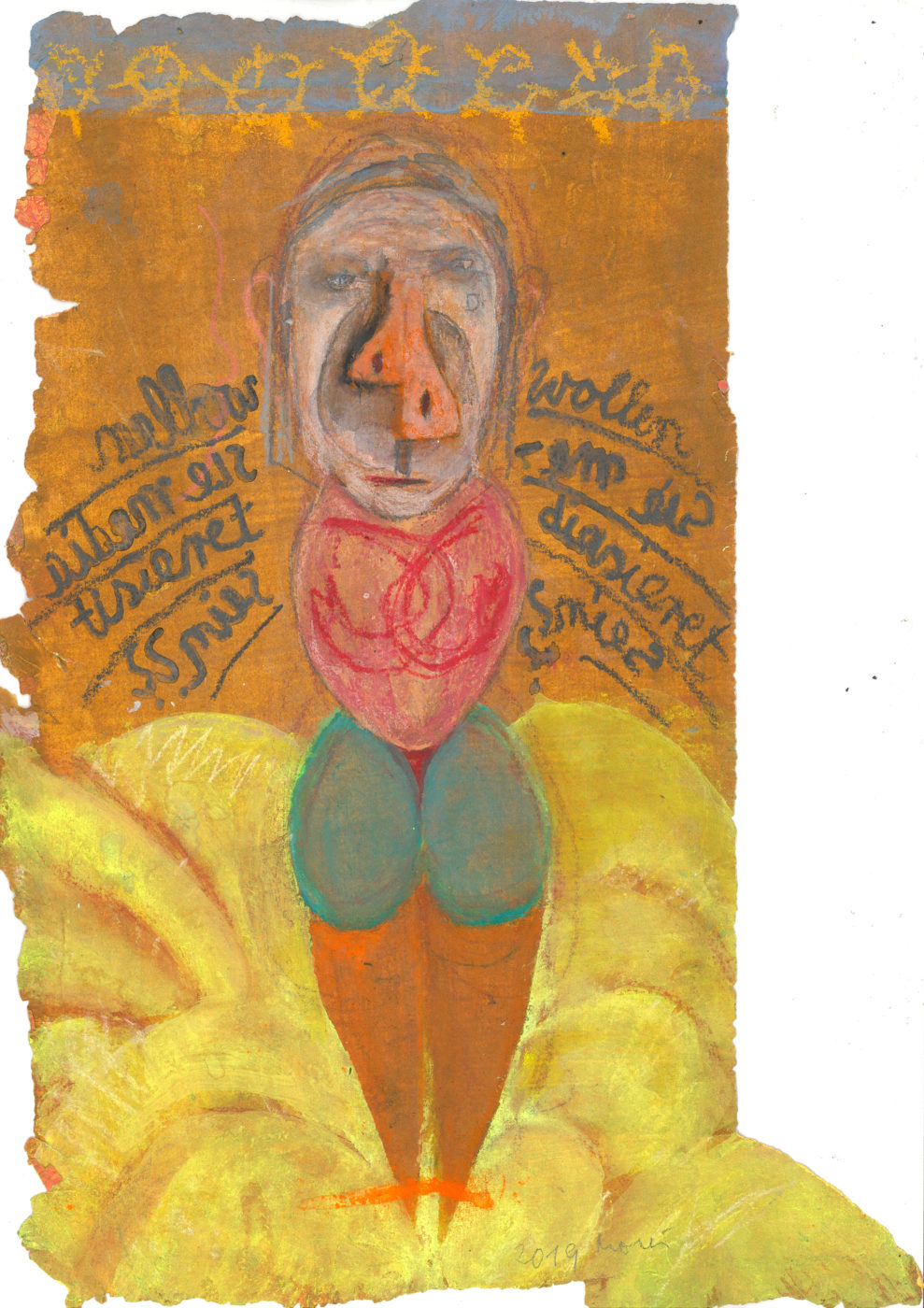 Wollen Sie Mediatisiert Sein? (Do You Want To Be Mediatized?) 2019 Bleistift, Buntstift, Pastell und Pigmente auf Papier Pencil, crayon, pastel, and pigments on paper 30 x 21 cm 12 x 8.5 in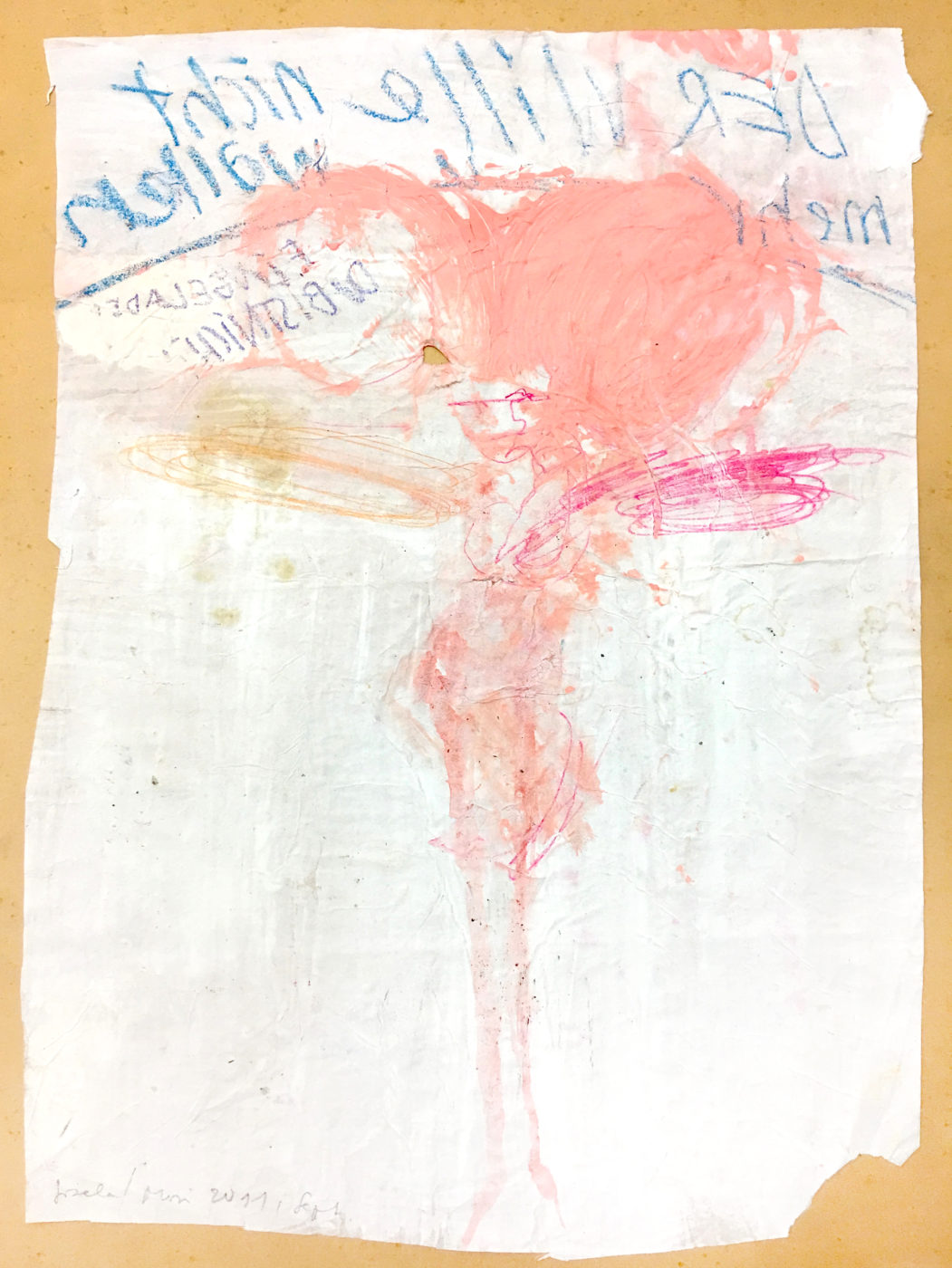 Der Wille nicht mehr zu wollen (The Will Not To Be Willing Anymore) 2011 Gouache und Wachskreide auf Papier Gouache and wax crayon on paper 49 x 36 cm 19.5 x 14 in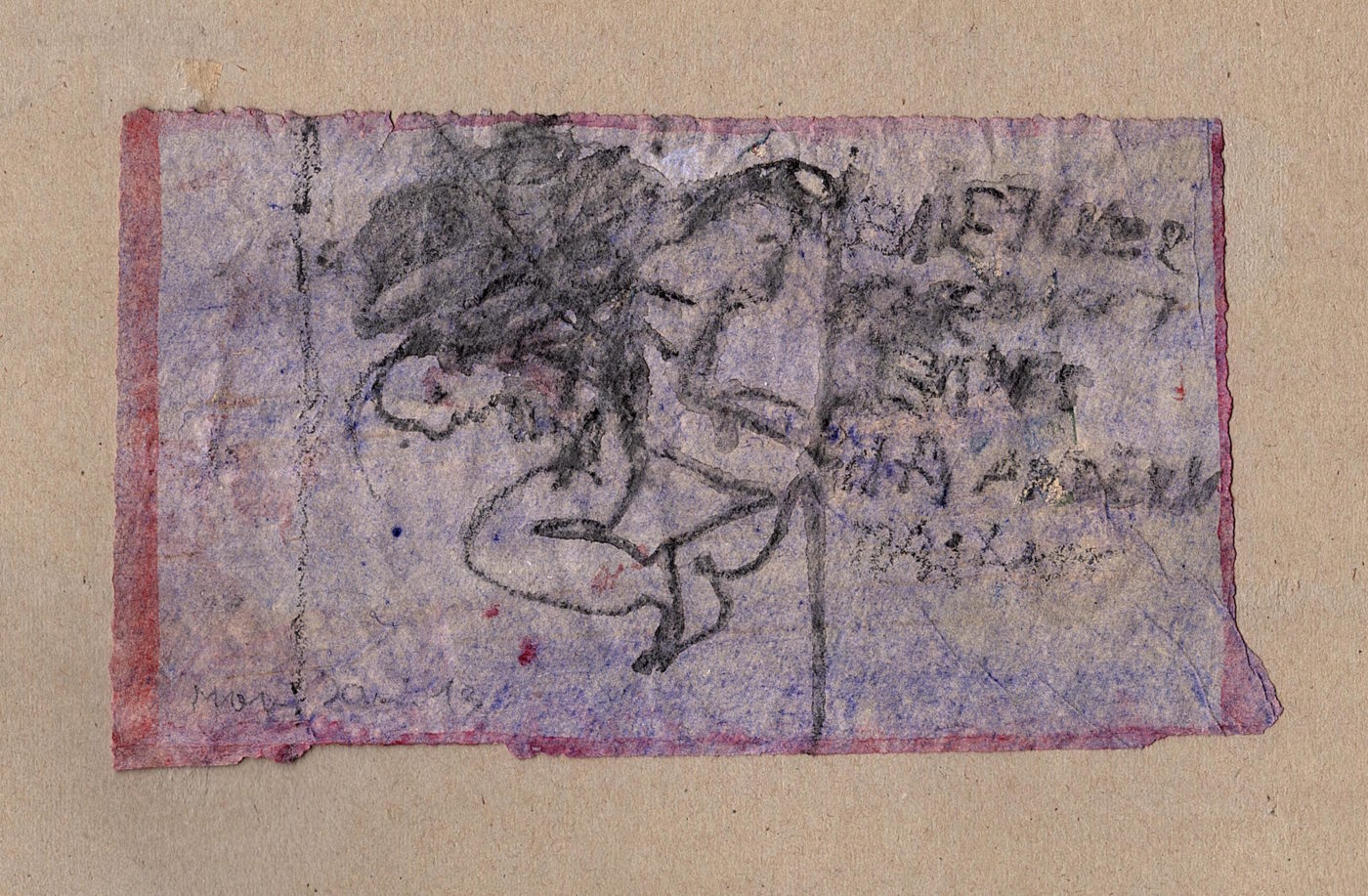 Einer trage des anderen Last (One Carries The Other's Burden) 2013 Wasserfarbe auf Papier Watercolor on paper 12 x 20 cm 5 x 8 in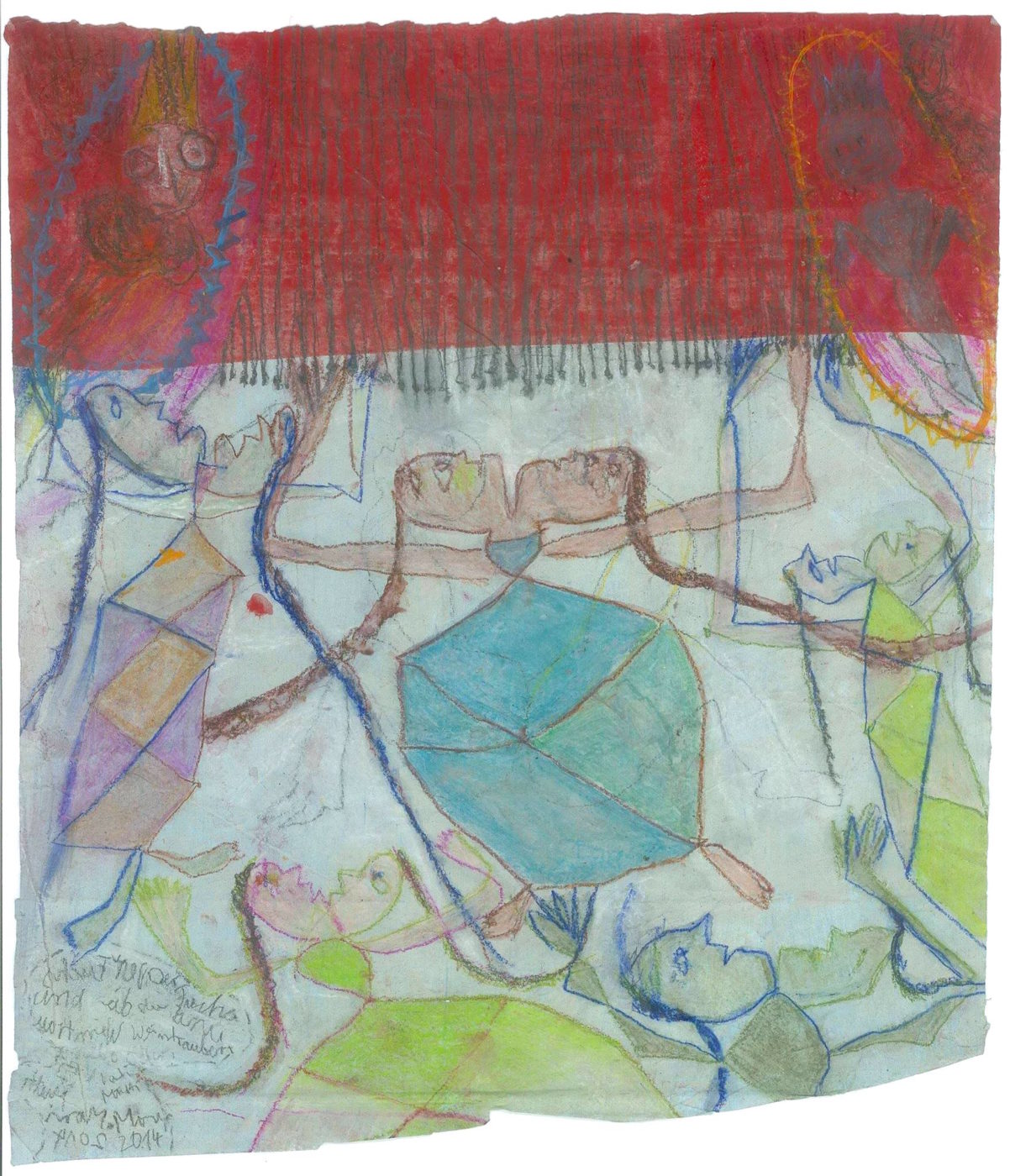 Erwartung (Expectation) 2014 Bleistift, Buntstift, Pigment und Pastell auf Papier Pencil, crayon, pigments, and pastel on paper 33 x 29 cm 13 x 11.5 in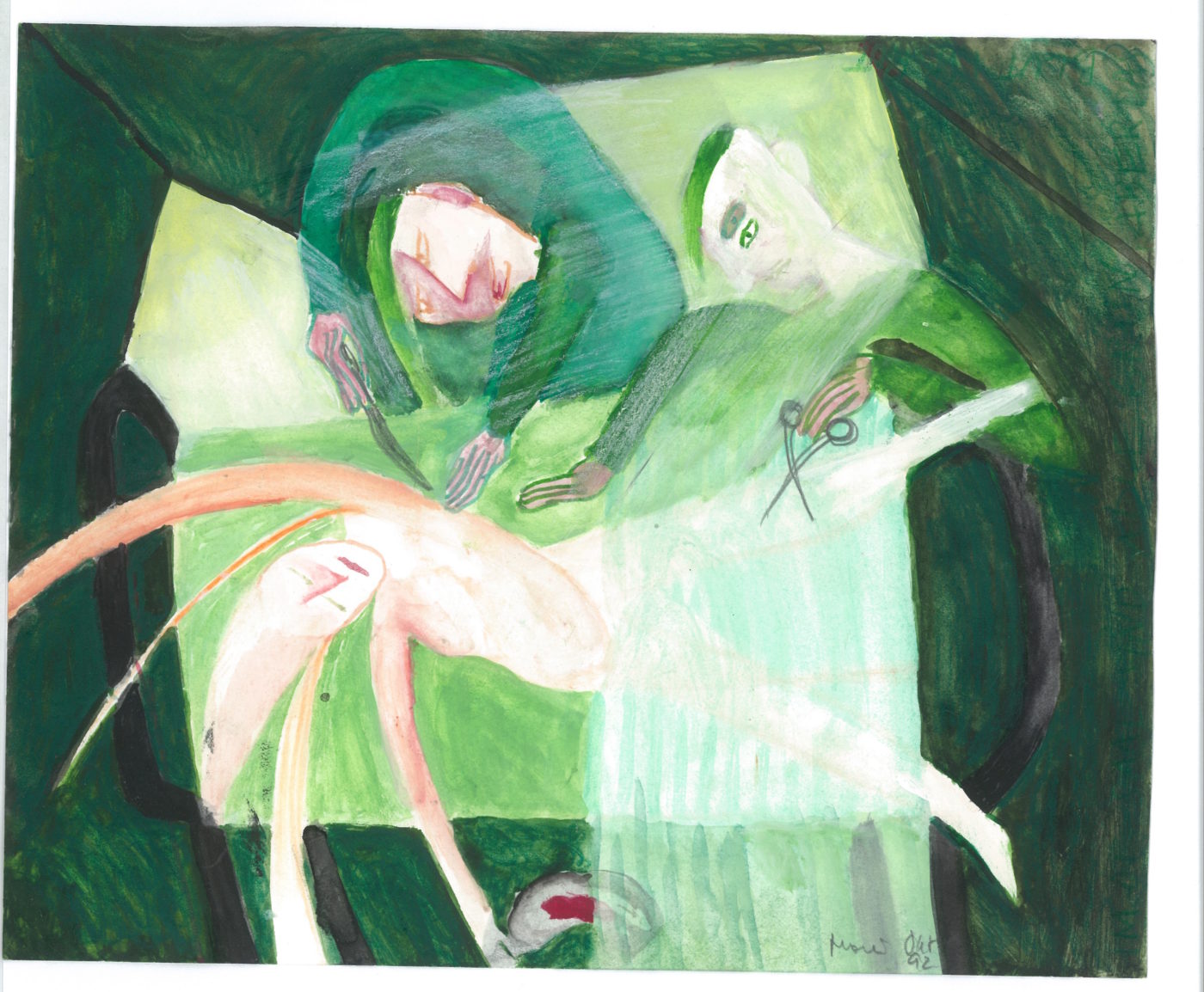 Fröhliche Bilder aus dem K.: OP (Cheerful Pictures From The Hospital: Surgery) 1992 Bleistift, Buntstift und Wasserfarbe auf Papier Pencil, crayon, and watercolor on paper 16 x 20 cm 6 x 8 in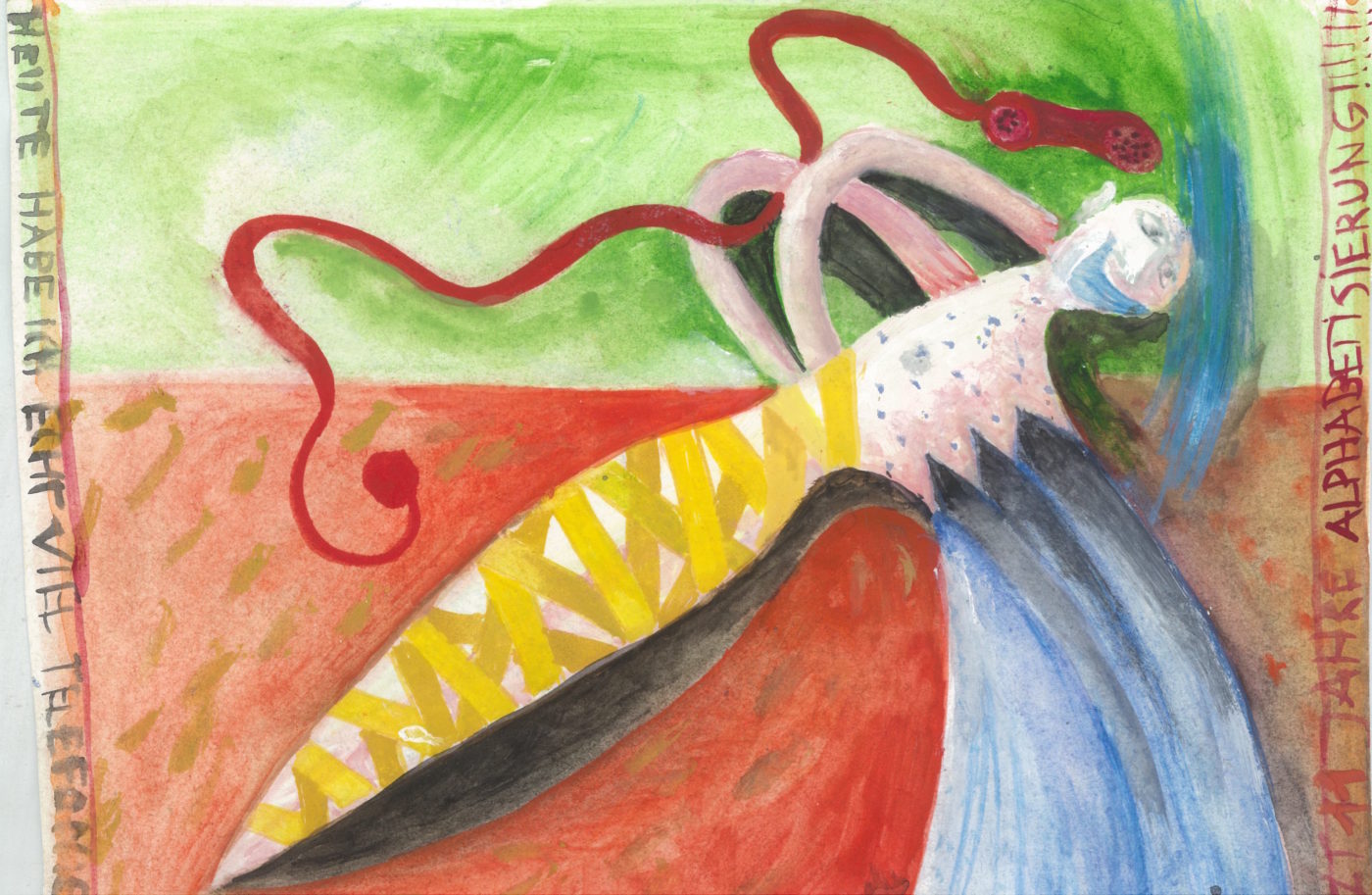 Fröhliche Bilder aus dem K.: Heute habe ich echt viel telefoniert (Cheerful Pictures From The Hospital: I Was On The Phone A Lot Today) 1992 Wasserfarbe und Deckweiß auf Papier Watercolor and opaque white on paper 16,5 x 20 cm 6.5 x 8 in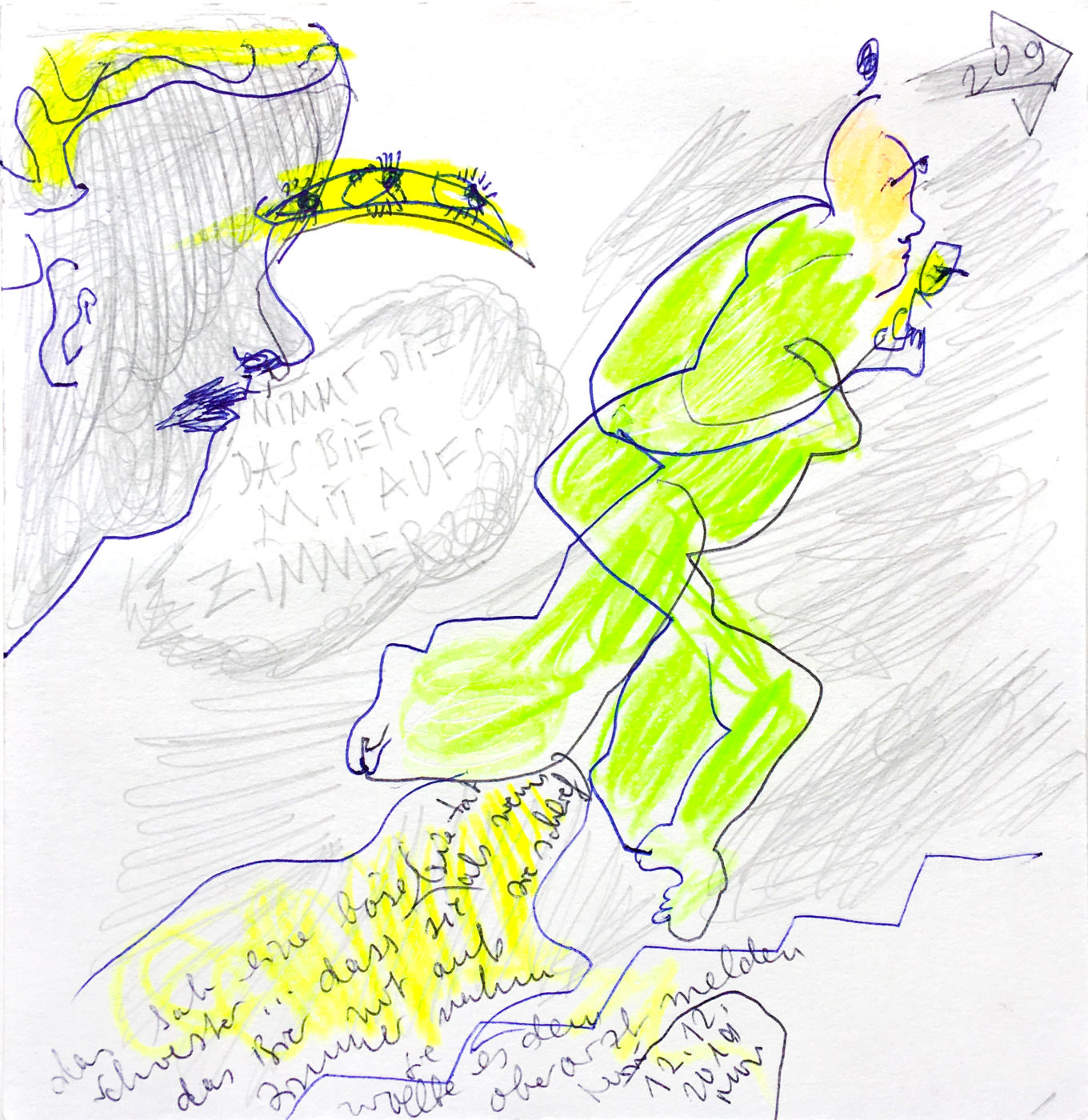 Das sah' eine böse Schwester (A Mean Nurse Saw It) 2019 Bleistift, Buntstift und Kugelschreiber auf Papier Pencil, crayon, and ballpoint pen on paper 20 x 20 cm 8 x 8 in
Neujahrstränen (New Year's Tears) 2020 Bleistift und Buntstift auf Papier Pencil and crayon on paper 20 x 20 cm 8 x 8 in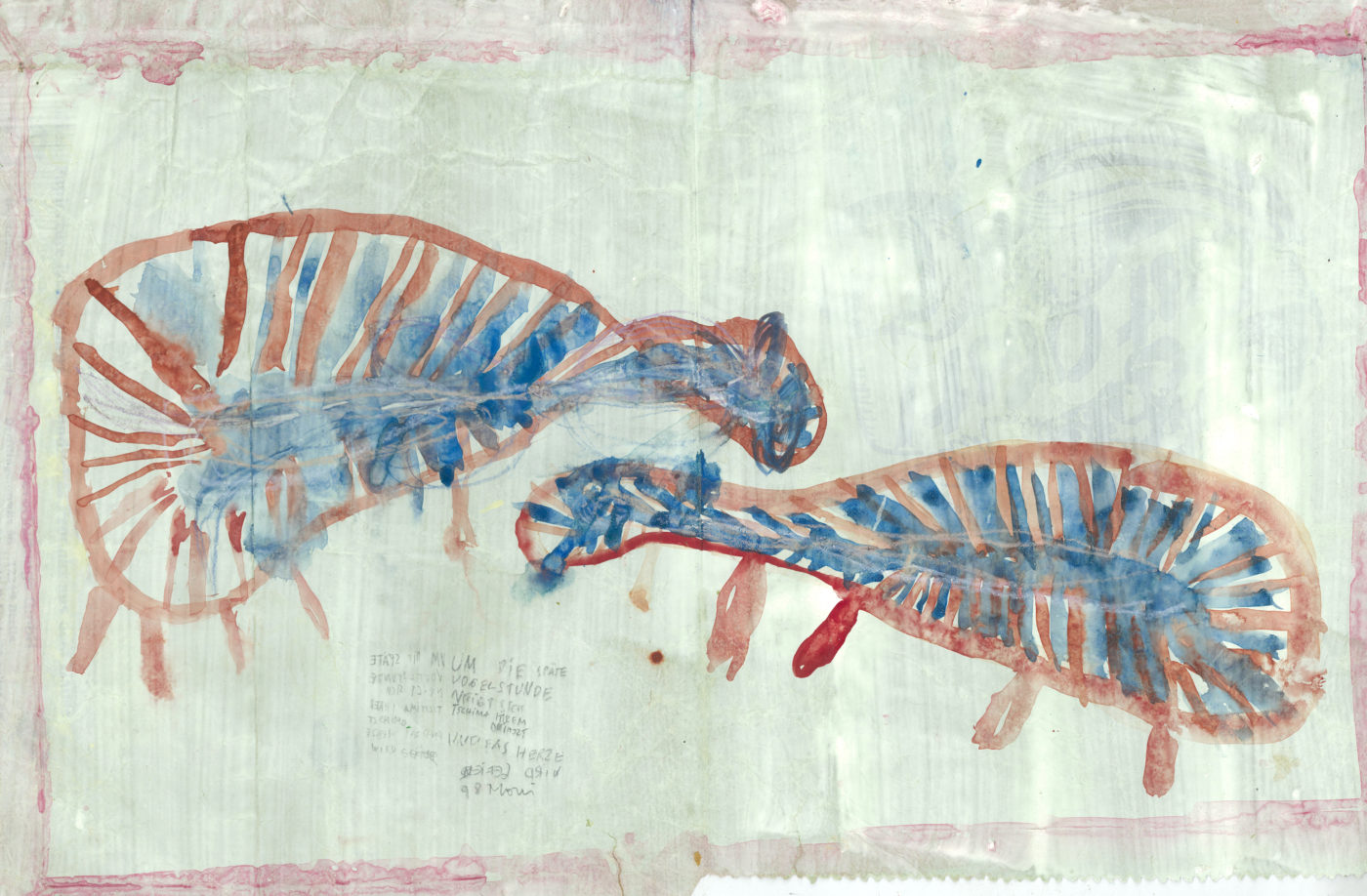 Meine Tiere (My Pets) 1998 Wasserfarbe auf grundierter Tüte Watercolor on primed paper bag 30 x 45 cm 12 x 18 in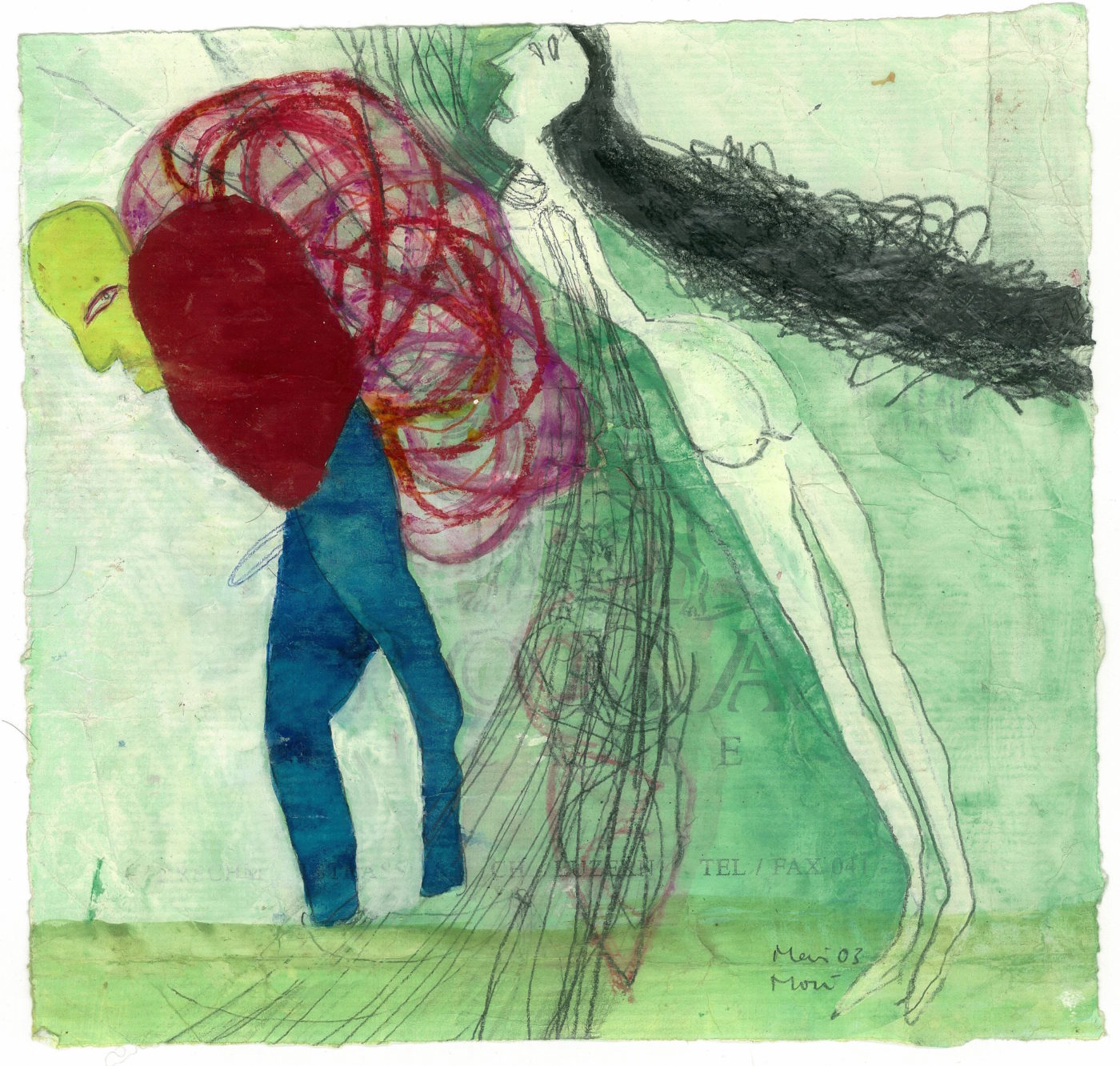 Transport 2003 Bleistift, Wasserfarbe und Pigment auf Papier Pencil, watercolor, and pigment on paper 25 x 27 cm 10 x 10.5 in
Ich fahre nach Paris: So stell' ich mir die Liebe vor! (I'm Going To Paris: That's How I Imagine Love!) 1999 Bleistift, Buntstift und Wasserfarbe auf Papier Pencil, crayon, and watercolor on paper 14,5 x 21 cm 6 x 8.5 in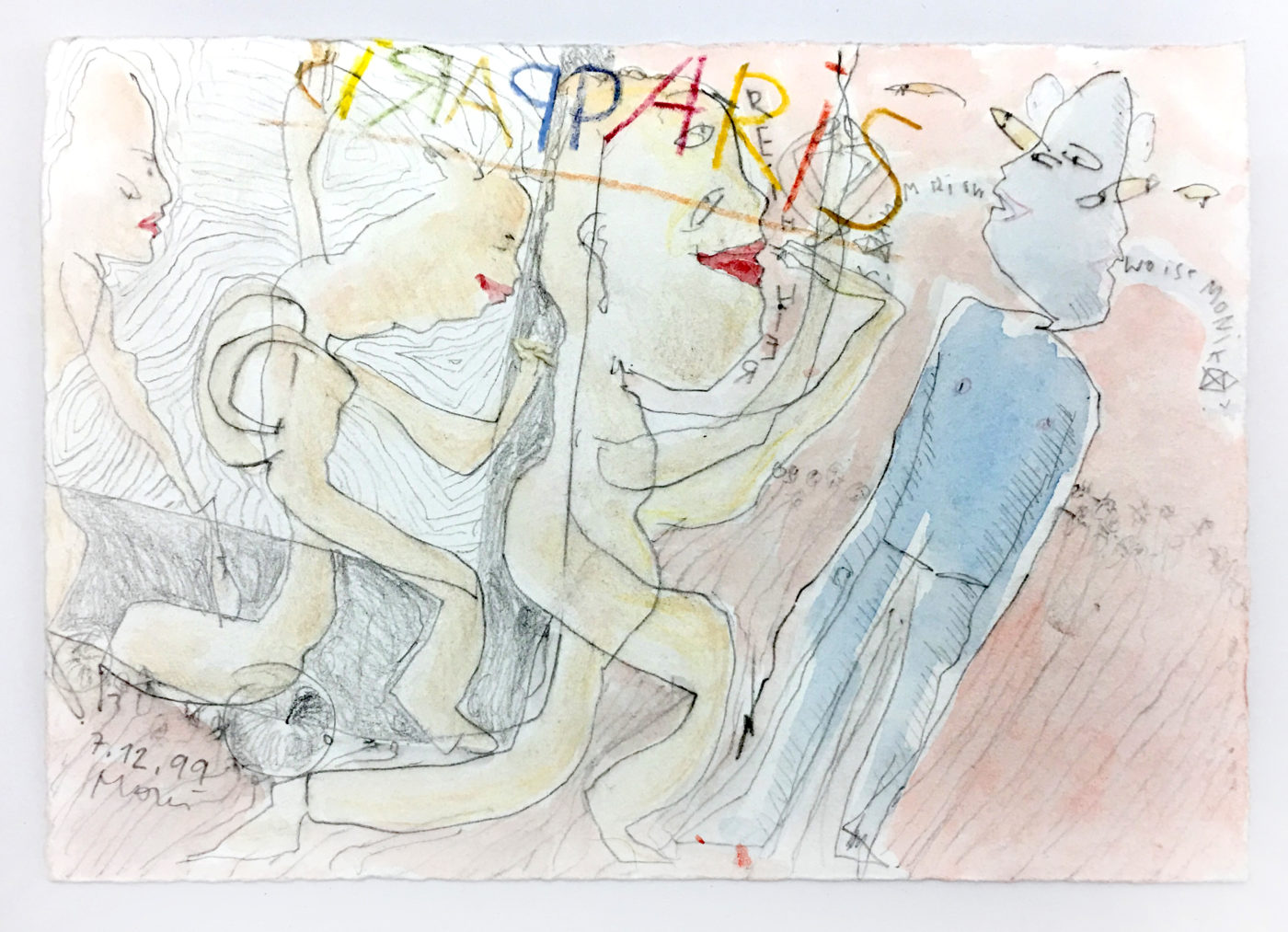 Ich fahre nach Paris: Wo ist Monika? Hier! (I'm Going To Paris: Where Is Monika? Here!) 1999 Bleistift und Buntstift auf Papier Pencil and crayon on paper 14,5 x 21 cm 6 x 8.5 in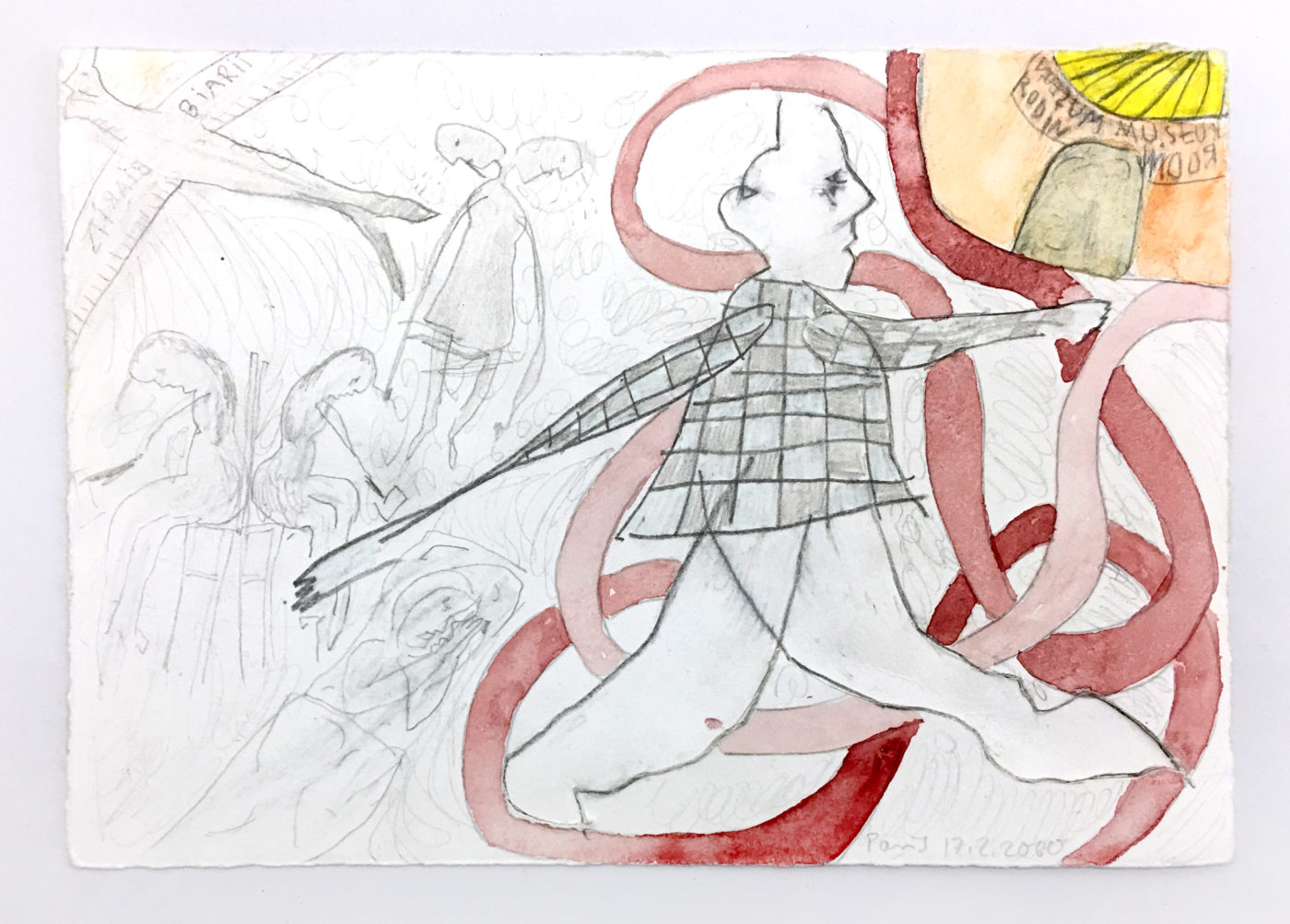 Ich fahre nach Paris: Zum Rodin Museum (I'm Going To Paris: To The Rodin Museum) 2000 Bleistift, Buntstift und Wasserfarbe auf Papier Pencil, crayon, and watercolor on paper 14,5 x 21 cm 6 x 8.5 in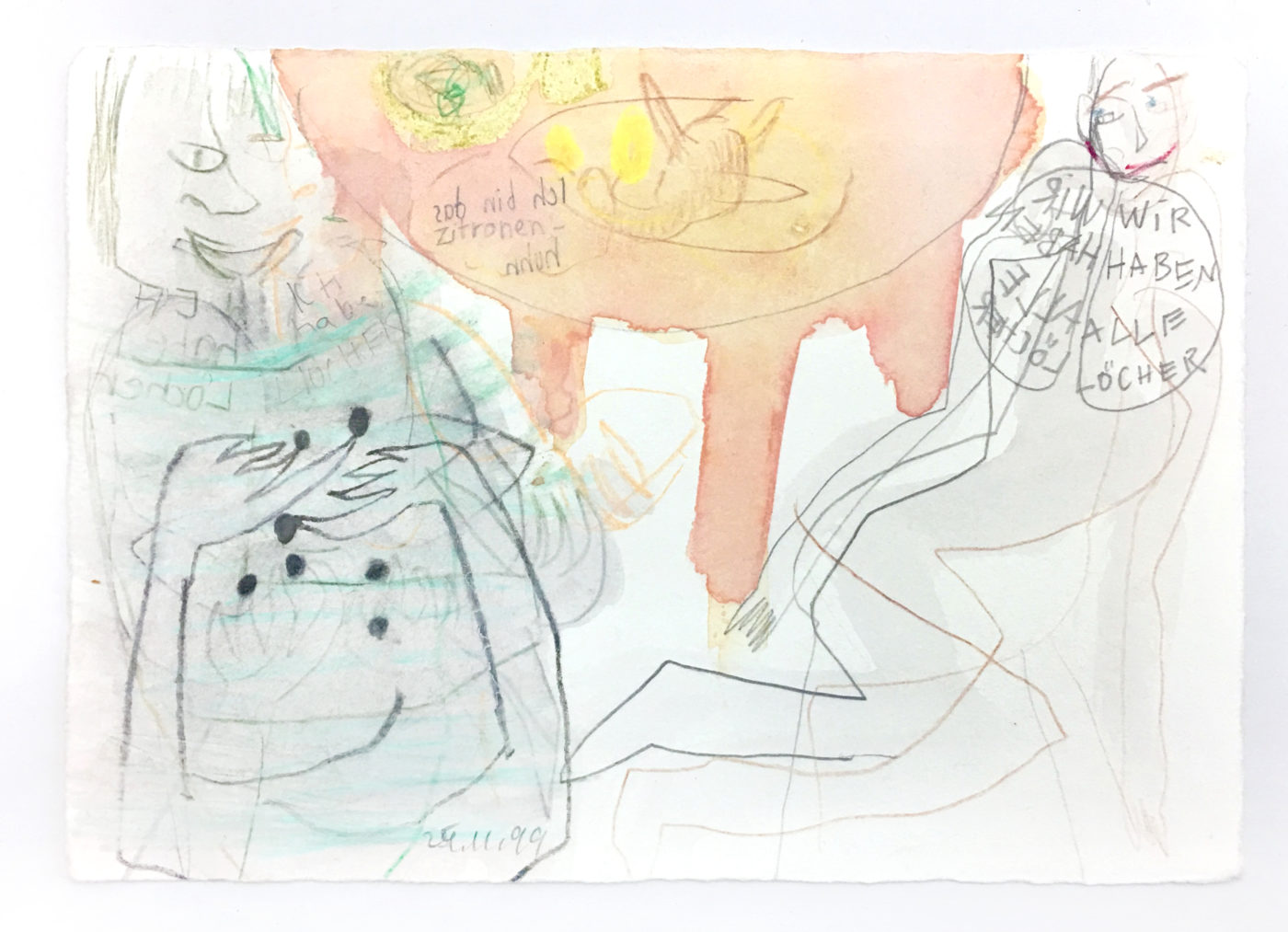 Ich fahre nach Paris: Ich habe Löcher im Pullover (I'm Going To Paris: I Have Holes In My Sweater) 1999 Bleistift, Buntstift und Wasserfarbe auf Papier Pencil, crayon, and watercolor on paper 14,5 x 21 cm 6 x 8.5 in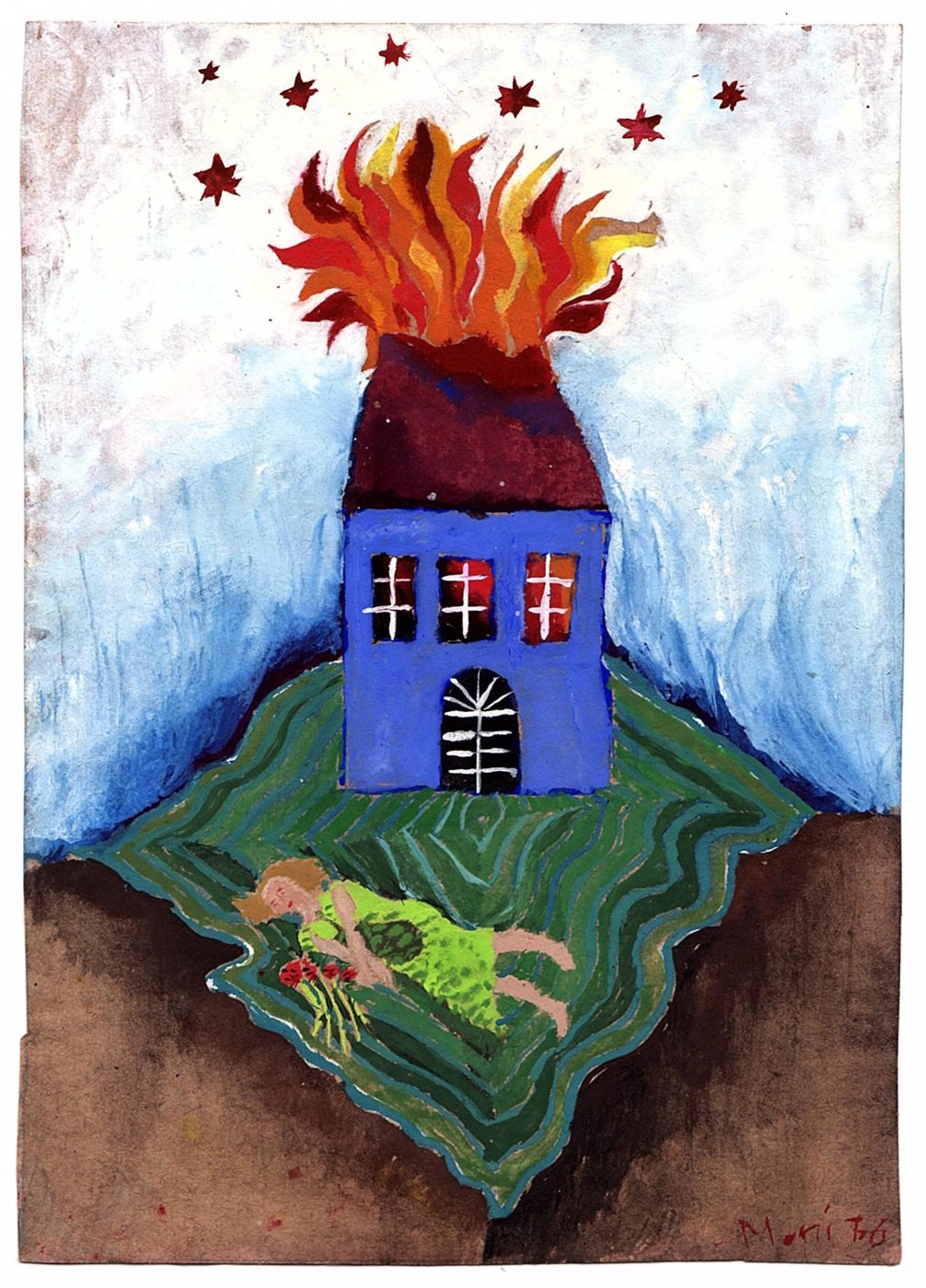 Es brennt (Fire) 1976 Wasserfarbe auf Papier Watercolor on paper 17 x 12 cm 7 x 5 in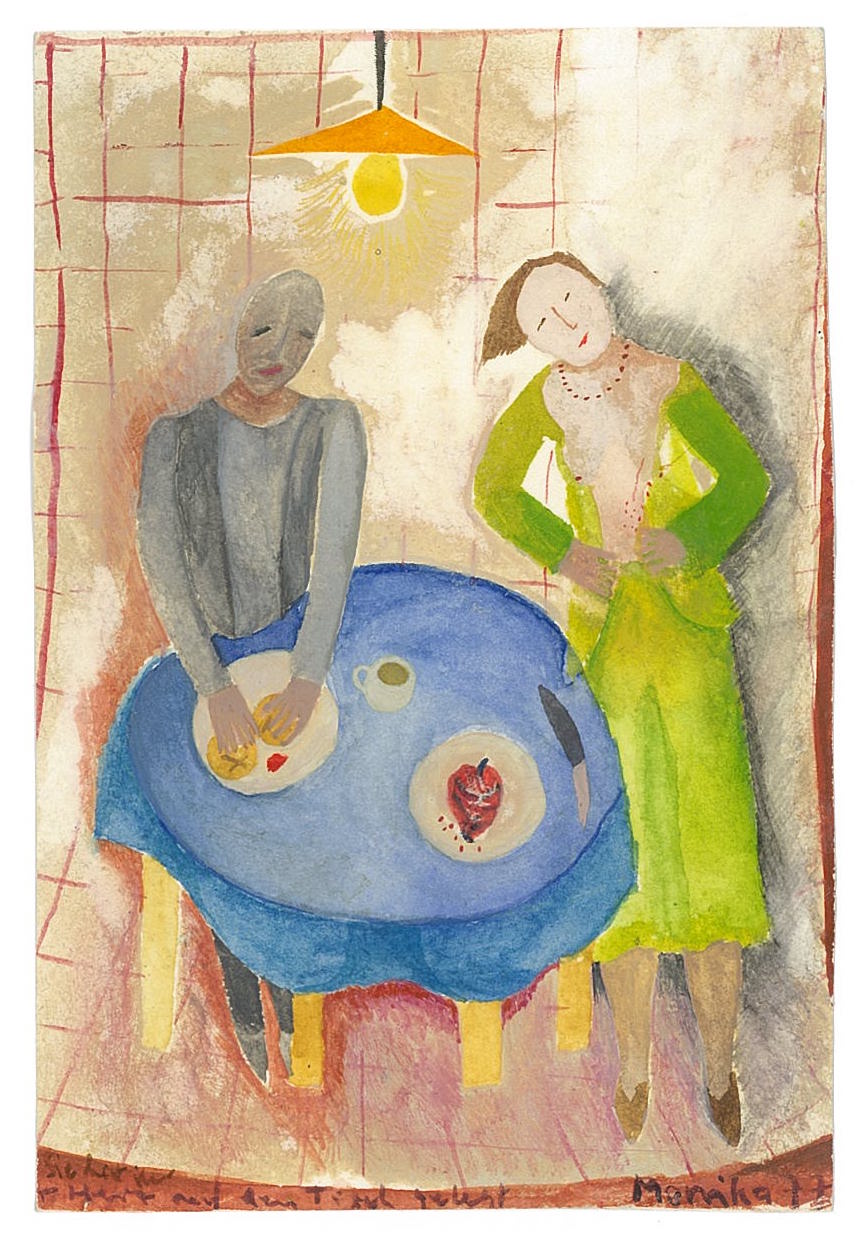 Sie hat ihr Herz auf den Tisch gelegt (She Put Her Heart On The Table) 1978 Wasserfarbe auf Papier Watercolor on paper 15 x 10 cm 6 x 4 in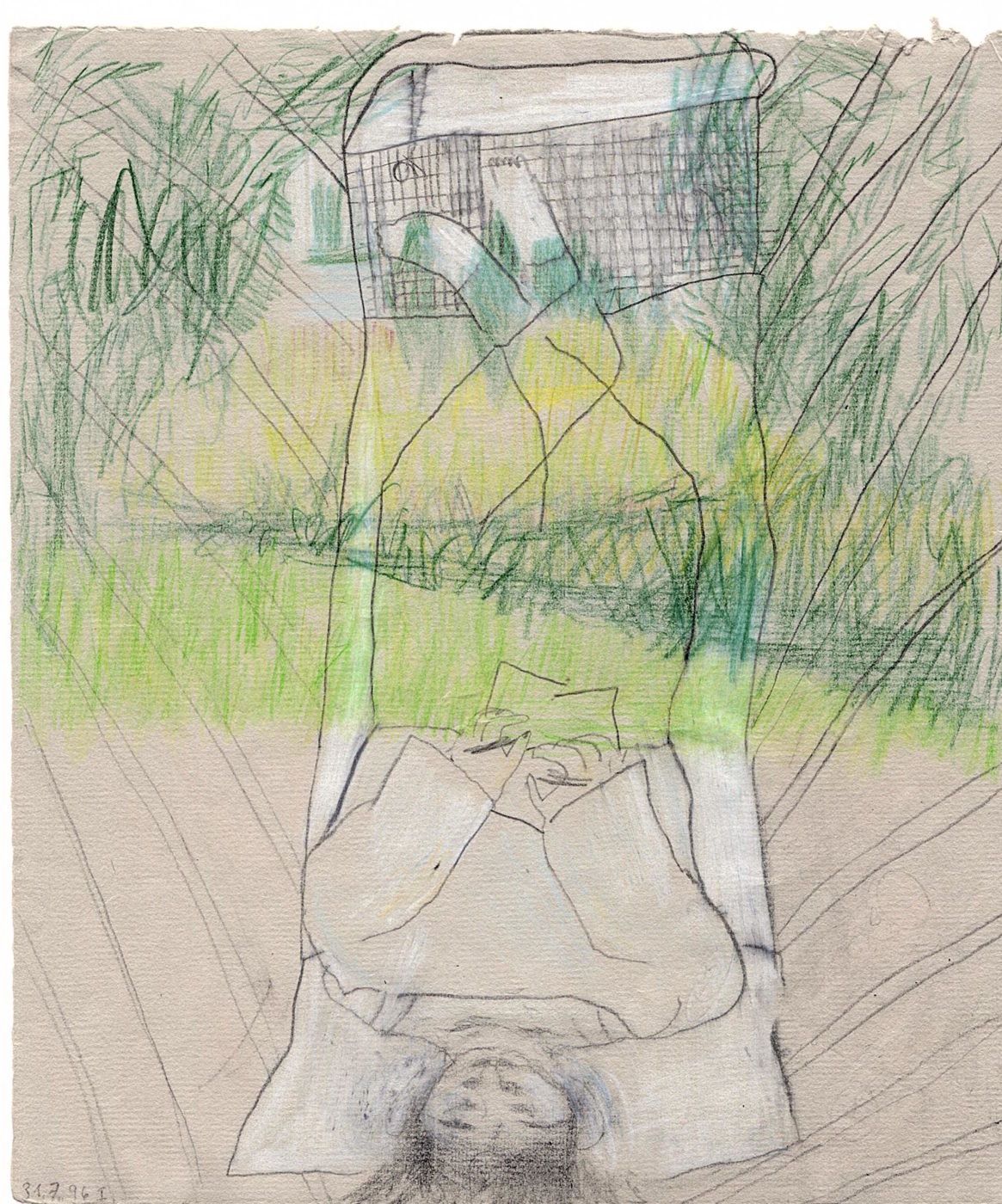 Idyll: Ich zeichne mit Stiften im Bett (Idyll: I'm Drawing With Crayons In Bed) 1996 Bleistift und Buntstift auf Papier Pencil and crayon on paper 24 x 20,5 cm 9.5 x 8 in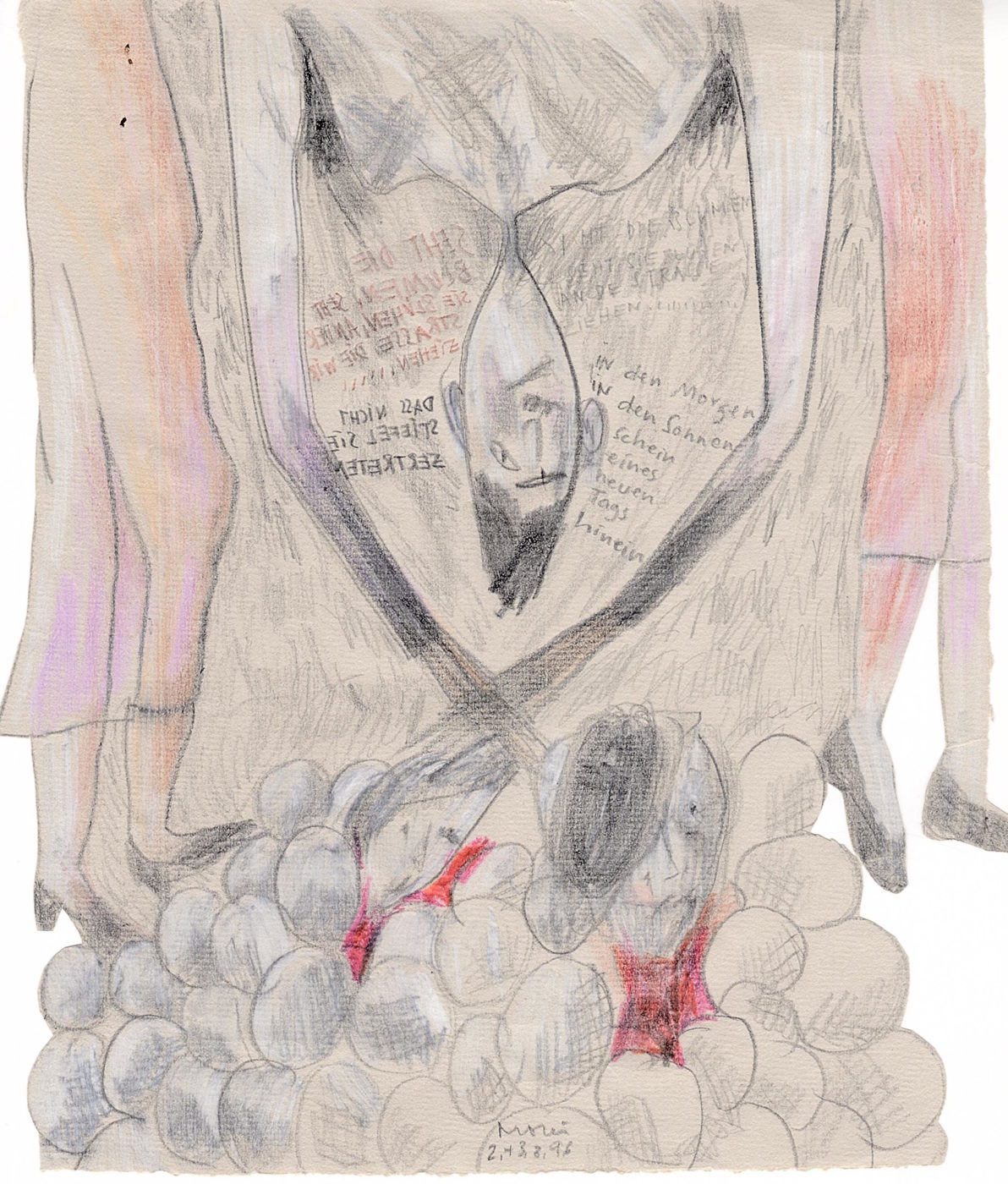 Idyll: Seht die Blumen, seht sie blühen / In den Morgen, in den Sonnenschein (Idyll: See The Flowers, See Them Bloom / Into The Morning, Into The Sunshine) 1996 Bleistift und Buntstift auf Papier Pencil and crayon on paper 24,5 x 21 cm 9.5 x 8.5 in
Heimweg: Fiel auf dem Heimweg tot um (Way Home: Dropped Dead On The Way Home) 2004 Buntstift und Wachskreide auf Papier Crayon and wax crayon on paper 10,5 x 15 cm 4 x 6 in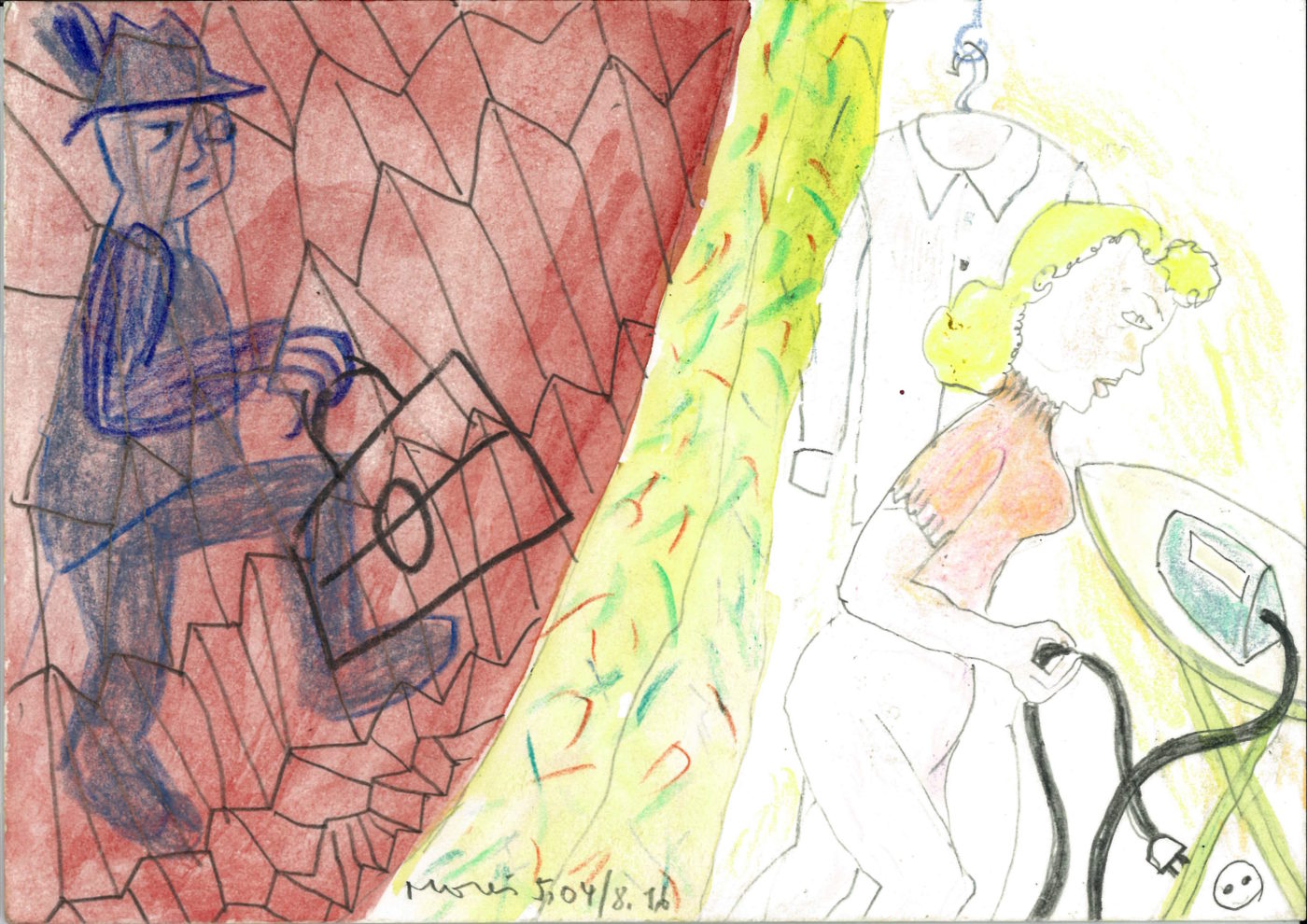 Heimweg: Kommt vom Büro nach Hause (Way Home: Comes Home From The Office) 2004/2016 Bleistift, Buntstift, Wasserfarbe und Deckweiß auf Papier Pencil, crayon, watercolor, and opaque white on paper 10,5 x 15 cm 4 x 6 in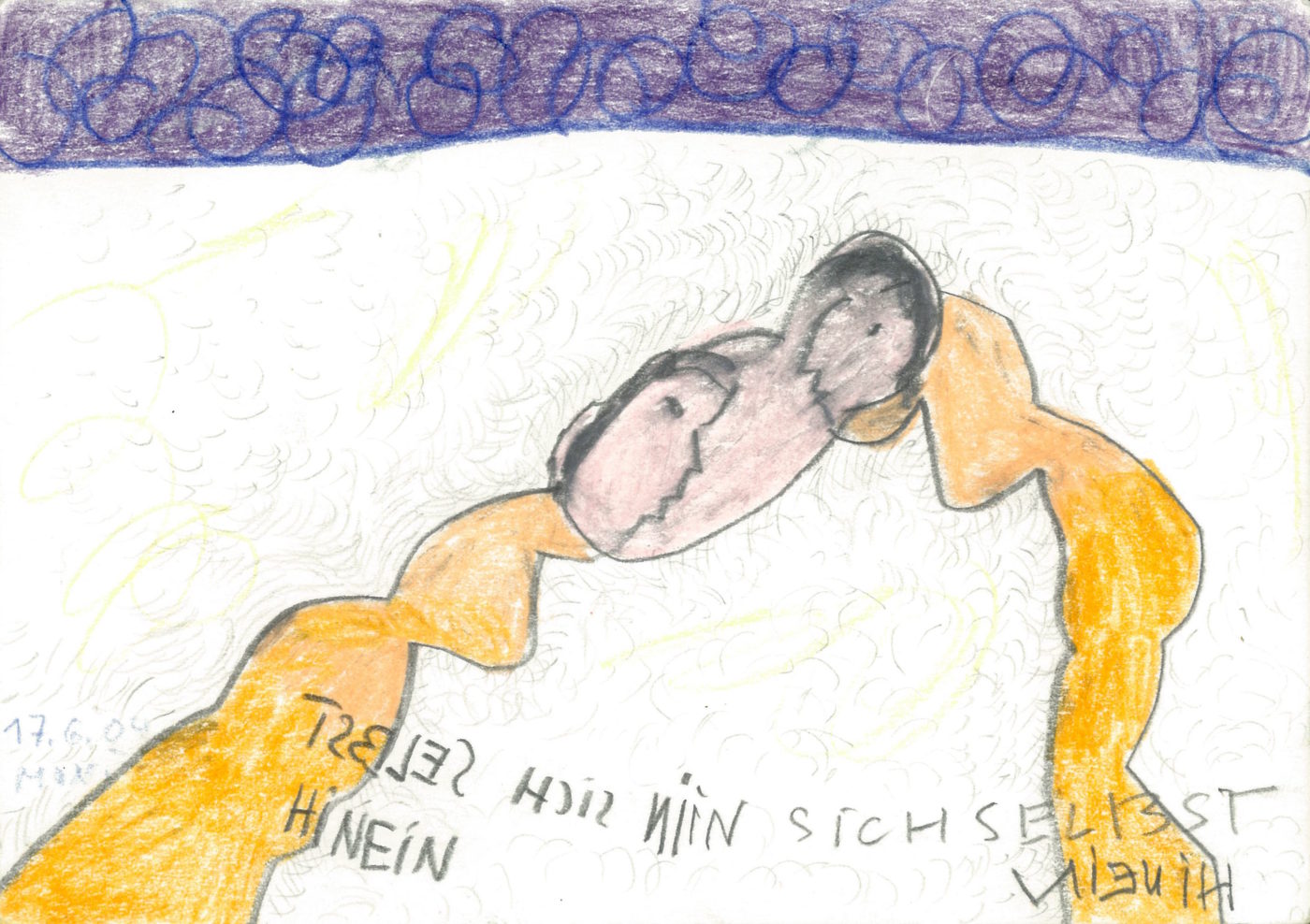 Heimweg: In sich selbst hinein (Way Home: Into Oneself) 2004 Bleistift und Buntstift auf Papier Pencil and crayon on paper 10,5 x 15 cm 4 x 6 in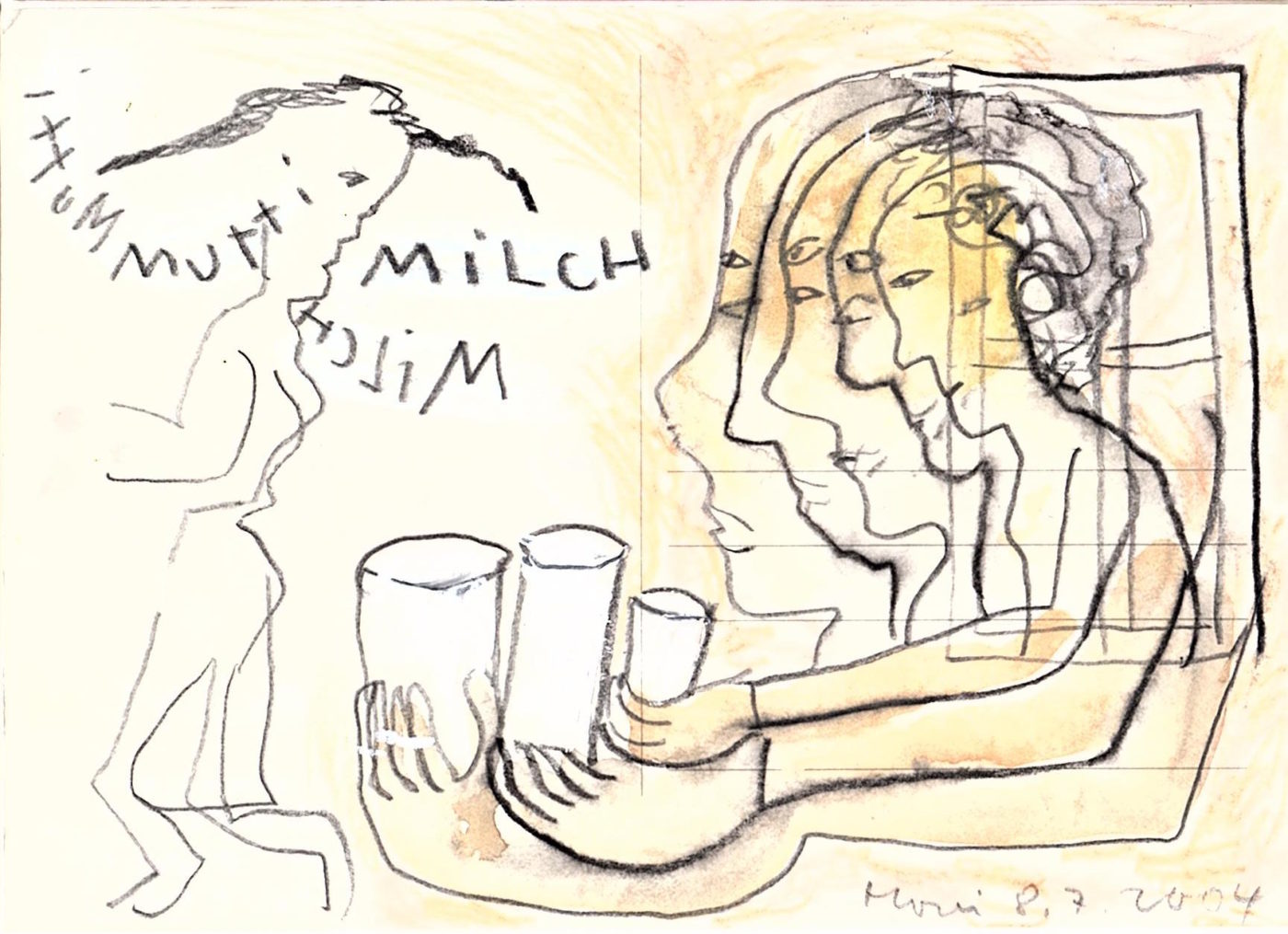 Heimweg: Milch! (Way Home: Milk!) 2004 Bleistift, Buntstift, Wasserfarbe und Deckweiß auf Papier Pencil, crayon, watercolor, and opaque white on paper 10,5 x 15 cm 4 x 6 in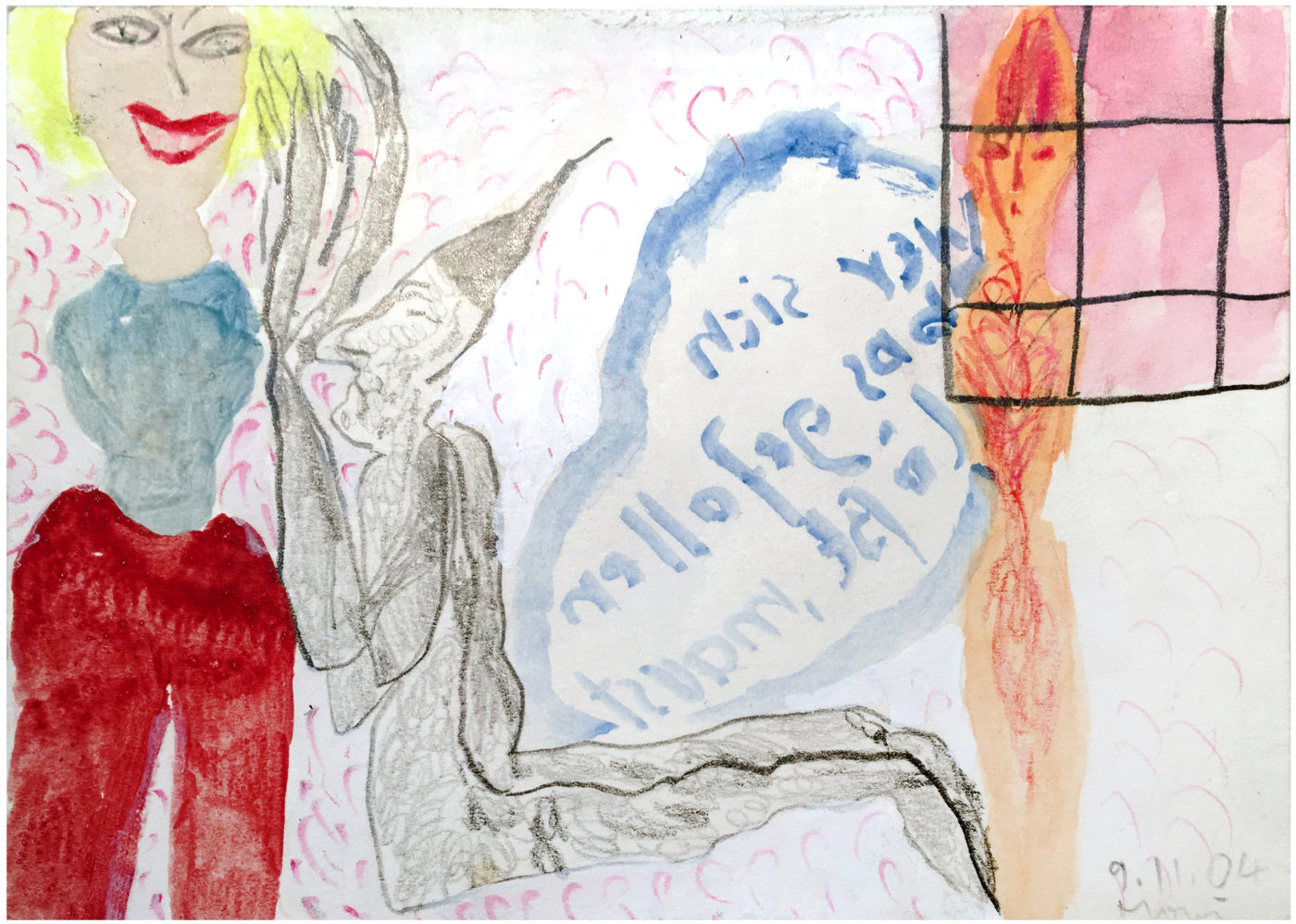 "Es geht ein dunkle Wolk herein": Wer sich das gefallen lässt, der klaut ("There's A Dark Cloud Coming In": Who Puts Up With That, Steals) 2004 Bleistift, Buntstift und Wasserfarbe auf Papier Pencil, crayon, and watercolor on paper 10,5 x 15 cm 4 x 6 in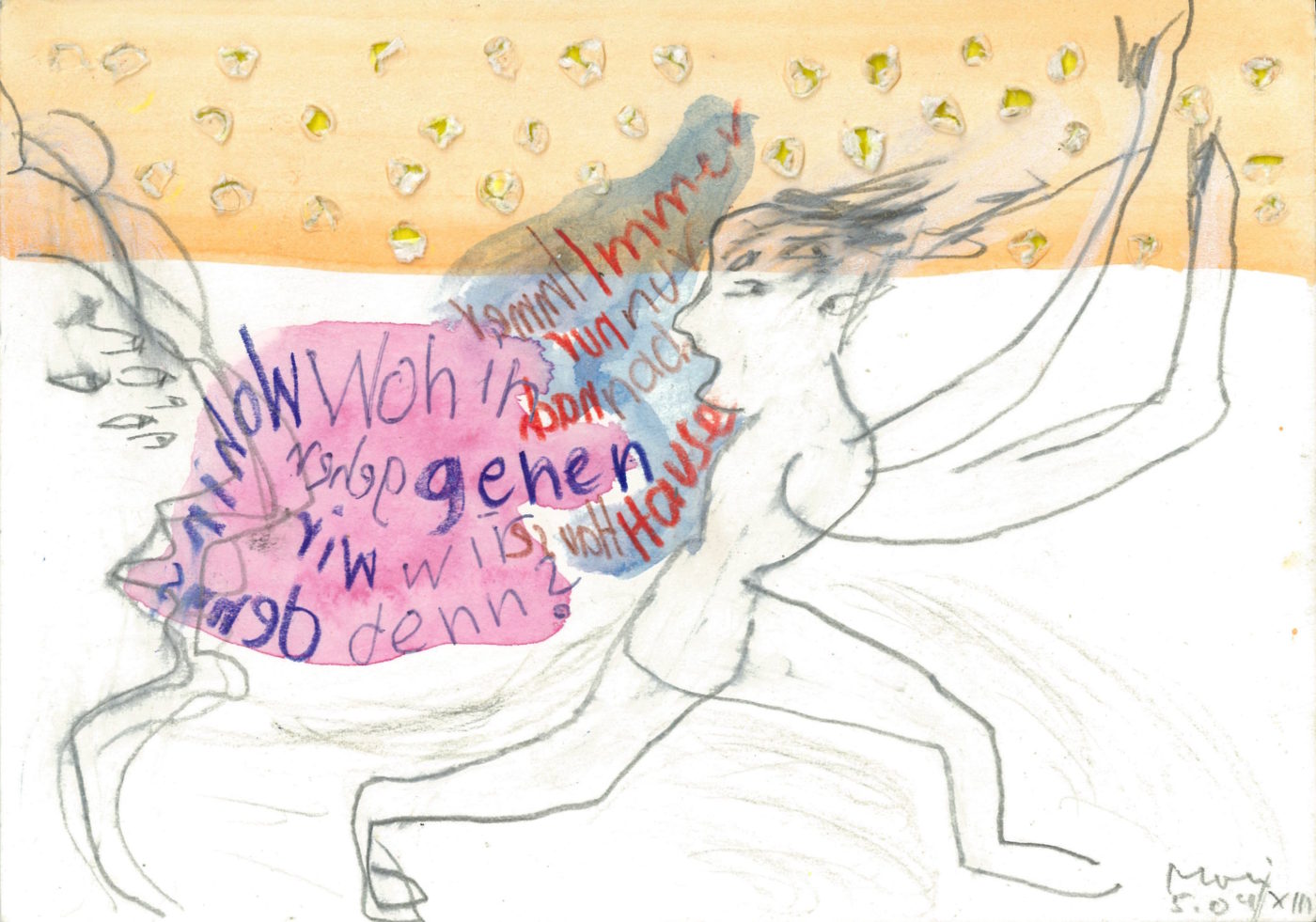 Heimweg: Wohin? Nach Hause! (Way Home: Where To? Home!) 2004 Bleistift, Buntstift, Kugelschreiber und Wasserfarbe auf Papier Pencil, crayon, ballpoint pen, and watercolor on paper 10,5 x 15 cm 4 x 6 in
Monika Maurer-Morgenstern
Born 1942 in Leipzig, Germany
Lives and works in Berlin, Germany
Solo Exhibitions
2016

Galerie ART CRU, Berlin, Germany

2011

Raitenbucher Castle, Kallmünz, Germany

2009

Association for Original Etchings, Cold Needle Etchings, München, Germany

2008

Galerie Ohse, Bremen, Germany

2007

Marion Grcic Fine Arts, München, Germany

2005

Letters from Konstanz, Kavaliershaus, Langenargen, Germany

2004

Oberwallis Arts Association, Visp, Switzerland

2001

Galerie Martin Kudlek, Köln, Germany

1998

Galerie Albrecht, München, Germany

1995

Galerie Albrecht, München, Germany

1994

Friedrichstadt Arts Association, Berlin, Germany

1993

Galerie Albrecht, München, Germany

1988

Seidl Villa, München, Germany

1986

Ignaz-Günther-Haus, Münchner Stadtmuseum, München, Germany
Selected Group Exhibitions
2019
Was bleibet aber stiften die Dichter, Galerie Parterre, Berlin, Germany
2018
Zeichnung der Gegenwart II, Galerie Parterre, Berlin, Germany
Rings Around the Moon, Cavin-Morris Gallery, New York, United States
2017
The Drawing Hub, Berlin, Germany
2014
Freshet: Old Loves, New Directions, Cavin-Morris Gallery, New York, United States
2013
Galerie Josephski Neukum, Issing, Germany
2009
Monika Maurer-Morgenstern, Renate Ranebach and Sigrun C. Schleheck, Galerie Josephski Neukum, Issing, Germany
2007
Monika Maurer-Morgenstern and Rosa Maria Krinner, Artothek, München, Germany
2005
Monika Maurer-Morgenstern and Heather Shine, Galerie Kudlek, Köln, Germany
World Interiors- the Hanck Collection, Society for Christian Arts, München, Germany
2004
Heimweg (Way Home Project), Galerie Zink and Gegner, München, and Galerie Kudlek, Köln, Germany
2002
Years Given, München Arts Association, München, Germany
2000
New Acquisitions to the Hanck Collection, Düsseldorf Palace Art Museum Foundation, Düsseldorf, Germany
Drawings, Galerie Kudlek, Köln, Germany
1999
Years Given, München Arts Association, München, Germany
1995
Years Given, München Arts Association, München, Germany
1994
Years Given, München Arts Association, München, Germany
1988
Really Unreal, BBK München, München, Germany
Monika Maurer-Morgenstern and Liddy von Lüttwitz, Alpirsbacher Galerie, Alpirsbach, Germany
1983
Galerie Eisenmann, Böblingen, Germany
Prizes, Grants and Residencies
2010
Golden Lion Inn Scholarship, Kallmünz, Germany
2007
With Both Hands, Catalog Promotion in München Capital, Germany
2005
Kavalierhaus Langenargen/Lake Constance Scholarship, Baden-Württemberg, Germany
1995
International Summer Academy for the Fine Arts, Salzburg, Austria
1994
If the Table had Arms, Catalog Promotion in München Capital, Germany
1990
International Summer Academy for the Fine Arts, Salzburg, Austria
Public Collections
Berlinische Galerie, Berlin, Germany
Stuttgart State Gallery, Stuttgart, Germany
München State Graphics Collection, München, Germany
Basel Prints and Drawings, Basel, Switzerland
Museum Kunstpalast, Düsseldorf, Germany
Artothek, München, Germany
Artothek, Köln, Germany