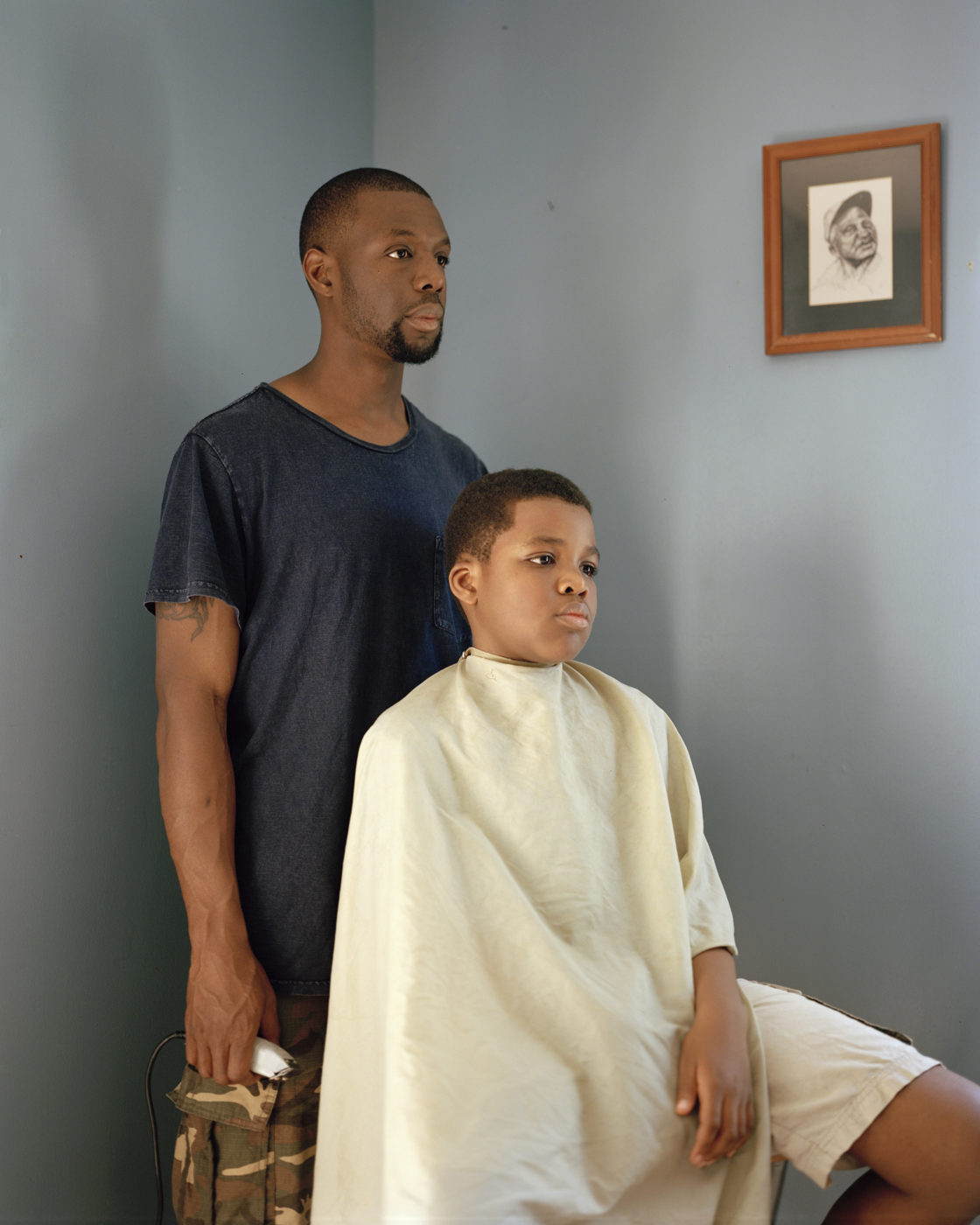 Fatherhood 1 2018 Archival Ink Jet Print 40 x 30 in 102 x 76 cm
[Deutscher Text nachstehend]
Larry W. Cook's socially critical work includes photography, video and conceptual art. Cook's work often examines African American identity, racial relations, and American society.
The left side of the photographic triptych All American shows a figure in red clothing that can be associated with the street gang "The Bloods" from Los Angeles; the counterpart on the right side shows a person dressed in blue – the color worn by the rival gang "The Crips". The two gang members provide a frame for the middle photo showing a Ku Klux Klan member in a white robe. Cook is deeply concerned with the history and representation of violence in the United States. All American puts different personifications of violence on the same level and encourages the viewer to draw unexpected cross-connections.
Larry W. Cook lives and works in Washington DC. He teaches photography at Howard University in Washington DC. Cook received his MFA in 2012 from George Washington University and has since been featured in numerous solo and group exhibitions in the USA, including the Walters Art Museum, the Baltimore Museum of Art, the Katzen Arts Center, and the Rush Arts Gallery. Cook is the winner of the Best of Show Award of the Trawick Prize: Bethesda Contemporary Art Awards 2017 and is nominated for the Outwin Boochever Portrait Competition 2019 of the National Gallery.
***
Larry W. Cooks sozialkritisches Werk umfasst Fotografie, Video- und Konzeptkunst. Cooks Arbeiten untersuchten oft afroamerikanische Identität, Rassenbeziehungen und die amerikanische Gesellschaft.
Das fotografische Triptychon All American zeigt auf der linken Seite eine Figur in roter Kleidung, die mit der Straßengang "The Bloods" aus Los Angeles in Verbindung gebracht werden kann; das Gegenstück auf der rechten Seite zeigt eine in Blau gekleidete Person – die Farbe, die von der rivalisierenden Bande "The Crips" getragen wird. Die beiden Gangmitglieder bilden den Rahmen für das mittlere Foto, das ein Ku Klux Klan Mitglied in weißer Robe zeigt. Cook setzt sich intensiv mit der Geschichte und Repräsentation von Gewalt in den Vereinigten Staaten auseinander. All American stellt unterschiedliche Personifikationen von Gewalt auf eine Ebene und bringt den Betrachter dazu, unerwartete Querverbindungen zu ziehen.
Larry W. Cook lebt und arbeitet in Washington DC. Er ist Dozent für Photographie an der dortigen Howard University. Cook erhielt seinen MFA 2012 von der George Washington University und war seither in zahlreichen Einzel- und Gruppenausstellungen in den USA zu sehen unter anderem im Walters Art Museum, dem Baltimore Museum of Art, dem Katzen Arts Center, und der Rush Arts Gallery. Cook ist der Gewinner der Best of Show Auszeichnung des Trawick Prize: Bethesda Contemporary Art Awards 2017 und ist für den Outwin Boochever Portrait Competition 2019 der National Gallery nominiert.
All American 2012 Archival Ink Jet Print Each 40 x 50 in Je 102 x 127 cm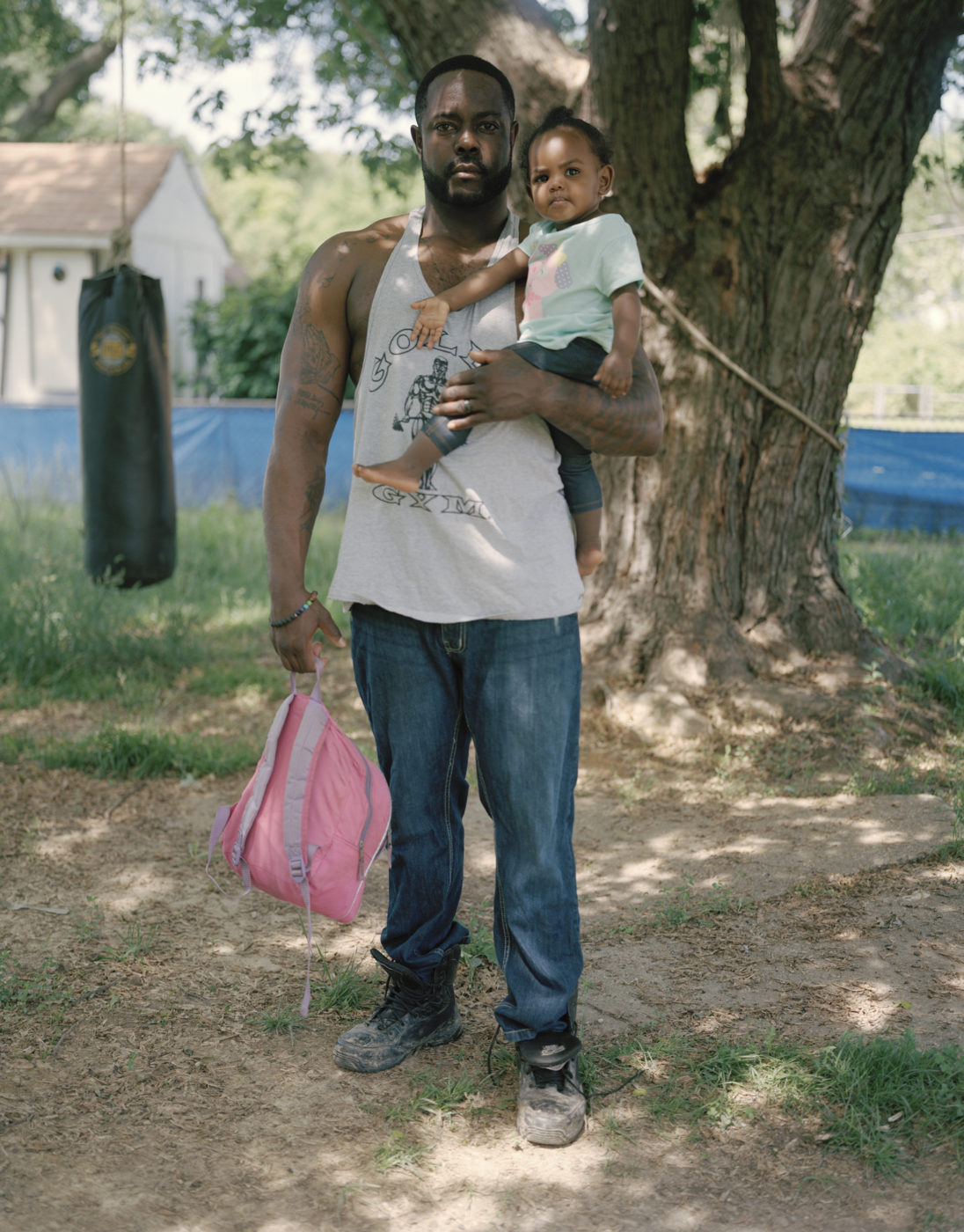 Fatherhood 2 2018 Archival Ink Jet Print 40 x 30 in 102 x 76 cm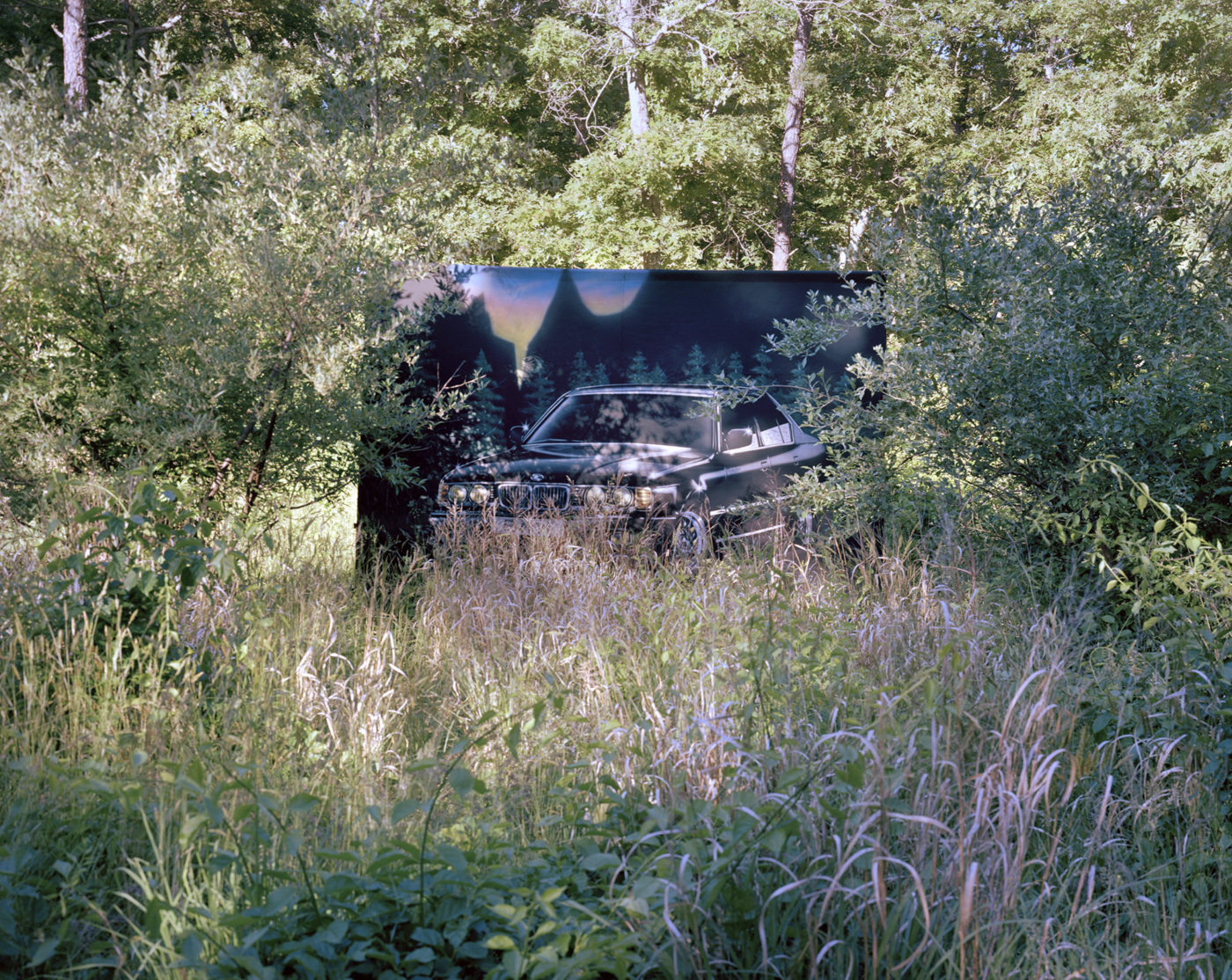 Urban Landscapes 1 2018 Archival Ink Jet Print 17 x 14 in 43 x 36 cm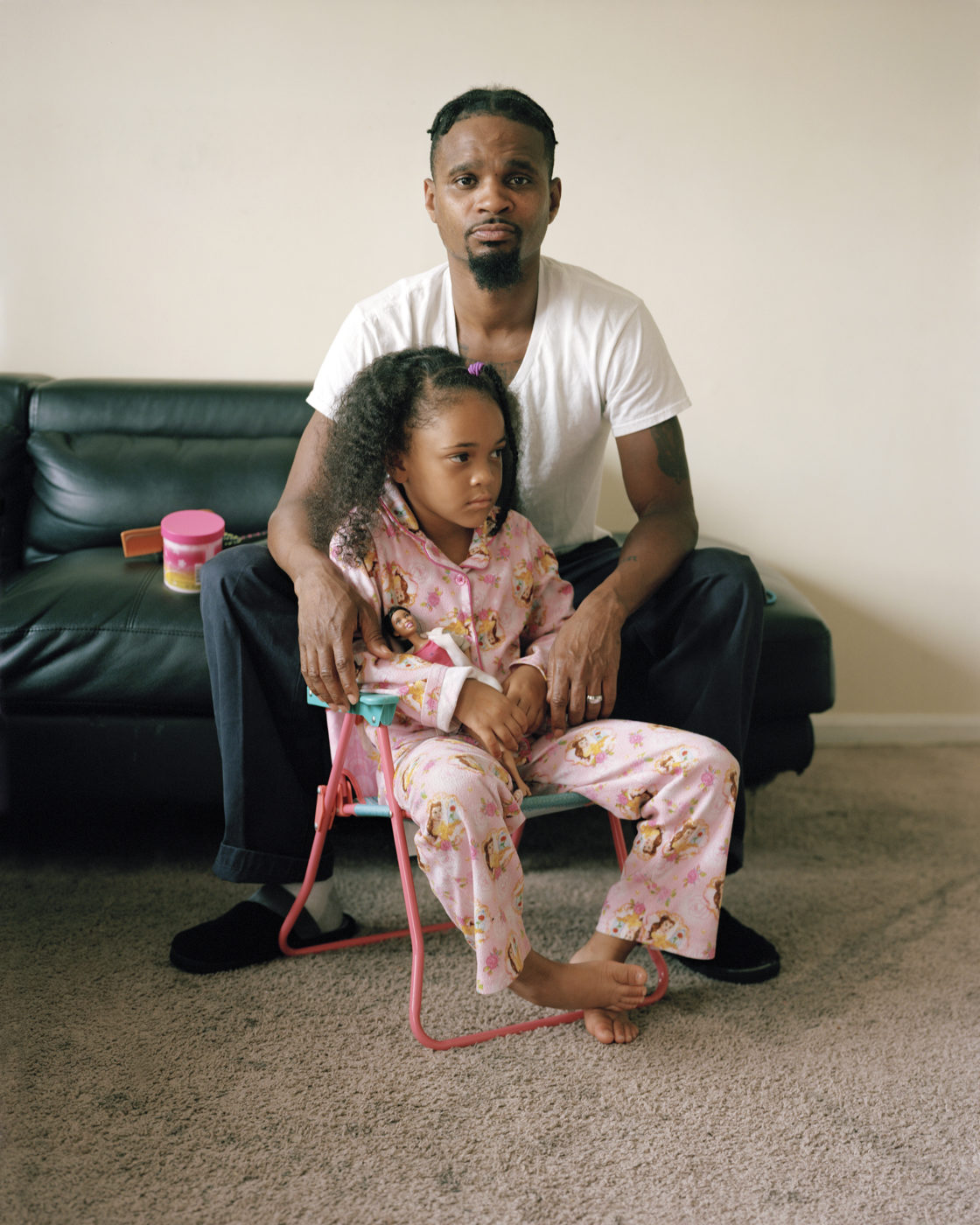 Fatherhood 3 2018 Archival Ink Jet Print 40 x 30 in 102 x 76 cm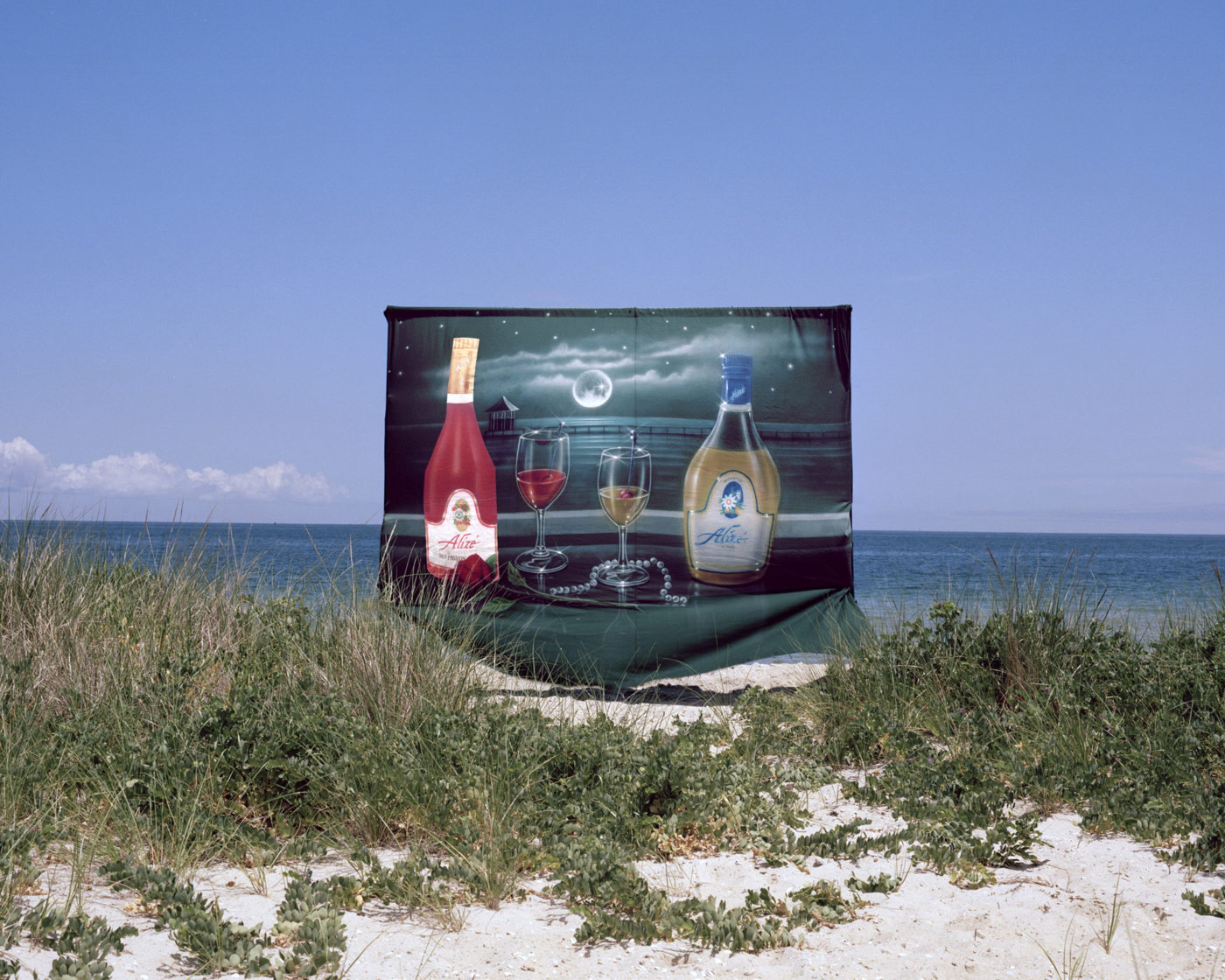 Urban Landscapes 2 2018 Archival Ink Jet Print 17 x 14 in 43 x 36 cm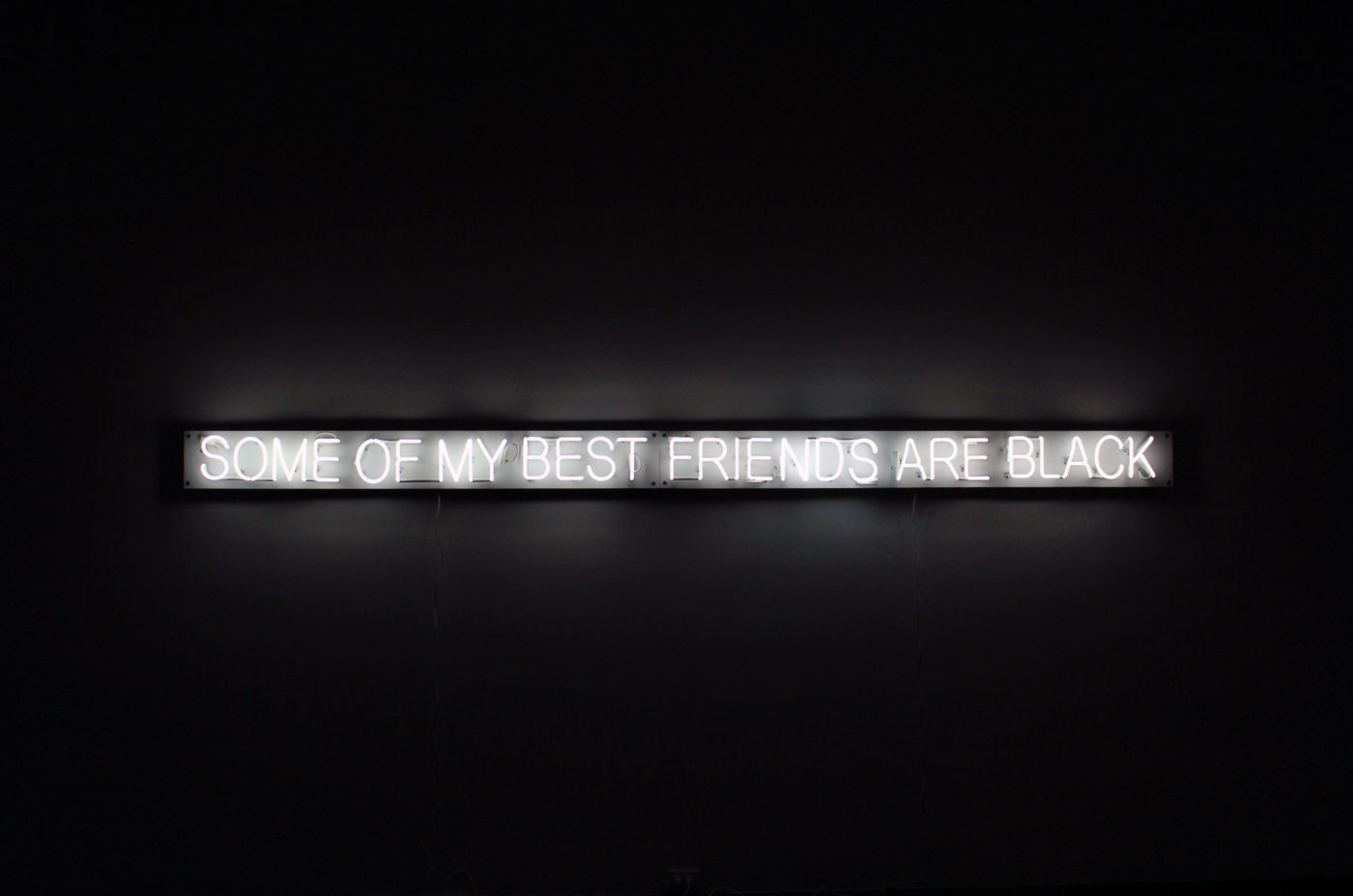 Some of my Best Friends are Black 2015 Neon 131 x 6 in 333 x 15 cm
Larry W. Cook
Lives and works in Washington DC, United States
Solo Exhibitions
2019

Urban Institute of Contemporary Art, Grand Rapids, United States
Galerie Myrtis, Baltimore, United States

2015

Stockholm Syndrome, Hamiltonian Gallery, Washington DC, United States

2014

Looking Black At Me, Stamp Gallery, University of Maryland, United States
From An Eighth To A Key, Hamiltonian Gallery, Washington DC, United States

2013

Americana, Pleasant Plains Workshop, Washington DC, United States

2012

And the Wisdom to Know the Difference, Gallery 102, The George Washington University, United States
Selected Group Exhibitions
2018

Art on the Vine, Fisher House, Martha's Vineyard, United States
Faculty, Rush Arts Gallery, New York, United States

2017

Black Man in a Black World, Galerie Myrtis, Baltimore, United States
Spiral, Recoil, Delaware Center for Contemporary Arts, Wilmington, United States
Black Cinema House, National Gallery of Art, Washington DC, United States
Chocolate Cities, PG County African American Museum, Brentwood, United States
What's Next?, Kohl Gallery, Washington College, United States

2016

Lest We Forget, Galerie Myrtis, Baltimore, United States
It Takes A Nation, Katzen Arts Center, American University, United States
Sondheim Artscape Finalist Exhibition, Baltimore Museum of Art, Baltimore, United States
To Be Black in White America, Galerie Myrtis, Baltimore, United States

2015

How We Lost DC, Honfleur Gallery, Washington DC, United States
The Image of the Black: Reimagined and Redefined, Galerie Myrtis, Baltimore, United States
Ceci n'est pas une T.V., Fine Art Gallery, George Mason University, United States
Untitled, Outer Gallery, Montana State University, United States

2014

Ceremonies of Dark Men, part of the 5×5 Public Art Project, DC Commissions on the Arts and Humanities, Washington DC, United States
Trawick Prize Finalist Exhibition, Gallery B, Bethesda, United States
WPA Select 2014, Washington Project for the Arts, Artistphere, Arlington, United States

2013

10th Annual Transformer Auction, Corcoran Gallery of Art, Washington DC, United States
New. (Now), Hamiltonian Gallery, Washington DC, United States
Sondheim Artscape Finalist Exhibition, The Walters Art Museum, Baltimore, United States
Academy 2013, CONNERSMITH., Washington DC, United States
Artist-Citizen, Hemphill Fine Arts, Washington DC, United States

2012

9th Annual Transformer Auction, Corcoran Gallery of Art, Washington DC, United States
Fresh Perspectives, Hillyer Art Space, Washington DC, United States
Fifteen Passenger Van, Montserrat House, Washington DC, United States

2011

Sapphire Bombay Artisan Series, International Visions Gallery, Washington DC, United States
The Sky's the Limit, Brentwood Arts Exchange, Brentwood, United States
UMUC Maryland Biennale Art Exhibition, University of Maryland, United States
Emergence Exhibition, Galerie Myrtis, Baltimore, United States
Awards
2018

Public Art Grant, Department of General Services, Washington DC, United States
Individual Artist Grant, Maryland State Arts Council, Baltimore, United States
Artist in Residence, Art on the Vine, Martha's Vineyard, United States

2017

The Trawick Finalist Prize, Bethesda, United States
Artist in Residence Washington Project for the Arts. Washington DC, United States

2016

The Janet and Walter Sondheim Artscape Prize Finalist, Baltimore, United States
The Macdowell Colony Fellowship, Peterborough, United States

2014

Trawick Prize Young Artist Award, Gallery B, Bethesda, United States

2013

The Janet and Walter Sondheim Artscape Prize Finalist, Baltimore, United States
Hamiltonian Artists Fellowship, Hamiltonian Gallery, Washington DC, United States
GW Alumni 1st Place, Annual Award Show, The George Washington University, United States