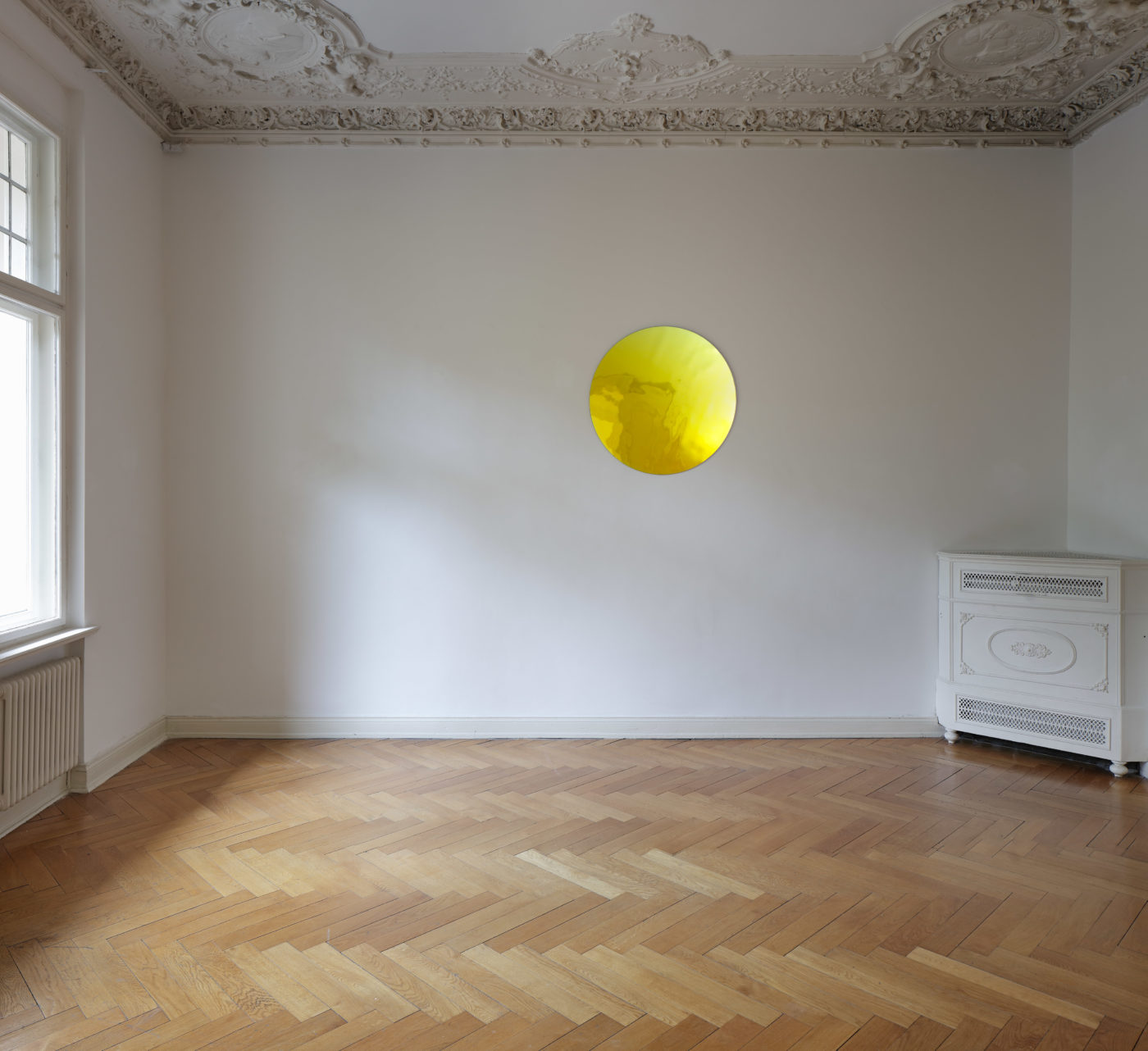 Installation view
Ursula Ott
June 23 to July 29,2018
[Deutscher Text nachstehend]
Ursula Ott's mirrored colored glass panes draw attention to the changing occurences of light and color in accordance with the day and seasons. The discs, clearly contoured geometric fields – often circles – are in silent interaction with the viewer, changing color and reflection depending on the moment and position of the subject. The light paints. With each movement of the eye, every change of the light, colors form into oscillation, into vibration. The outside world is shadowy and unreal, as seen through a veil, sunk deep into the colored glass. The inner view and the deep perception make their appearance, attention is directed to the changing sensation, away from the image of the outside world. Frequently, Ott's discs radiate in glowing gold, which changes again at the next change of position. At the same time, the cool blue moonlight, the green of nature appear. Then again the colors mix like in a kaleidoscope. Banned, we stand before these works full of transcendence, spirituality, and light movement. Again and again, different sensations and feelings are evoked similarly as they might be by a piece of music.
Glass and mirrors are materials that have fascinated artists of all times: glass painting of the Middle Ages or the mirror cabinets of the baroque, for example, were large, prestigious commissions. In modern times, the opus magnus by Marcel Duchamp "The Large Glass," which was first exhibited unfinished in 1923, renders oil on glass. The works of Adolf Luther, Michelangelo Pistoletto, and Gerhard Richter, with whom Ursula Ott became a master student in 1990, are examples of recent modern work. For Luther, the immaterial reality of light was a counterpart to the material world, as in his concave mirror objects. For Michelangelo Pistoletto, the mirror is central, it absorbs the entire "società," human community. Pistoletto's performances often featured aggressive destruction of his mirror images in order to demonstrate the potential for change. Since 1967, Gerhard Richter has included large, painted and unpainted glass and mirror discs in his work individually and in groups.
In contrast, the dimension of mirrored glass in the work of Ursula Ott is deliberately reduced. These are meditation pictures. Not the large format is in the foreground, but material and spiritual densification, the play of the light.
Ursula Ott was born in 1960 in Waiblingen in Baden-Württemberg. She studied from 1982 to 1986 in Hamburg at the Hochschule für bildende Künste. From 1986 to 1990 she studied at the Kunstakademie in Düsseldorf, where she graduated as a master student of Gerhard Richter. Ott lives and works in Düsseldorf, where, for example, she participated in the 2007 exhibition "Collecting Art" at the Museum Kunstpalast with works owned by Thomas Schütte. Currently, her work is being shown in the Düsseldorf Kai 10 / Arthena Foundation in the exhibition "Catching the Light."
(Excerpt from Stephan von Wiese, "The Light Paints. On the glass panes of Ursula Ott")
—
Ursula Otts verspiegelte farbige Scheiben aus Glas lenken den Blick auf ein im Laufe des Tages- und Jahreslichts sich ständig veränderndes Farbgeschehen. Die Scheiben, klar konturierte geometrische Felder – meist sind es Kreise – stehen in stiller Interaktion mit dem Betrachter, sie ändern je nach Moment Farbe und Spiegelbild. Das Licht malt. Bei jeder Bewegung des Auges, jeder Veränderung des Lichts, gerät die Farbe in Schwingung, kommt in Vibration. Die Außenwelt ist schemenhaft, wie durch einen Schleier gesehen, ist ins farbige Glas tief eingesunken. Es sind der innere Blick und die innere Wahrnehmung, die im Vordergrund stehen, die Aufmerksamkeit richtet sich auf die wechselnde Empfindung, weniger aufs Bild der Außenwelt. Häufig strahlen die Scheiben in einem leuchtenden Gold, das beim nächsten Positionswechsel wieder changiert. Aber auch das kühle blaue Mondlicht, das Grün der Natur scheinen auf. Dann wieder vermischen sich die Farben wie beim Kaleidoskop. Gebannt stehen wir vor diesen Werken voll Transzendenz, Spiritualität und Lichtbewegung. Immer wieder andere Gefühle und Empfindungen werden ähnlich wie bei einem Musikstück evoziert.
Die Werkstoffe Glas und Spiegel haben Künstler aller Zeiten immer wieder besonders herausgefordert, die Glasmalerei das Mittelalter, die Spiegelkabinette des Barock waren beispielsweise große repräsentative Aufgabenfelder. In der Moderne sticht das Opus Magnus von Marcel Duchamp "Das große Glas" in Öl auf Glas hervor, das erstmals 1923 unvollendet ausgestellt wurde. Aus der jüngeren Moderne seien beispielhaft das Werk von Adolf Luther, Michelangelo Pistoletto und Gerhard Richter, bei dem Ursula Ott 1990 Meisterschülerin wurde, angeführt. Für Luther war die immaterielle Lichtwirklichkeit ein Pendant zur materiellen Welt, etwa bei seinen Hohlspiegelobjekten. Ganz im Zentrum steht bei Michelangelo Pistoletto dann der Spiegel, der die gesamte "società", die menschliche Gesellschaft, in sich aufnimmt. Bei Pistolettos Aktionen kam es dann auch zu aggressiver Zerstörung der Spiegelbilder, um Veränderungspotential zu demonstrieren. Gerhard Richter bezog seit 1967 einzeln und in Gruppen große bemalte und unbemalte Glas- und Spiegelscheiben in sein Werk ein.
Demgegenüber ist die Verwendung des verspiegelten Glases im Werk von Ursula Ott sehr bewusst in den Dimensionen weit reduzierter. Dies sind Meditationsbilder. Nicht das große Format steht hier im Vordergrund, sondern die materielle und spirituelle Verdichtung, das Spiel des Lichts.
Ursula Ott wurde 1960 in Waiblingen in Baden-Württemberg geboren. Sie studierte von 1982 bis 1986 in Hamburg an der Hochschule für Bildende Kunst, anschließend 1986 bis 1990 an der Kunstakademie Düsseldorf, beschloss hier als Meisterschülerin von Gerhard Richter ihre Ausbildung. Sie lebt und arbeitet in Düsseldorf, wo sie beispielsweise 2007 an der Ausstellung "Die Kunst zu sammeln" im Museum Kunstpalast mit Werken aus dem Besitz von Thomas Schütte teilnahm und gegenwärtig mit ihren Scheibenbildern in der Düsseldorfer Kai 10 / Arthena Foundation an der Ausstellung "Catching the Light" beteiligt ist.
(Auszug aus Stephan von Wiese, "Das Licht malt. Zu den gläsernen Scheiben von Ursula Ott"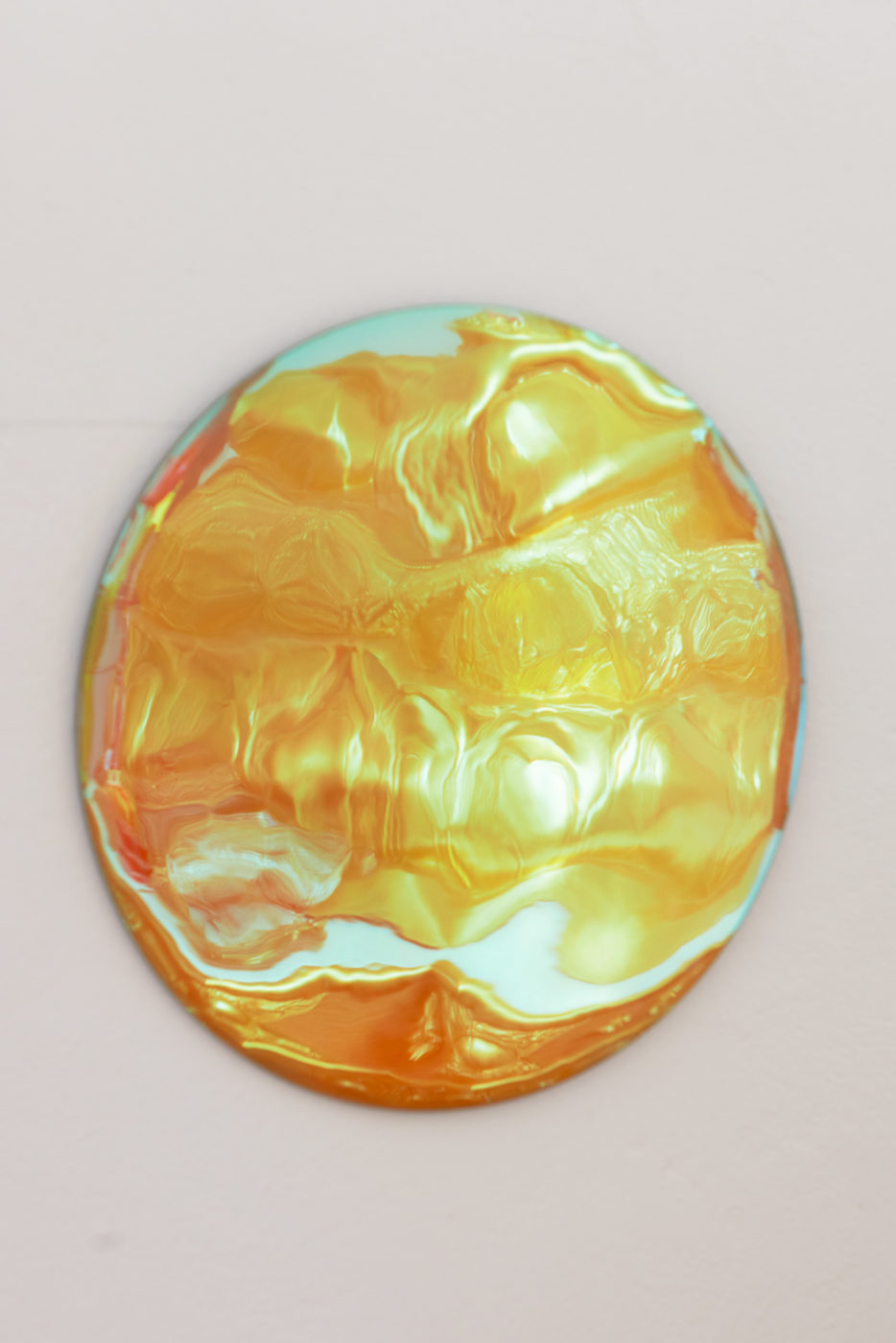 Neptunblao 2017 Optical interference coated glass Ø 51 cm / 21 in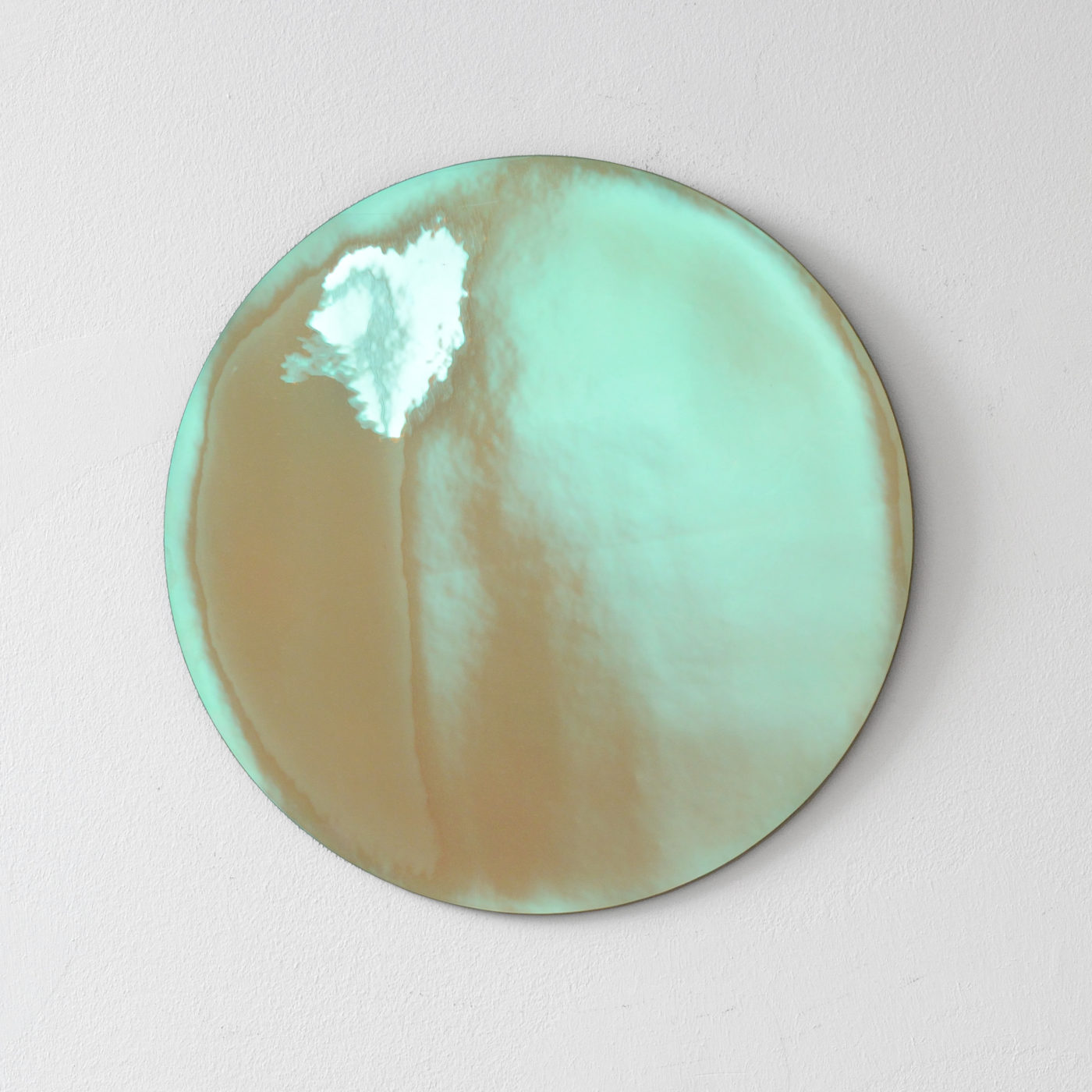 Wala 2015 Optical interference coated glass Ø 49 cm / 19 in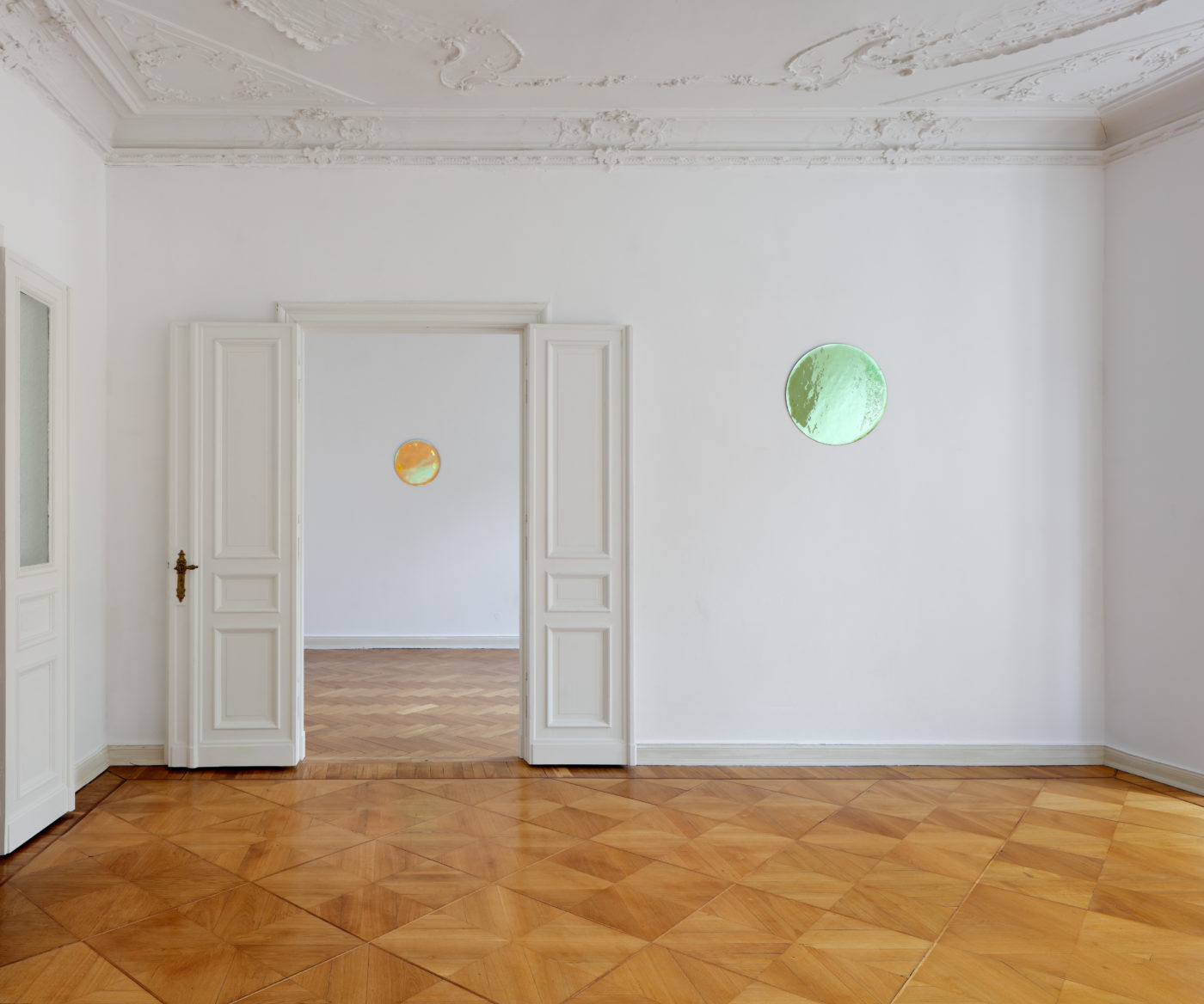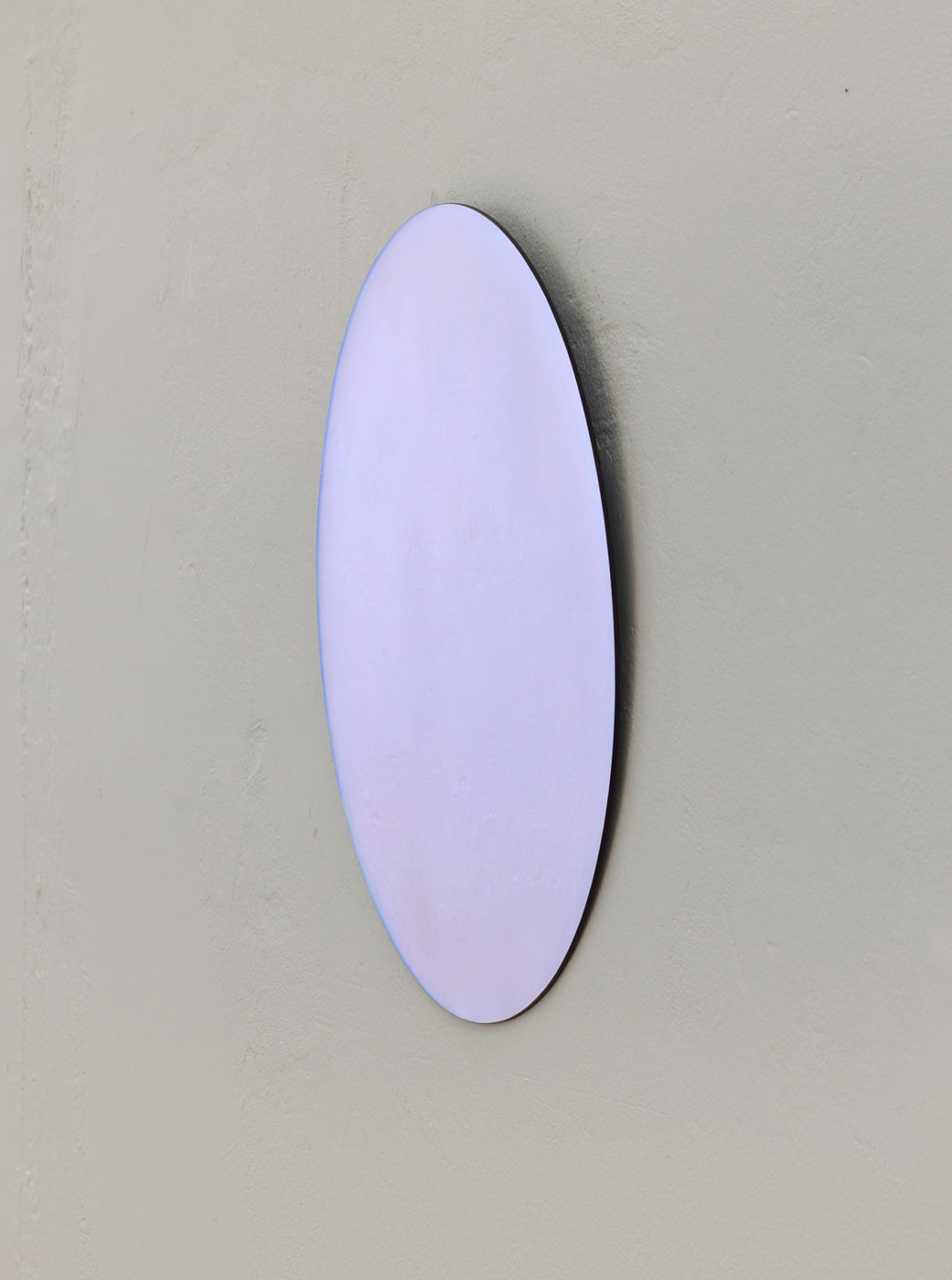 Ura 2013 Optical interference coated glass Ø 49 cm / 19 in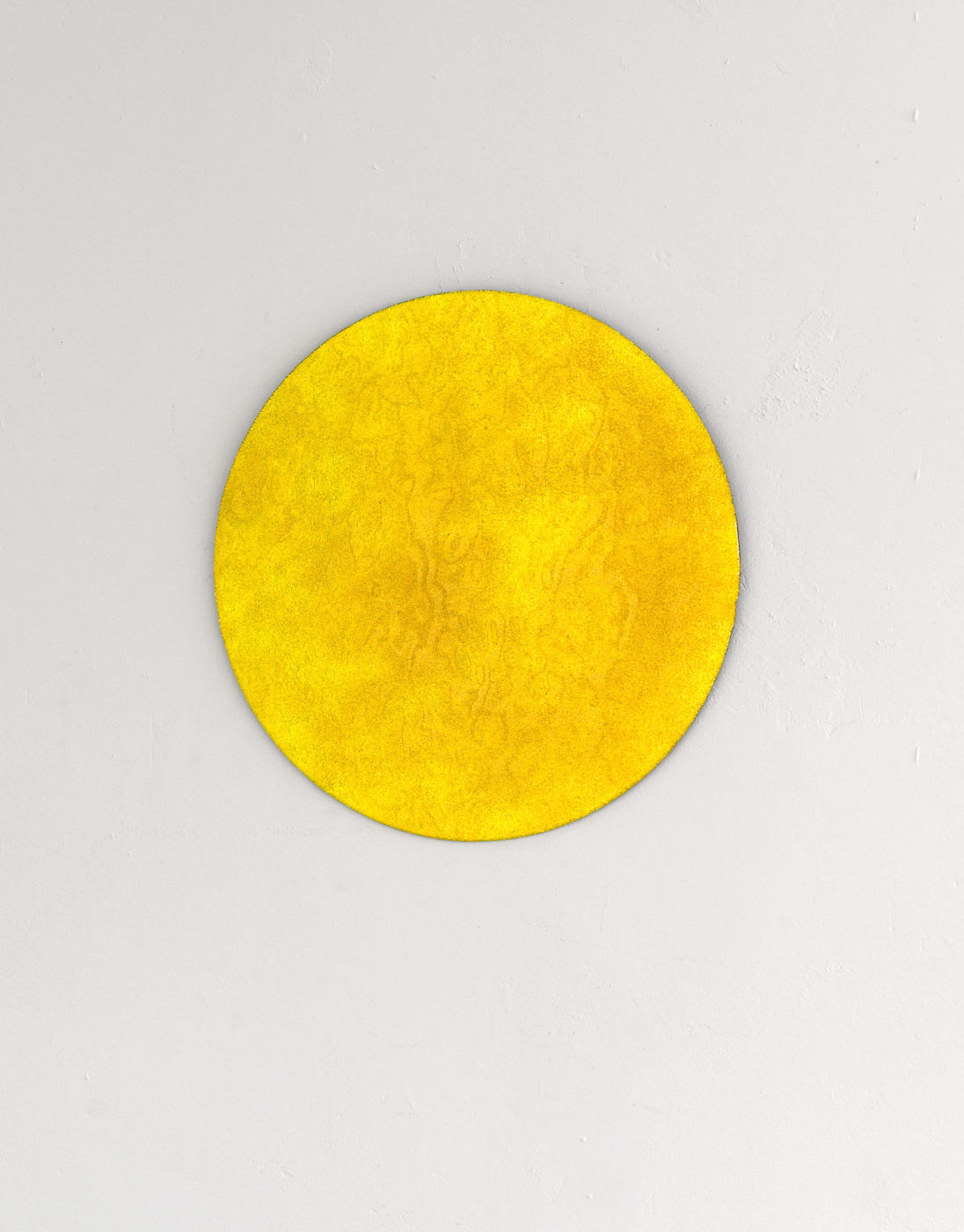 Oto 2009 Fusing glass with silver coating Ø 60 cm / 23,5 in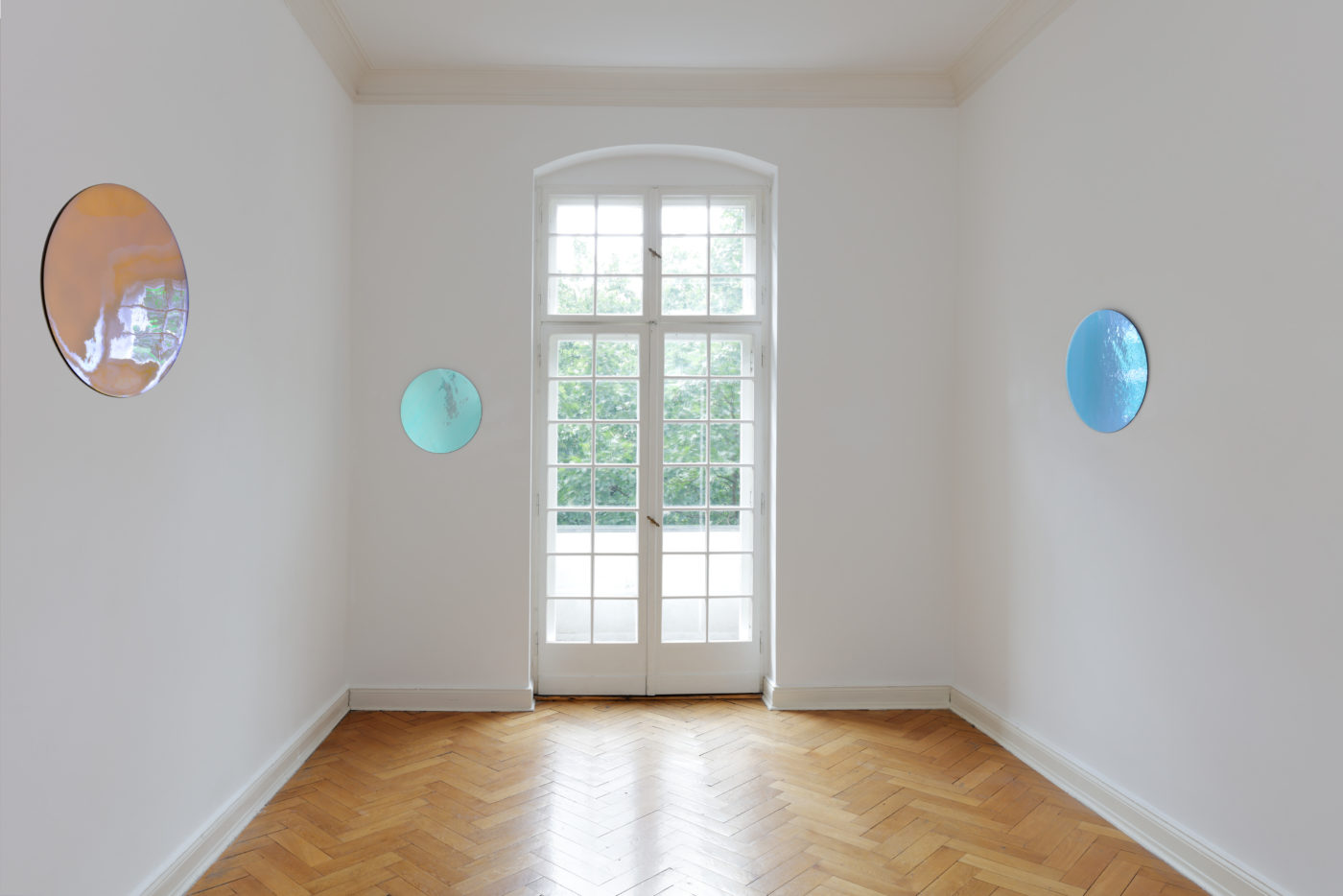 Lila Optical interference coated glass 2011 Ø 28 cm / 11 in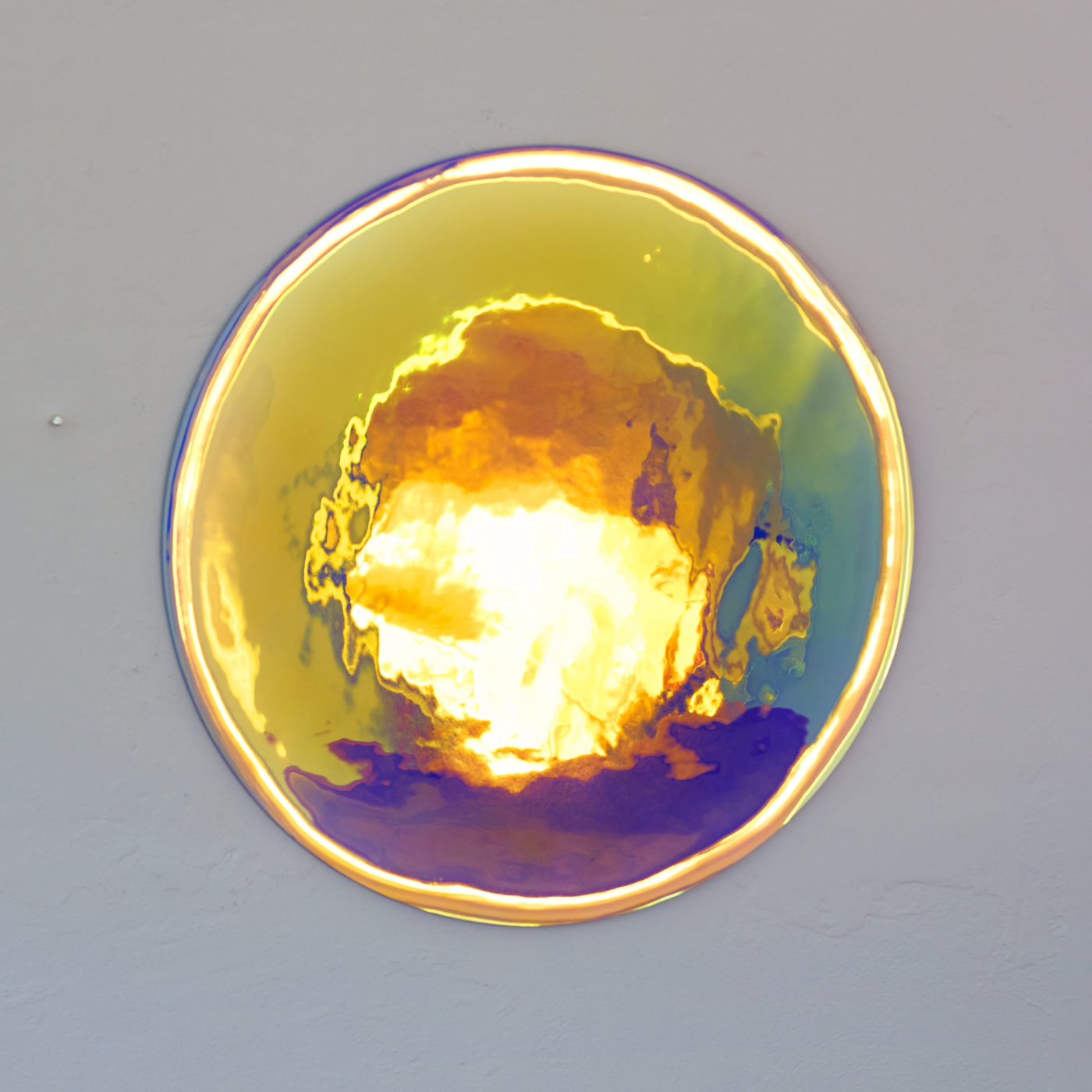 Kosmosblao 2017 Optical interference coated glass Ø 59 cm / 23 in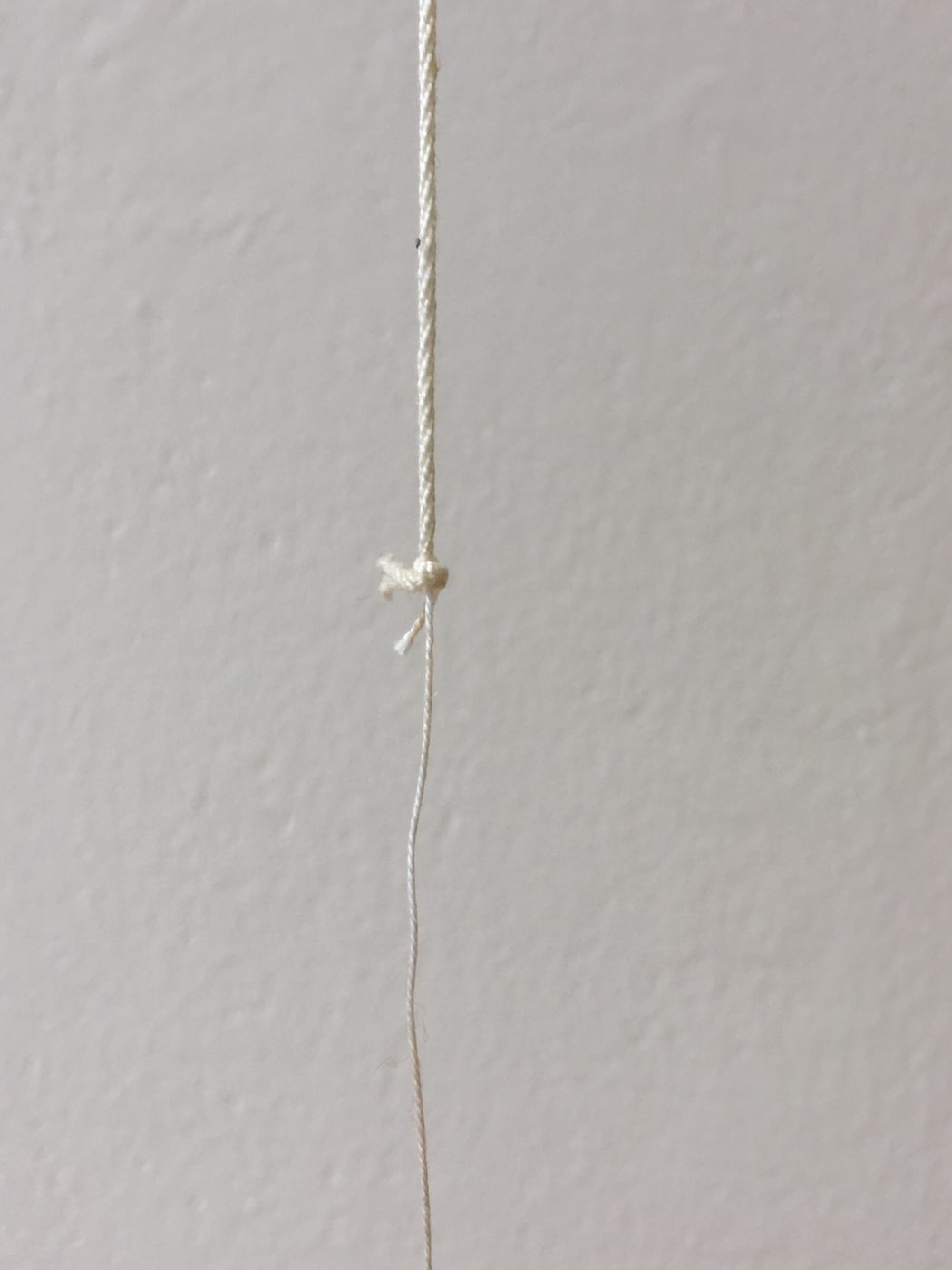 O. T. (Faden # 2) 1991 Cotton and polyester threads 330 cm / 130 in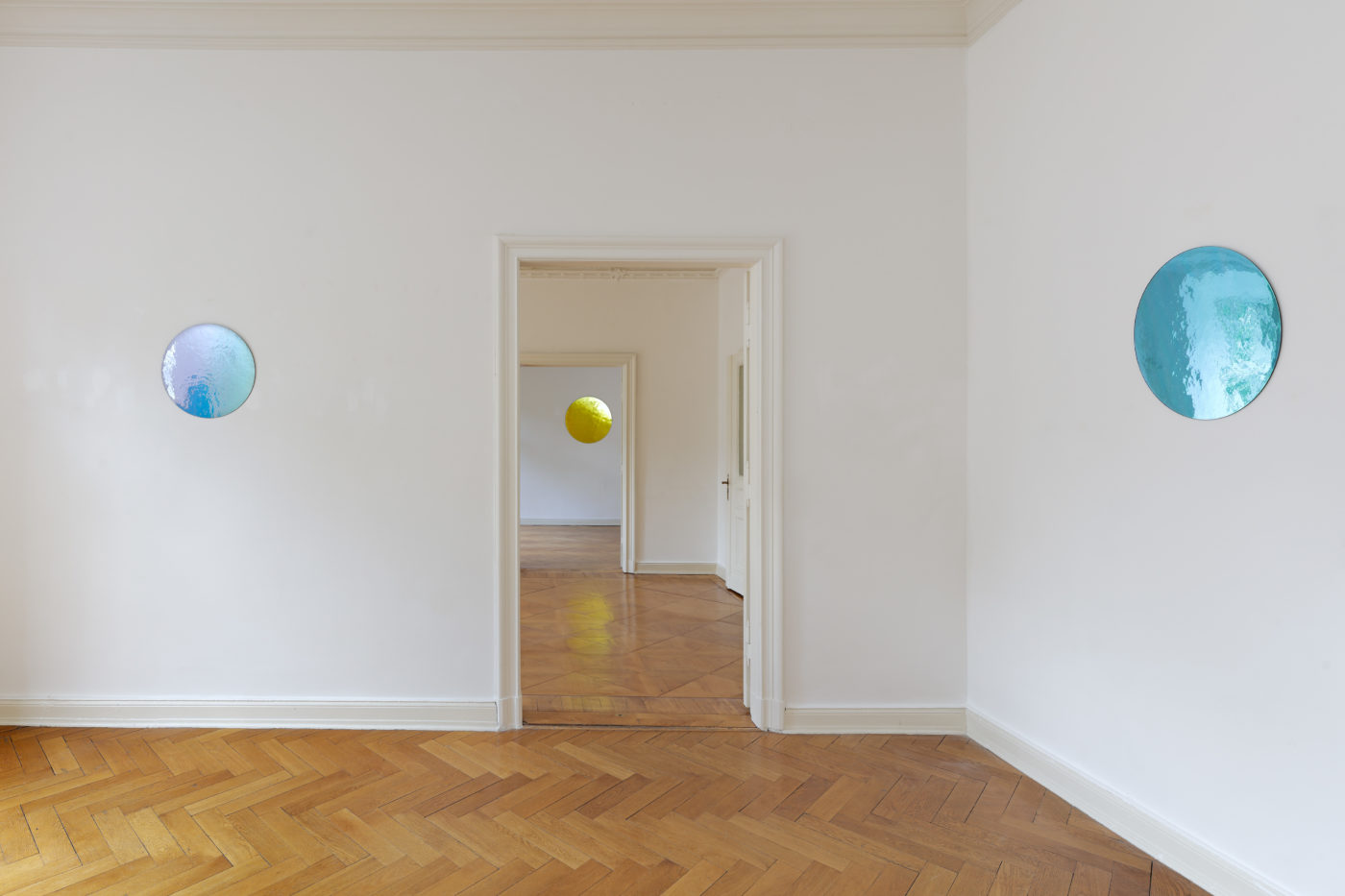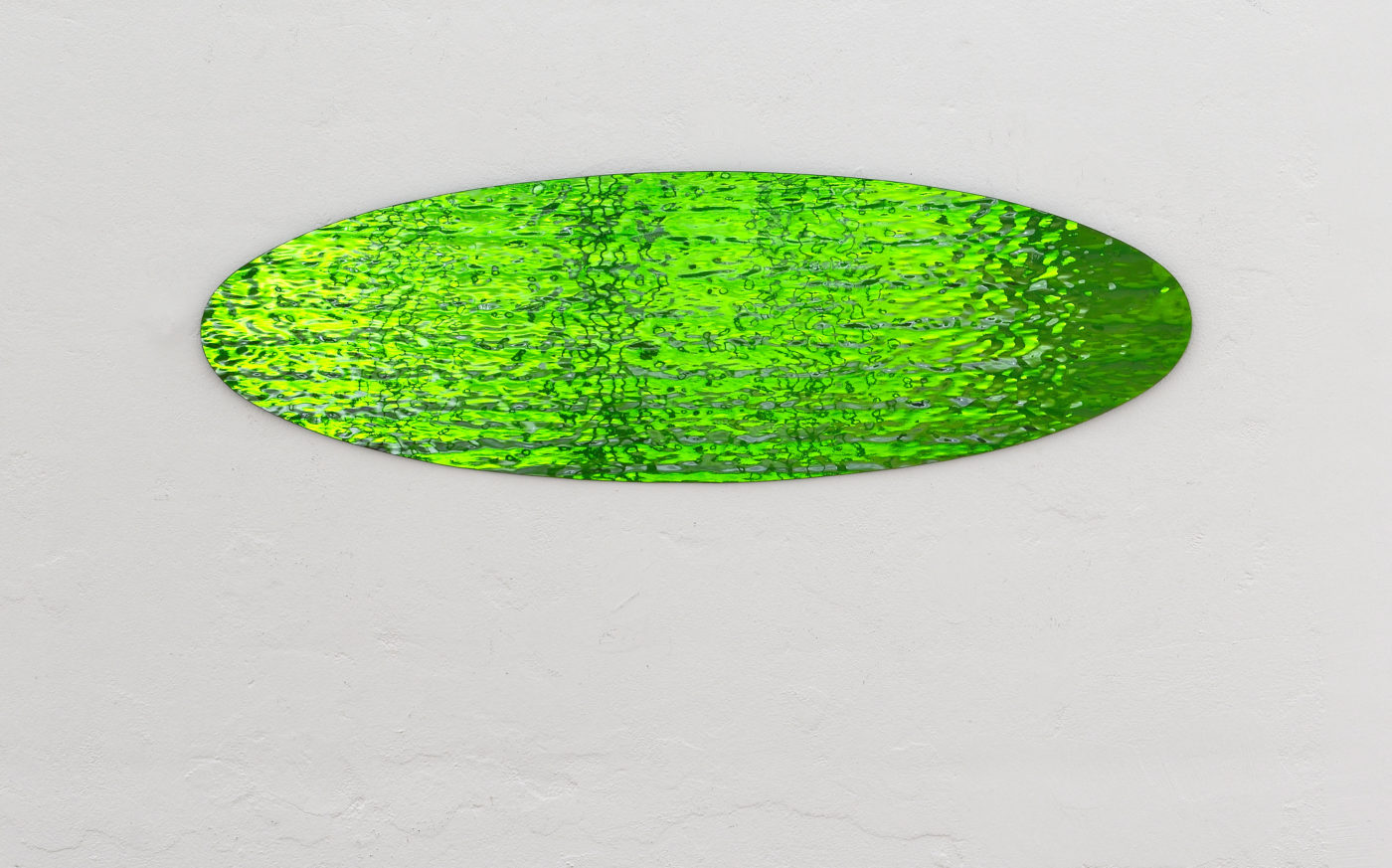 Loth grün 2010 Rolled water glass 117 x 37 cm / 46 x 15 in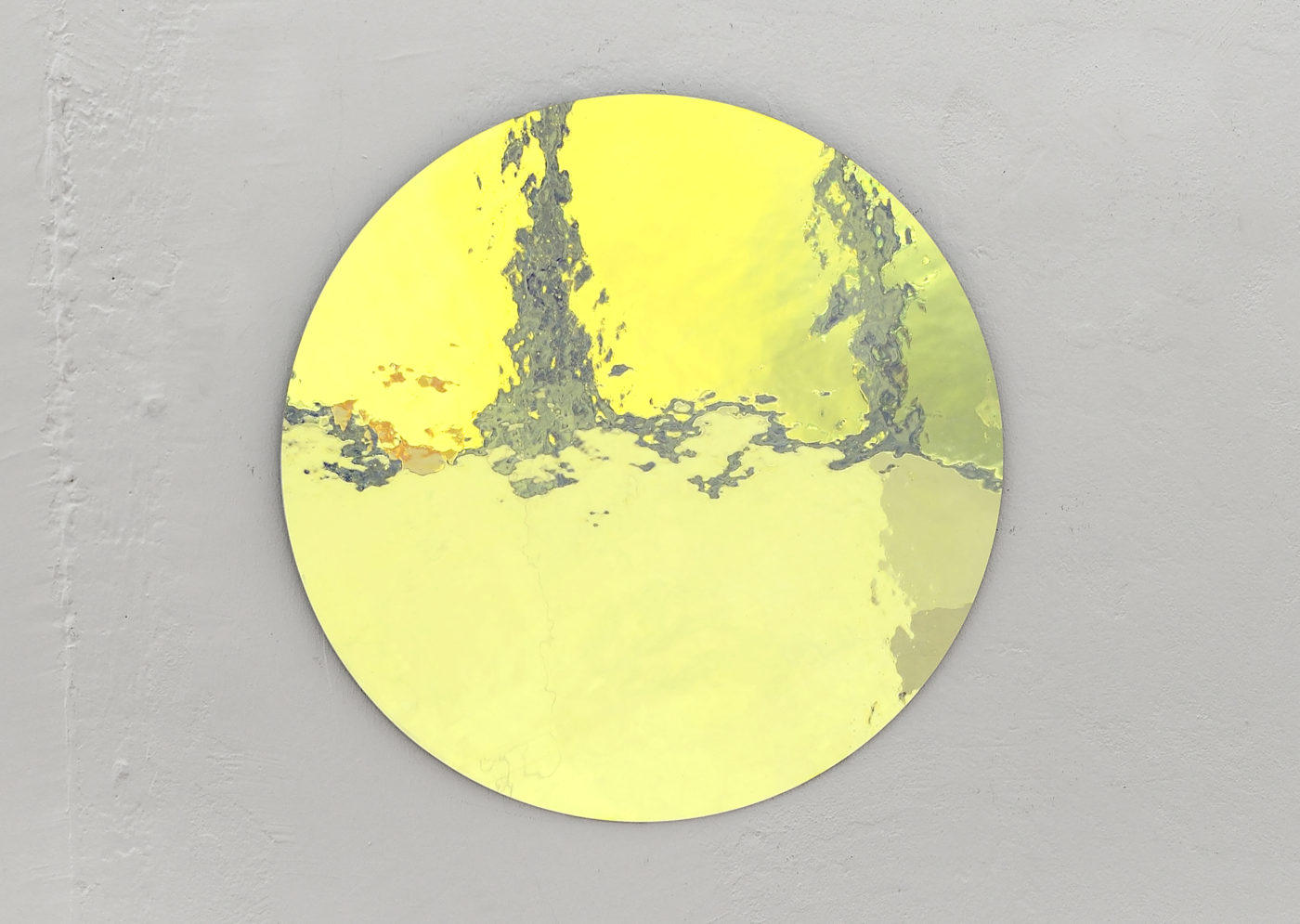 Jowa 2015 Optical interference coated glass Ø 92 cm / 36 in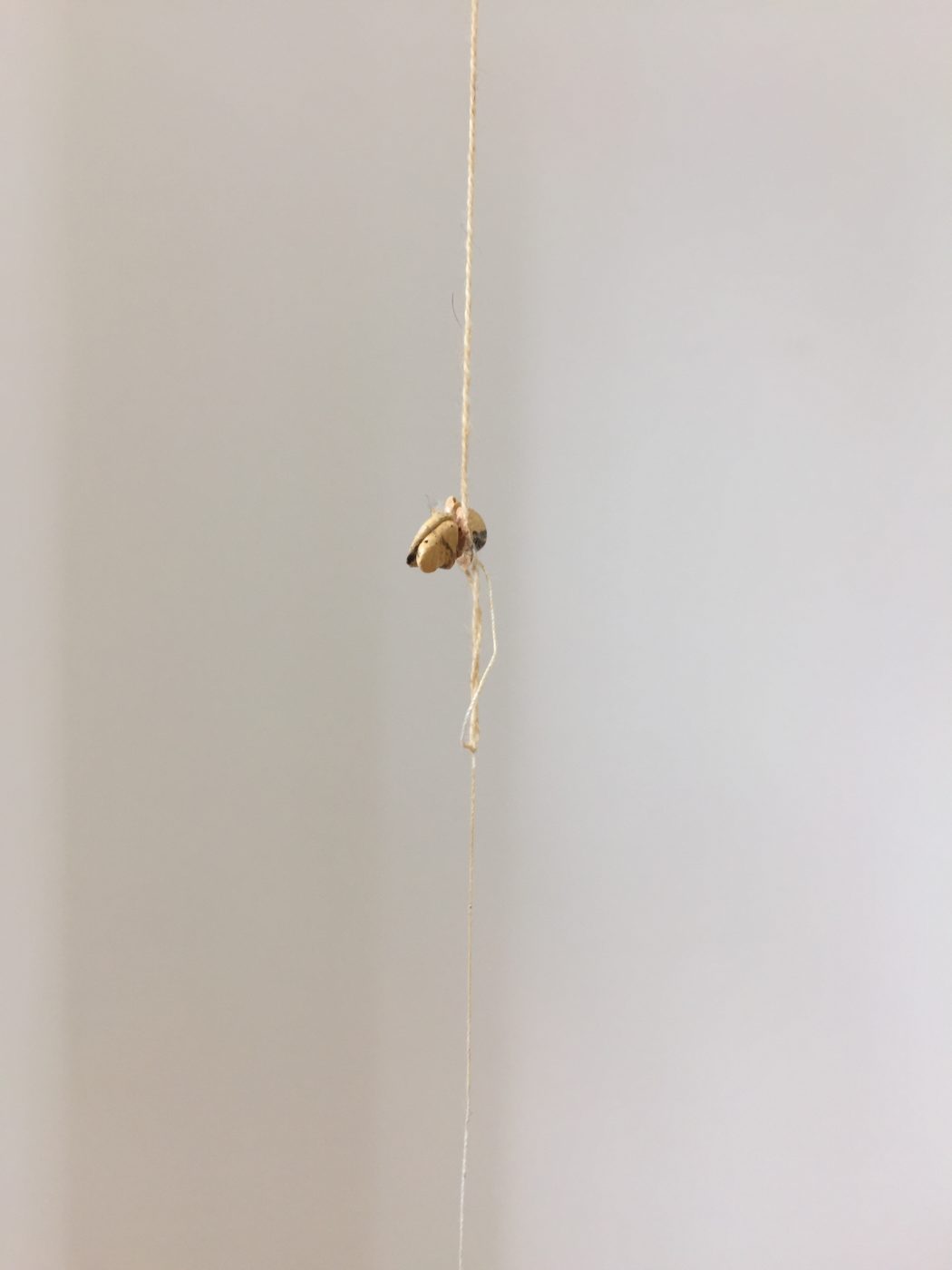 O. T. (Faden #1) 1991 Cotton and polyester threads, sealing lacquer 360 cm / 142 in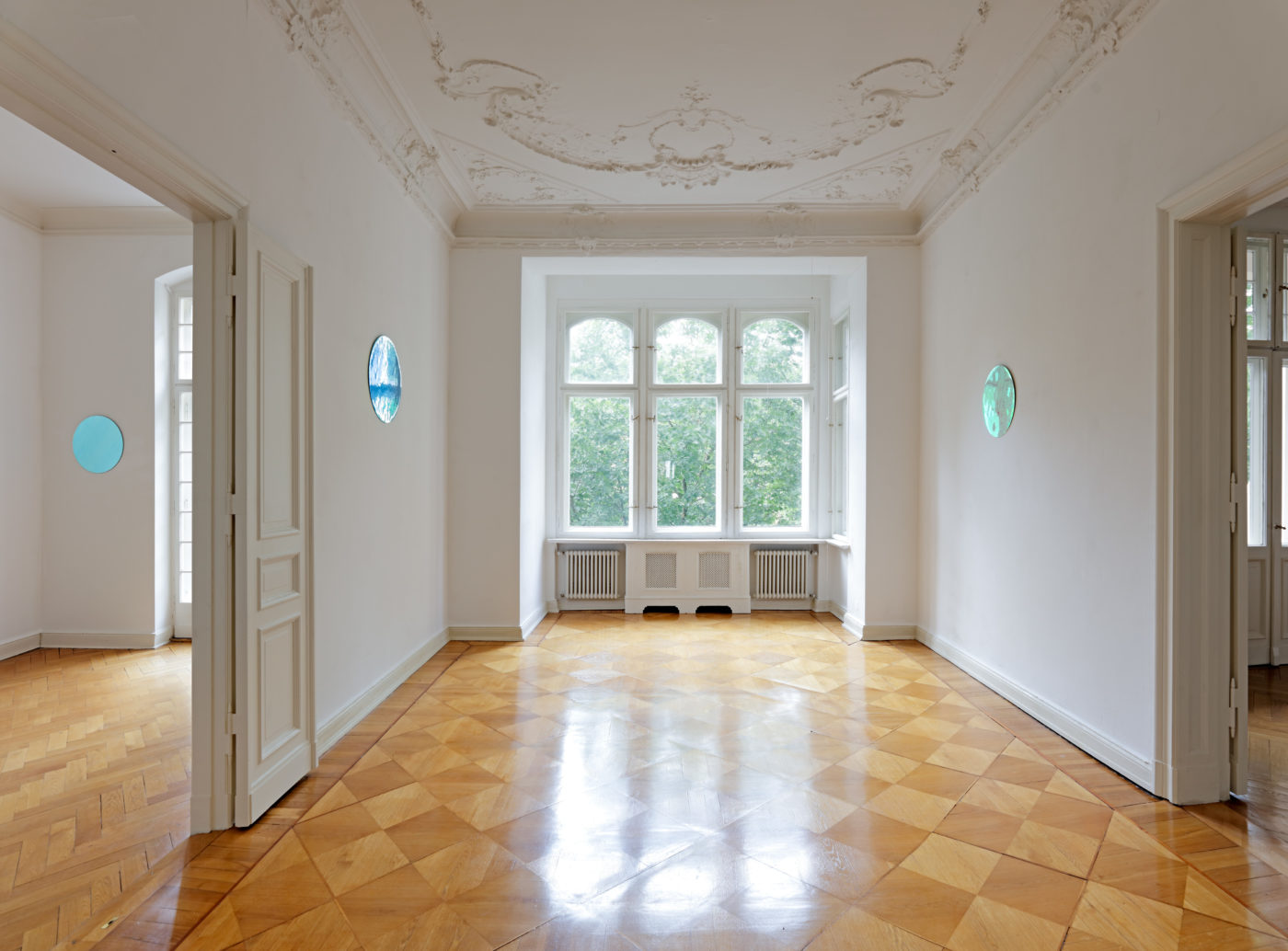 Gesicht (transparent) 2012 Cast glass with silver coating 20 x 31 cm / 8 x 12 in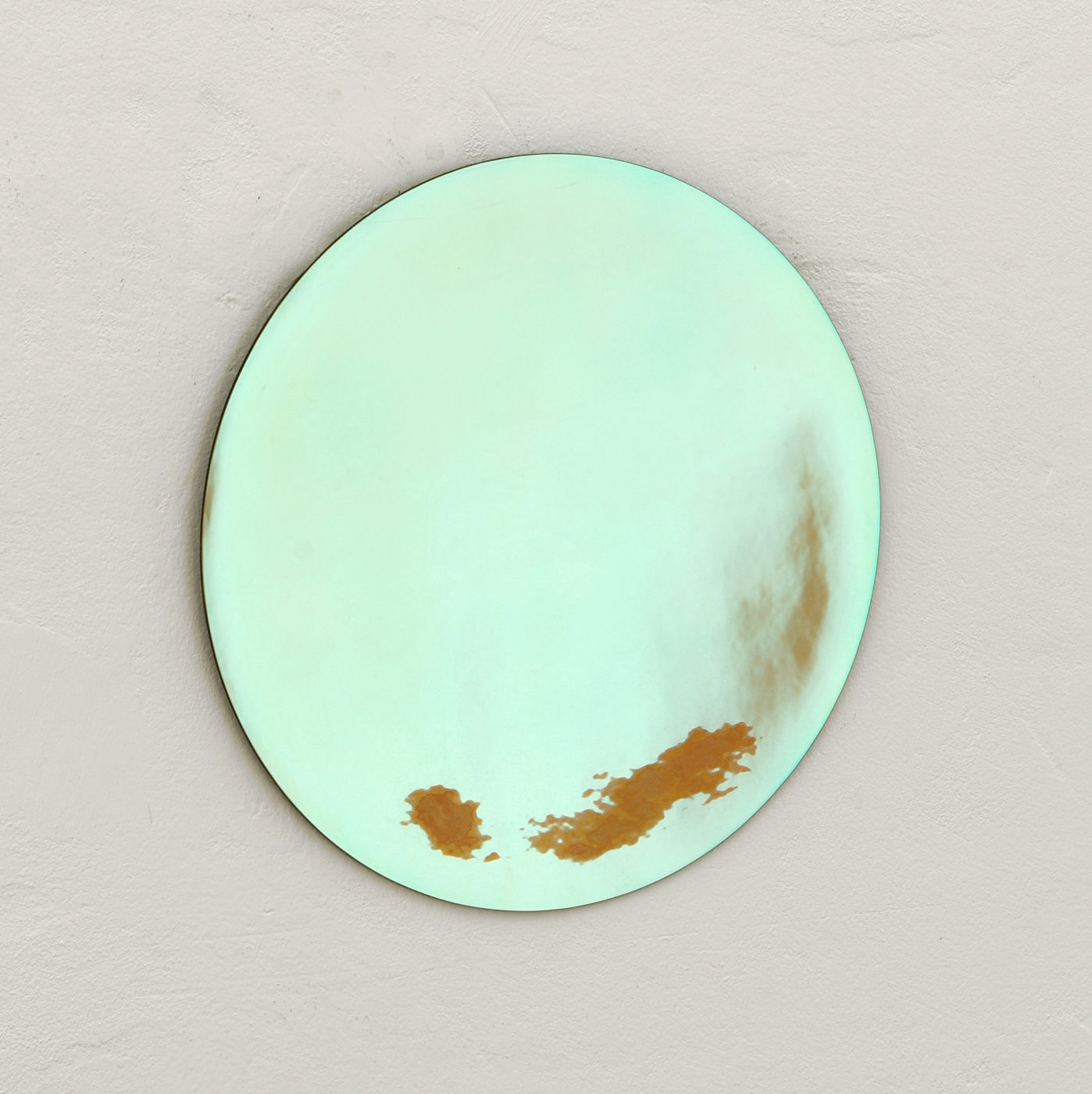 Cyanblao 2017 Optical interference coated glass Ø 51 cm / 21 in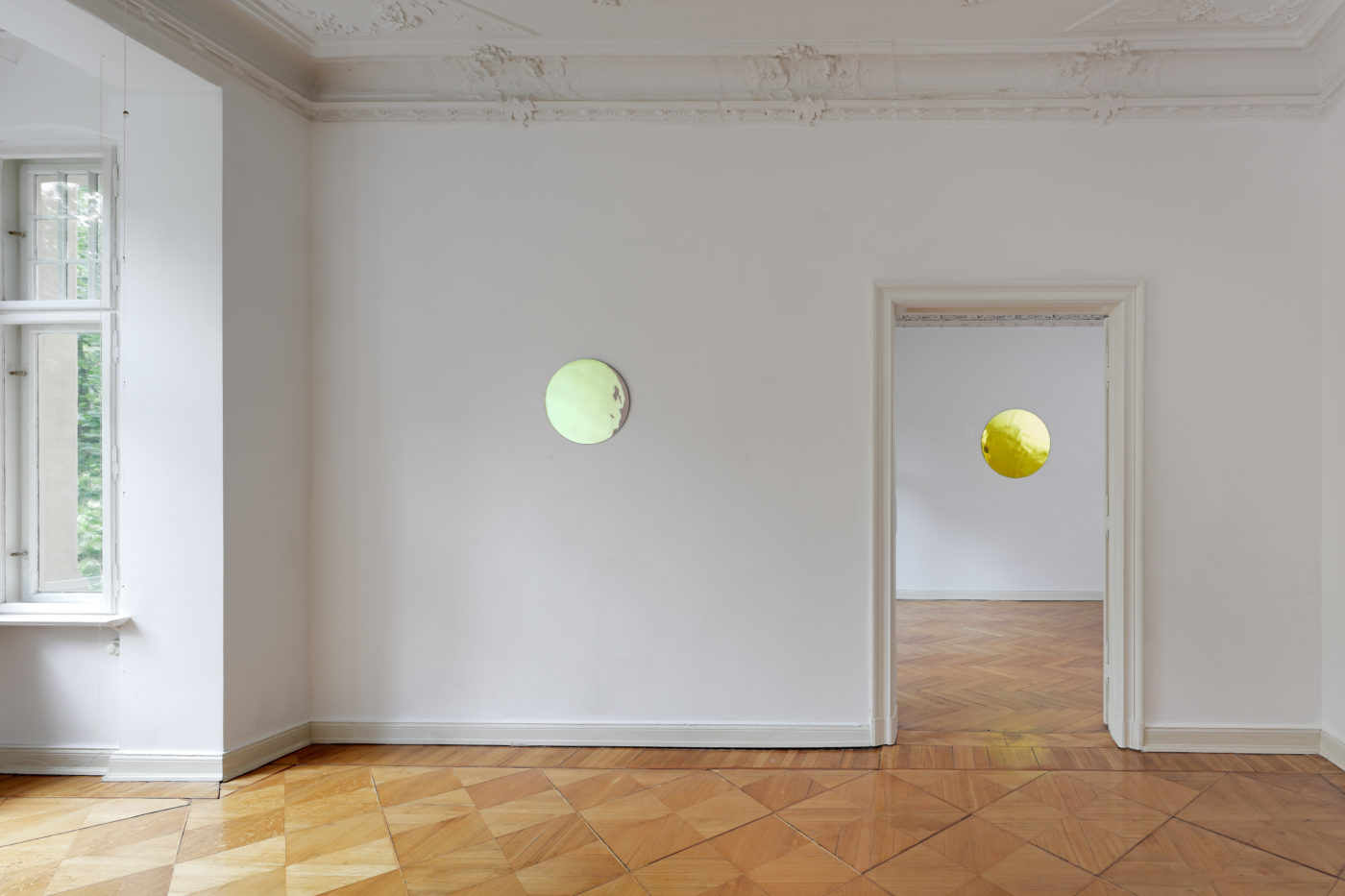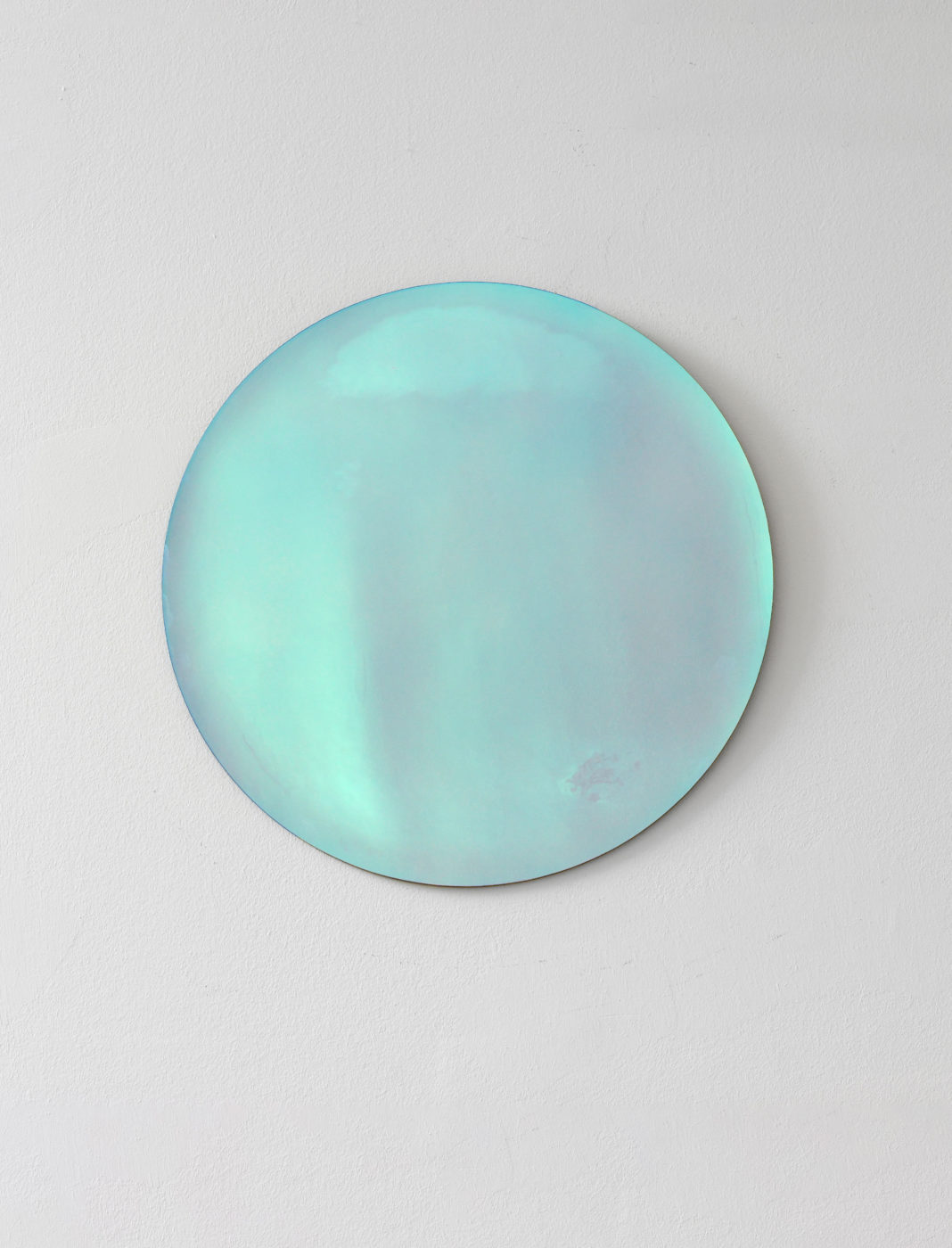 Blao 2017 Optical interference coated glass Ø 51 cm / 21 in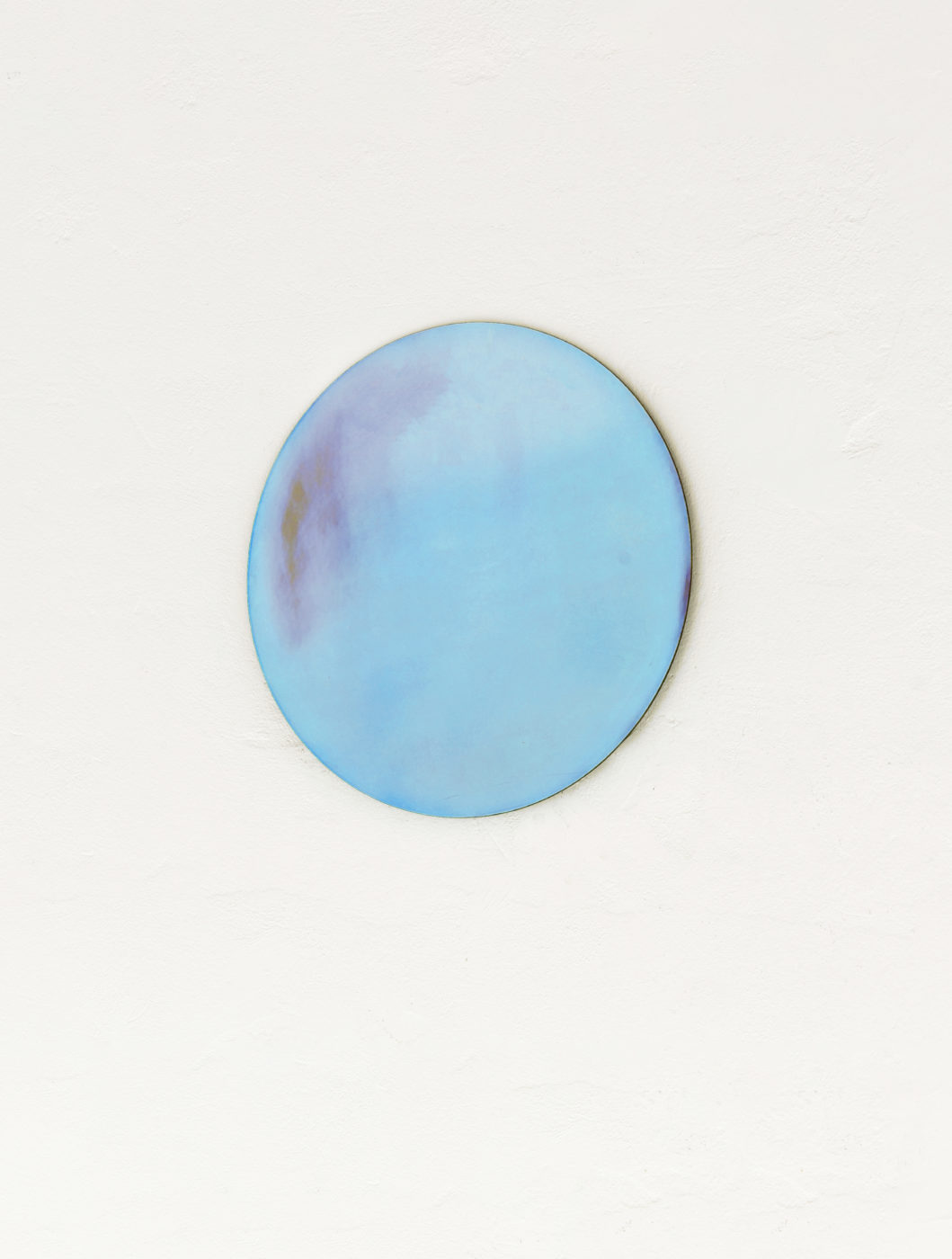 Ägäisblao 2017 Optical interference coated glass Ø 38 cm / 15 in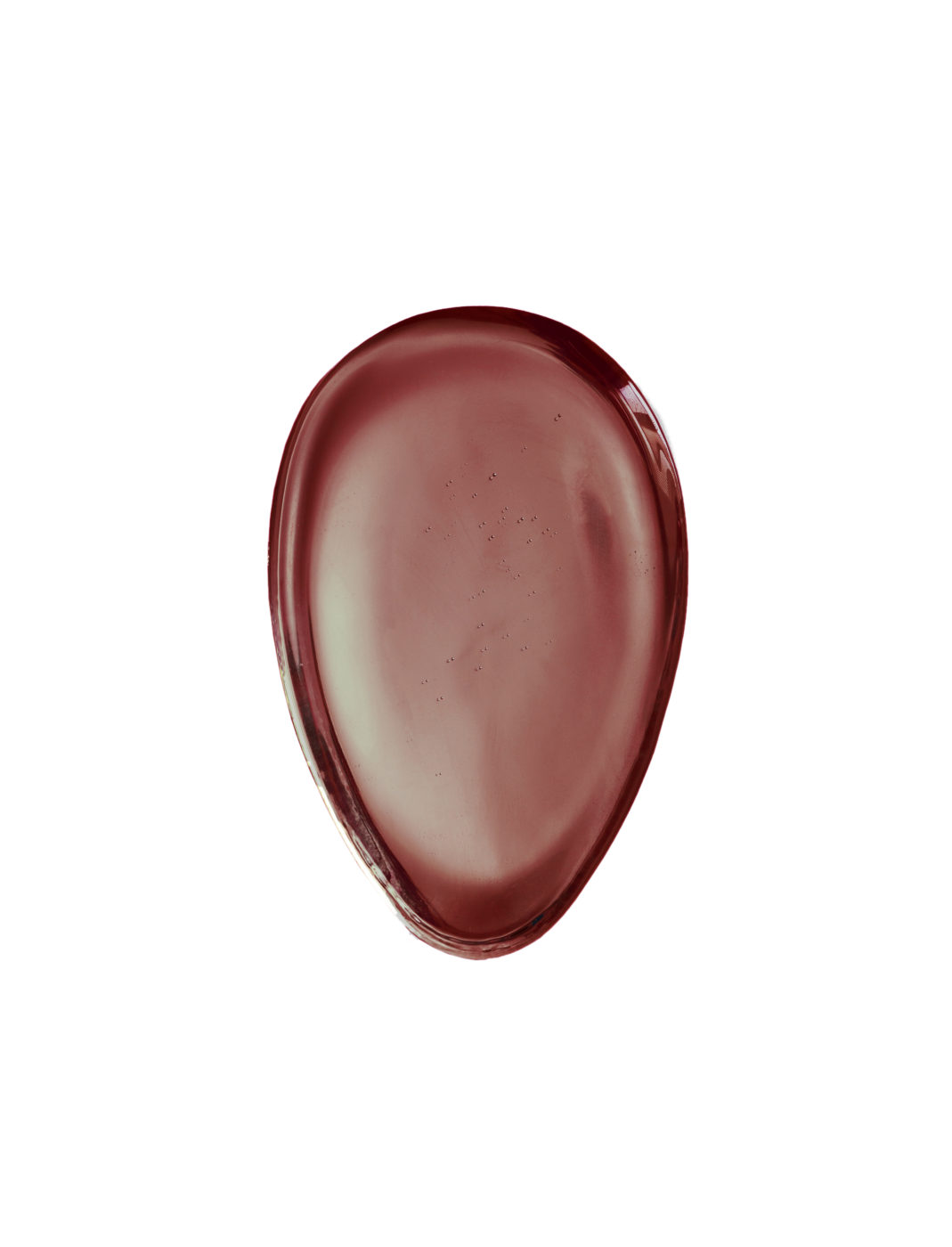 Gesicht (red) 2012 Cast glass with silver coating 20 x 31 cm / 8 x 12 in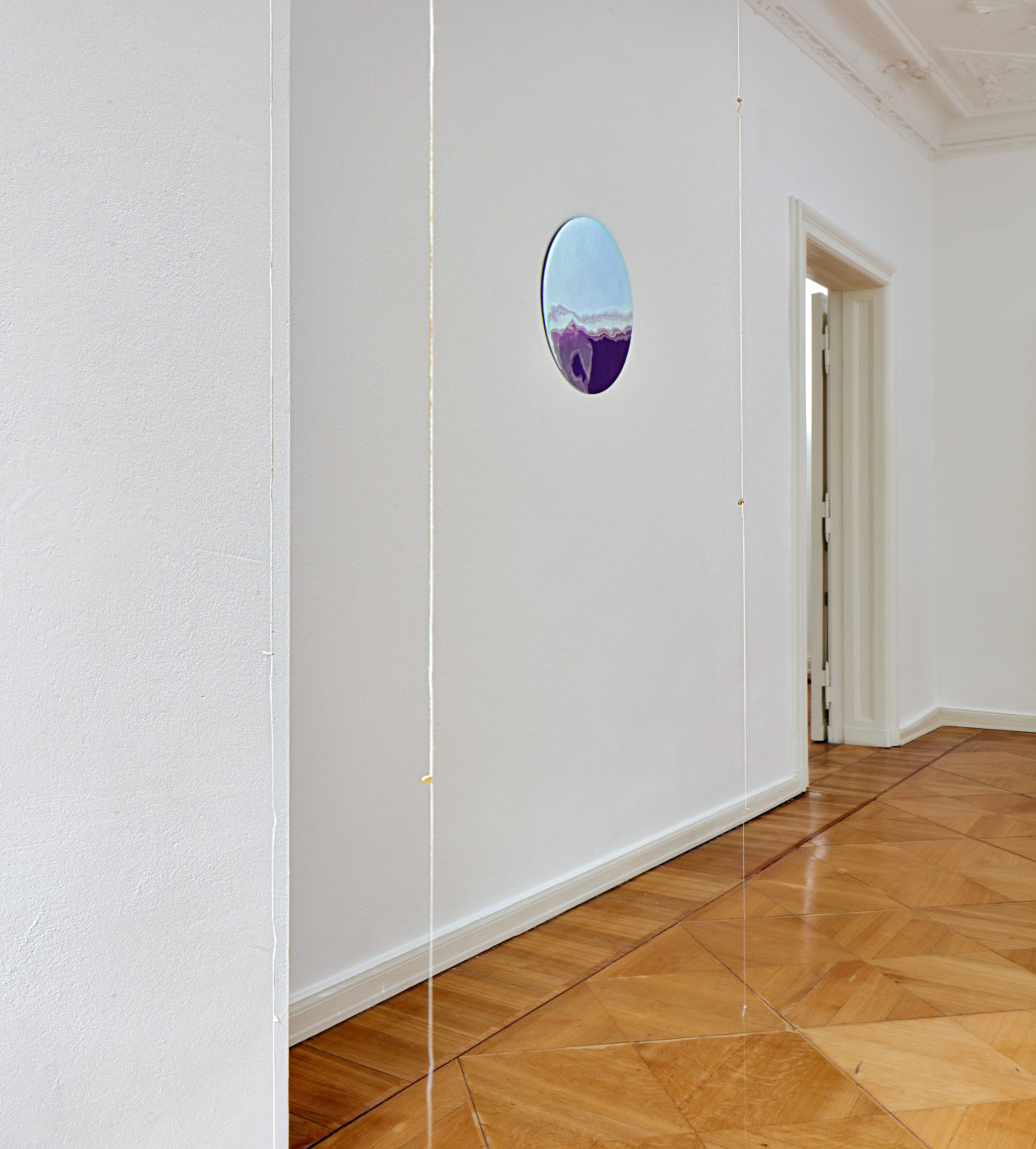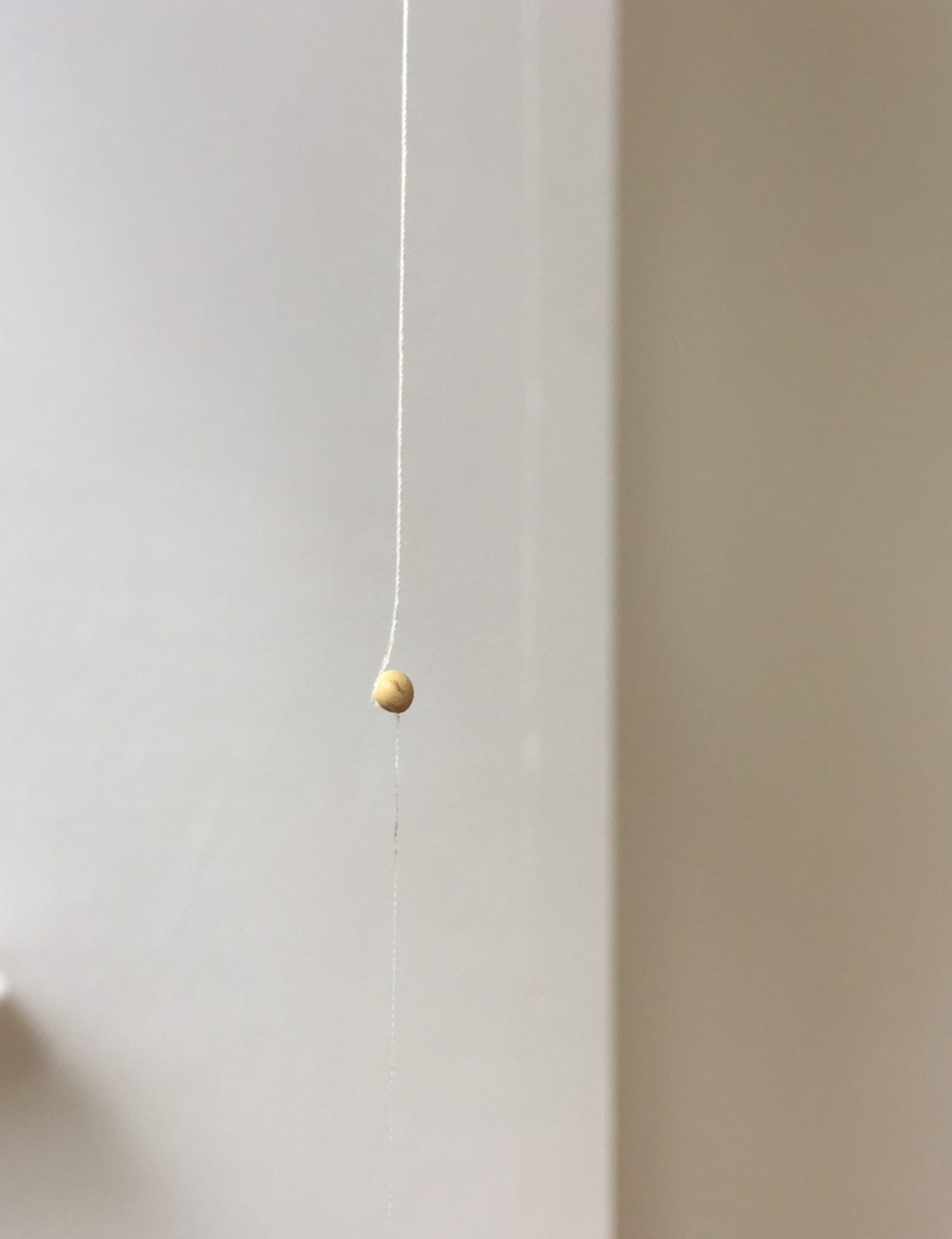 O. T. (Faden #3) 1991 Cotton and polyester threads, sealing lacquer 367 cm / 145 in
Ursula Ott
Born 1960 in Waiblingen
Lives and works in Düsseldorf
Exhibitions (selected)
2016

Galerie Ute Parduhn, Düsseldorf

2015

All my dreams, Galerie Ute Parduhn, Düsseldorf

2014

Licht aus Glas, Faguswerk Gropiusbau Unesco Welterbe, Alfeld
Sommer, Galerie Ute Parduhn, Düsseldorf

2013

Glasmuseum Hentrich, Museum Kunstpalast, Düsseldorf

2012

Galerie Uli Lang, Biberach

2011

Kunstverein Region Heinsberg, Heinsberg

2010

Galerie Uli Lang, Biberach

2008

Installation, Künstlerverein Malkasten, Düsseldorf

2006

Die Kunst zu sammeln, Museum Kunstpalast, Düsseldorf

2004

Blickverbindung, Produzentengalerie, Hamburg

2002

Kunst im Stahlwerk, Willich

1998

Galerie Munro, Hamburg

1996

Galerie Martin Bochyneck, Düsseldorf

1995

Yasim Galerie, Düsseldorf
Education
1990

Kunstakademie Düsseldorf, Klasse Gerhard Richter

1986

Hochschule für Bildende Künste, Hamburg