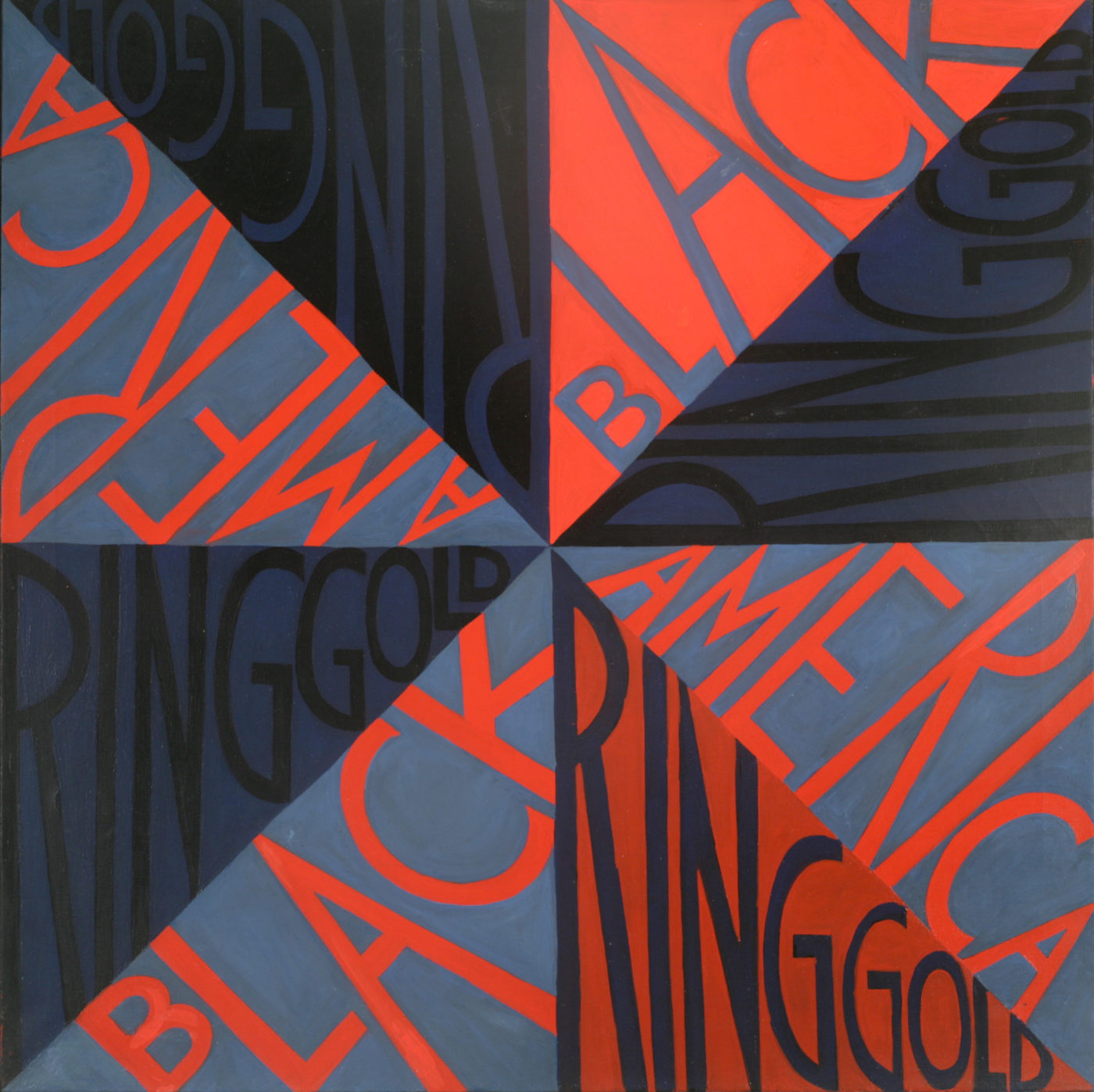 Black Light Series #7, Ego Painting, 1969 Oil on canvas 76 x 76 cm 30 x 30 in
Faith Ringgold
April 26 to June 16,2018
W.E.B. Du Bois Lecture (Humboldt-University):
April 23, 2018, 6.30pm
The work of artist Faith Ringgold (* 1930, Harlem, New York) is of exceptional contemporary significance and enjoys international recognition. Her achievements as an artist, teacher, and activist have received numerous honors, including 24 honorary doctorates. Her books have been awarded over 30 prestigious awards. Ringgold's work is represented in all major museums in the United States. The Museum of Modern Art recently acquired the large-size work American People Series # 20: Die (1967), which was recently exhibited at the Tate Modern in London as part of the exhibition Soul of a Nation. This exhibition is the first solo exhibition by the artist, whose work was exhibited in Germany at Kunsthaus Hamburg (with the Gedok Association) and at Documenta 5 in 1972.
Spanning media such as painting, graphics, collage, textile art, and sculpture, Ringgold's work captivates through the precise and masterly use of materials and artistic processes as well as the integration of their cultural and political significance. The work of the artist is based on her critical, global, and art-historical expertise: she precisely uses figuration, abstraction, and constructivism to give depth and power to her content. Since 1961, the artist has traveled extensively. On her trips to Europe she visited museums such as the Louvre and the Stedelijk Museum. In 1976, first visits to Ghana and Nigeria followed.
Works by Faith Ringgold address issues of race, gender, and economic status. Among the works to be seen in Berlin is Ringgold's Ego Painting (1969), expressing her political identity as a black feminist: the three words "Ringgold", "black," and "America" are arranged in geometric shapes in a color palette of blue, red, and black on the square canvas. Man (1967), also from the Black Light Series, illustrates Ringgold's interest in African art and typographic design. Hate Is A Sin, a screen print from 2007, describes Ringgold's experience with racism in New York in 1968. The large-size painted storyquilt Marlon Riggs: Tongues Untied, also exhibited in Berlin, was created in honor of the eponymous filmmaker and author shortly after his death in 1994. The benefit of the quilting technique for Ringgold has both historical-political and practical reasons: the painted quilts could easily be transported to lectures in schools and museums. The artist's lifelong friendship with jazz musicians such as Sonny Rollins finds its expression in the series Jazz Drawings (2002-2003).
In the context of the exhibition and in collaboration with the Ford Foundation, the Terra Foundation for American Art, and the U.S. Embassy, Faith Ringgold will be holding the Distinguished W.E.B. Dubois Lecture of the Humboldt University.
The artist will be present at the opening of the exhibition on April 24, 2018 in Bundesallee 221, 10719 Berlin.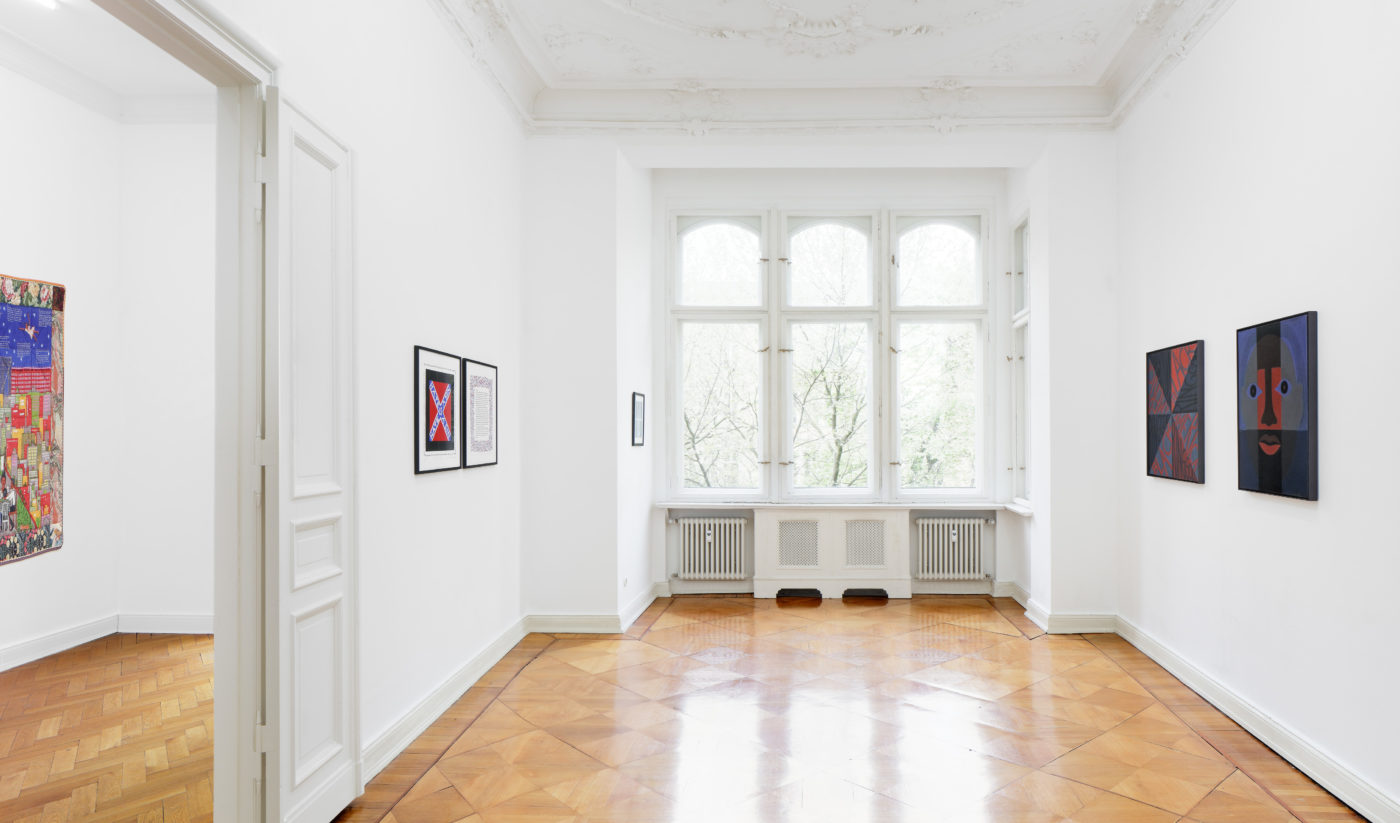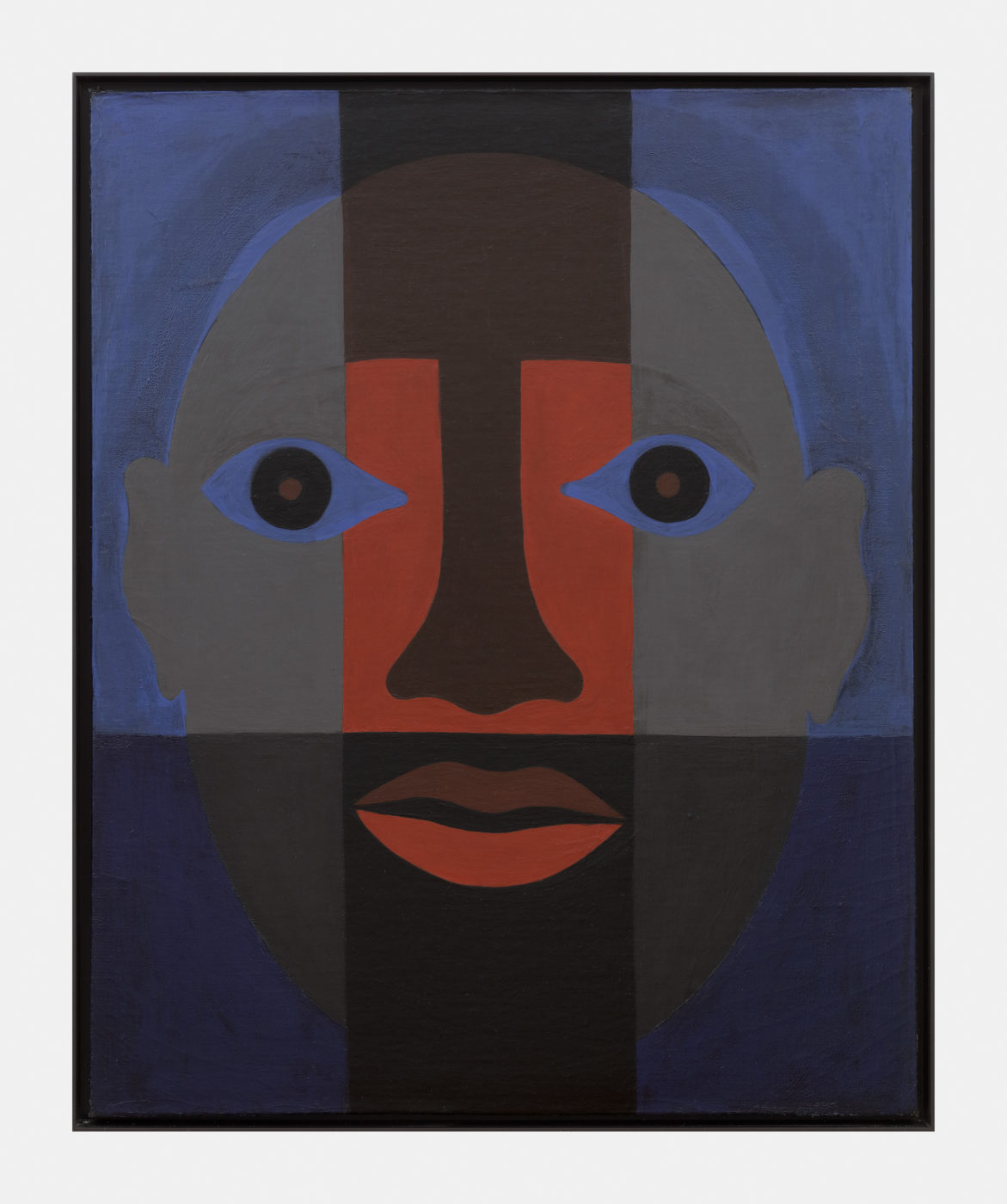 Black Light Series #2: Man 1967 Oil on canvas 76 x 61 cm 30 x 24 in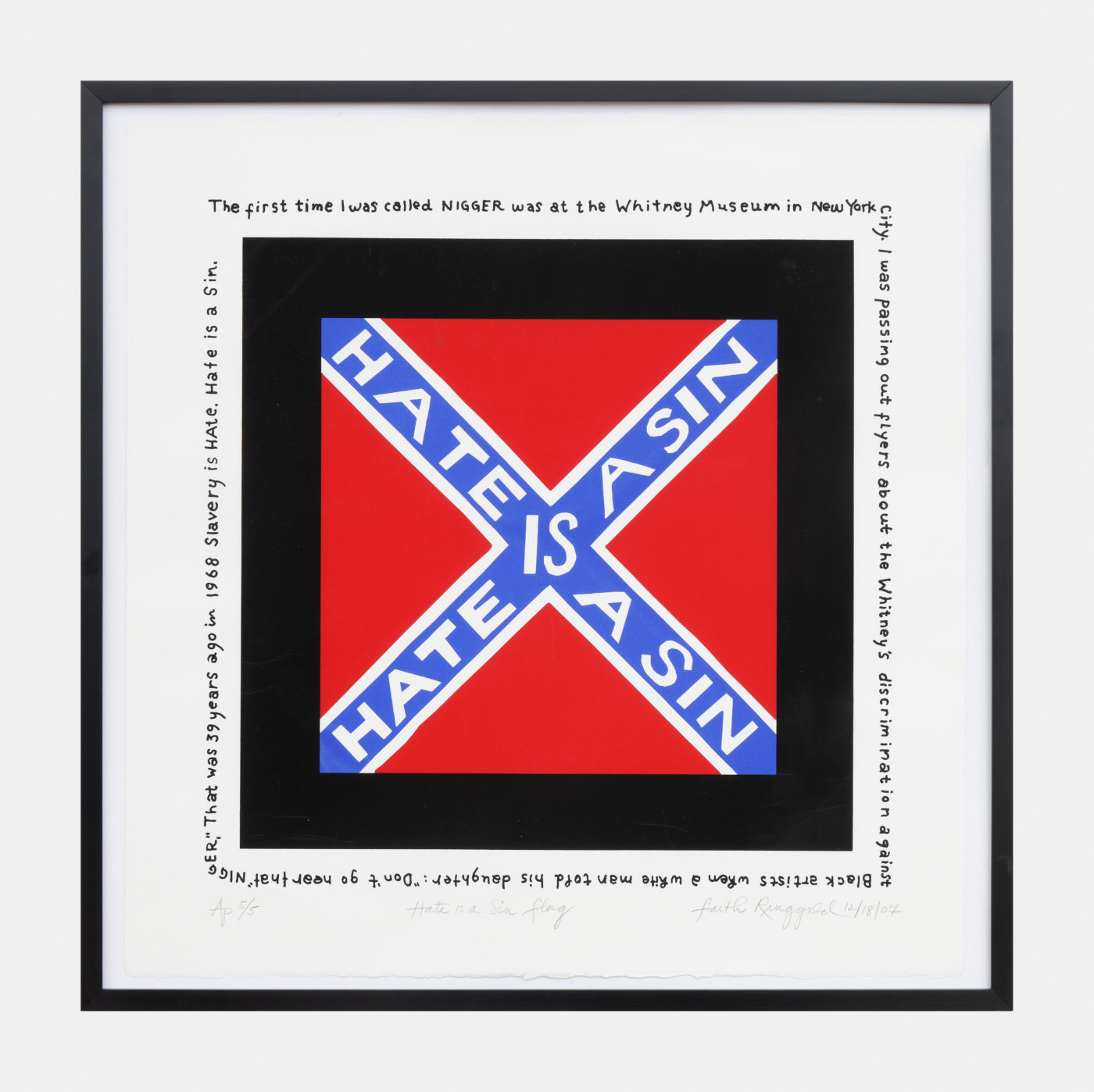 Hate is a Sin, Flag 2007 Silkscreen 57 x 56 cm 22.5 x 22 in
Hate is a Sin, Fem Fable 2007 Silkscreen 57 x 56 cm 22.5 x 22 in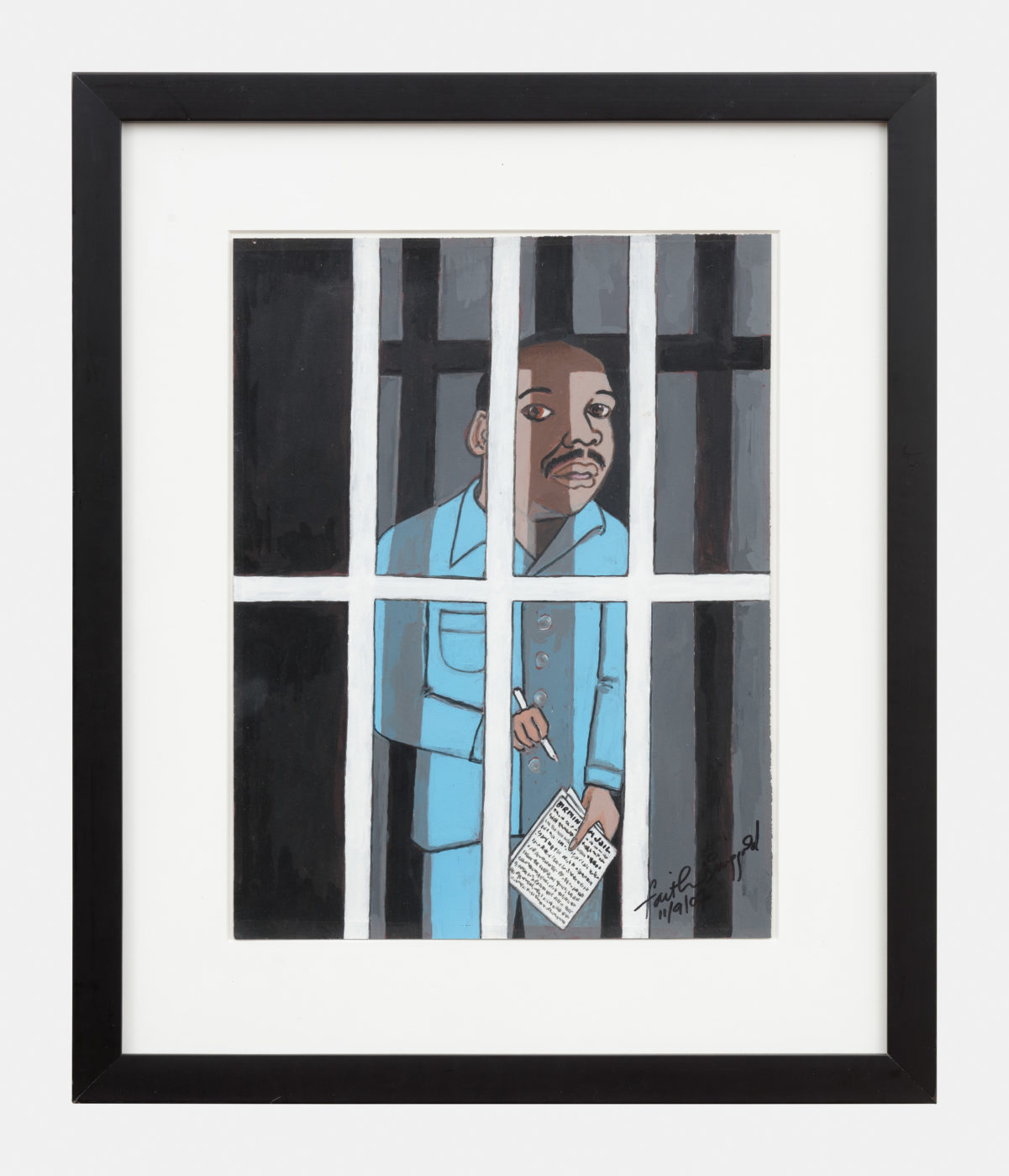 Martin Luther King's Letter from a Birmingham Jail 2008 Acrylic on paper 56.5 x 38 cm 22 x 15 in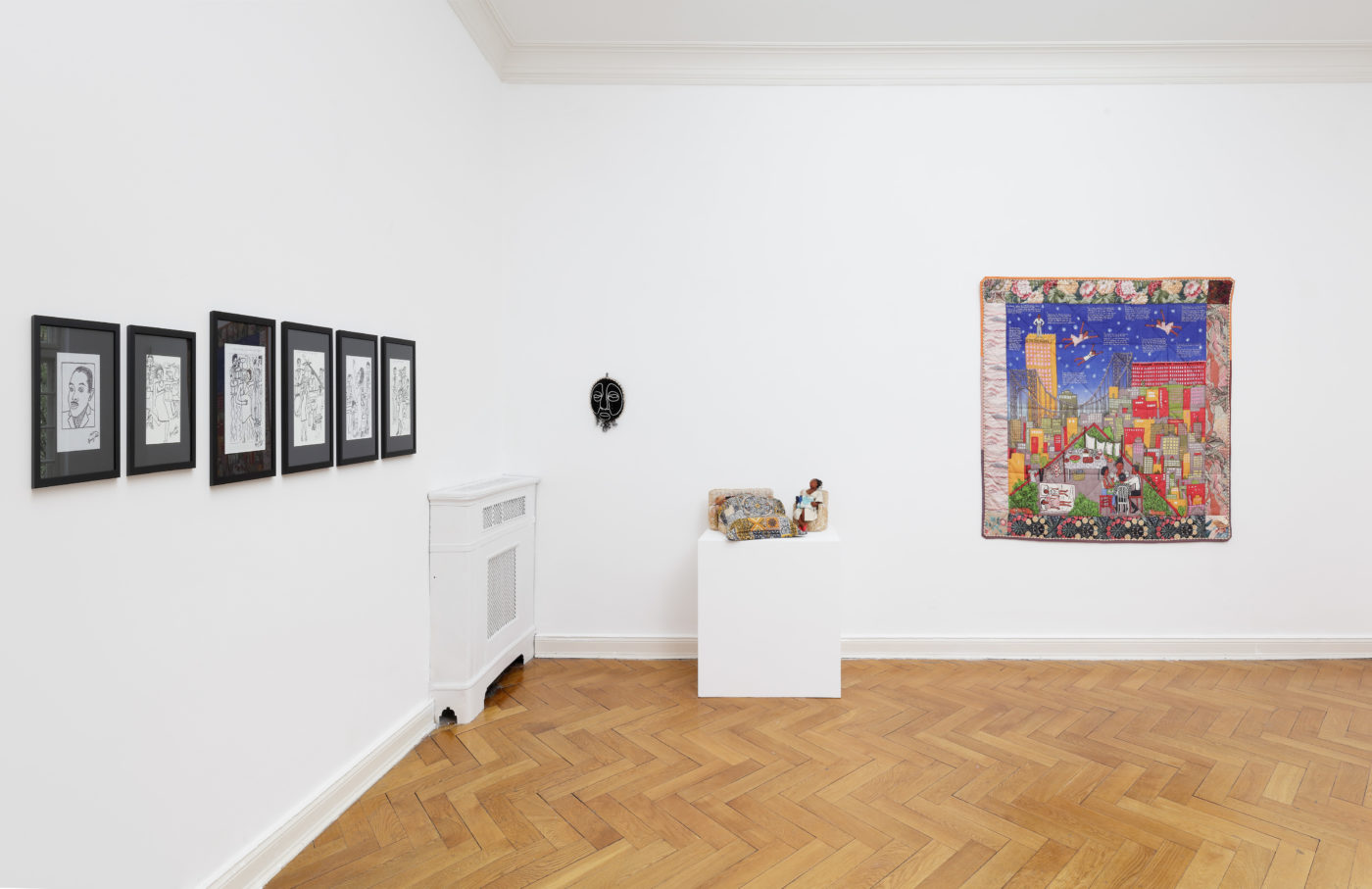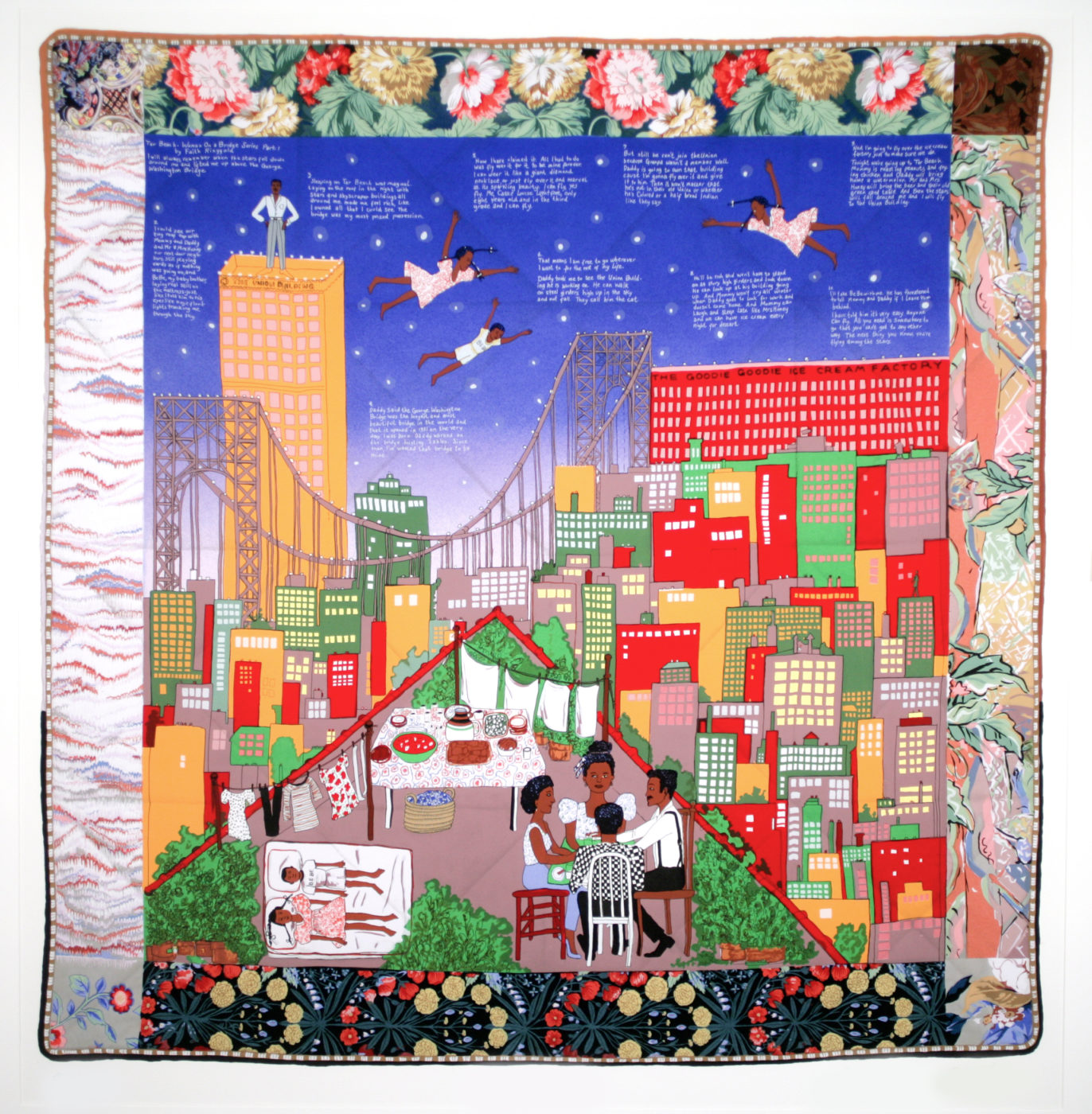 Tar Beach #2 1990-2 Silkscreen on silk 168 x 165 cm 66 x 65 in
Save Our Children in Atlanta 1981 Poster 51 x 35.5 cm 20 x 14 in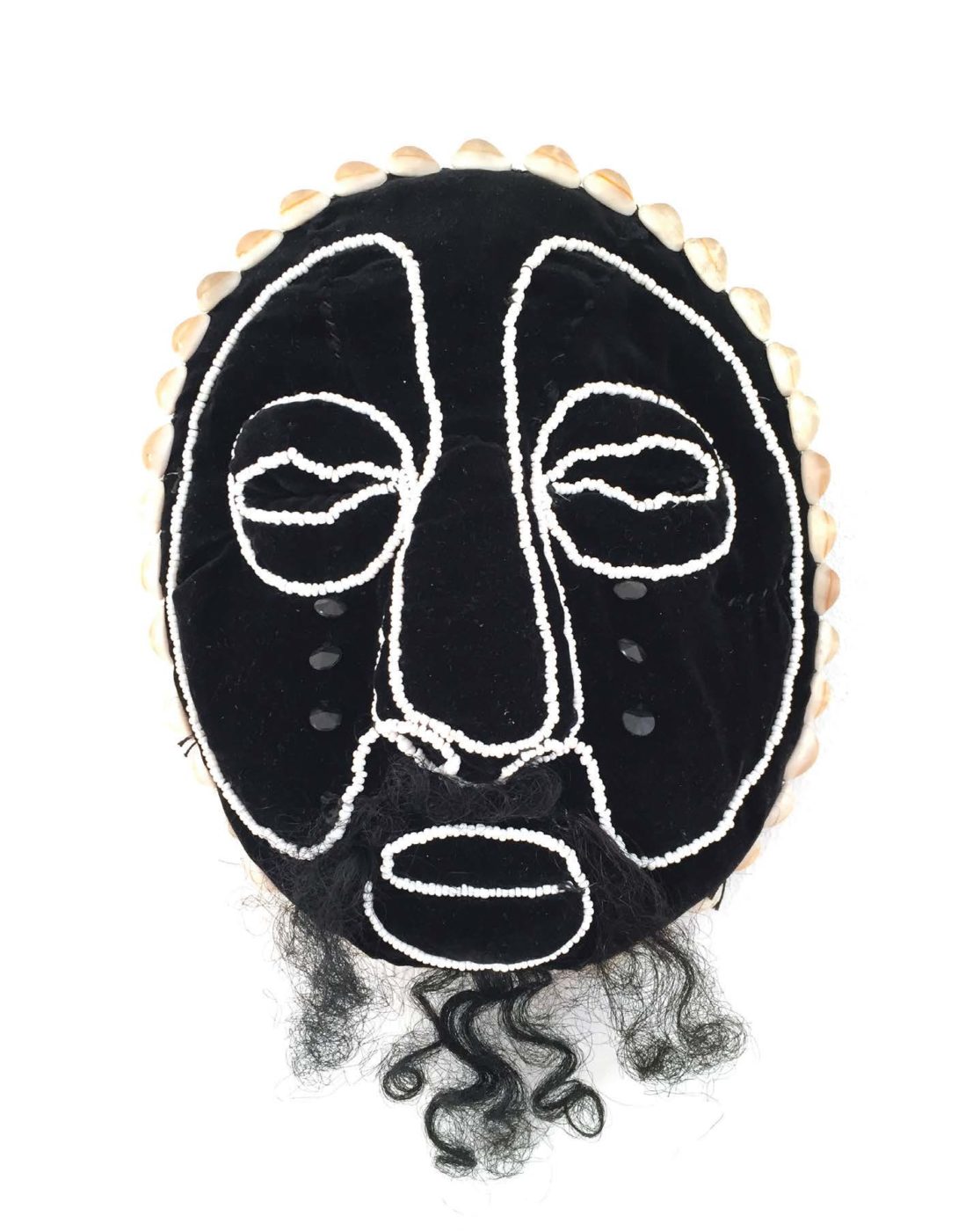 Black Face Mask #10 1973 Velvet, shells, and sequins 35 x 23 cm 13,5 x 9 in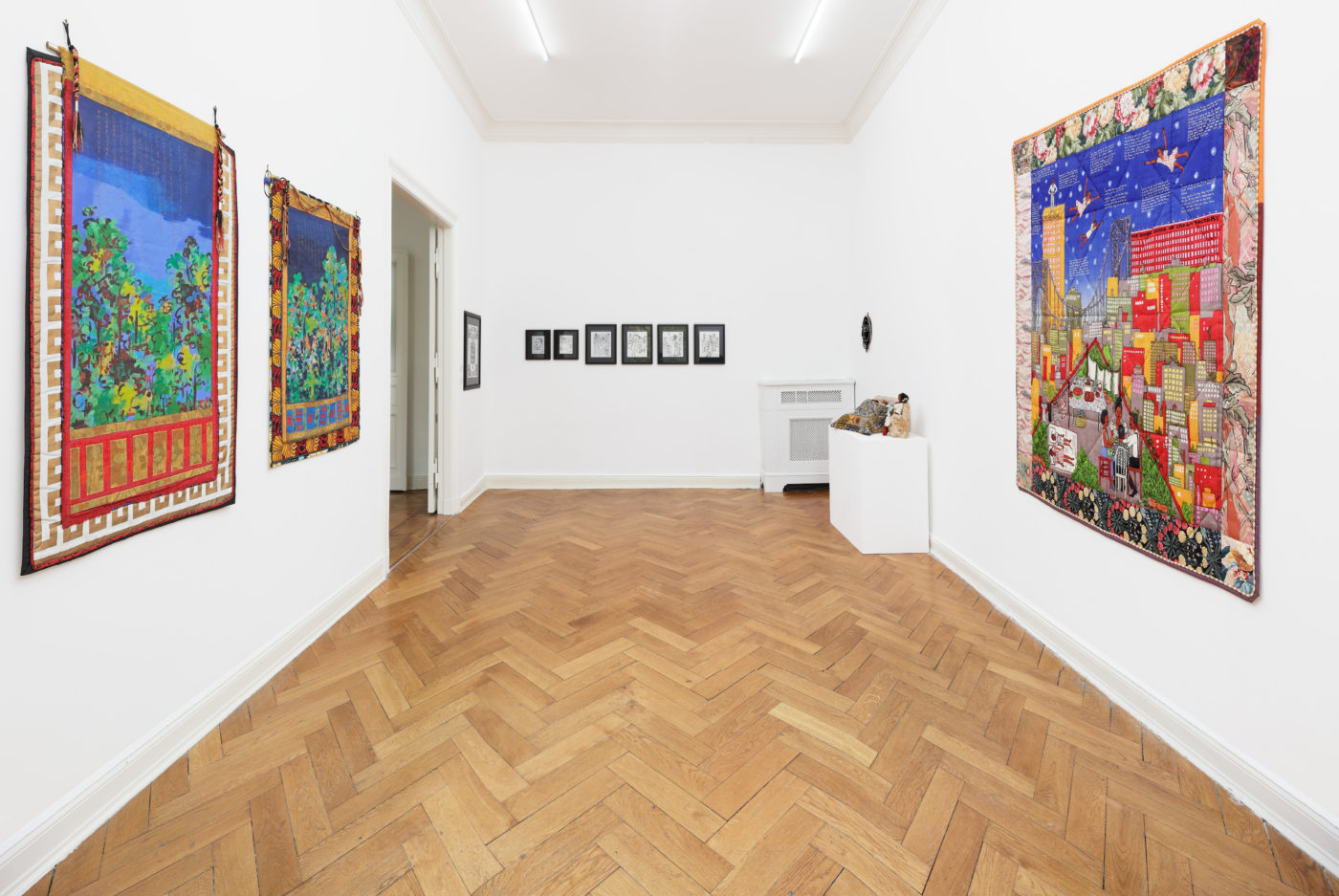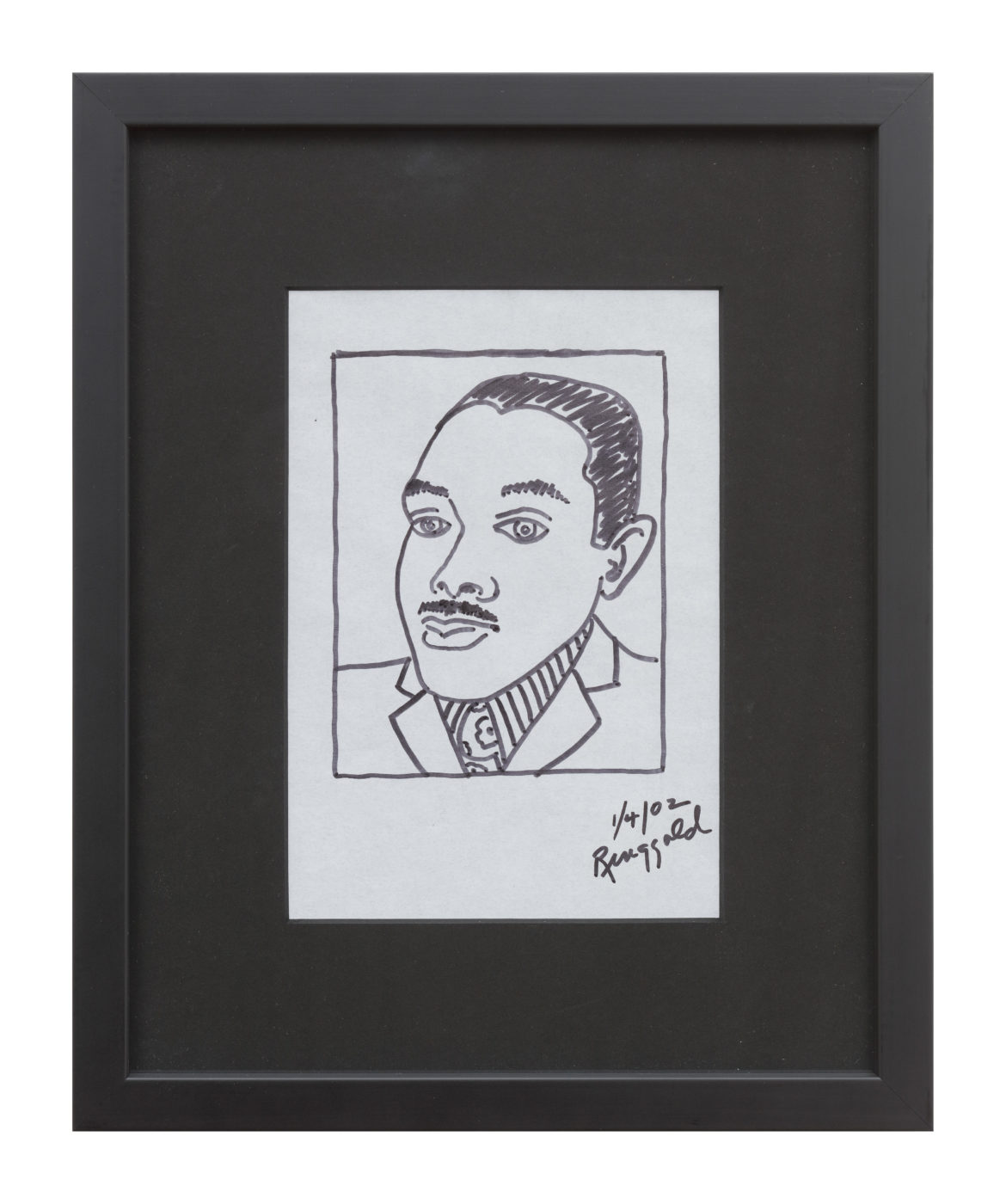 Jazz Drawings #1: Wynton 2002 Marker on paper 19 x 13 cm 7.5 x 5 in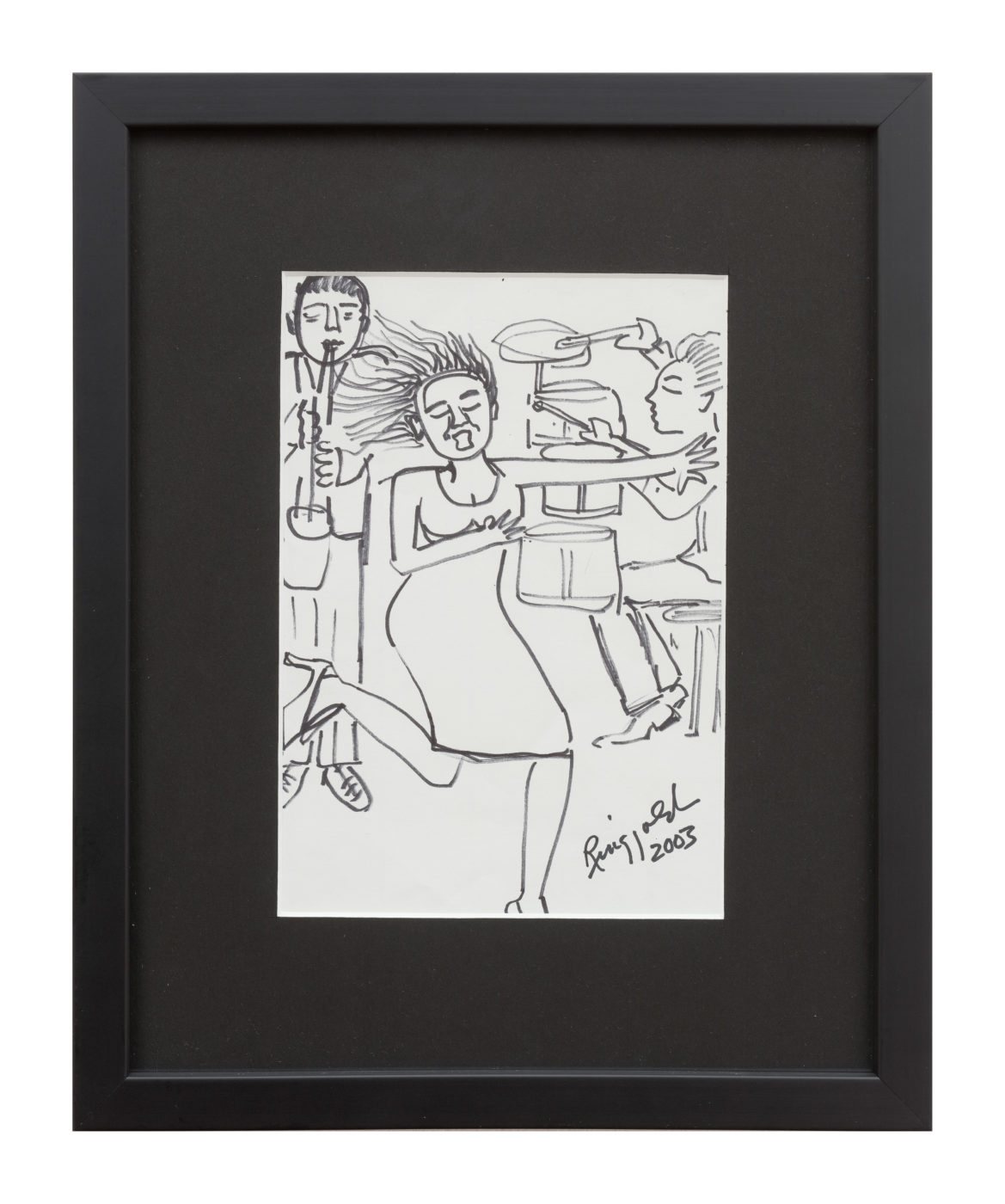 Jazz Drawings #3: Gonna Get On Away From You 2002 Marker on paper 19 x 13 cm 7.5 x 5 in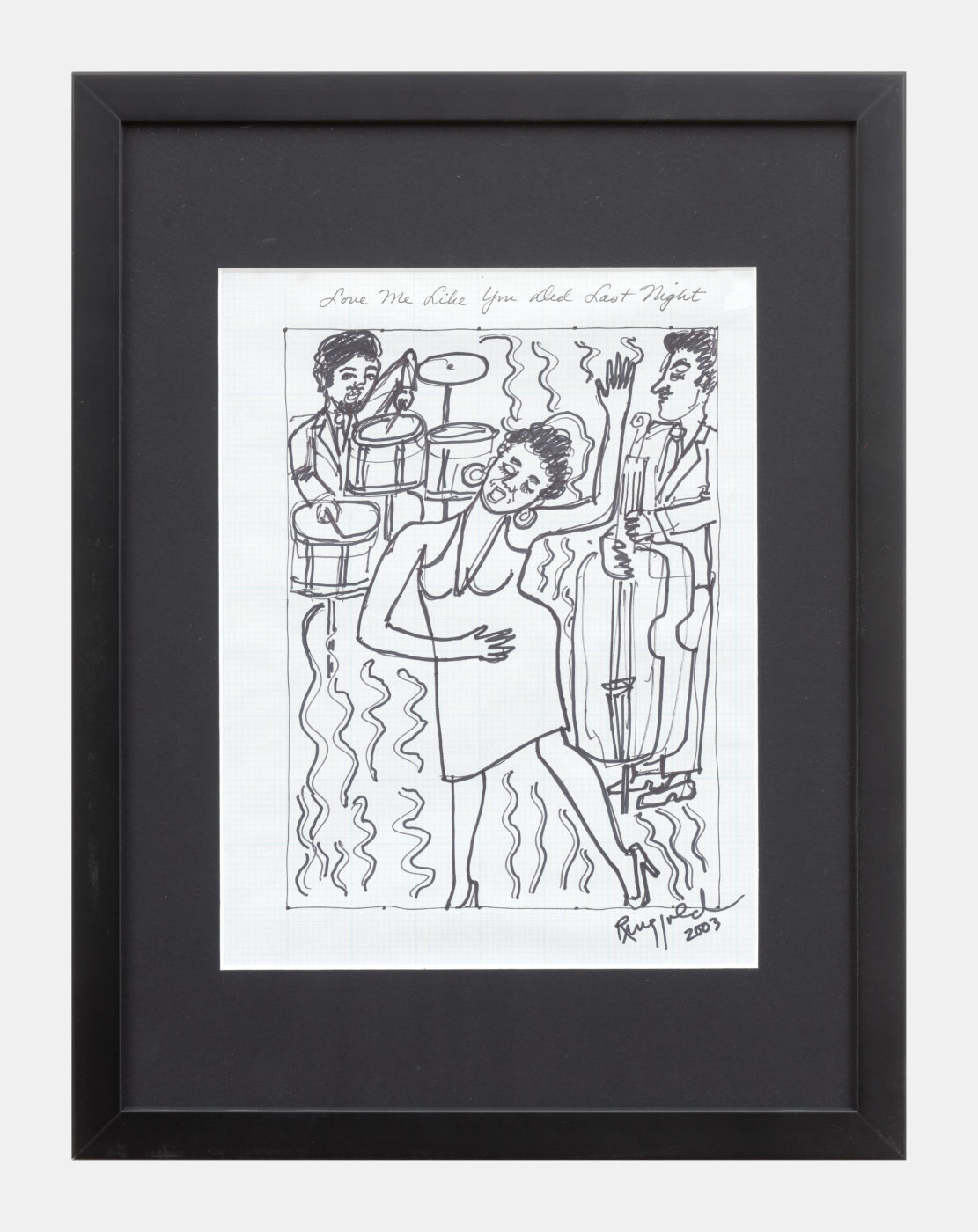 Jazz Drawings #6: Love Me Like You Did Last Night 2002 Marker on paper 27 x 20 cm 10.5 x 8 in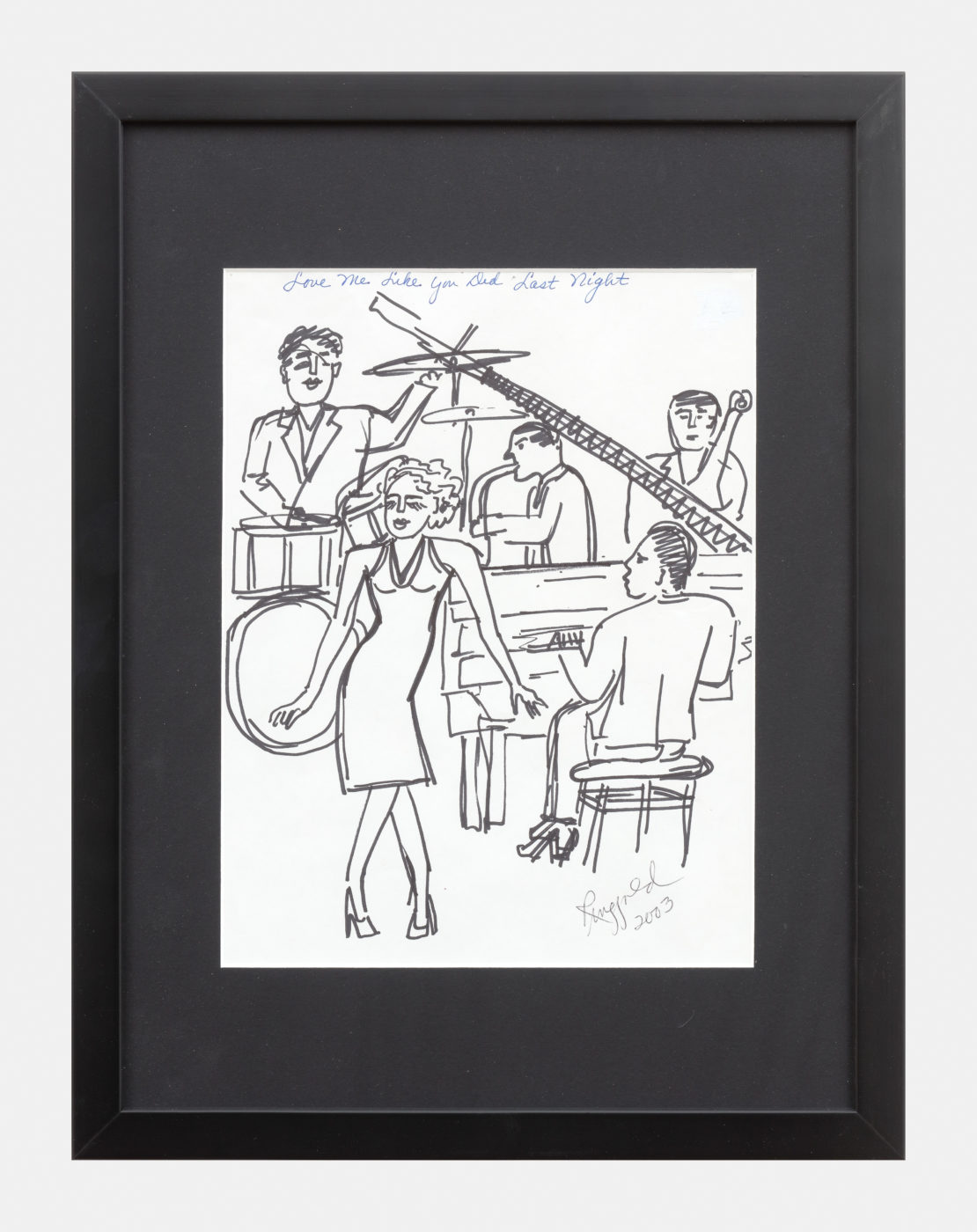 Jazz Drawings #7: Love Me Like You Did Last Night 2003 Marker on paper 27 x 20 cm 10.5 x 8 in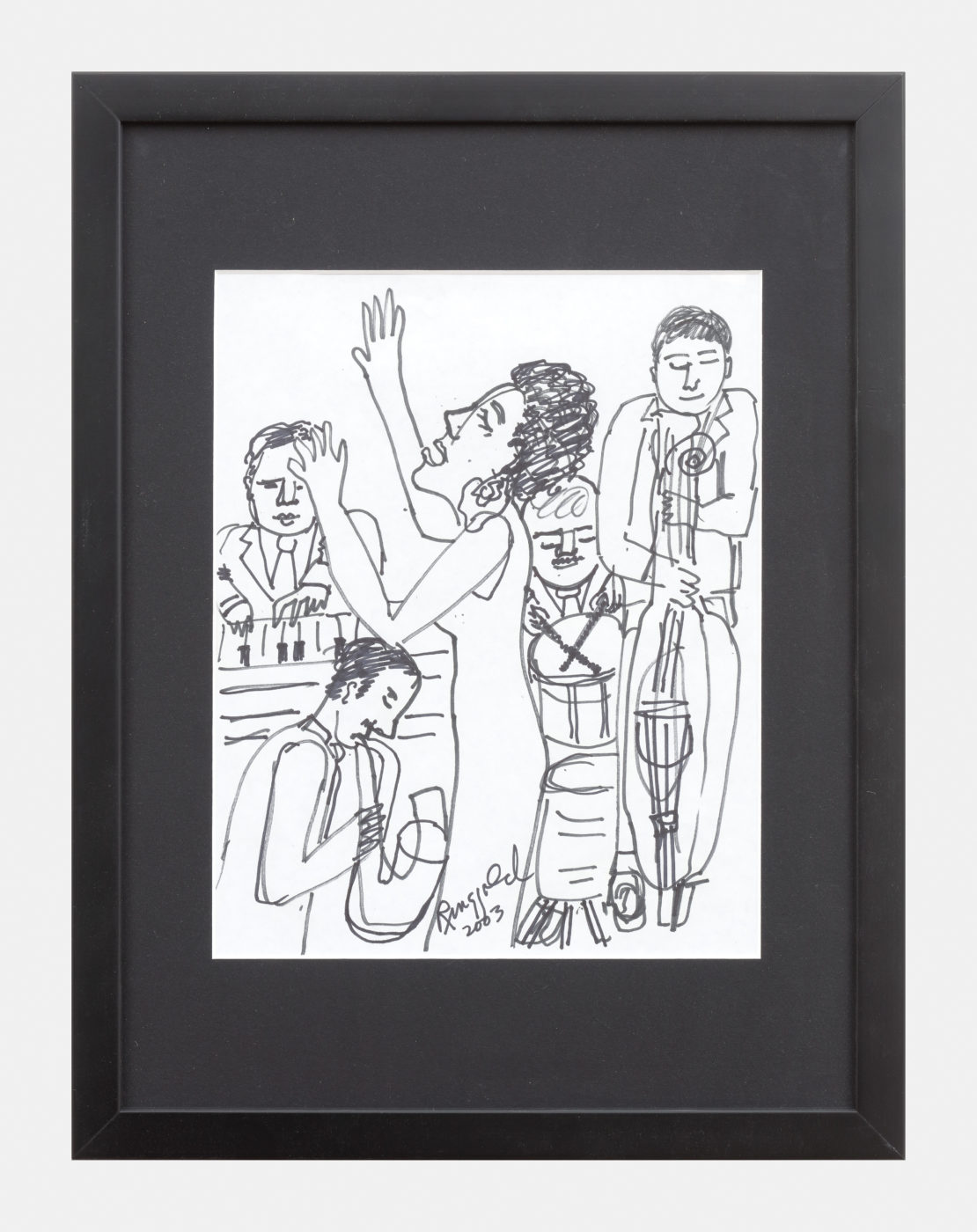 Jazz Drawings #9: I Don't Wanna Love You 2003 Marker on paper 27 x 20 cm 10.5 x 8 in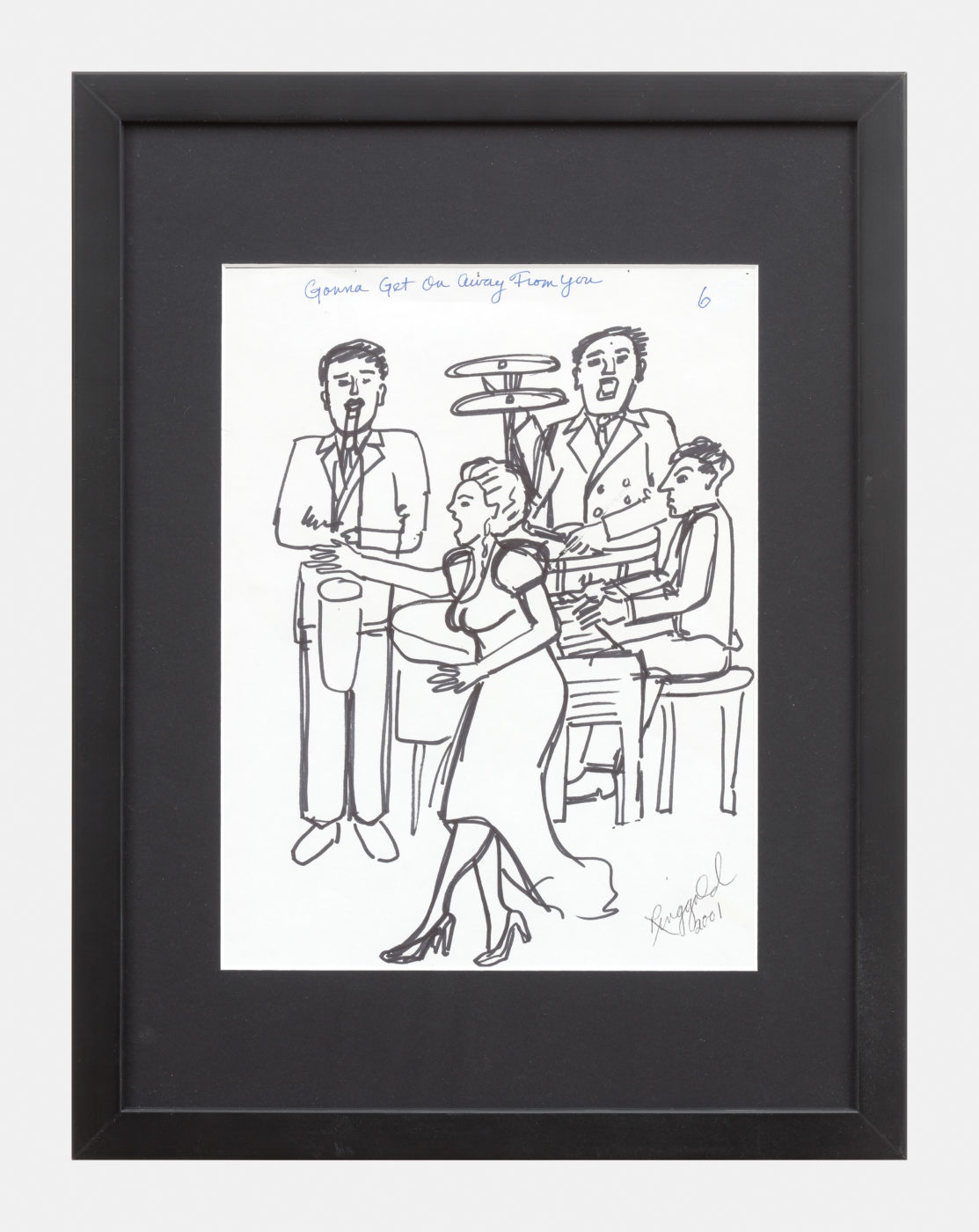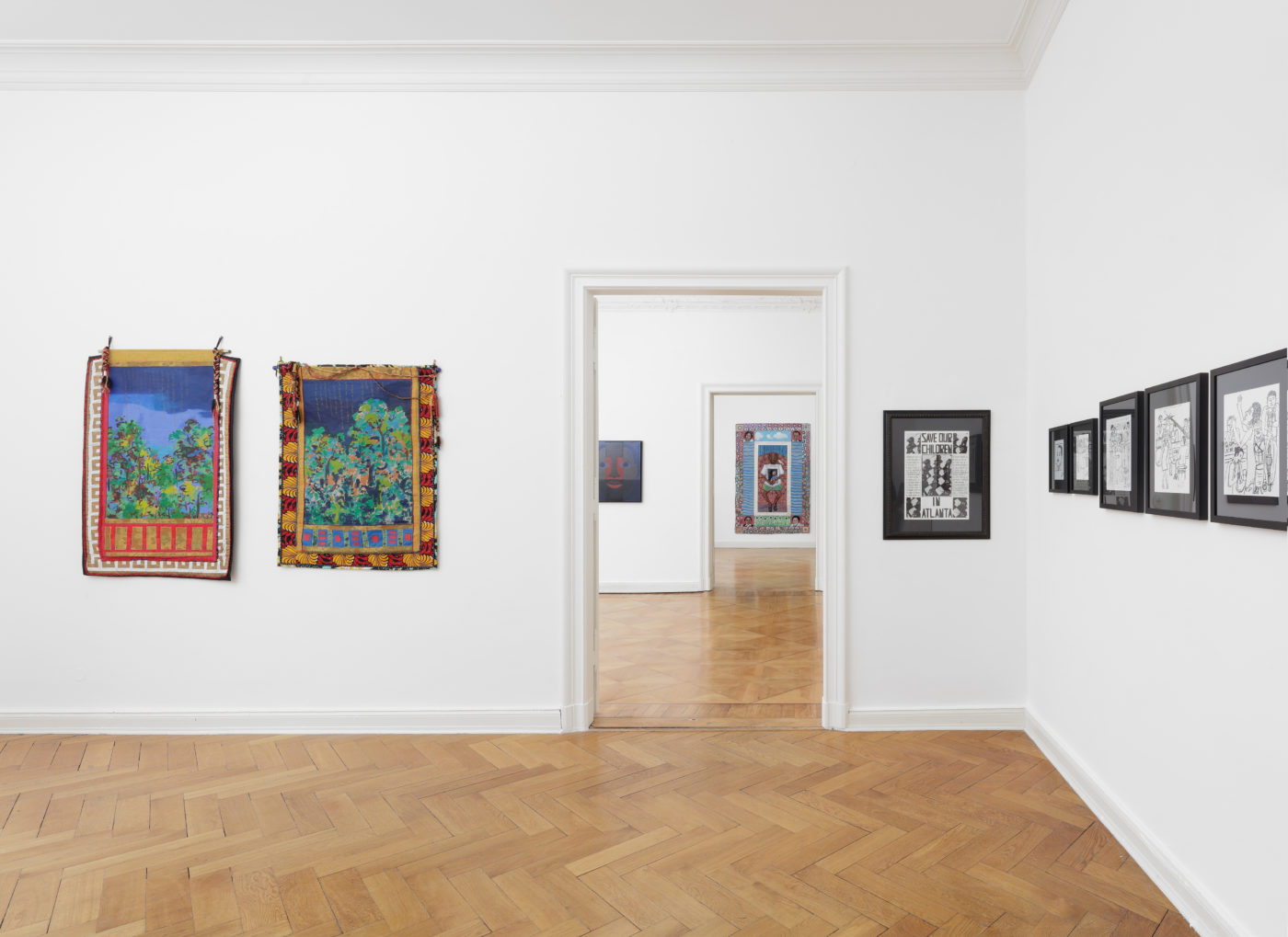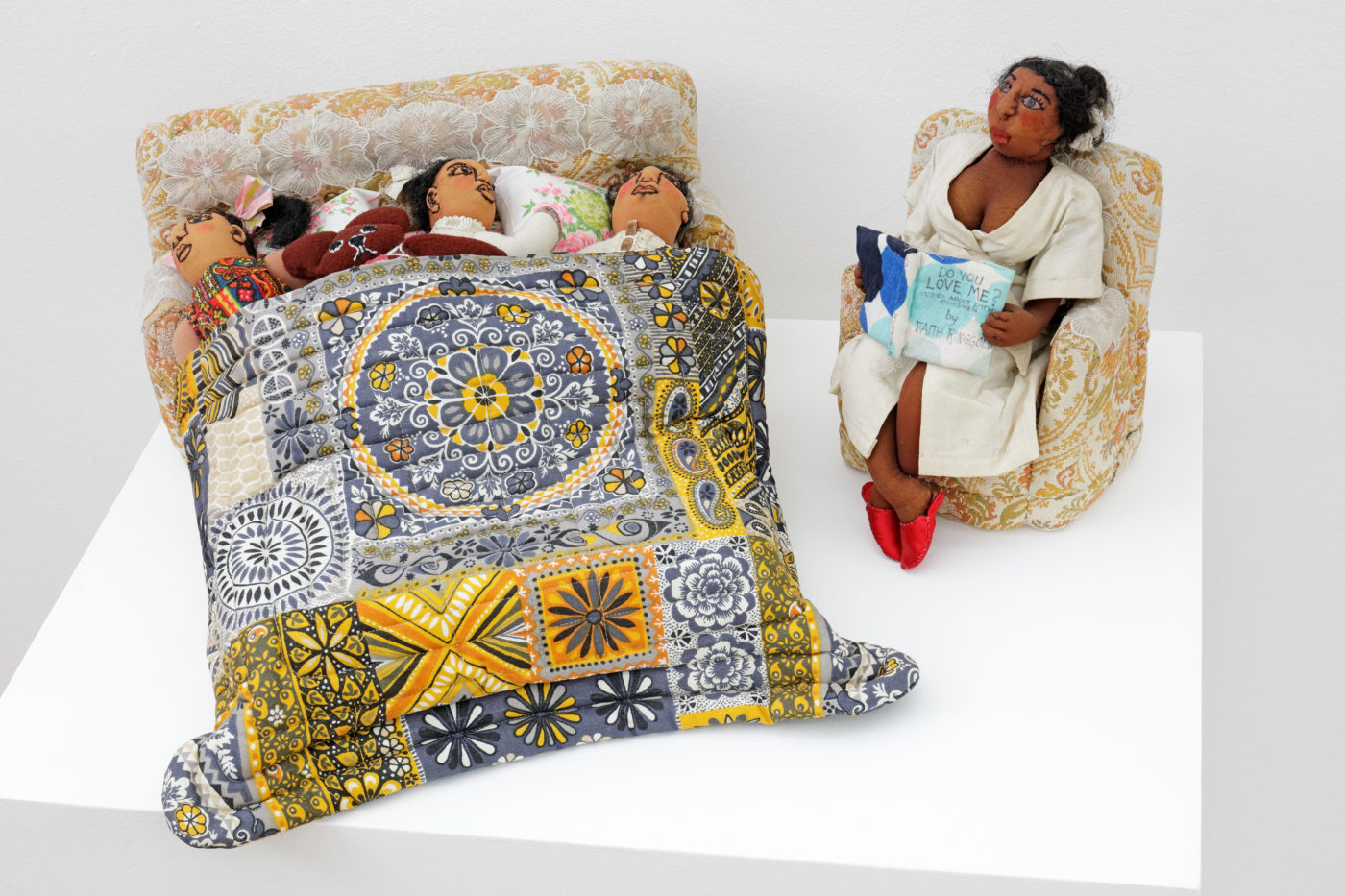 Moma in a Chair Reading to Her Three Children 1980 Soft sculpture 30 x 20 x 23 cm 12 x 8 x 9 in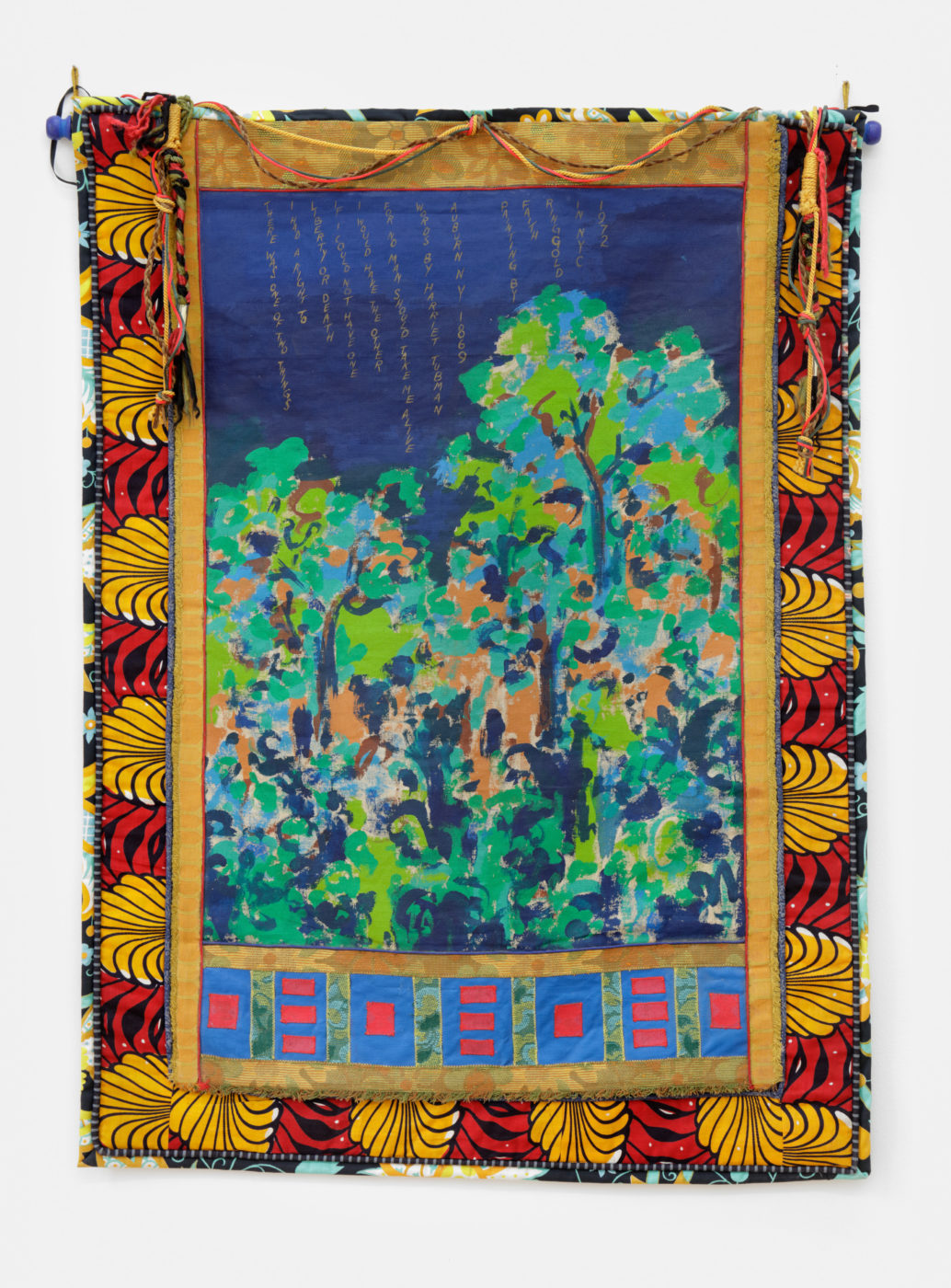 Feminist Series #6: There Was One of Two Things… 1972/1992 Acrylic on canvas, cloth, quilted borders 118 x 87 cm 46.5 x 34.5 in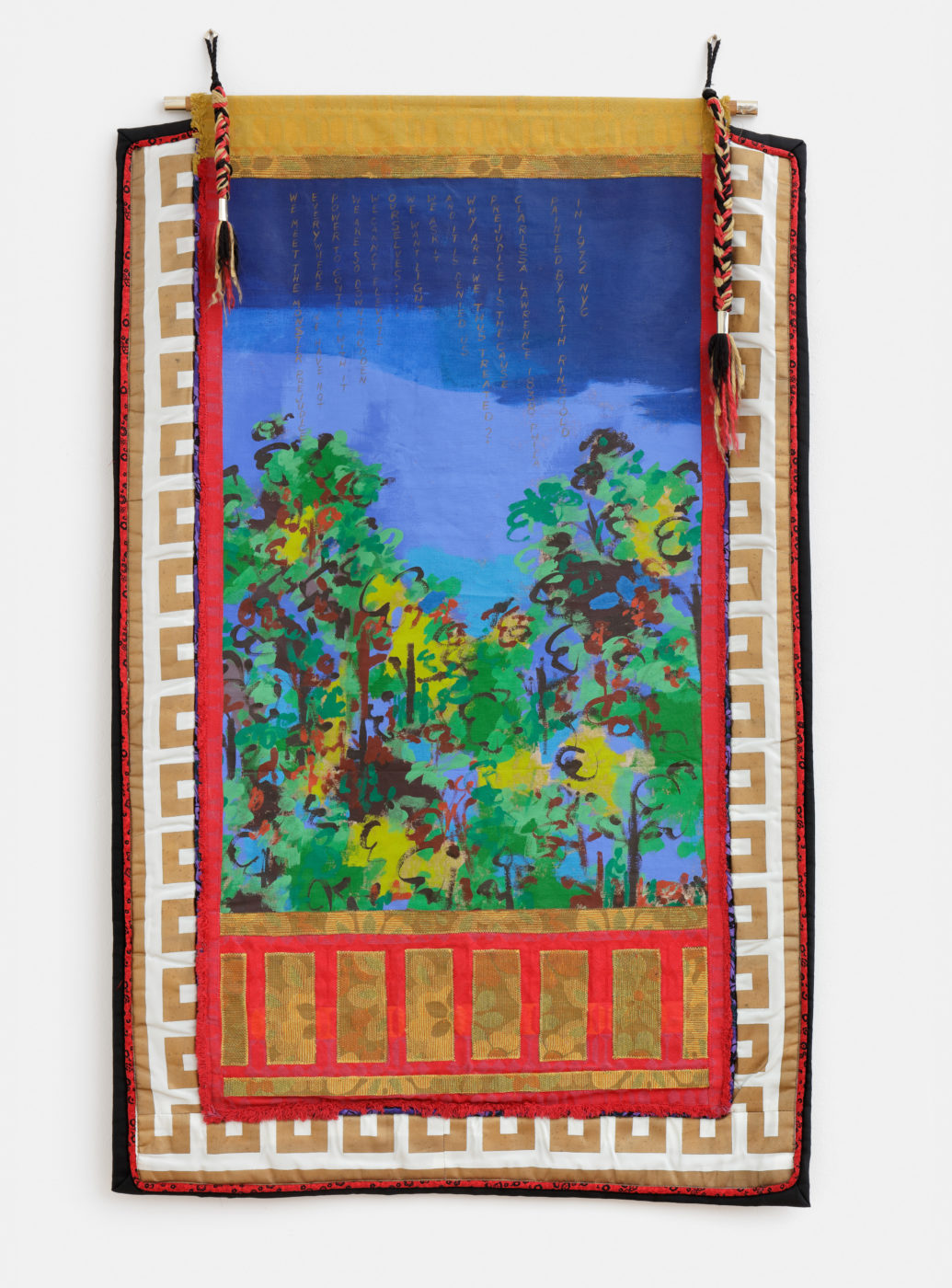 Feminist Series #12: We Meet the Monster 1972/1993 Acrylic on canvas framed in cloth 127 x 83 cm 50 x 32.5 in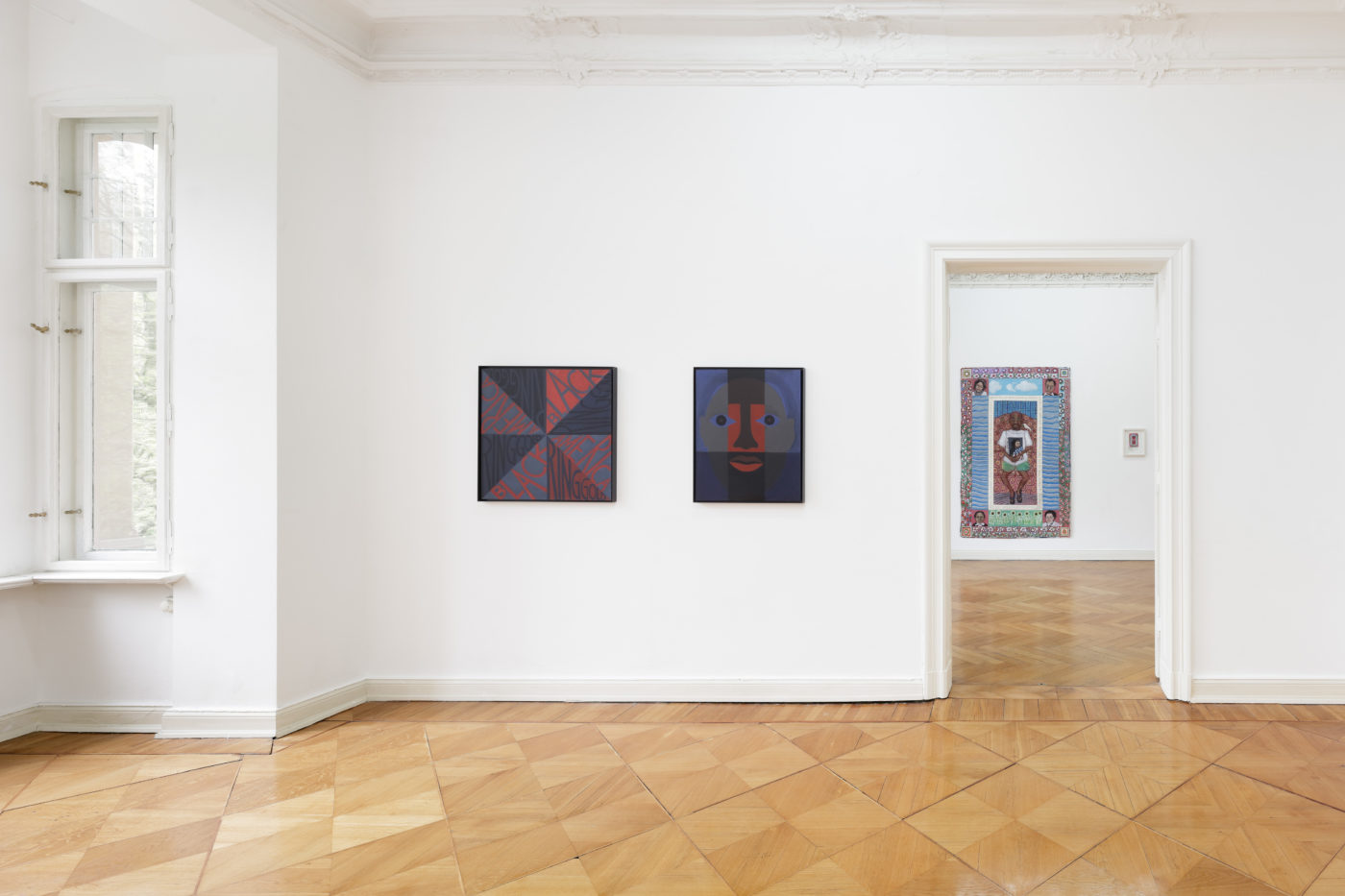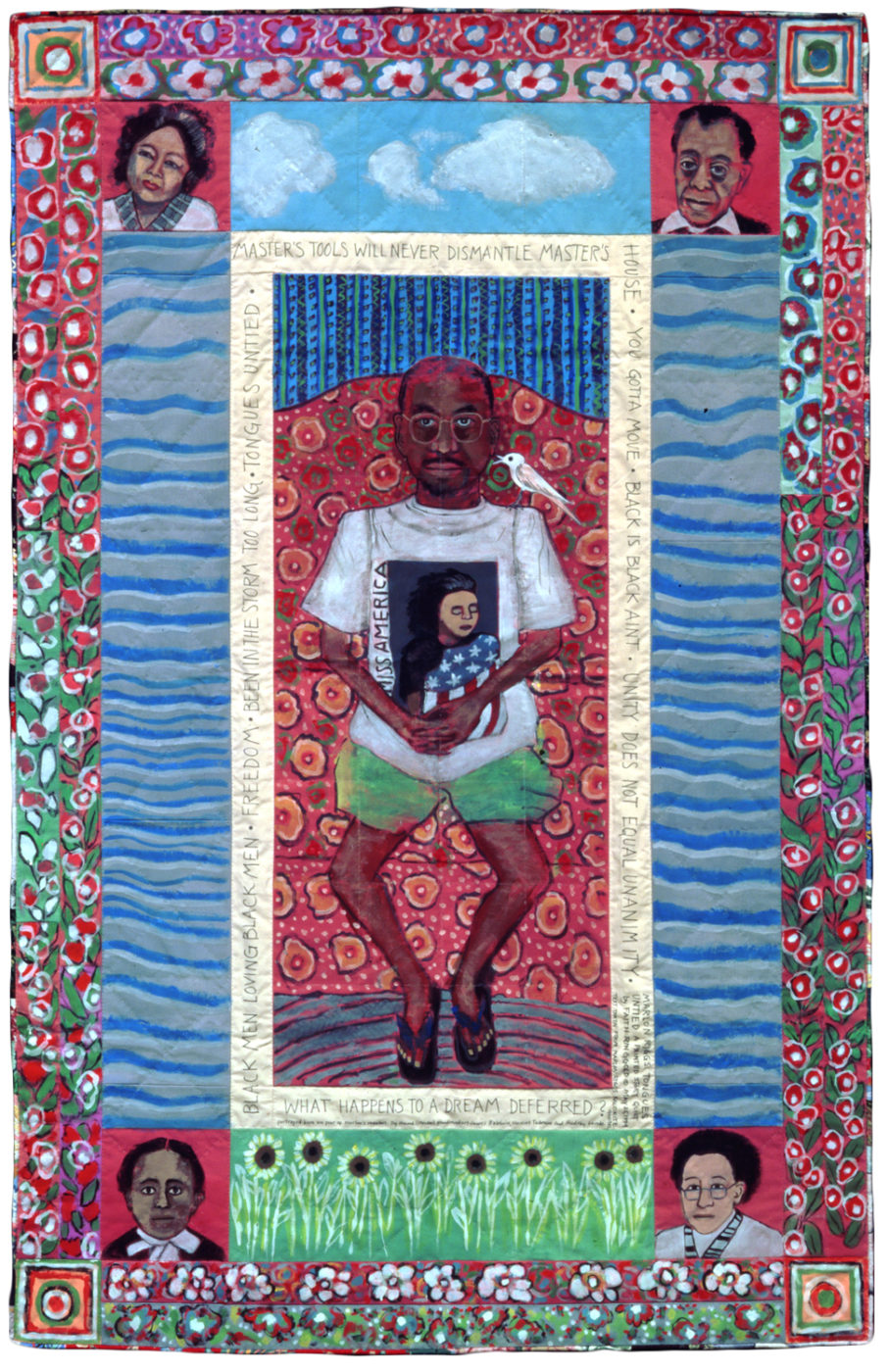 Marlon Riggs: Tongues Untied 1994 Storyquilt 226 x 151 cm 89 x 59.5 in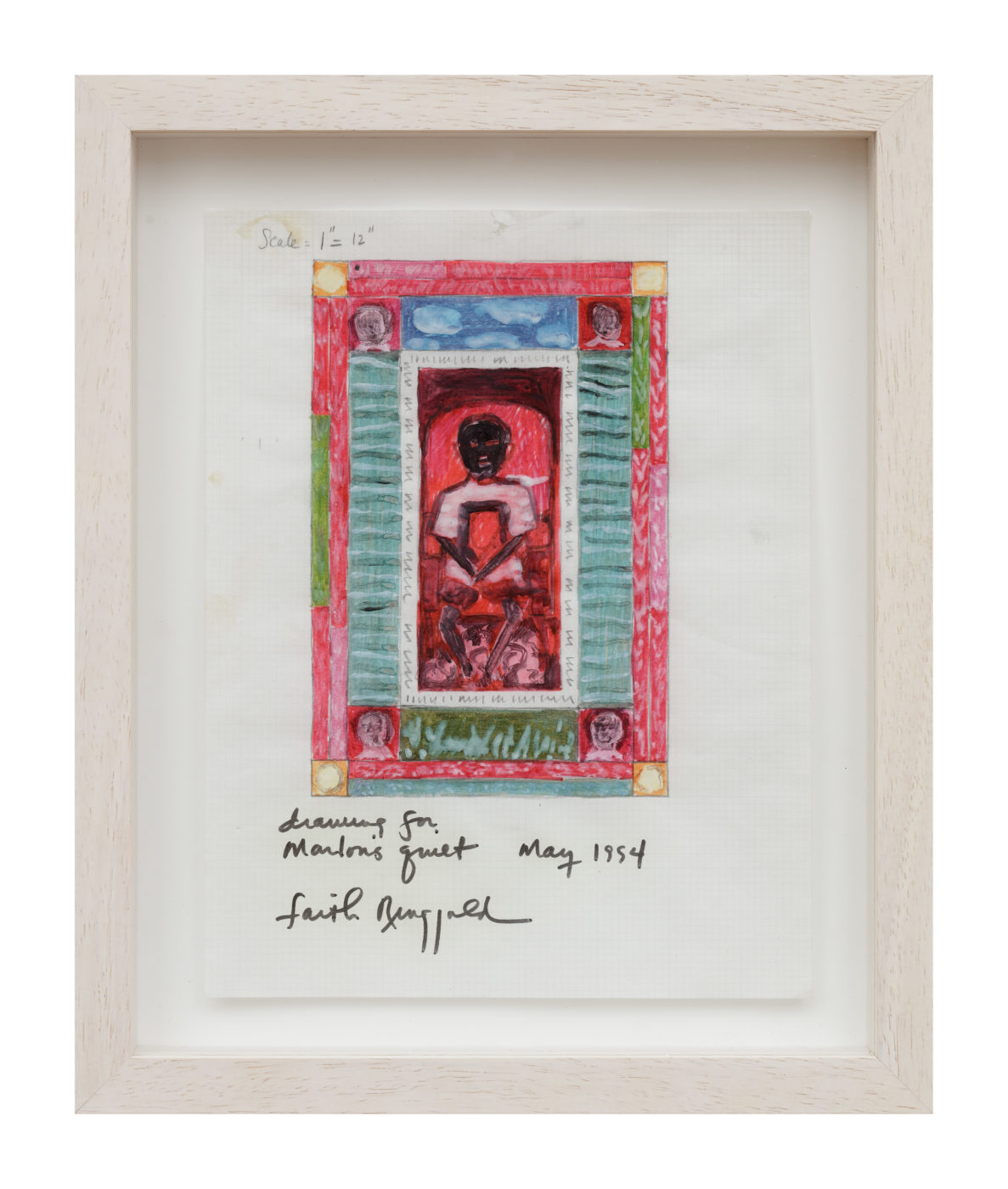 Marlon's Quilt 1994 Color pencil on paper 21,5 x 28 cm 8,5 x 11 in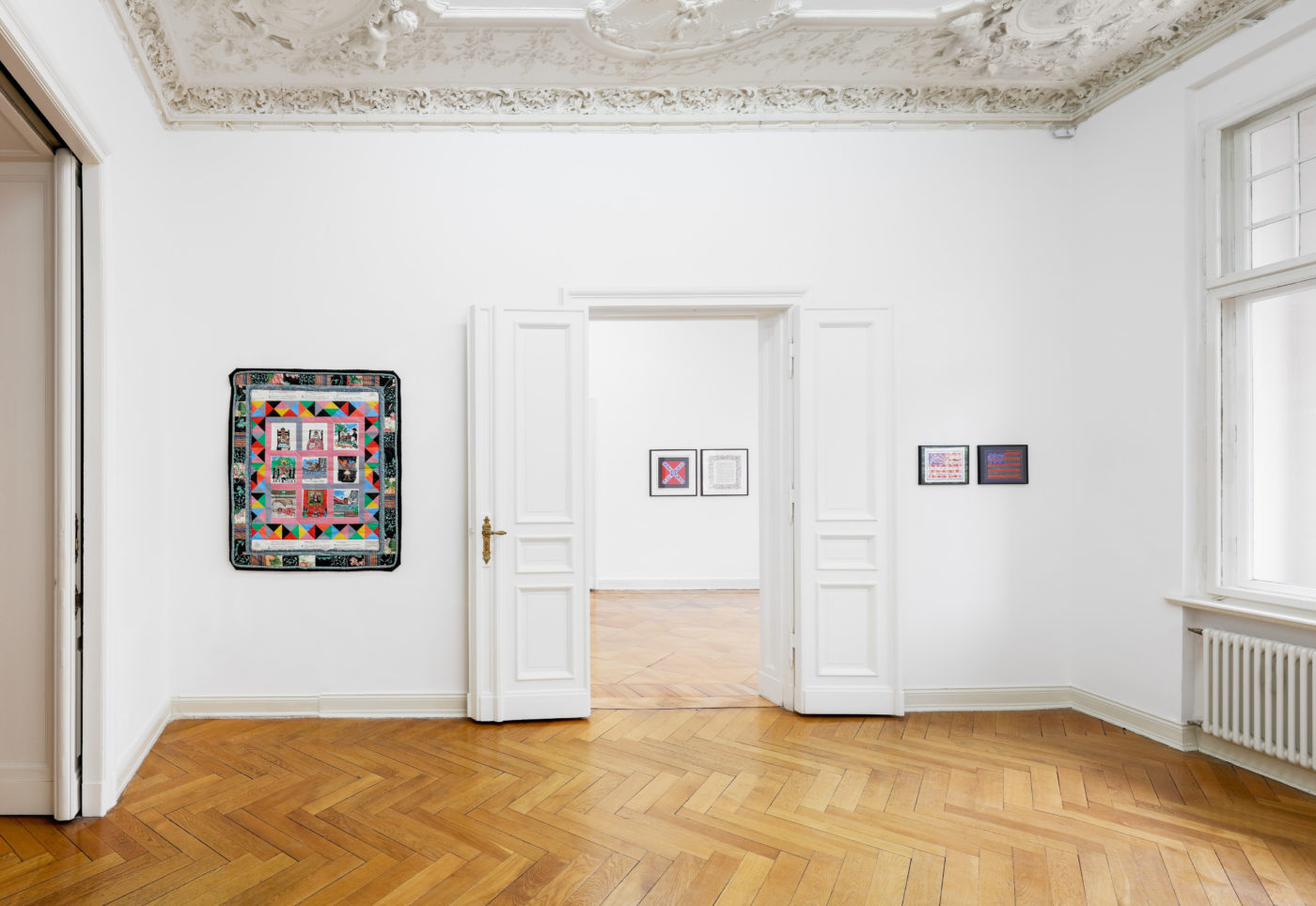 Seven Passages to a Flight 1997 Storyquilt 127 x 107 cm 50 x 42 in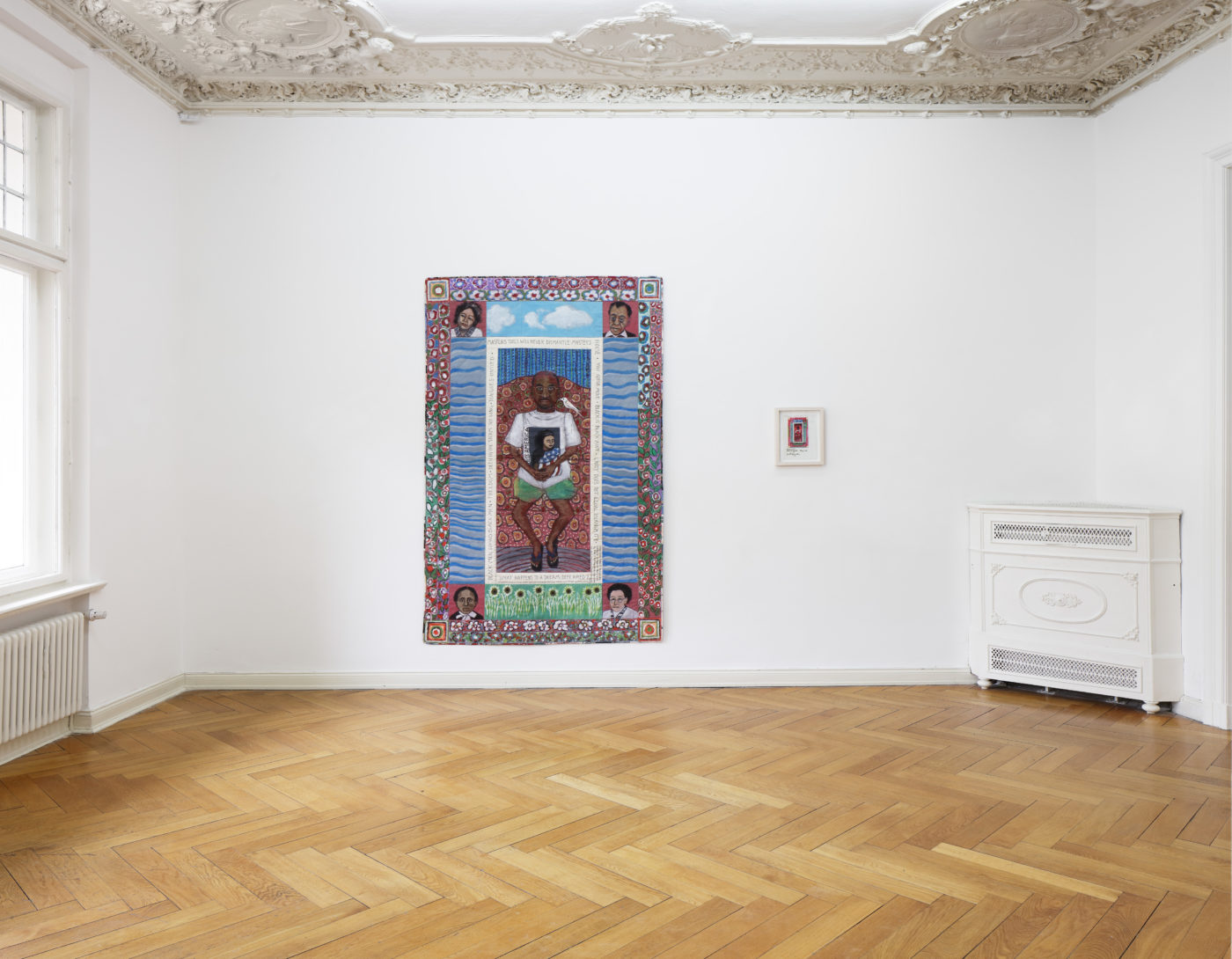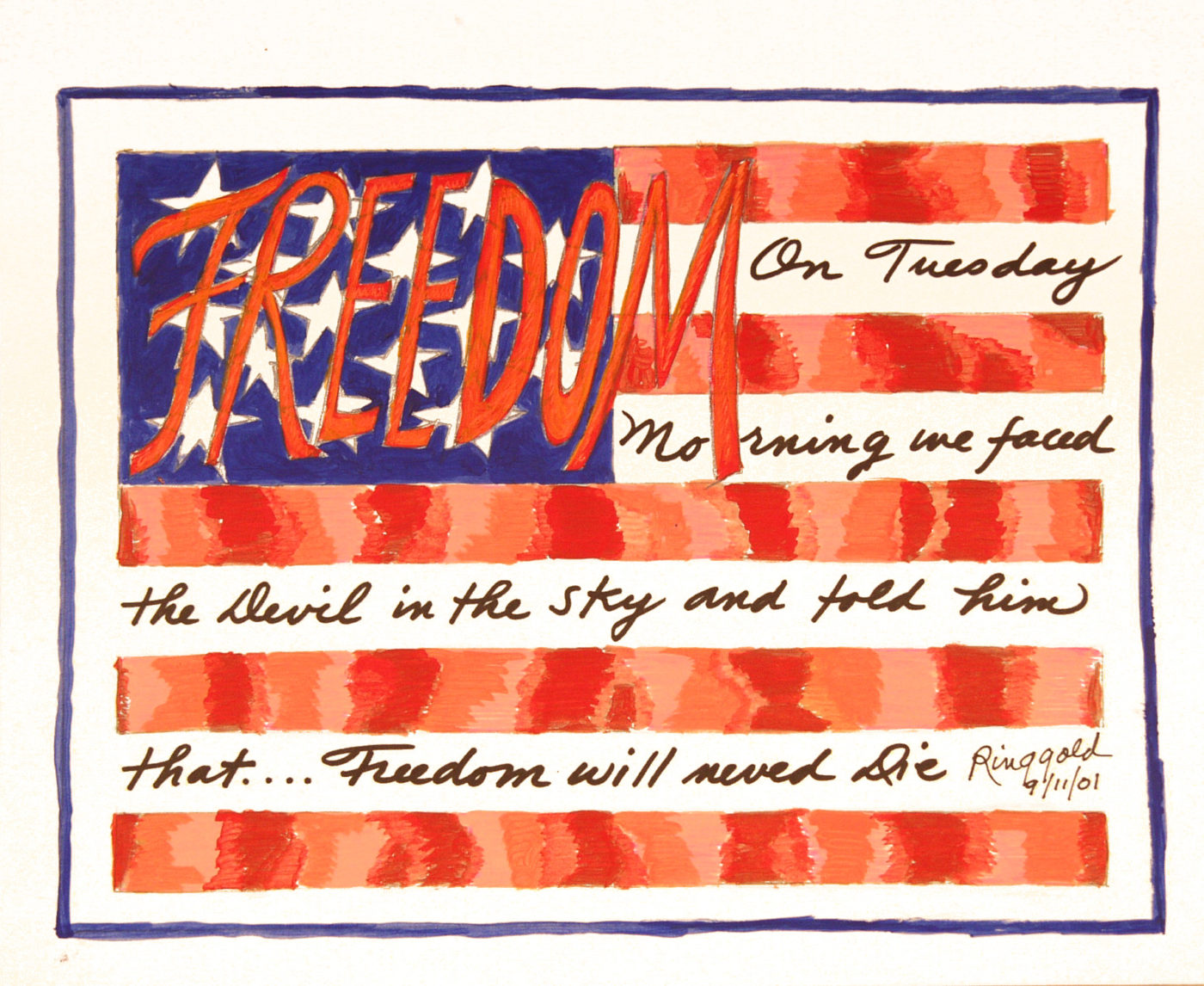 Flag #3 2003 Felt pen and gouache on paper 22 x 25 cm 8.5 x 10 in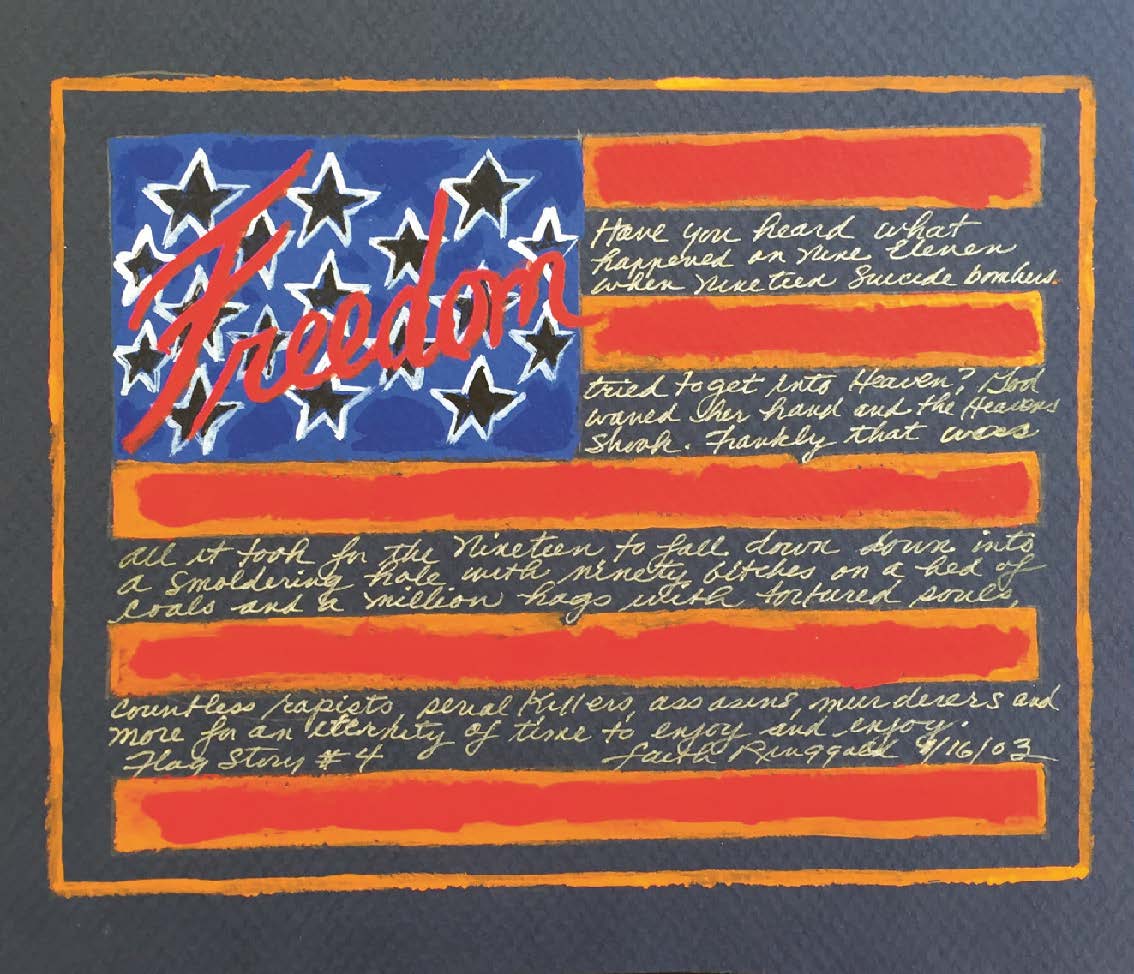 Flag #4 2003 Felt pen and gouache on paper 22 x 25 cm 8.5 x 10 in
Faith Ringgold
Born 1930 in New York, United States
Lives and works in New York
Solo Exhibitions (selected)
2018

Sugar Hill Museum of Art and Storytelling, New York, United States
Faith Ringgold: Art and Activism, ACA Galleries, New York, United States
Weiss Berlin, Berlin, Germany
Faith Ringgold: An American Artist, Crocker Art Museum, Sacramento, United States

2017

The Magnificent Faith Ringgold, Houston Museum of African American Culture, Houston, United States
Faith Ringgold: Story Quilts, National Building Museum, Washington DC, United States

2013

American People, Black Light: Faith Ringgold's Paintings of the 1960's,
National Museum of Women in the Arts, Washington, United States

2010

American People, Black Light: Faith Ringgold's Paintings of the 1960's,
Neuberger Museum of Art, New York, United States

1998

Dancing at the Louvre: Faith Ringgold's French Collection
and Other Story Quilts, New Museum of Contemporary Art, New York, United States

1997

Magical Tales of Lonnie, San Diego Children's Museum,
San Diego, United States

1996

Faith Ringgold: The French Collection Story Quilts, The Hudson River Museum of Westchester, New York, United States
Faith Ringgold: Paintings and Drawings Spanning Four
Decades, A.C.A. Gallery, New York, United States

1994

Currents 57: Faith Ringgold, The St. Louis Art Museum,
St. Louis, United States

1993

Inspirations: Exploring the Art of Faith Ringgold, The
Textile Museum, Washington, United States
Dinner at Aunt Connie's House and Aunt Harriet's Underground Railroad in the Sky, Hewlett-Woodmere Public Library,
Hewlett, United States

1992

Faith Ringgold: The French Collection, Bernice Steinbaum
Gallery, New York, United States

1991

Faith Ringgold: Story Quilts, duPont Gallery, Washington and
Lee University, Lexington, United States

1990

Faith Ringgold: Celebrating Cultural Diversity in the
American Theatre, Grove Gallery, University of California,
San Diego, United States
Faith Ringgold: A Twenty-Five Year Survey, Fine Arts Museum
of Long Island (FAMLI), Hempstead, United States

1989

Faith Ringgold: Paintings/Quilts, Simms Fine Art, New
Orleans, United States
Faith Ringgold, Henry Art Gallery, University of Washington,
Seattle, United States

1988

Retrospective Exhibition, Sims Gallery, New Orleans, United States
Faith Ringgold: Change 2: Painted Story Quilts, Bernice
Steinbaum Gallery, New York, United States
Faith Ringgold: Paintings & Sculpture, Vaughn Cultural
Center, St. Louis, United States

1987

Faith Ringgold: Painted Story Quilts, Baltimore Museum of
Art, Baltimore, United States
Change: Faith Ringgold's New Work, Real Art Ways, Hartford, United States
Faith Ringgold: Painted Story Quilts, Bernice Steinbaum
Gallery, New York, United States

1985

Faith Ringgold: Painting, Sculpture & Performance, College
of Wooster Art Museum, Wooster, United States

1984

Faith Ringgold: Twenty Years of Painting, Sculpture and
Performance (1963-1984), The Studio Museum in Harlem, New
York, United States
California Dah, Rutgers University, New Brunswick, United States
Paintings, Sculpture and Masks, Appalachian State
University, Boone, United States

1983

Faith Ringgold: Black and Feminist Art, Lehigh University,
Bethlehem, United States
Paintings, Sculpture and Masks, San Antonio College, San
Antonio, United States

1981

The Wake and Resurrection of the Bicentennial Negro, Trinity
College, Hartford, United States

1980

Faith Ringgold: Soft Sculpture, Museum of African and African-American Art, Buffalo, United States

1979

Faith Ringgold: Paintings from the Sixties, Summit Gallery,
New York, United States
Woman on a Pedestal, Texas Technical University,
Lubbock, United States

1978

Harlem '78, Hampton Institute, Hampton, United States
The Wake and Resurrection of the Bicentennial Negro, St.
Edwards University, Austin, United States

1977

The Wake and Resurrection of the Bicentennial Negro, Hamilton-Kirkland College, Clinton, United States

1976

The Wake and Resurrection of the Bicentennial Negro,
tableau, Wilson College, Chambersberg, United States
Paintings, Sculpture and Masks, Polk Community College,
Winterhaven, United States

1975

Paintings, Sculpture and Masks, University of Wisconsin,
Superior, United States

1974

Paintings and Masks, Lamar University, Beaumont, United States
Paintings, Sculpture and Masks, University of Tennessee,
Chattanooga, United States

1973

Faith Ringgold: 10 Year Retrospective, Voorhees Gallery,
Rutgers University, New Brunswick, United States
Paintings and Masks, Wellesley College, Wellesley, United States

1972

Political Landscapes and Posters, Louisiana State
University, Baton Rouge, United States

1970

America Black, Spectrum Gallery, New York, United States

1967

American People, Spectrum Gallery, New York, United States

Group Exhibitions (selected)

2017

Soul of A Nation: Art in the Age of Black Power, The Brooklyn Museum, New York, United States

2017

Soul of A Nation: Art in the Age of Black Power, Tate Modern, London, United Kingdom
We Wanted a Revolution: Black Radical Women 1965-85, Brooklyn Museum, Brooklyn, United States
From the Collection: 1960-1969, Museum of Modern Art, New York, United States
Work and Leisure in American Art, Gallery West, Brentwood, United States
Shifting: African American Women Artists and The Power of Their Gaze, David Driskell Center, Baltimore, United States

2016

Rhythm & Roots: Dance in American Art, Detroit Institute of Arts, Detroit, United States

2015

African American Art After 1950: Perspectives, Figge Art Museum, Davenport, United States

2014

Post-Picasso Contemporary Reactions, Museu Picasso, Barcelona, Spain
Witness: Art and Civil Rights in the Sixties, Brooklyn Museum, Brooklyn, United States
My Art, My World, A Look at Contemporary African American Artists, Eastern Kentucky

1988

Committed to Print, Museum of Modern Art, New York, United States

1985

Whitney Biennale, Whitney Musuem of American Art, New York, United States

1972

Documenta IV, Kassel, Germany

Education

1959

M.A., City College of New York, New York, United States

1955

B.S., City College of New York, New York, United States

Prizes, Grants and Residencies

2017

CAA Award for Distinction, University of California, San Diego, United States

2011

First Annual Cultural Arts Awards, City College of New York, New York, Untied States

2006

Golden Legacy Visual Arts Awards, Harlem Arts Alliance, New York, United States

2005

President's Award, Amistad Center for Art and Culture, Hartford, United States
Visionary Women Award, Moore College of Art and Design, Philadelphia, United States

2004

National Visionary Leadership Project, Washington, United States

2002

Living Artist Award, California Art Educators Association, United States

2000

NAACP Image Award, Best Children's Book, United States
First Annual Women of Distinction Award, New York Chapter Continental Societies Inc., New York, United States

1998

Key the City, Oakland, United States

1997

Artist of the Year Award, New Jersey Center for the Arts, New Jersey, United States

1996

Spirit of Woman Award, National Museum of Women oft he Arts, Washington, United States

1995

Key to the City, Lake Charles, United States
Townsend Harris Medal, City College of New York Alumni Association, New York, United States

1994

Womens Caucus for the Arts Honors Awards for Outstanding Achievement in the Visual Arts, Queens Museum, New York, United States
Recognition Award, New York State Fibers Association, New York, United States

1993

National Endowment for the Arts Travel Awards, United States

1992

The New York Times Best Children's Book Award, New York, United States
Caldecott Honor, United States
Award for best illustrated book by an African American, The Coretta Scott King Award, United States

1991

Honors the Artist of the Year, The Studio Museum Harlem, New York, United States

1990

La Napoule Award, France

1989

Award for painting, National Endowment for the Arts, United States
Mid-Atlantic Arts Foundation Award

1988

New York Foundation for the Arts Award

1987

Fellowship, John Solomon Guggenheim Memorial Foundation, New York, United States
Public Art Fund Award from the Port Authority of New York and New Jersey, United States

1986

Honor Award, Women's Caucus for Art, New York, United States
Guest of Honor, Feminist Art Institute, New York, United States

1984

Candance Award, 100 Black Women, New York, United States

1983

Wonder Women Award, Warner Communications, New York, United States

1982

Dreyfus/MaxDowell Fellowship, Peterborough, United States

1978

Award for sculpture, National Endowment for the Arts, United States

1976

American Association of University Women, Washington, United States

1973

Found Women Award, Ms. Magazine, New York, United States

1971

Creative Artists Public Service Award (CAPS) Grant, New York, United States

Collections

American Craft Museum, New York, United States
ARCO Chemical, Philadelphia, United States
Baltimore Museum of Art, Baltimore, United States
Blanden Memorial Art Museum, Fort Dodge, United States
Boston Museum of Fine Arts, Boston, United States
Chase Manhattan Bank, New York, United States
Coca-Cola, Atlanta, United States
Cornell Fine Arts Museum at Rollins College, Winter Park, United States
Delaware State University, Dover, United States
Fort Wayne Museum of Fine Art, Fort Wayne. United States
Harold Washington Library, Chicago, United States
Metropolitan Museum of Art, New York, United States
Metropolitan Transit Authority, New York, United States
Milwaukee Art Museum, Madison, United States
National Museum of American Art, Washington, United States
Newark Museum, Newark, United States
Norton Museum of Art, West Palm Beach, United States
NYC Board of Education, P.S.22, Brooklyn, United States
Pasadena City College, Pasadena, United States
Philadelphia Museum of Art, Philadelphia, United States
Philip Morris Companies, Inc.
Phoenix Museum of Art, Phoenix, United States
Public Art for Public Schools, New York, United States
Public School 22, Crown Heights, Brooklyn, United States
Rose M.Singer Center, Riker's Island, United States
Schomburg Center for Research in Black Culture, New York, United States
Smithsonian American Art Museum, Washington, United States
Solomon R. Guggenheim Museum, New York, United States
Spellman College Museum, Atlanta, United States
Spencer Museum of Art, Lawrence, United States
St. Louis Art Museum, St. Louis, United States
The High Museum, Atlanta, United States
The Studio Museum of Harlem, New York, United States
Williams College Museum of Art, Williamstown, United States
Worcester Art Museum – Charlotte E.W. Buffington Fund, Worcester, United States