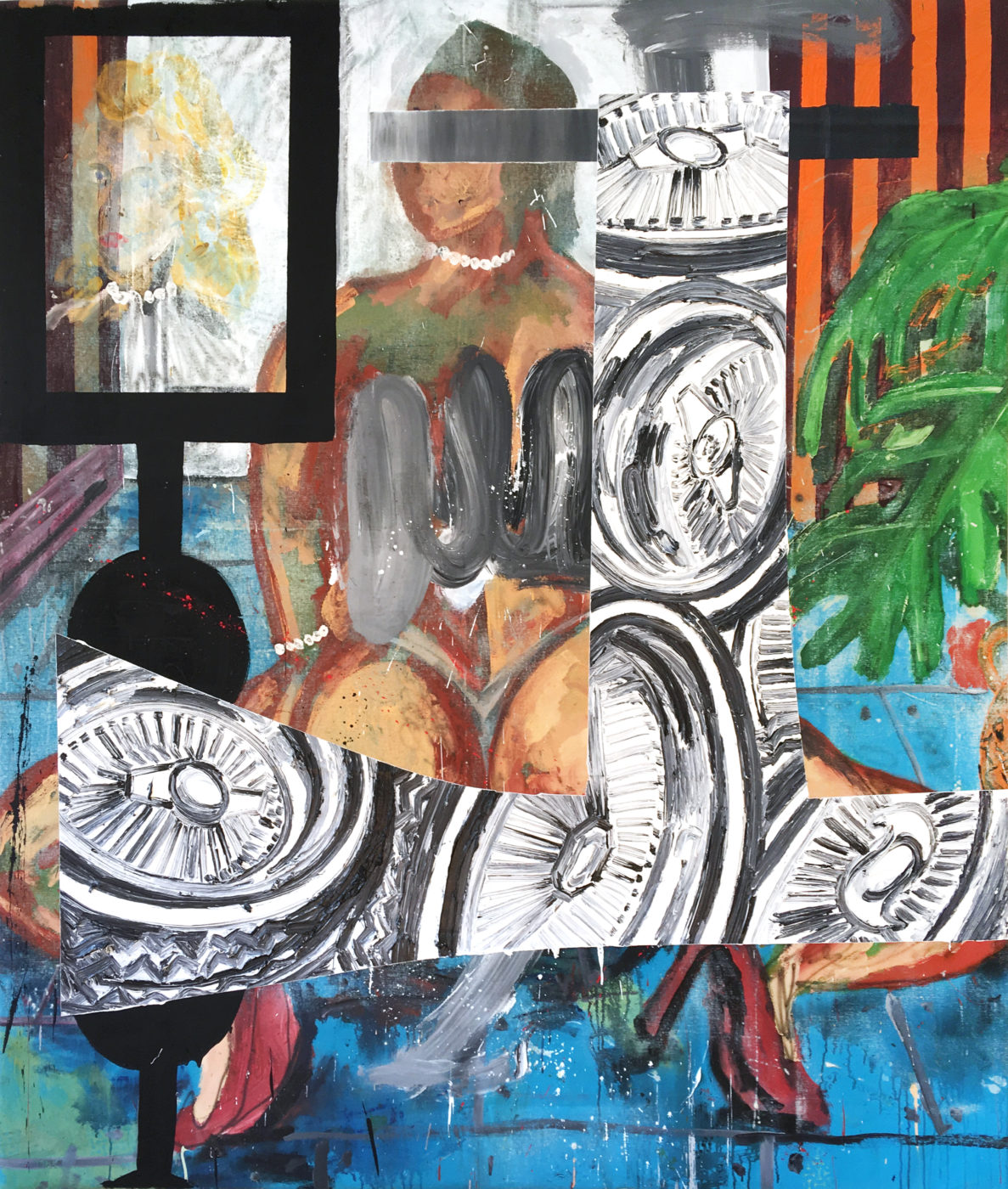 Alex Becerra
Waldeinsamkeit
Opening
June 21, 19 – 21h
Exhibition
June 22 to August 3
[Deutscher Text nachstehend]
With unforgiving stilettoes trudging deeply into European Modernist painting, Alex Becerra's paintings are often and openly skanky. Like trapped skin flicks, Becerra's nude figures are both twisted onto and falling out of their implied, finger-thick borders on the canvas. Nearby, cowboy boots doubling as vases and shoes cradling themselves begin to take on erotic valences just as seemingly impossible bodily contortions finally collapse into abstraction that somehow still arouses. Mirrors from nowhere insist on offering soft-porn "reflections" onto canvases that also threaten to swallow viewers lured all the way up to their edge.
Overall, by immersing himself in experimental music, film, sculpture, and performance while simultaneously embracing and challenging traditions within European modern painting, Becerra is teaching himself to play deeply and find metonymic techniques to undermine the use of symbols to represent class, gender, or ethnic backgrounds without betraying home.
Text: Darla Migan
***
Mit unnachgiebigen Stilettoes, die tief in die Malerei der europäischen Moderne einschreiten, sind Alex Becerras Bilder oft und offen lasterhaft. Wie gefangene Hautfetzen sind Becerras nackte Figuren sowohl auf ihre angedeuteten, fingerdicken Ränder auf der Leinwand gedrückt als auch aus ihnen herausgefallen. Daneben beginnen Cowboy-Stiefel, die als Vasen und sich selbst wiegende Schuhe erscheinen, erotische Valenzen anzunehmen. Die scheinbar unmöglichen körperlichen Verzerrungen, die schließlich in eine Abstraktion zusammenfallen, schaffen es dennoch zu erregen. Spiegel, die aus dem Nichts kommen, bestehen darauf, Soft-Porno "Reflexionen" auf Leinwänden zu präsentieren, die auch den an den Rand gelockten Betrachter zu verschlingen drohen.
Indem Becerra sich in experimentelle Musik, Film, Skulptur und Performance vertieft und gleichzeitig Traditionen der europäischen modernen Malerei annimmt und herausfordert, lernt er selbst, in die Tiefe zu gehen und metonymische Techniken zu finden, um die Verwendung von Symbolen zur Darstellung von Klasse, Geschlecht oder ethnischen Hintergründen zu untergraben, ohne die eigene Herkunft zu verleugnen.
Text: Darla Migan