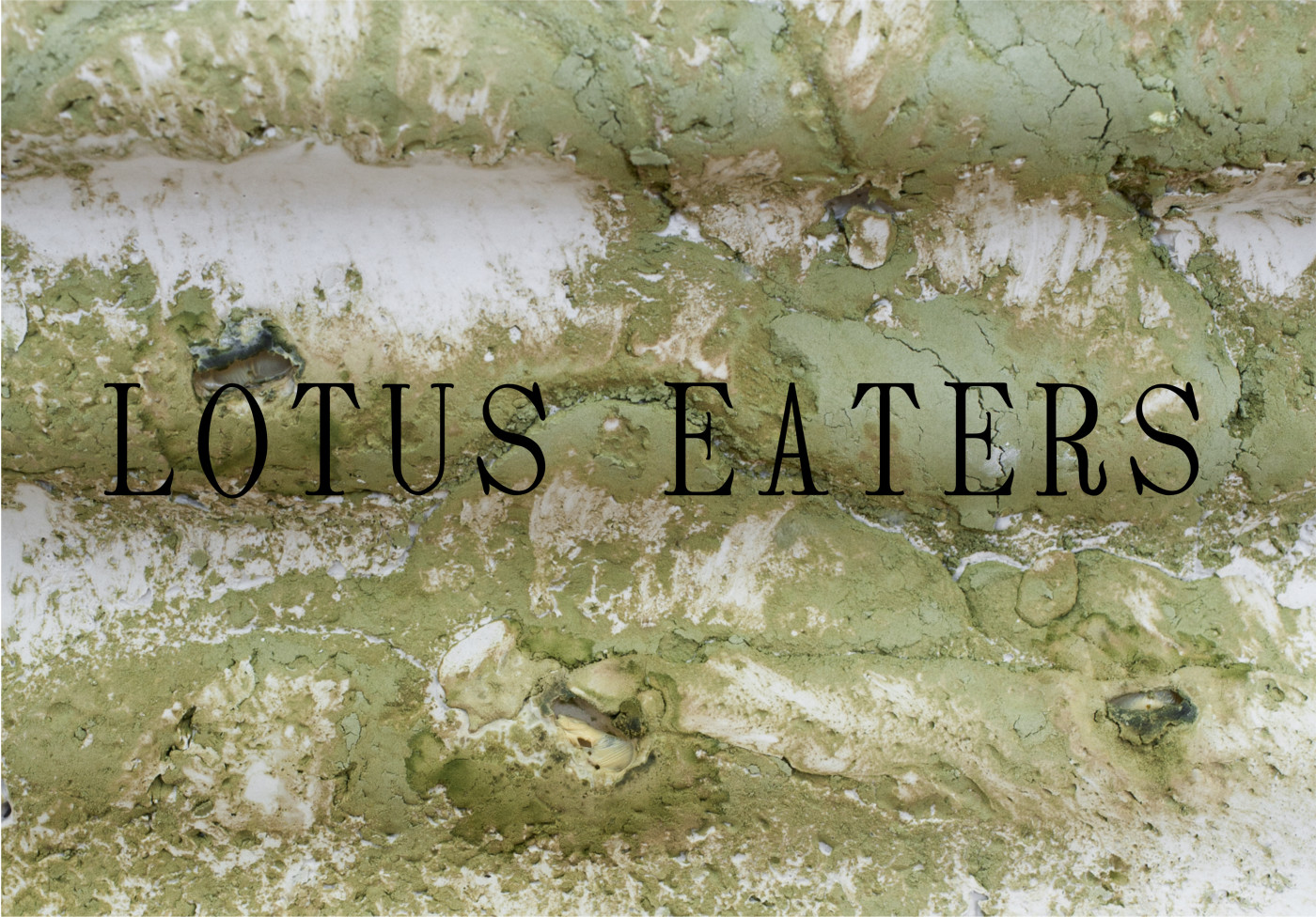 Elif Erkan
Lotus Eaters
Feb 4 to Mar 26,2016
[Deutscher Text nachstehend]
"Some will say they do not wish to dream their lives away. As if life itself were not a dream, a very real dream from which there is no awakening! We pass from one state of dream to another: from the dream of sleep to the dream of waking, from the dream of life to the dream of death. Whoever has enjoyed a good dream never complains of having wasted his time. On the contrary, he is delighted to have partaken of a reality which serves to heighten and enhance the reality of everyday." 

– Henry Miller, Big Sur and the Oranges of Hieronymus Bosch (1957)
We are proud to present Lotus Eaters, an exhibition of sculptural works by Los Angeles-based artist Elif Erkan organized in collaboration with the Villa Aurora. Beyond the ancient myth of the lotophages who consumed the narcotic fruits and flowers of the lotus tree, this new group of works references modern figures, substances, and notions of alternative living such as Robert Bootzin; natural and chemical remedies; or Henry Miller's memoir describing his time in Big Sur. Fictions of good life are placed in relationship to an aesthetics of apathy. Plaster casts firmly enclose material references to fictional recollections solidifying them into apparently faint gestures.Can an object suffer depression? Could it escape?
Elif Erkan (*1985, Ankara) lives and works in Los Angeles.
A graduate of the HfBK Städelschule Frankfurt am Main (class Willem de Rooij), her work has been exhibited widely at spaces such as the WIELS Centre d'art contemporain and the Maison des Arts in Brussels, the Portikus in Frankfurt am Main as well as the Villa Aurora in Los Angeles.
–
"Manche sagen, sie wollen ihr Leben nicht davonträumen. Als ob das Leben nicht selbst ein Traum sei, ein sehr echter Traum aus dem man nicht erwachen kann! Wir gelangen von einem Traumzustand in den anderen: vom Traum des Schlafens zum Traum des Wachseins, vom Traum des Lebens zum Traum des Todes. Niemand, der jemals einen guten Traum hatte, beschwert sich je darüber, seine Zeit verschwendet zu haben. Im Gegenteil – er ist erfreut darüber, an einer Realität teilgehabt zu haben, die die alltägliche Realität steigert und erhöht."
– Henry Miller, Big Sur und die Orangen des Hieronymus Bosch (1957)
Wir freuen uns, die Ausstellung Lotus Eaters mit Werken der Künstlerin Elif Erkan in Zusammenarbeit mit der Villa Aurora zu präsentieren. Über den griechischen Mythos des sich vom narkotisierenden Lotus ernährenden Inselvolkes der Lotophagen hinaus verweist die neue Werkgruppe auf moderne Figuren, Substanzen und Vorstellungen alternativer Lebenskultur wie Robert Bootzin, natürliche und chemische Mittel, oder auf die Memoiren Henry Millers, die seine Zeit im kalifornischen Big Sur beschreiben. Fiktionen des guten Lebens werden in Beziehung zur Ästhetik der Apathie gesetzt. Massige und zugleich verletzliche Abgüsse umschliessen materielle Referenzen auf fiktive Erinnerungen und halten sie in einer narkotisierten Geste fest. Der Betrachter sieht sich scheinbar schwankenden, aber zugleich statischen Figuren gegenüber, die Fragen aufwerfen: Kann ein Objekt an Depressionen leiden? Könnte es flüchten?
Elif Erkan (*1985, Ankara) lebt und arbeitet in Los Angeles.
Erkan ist eine Absolventin der HfBK Städelschule Frankfurt am Main (Klasse Willem de Rooij). Ihre Arbeiten wurden international gezeigt, unter anderem am WIELS Centre d'art contemporain und der der Maison des Arts in Brüssel, am Portikus in Frankfurt am Main sowie der Villa Aurora in Los Angeles.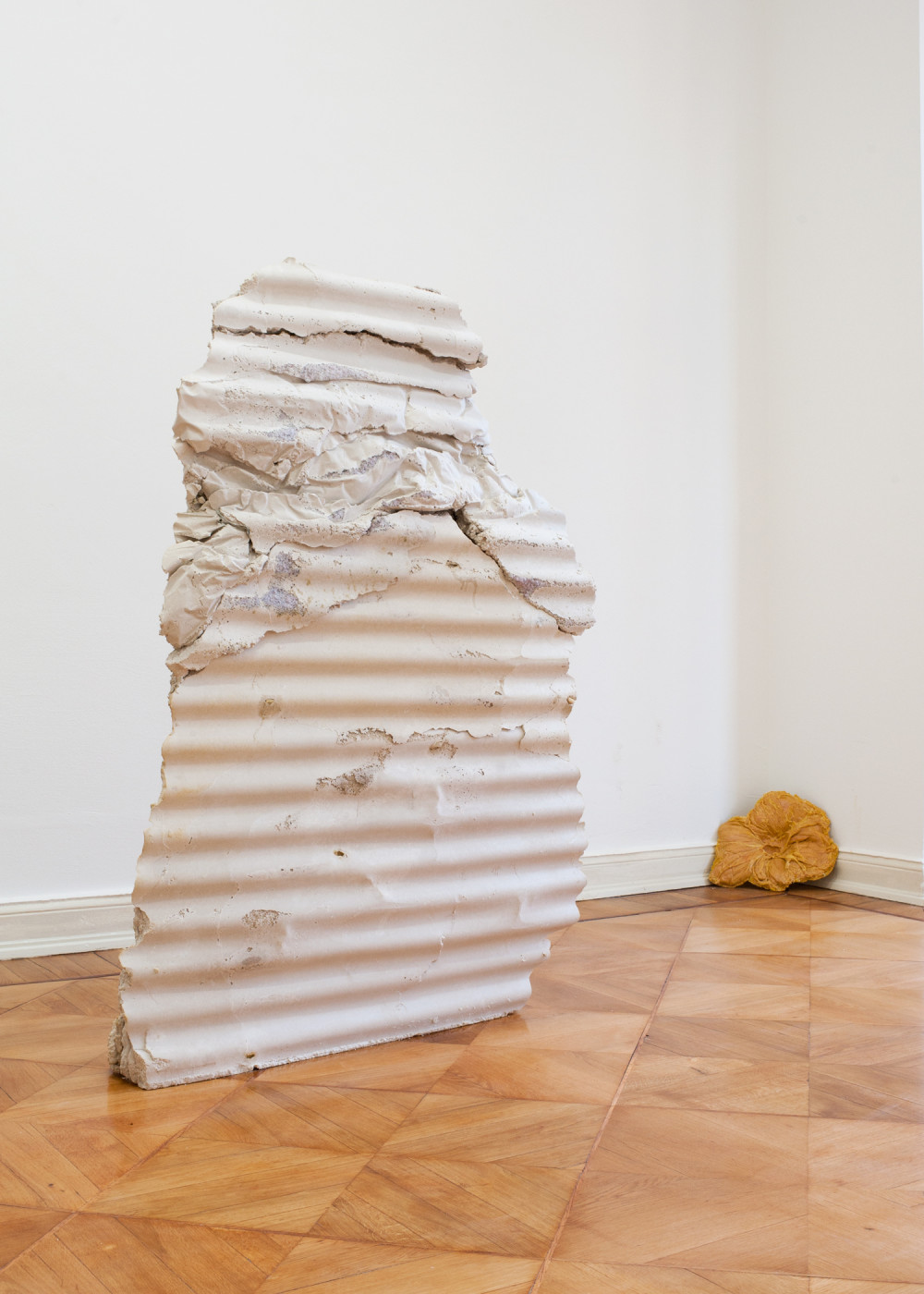 Compassion Fatigue (Lotus Eater/Shelter Piece) , 2016
Bath salt (lavender and sesame-vanilla), omega 3, curry, plaster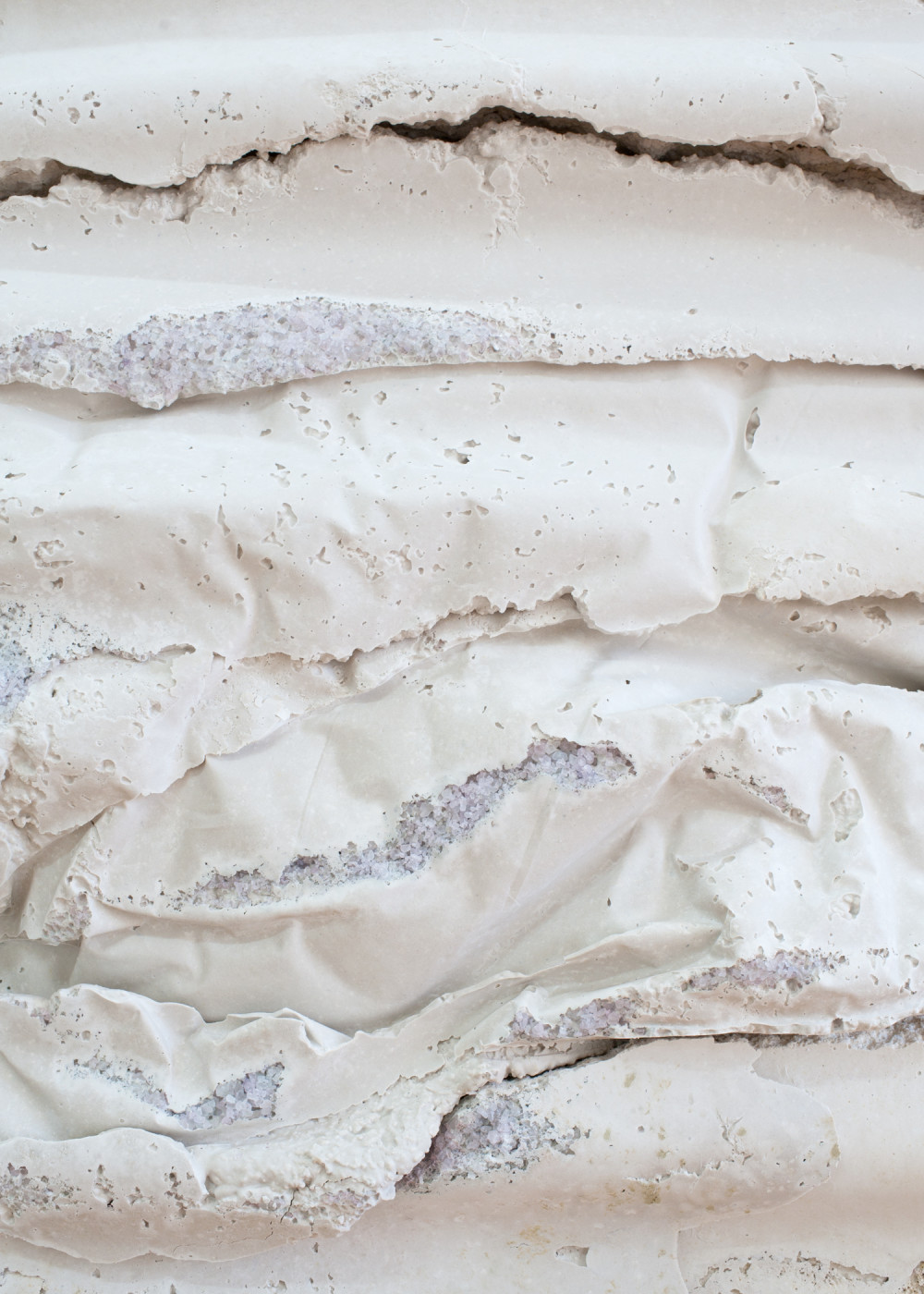 Compassion Fatigue (Lotus Eater/Shelter Piece) (detail) 2016
Bath salt (lavender and sesame-vanilla), omega 3, curry, and plaster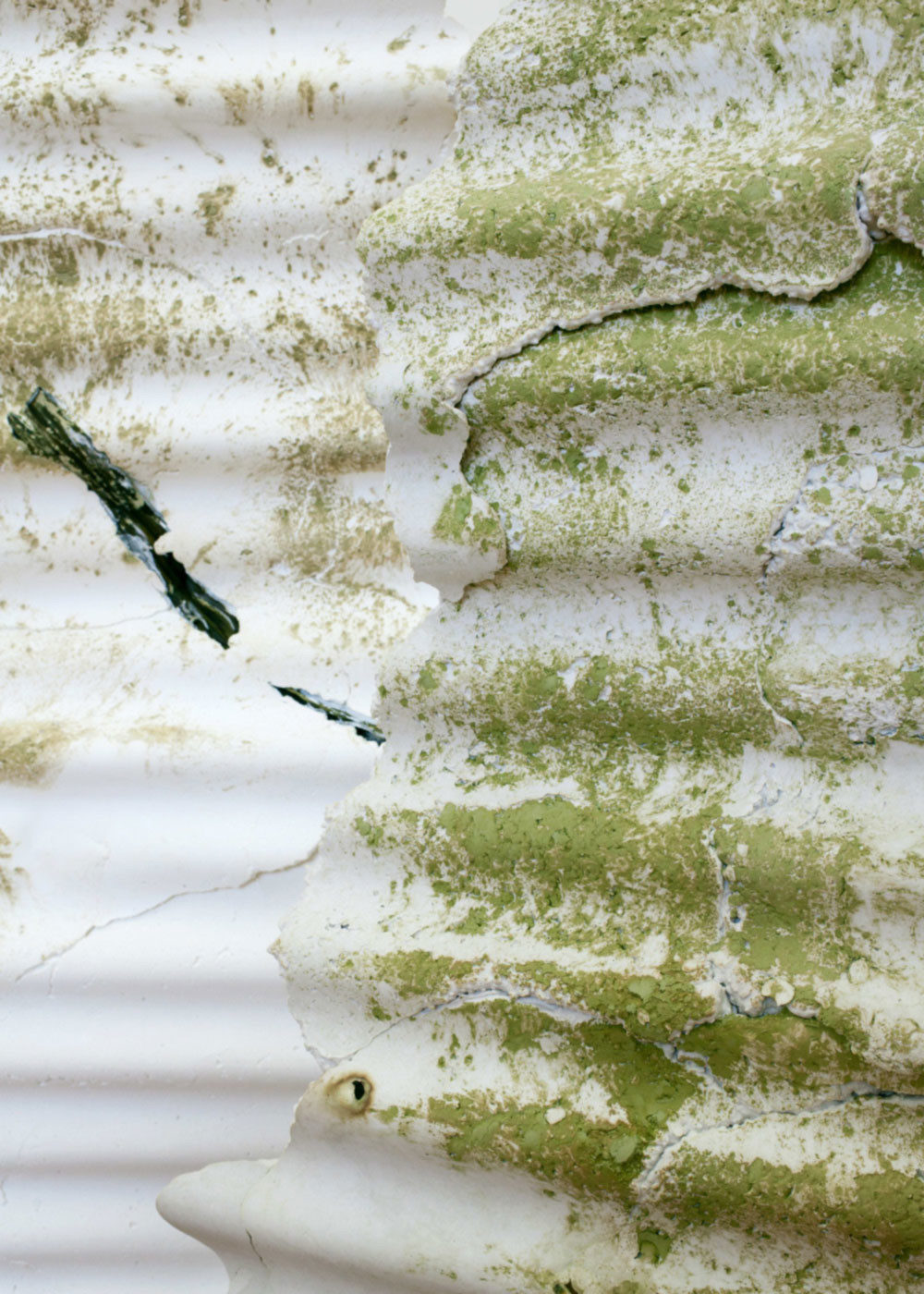 Taken Care Of (Lotus Eater/Shelter Piece) / Primitive Improvements (Lotus Eater/Shelter Piece) (detail) , 2016
Wheat grass, sea weed, plaster / Wheat grass, omega 3, St. John's wort, plaster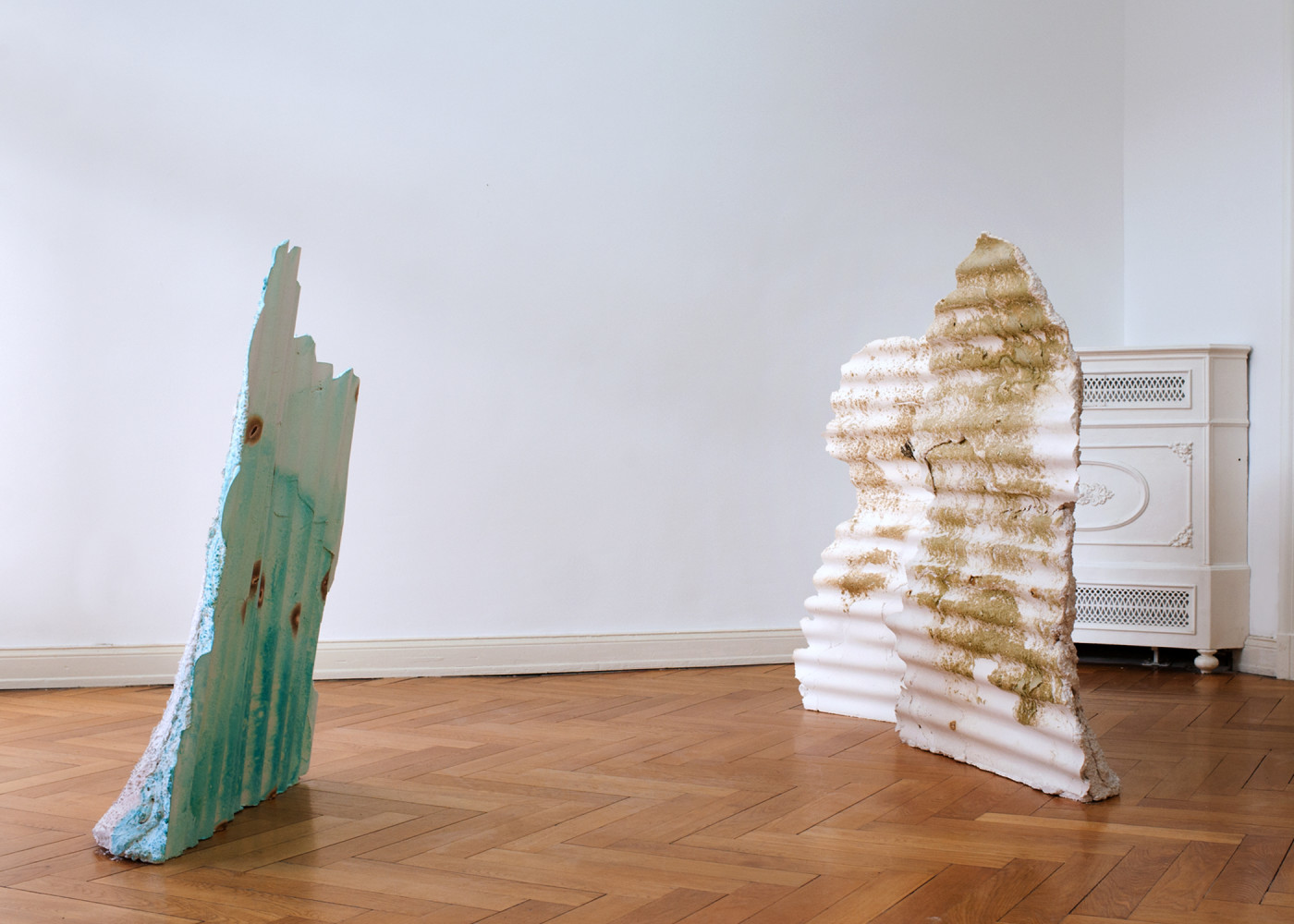 Installation view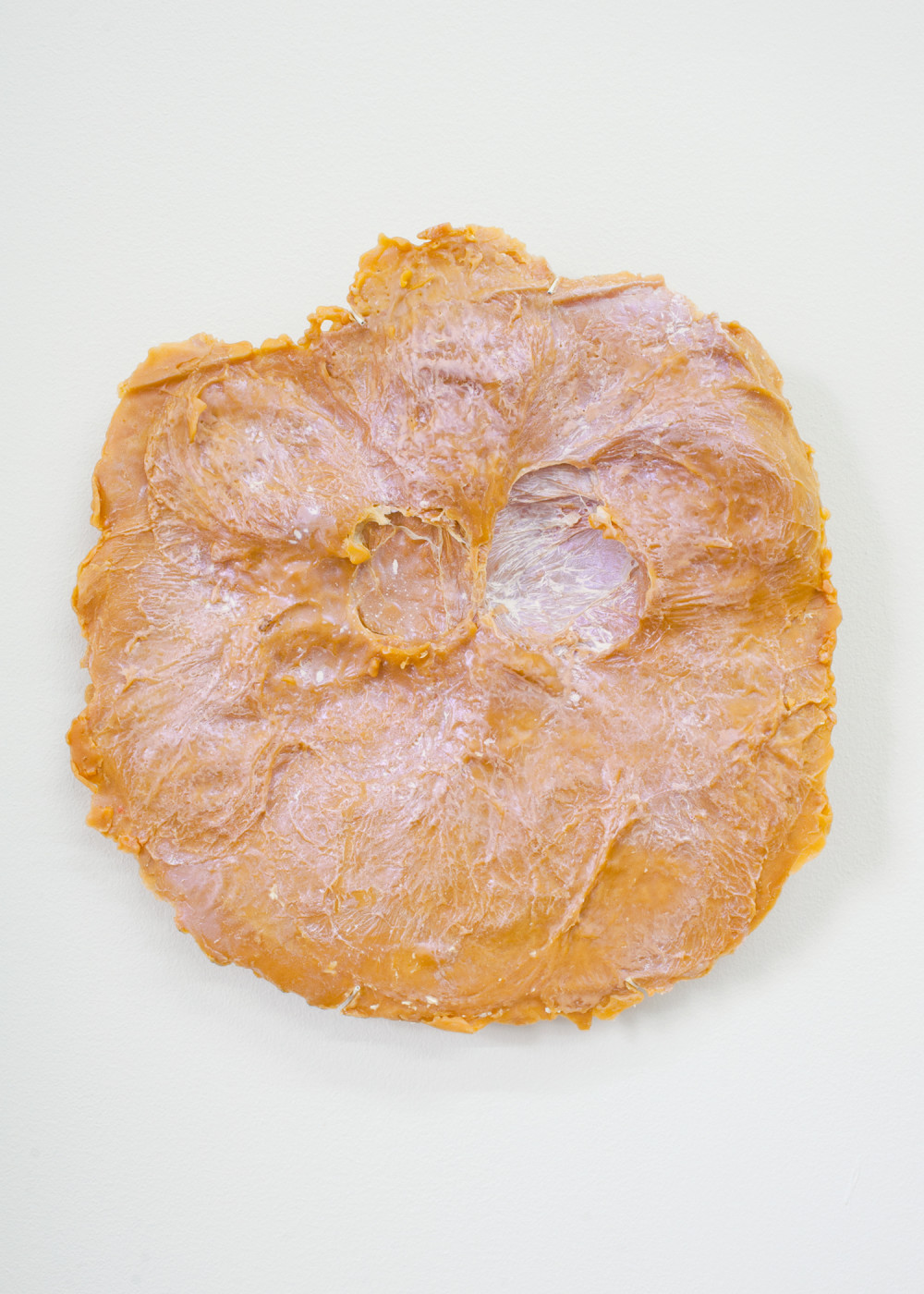 Left Off Waiting , 2016
Beeswax and pigment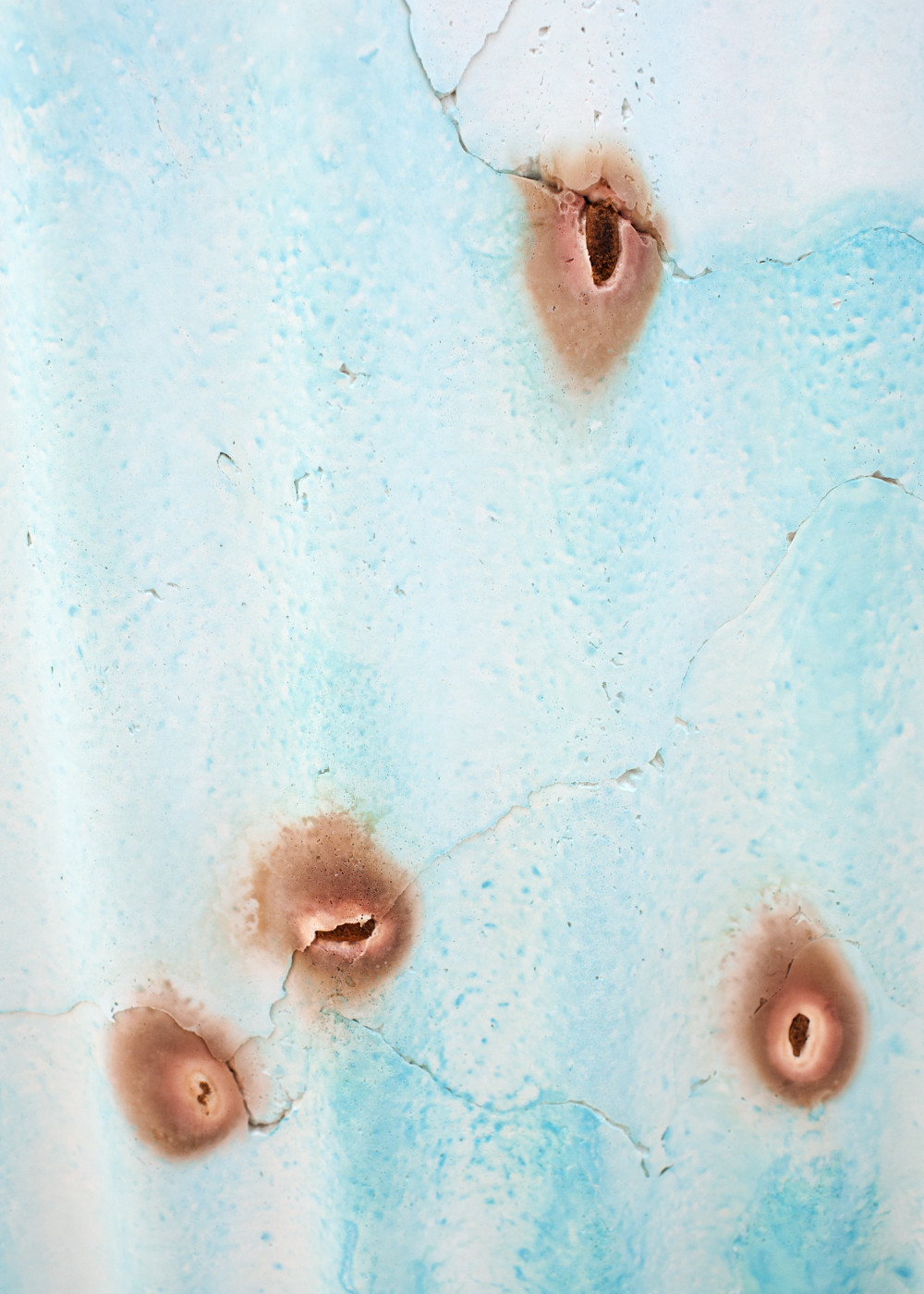 Plank (Lotus Eater/Shelter Piece) (detail) , 2016
Bubble bath (Blue Dream), wellness tablets, and plaster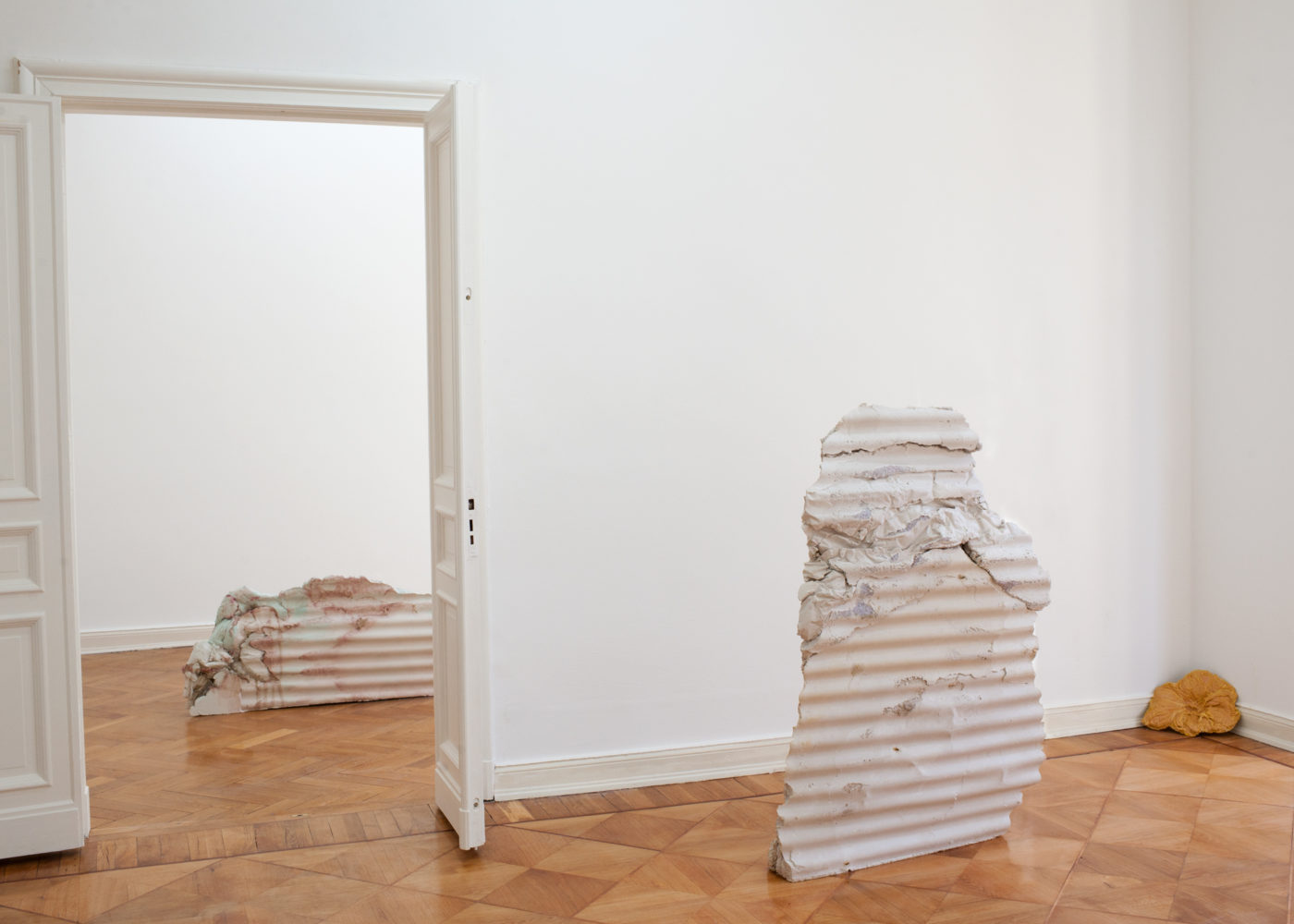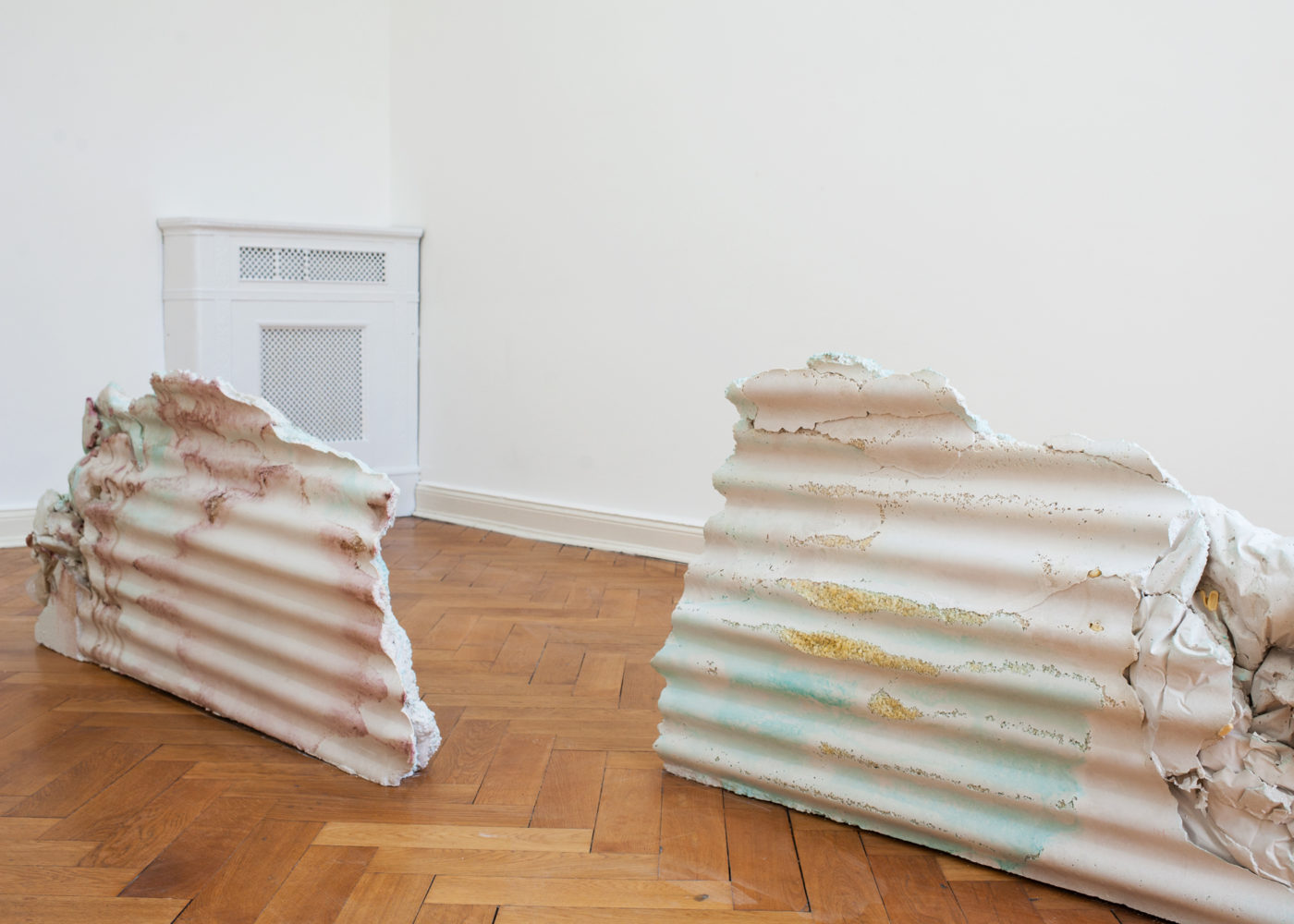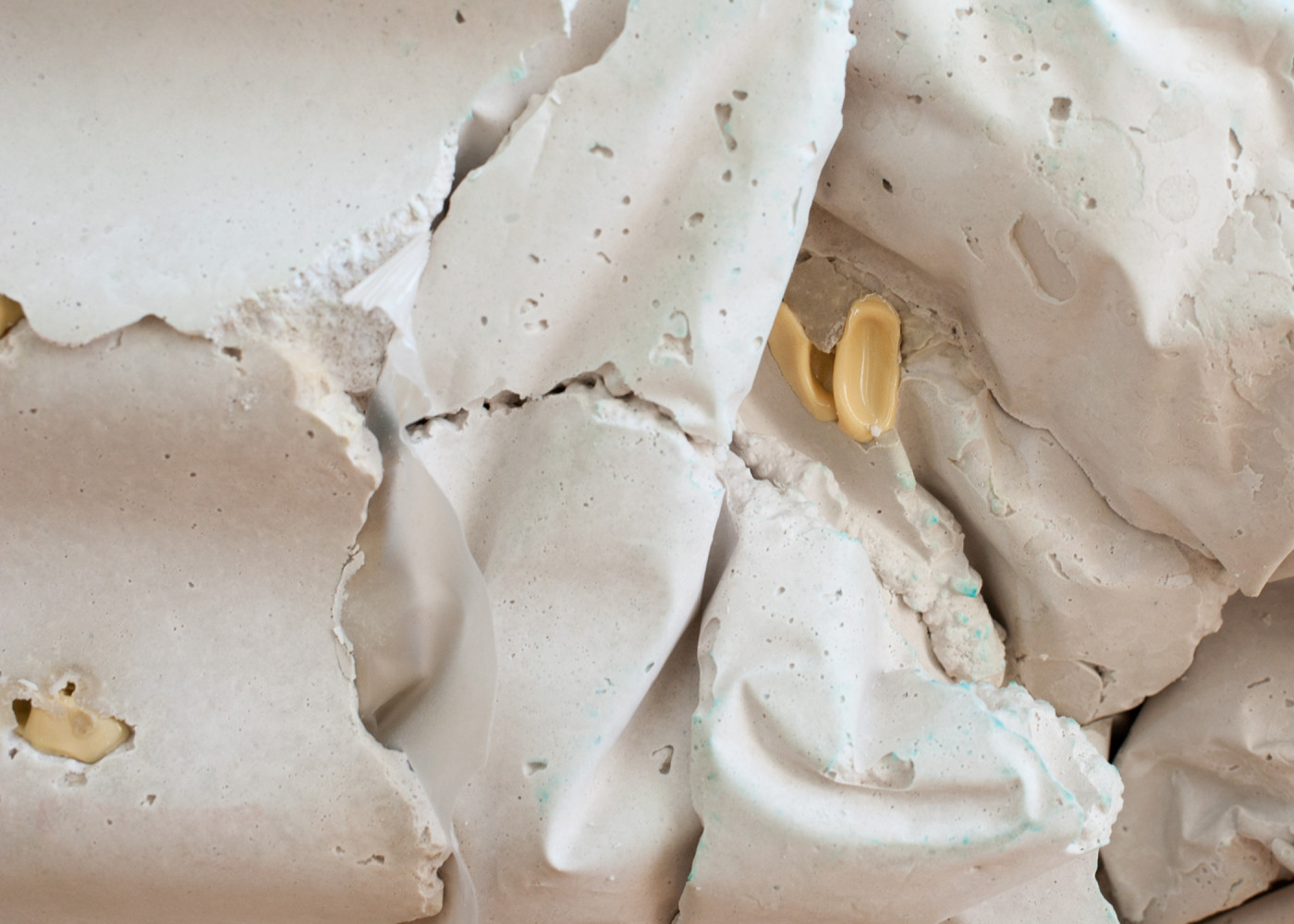 Sleeping Hero (detail), 2016
Bubble bath (Blue Dream), omega 3, bath salt (mango-papaya), and plaster