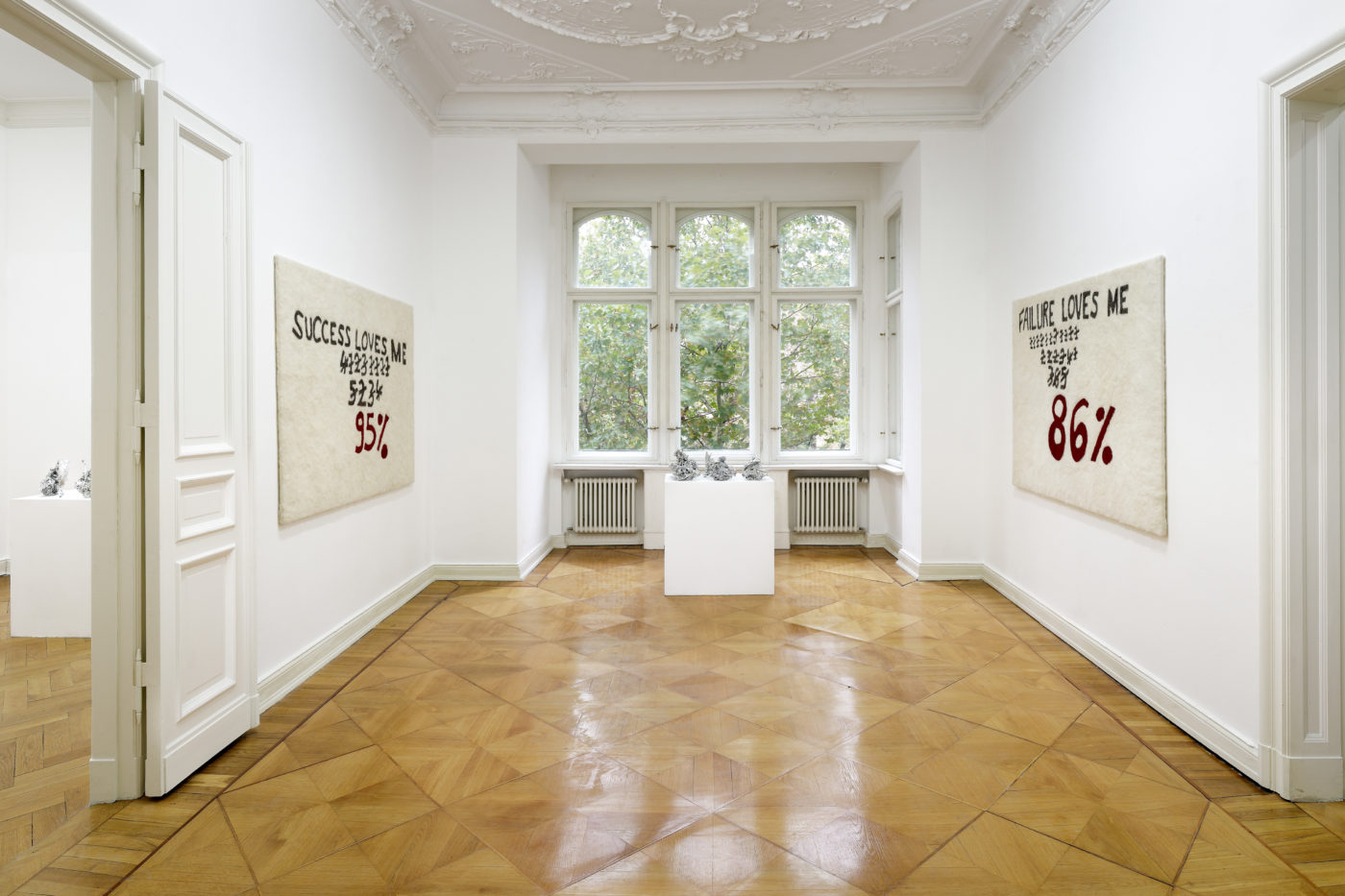 Elif Erkan
What Is It That Possesses Me?
Oct 25 to Nov 17,2018
[Deutscher Text nachstehend]
In Elif Erkan's (* 1985) sculptures the precise examination of the material and the act of production are always in evidence.
The solo exhibition at Weiss Berlin will feature her latest group of works, in which the artist is working with felt and metal. The "felt paintings" are touching upon problems of modern life and constant self-optimization. "Does Success Love Me?", for example, shows a calculation of the numeric value of the letters of the sentence "Success Loves Me" with crossed out numbers. The result is the answer to the question the title begs: 95% – in red felt. Erkan reverses the neoliberal demand to love success by making it the subject and the person who pursuits it the object.
The felt works are complemented by tin sculptures. Their production refers to a Turkish tradition that is supposed to banish evil spirits and purify the individual's energy: melted tin is poured into a bowl that is filled with cold water and held over the person's head. The shape that the material has assumed is discussed and analyzed afterwards. On the opening night, there will be a performance referencing this practice.
_____
In dem Werk der Bildhauerin Elif Erkan (*1985 in Ankara) ist stets die präzise Auseinandersetzung mit ihren Arbeitsmaterialien sichtbar.
Die Einzelausstellung bei Weiss Berlin wird ihre jüngsten Arbeiten zeigen, bei denen die Künstlerin erstmals mit Filz arbeitet. Die "Filzmalereien" betrachten Probleme des modernen Lebens und den Moment der Selbstoptimierung. Ein Beispiel ist "Does Success Love Me?": Mit schwarzem Filz auf weiße Filzwolle ist der Satz "Success Loves Me" gestickt, darunter eine Rechnung aus dem numerischen Wert der Buchstaben mit durchgestrichenen Zahlen. Das Ergebnis ist die Antwort auf die Frage: 95% – in rotem Filz. Erkan kehrt die neoliberale Forderung den Erfolg zu lieben um, indem der Erfolg zum Subjekt und der ihn anstrebende Mensch zum Objekt wird.
Ergänzt werden die Filzarbeiten von Zinnskulpturen, die auf einen türkischen Brauch verweisen, der böse Geister vertreiben und die Energie eines Menschen reinigen soll. Hierfür wird flüssiges Zinn in eine über dem Kopf gehaltene, mit Wasser gefüllte Schale gekippt und anschließend über die Form, die das Material angenommen hat, diskutiert. Am Abend der Ausstellungseröffnung wird es eine Performance geben, die auf diesen Brauch verweist.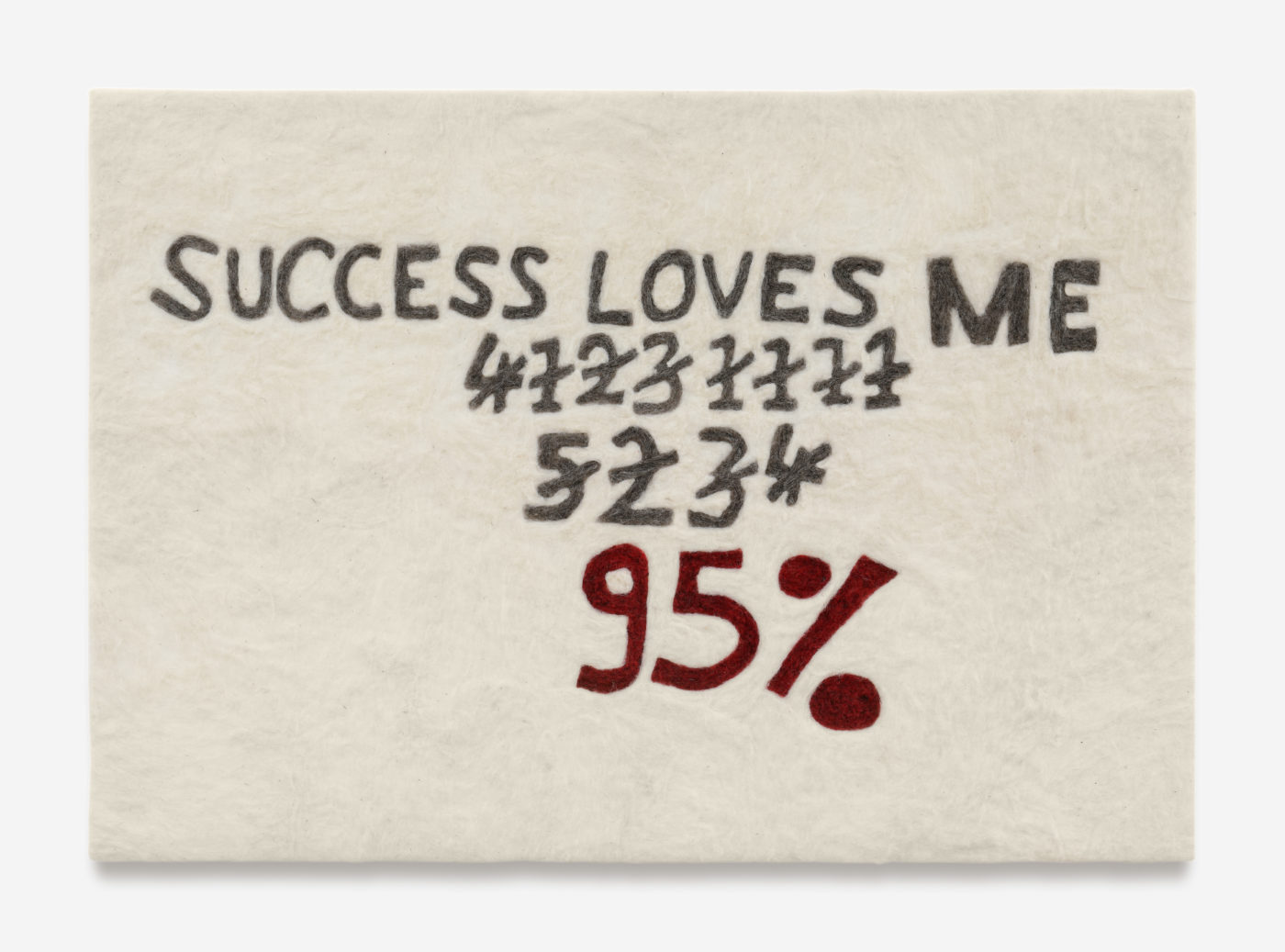 Does Success Love Me? 2018 Hand dyed sheep's wool, textile interfacing Handgefärbte Schafswolle, Textilvlies 51 x 75 in 130 x 190 cm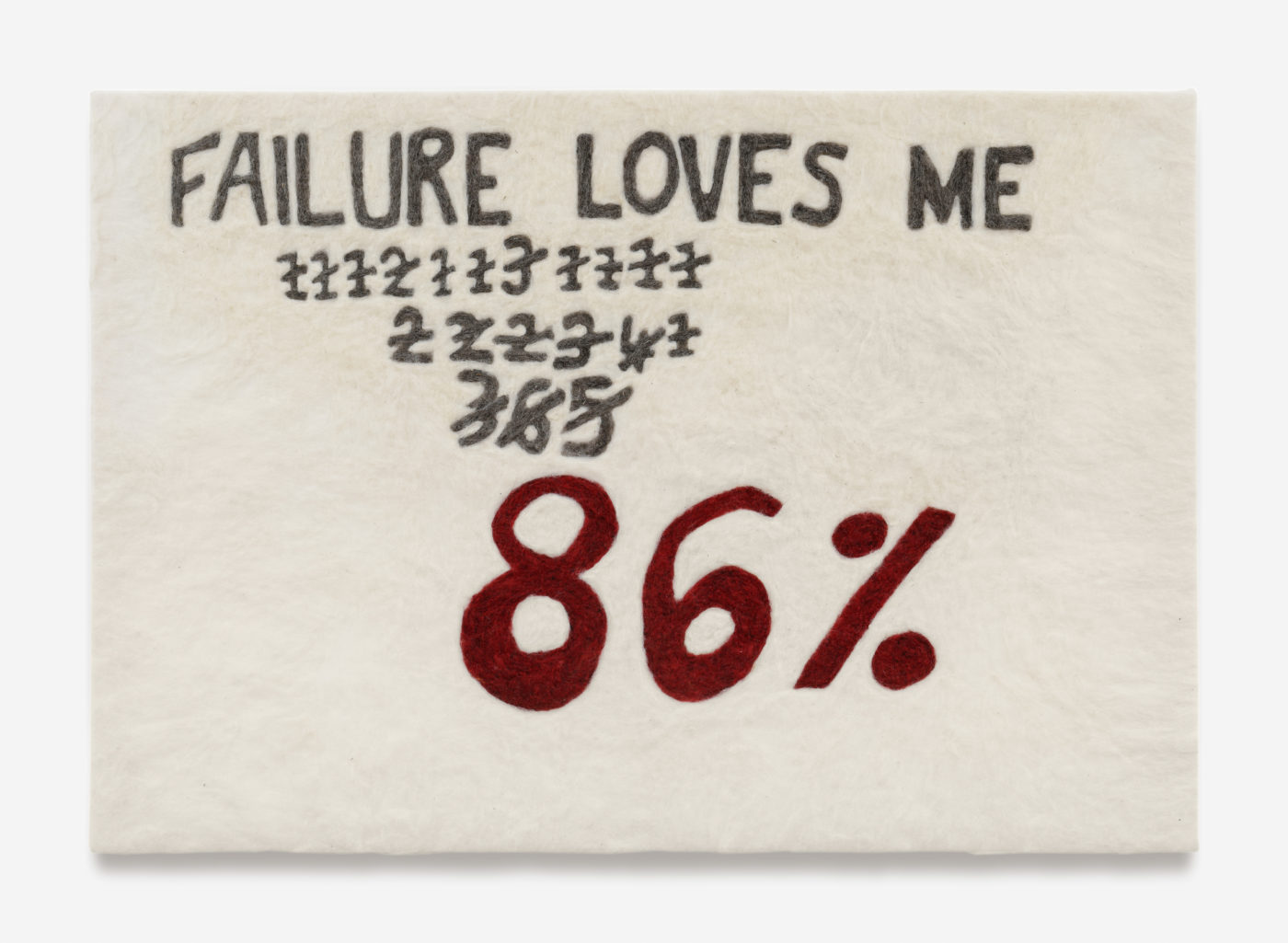 Does Failure Love Me? 2018 Hand dyed sheep's wool, textile interfacing Handgefärbte Schafswolle, Textilvlies 51 x 75 in 130 x 190 cm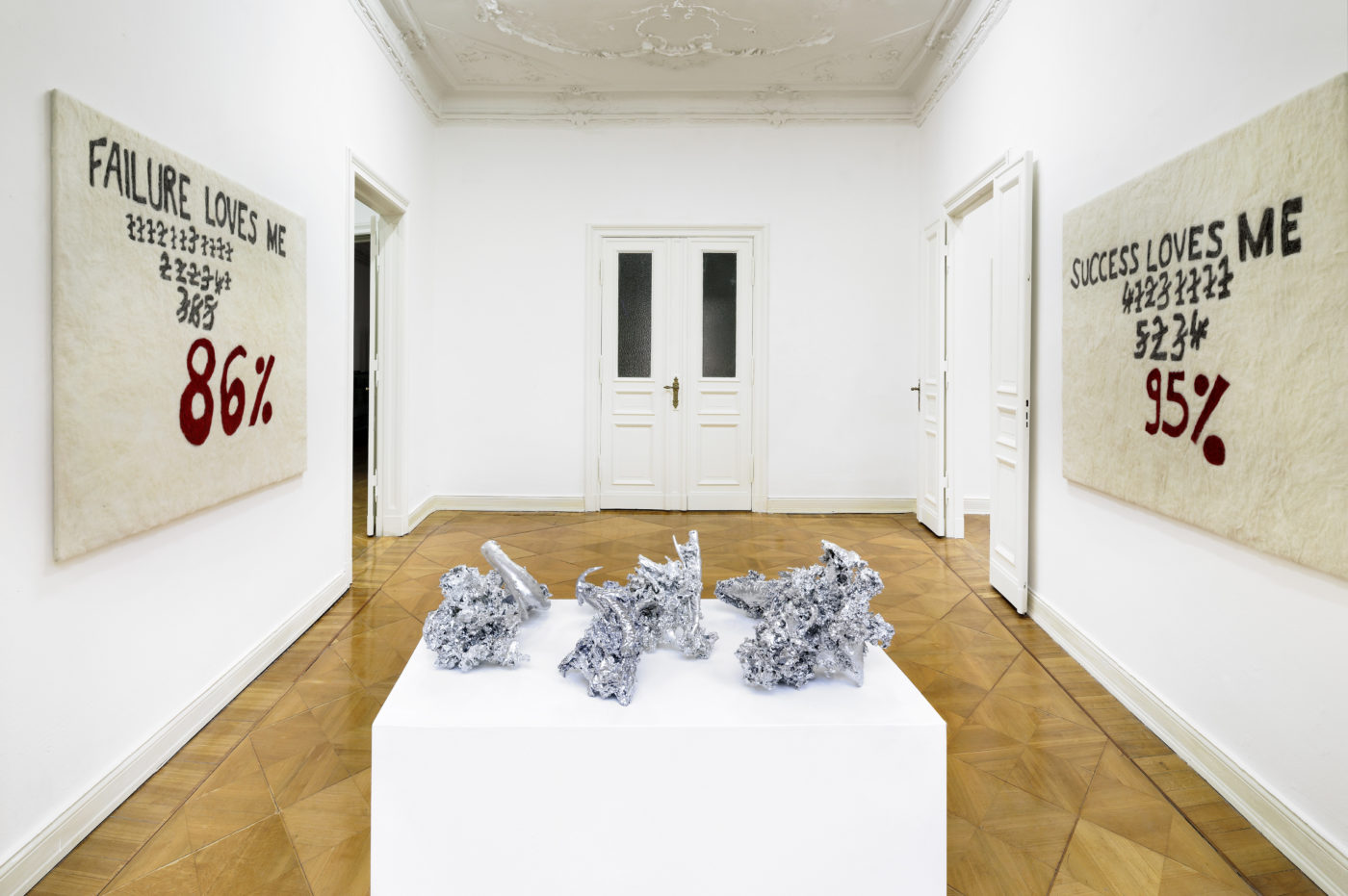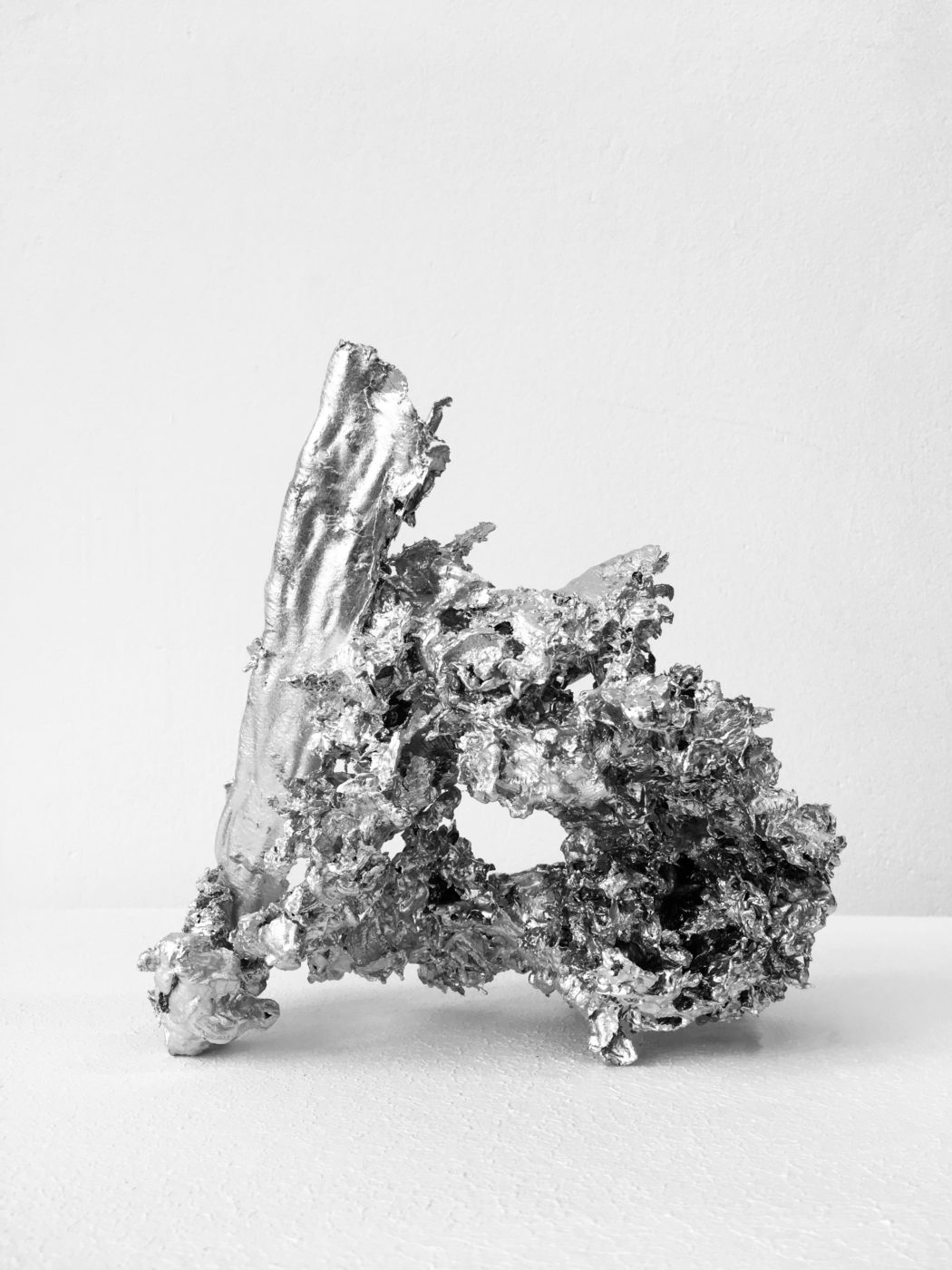 Horn 2018 Tin Zinn 10 x 5.5 x 9.5 in 25 x 14 x 24 cm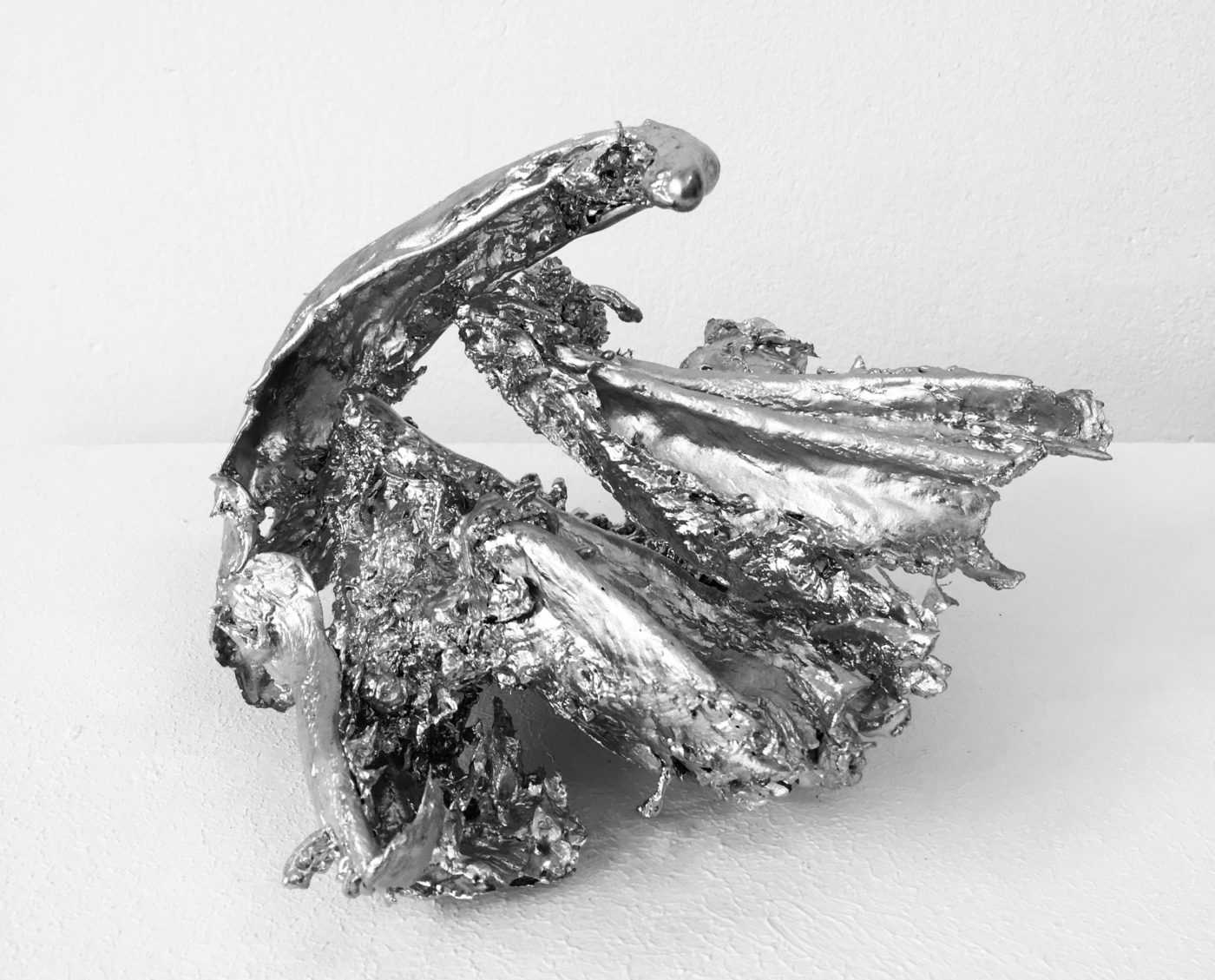 What is it, That Posseses Me #1 2017 Tin Zinn 10 x 9.5 x 6 in 25 x 24 x 16 cm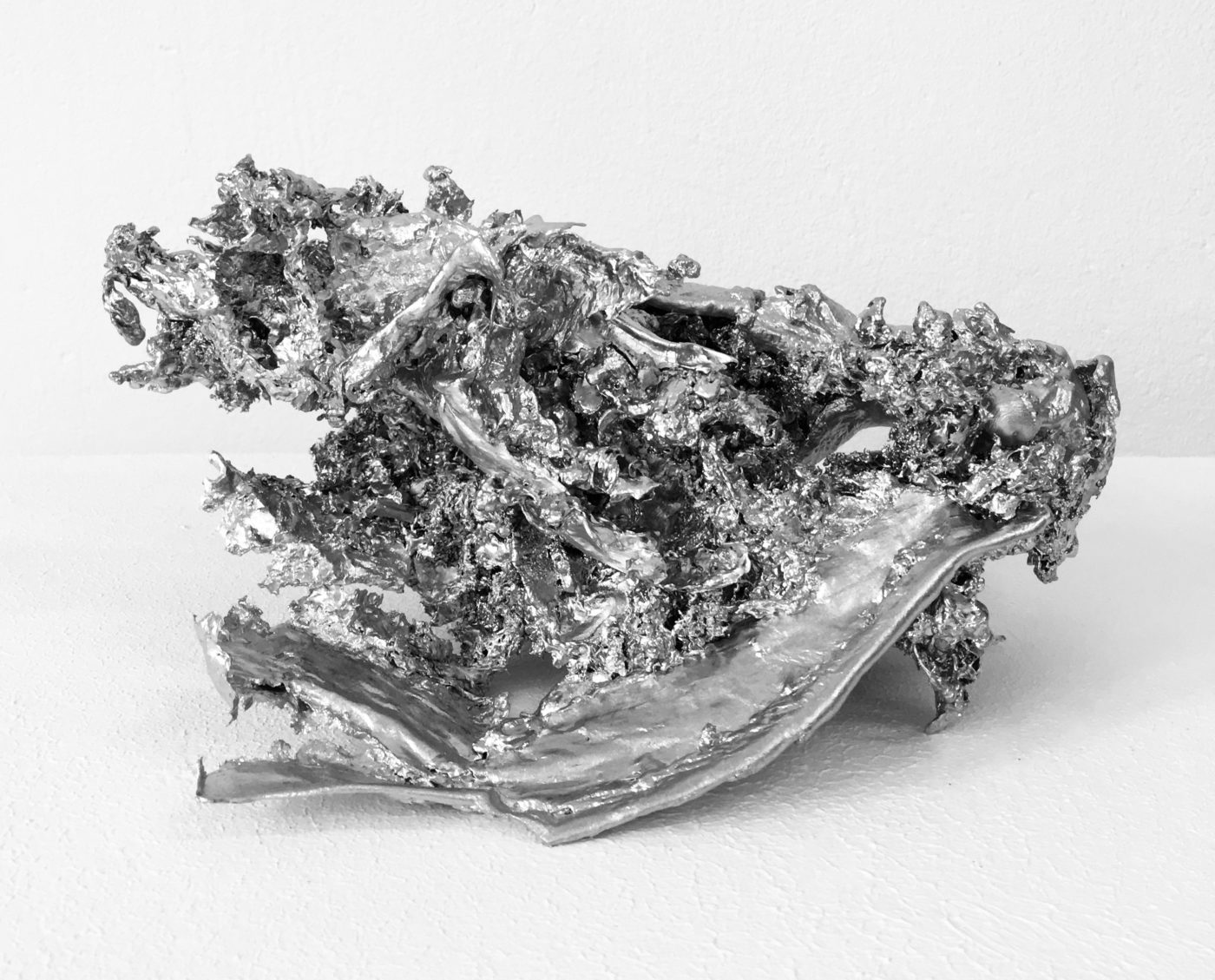 What is it, That Posseses Me #3 2017 Tin Zinn 8 x 4.5 x 4 in 20 x 11 x 10 cm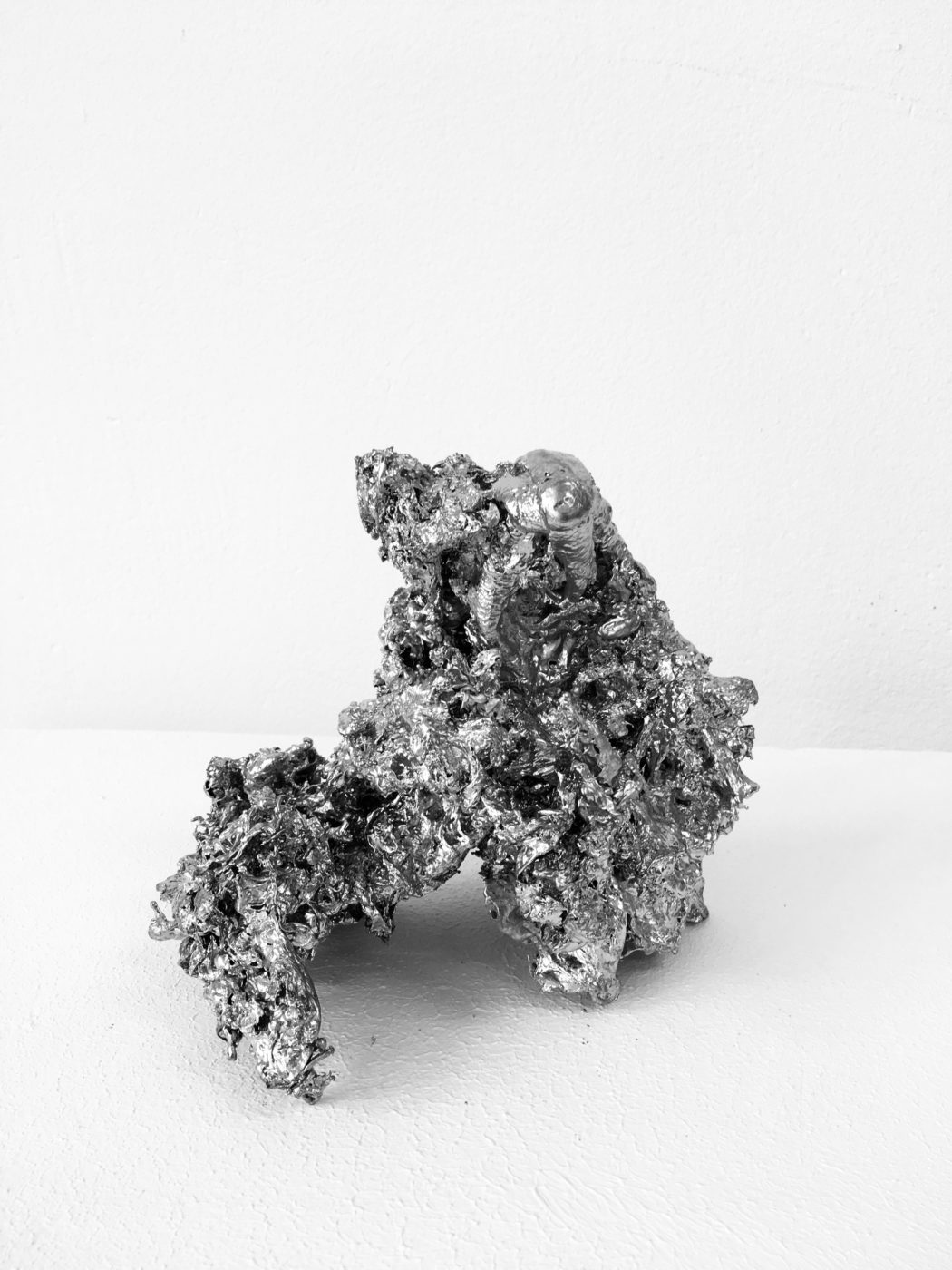 What is it, That Posseses Me #4 2017 Tin Zinn 7 x 6.5 x 4.5 in 18 x 16 x 11 cm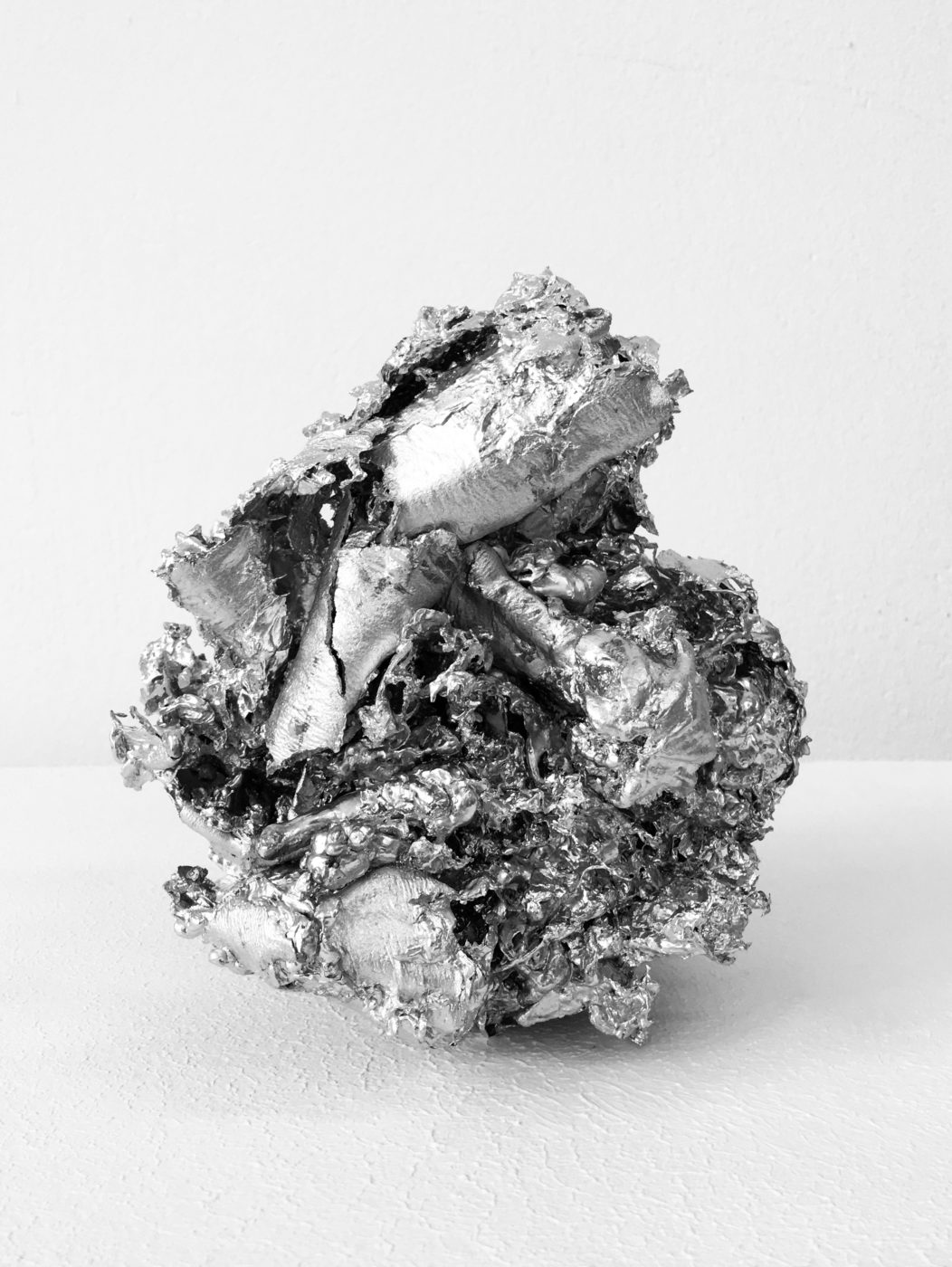 Tangled Up 2018 Tin Zinn 8 x 6 x 10 in 20 x 16 x 25 cm
What is it, That Posseses Me #2 2017 Tin Zinn 10 x 8 x 5 in 25 x 20 x 13 cm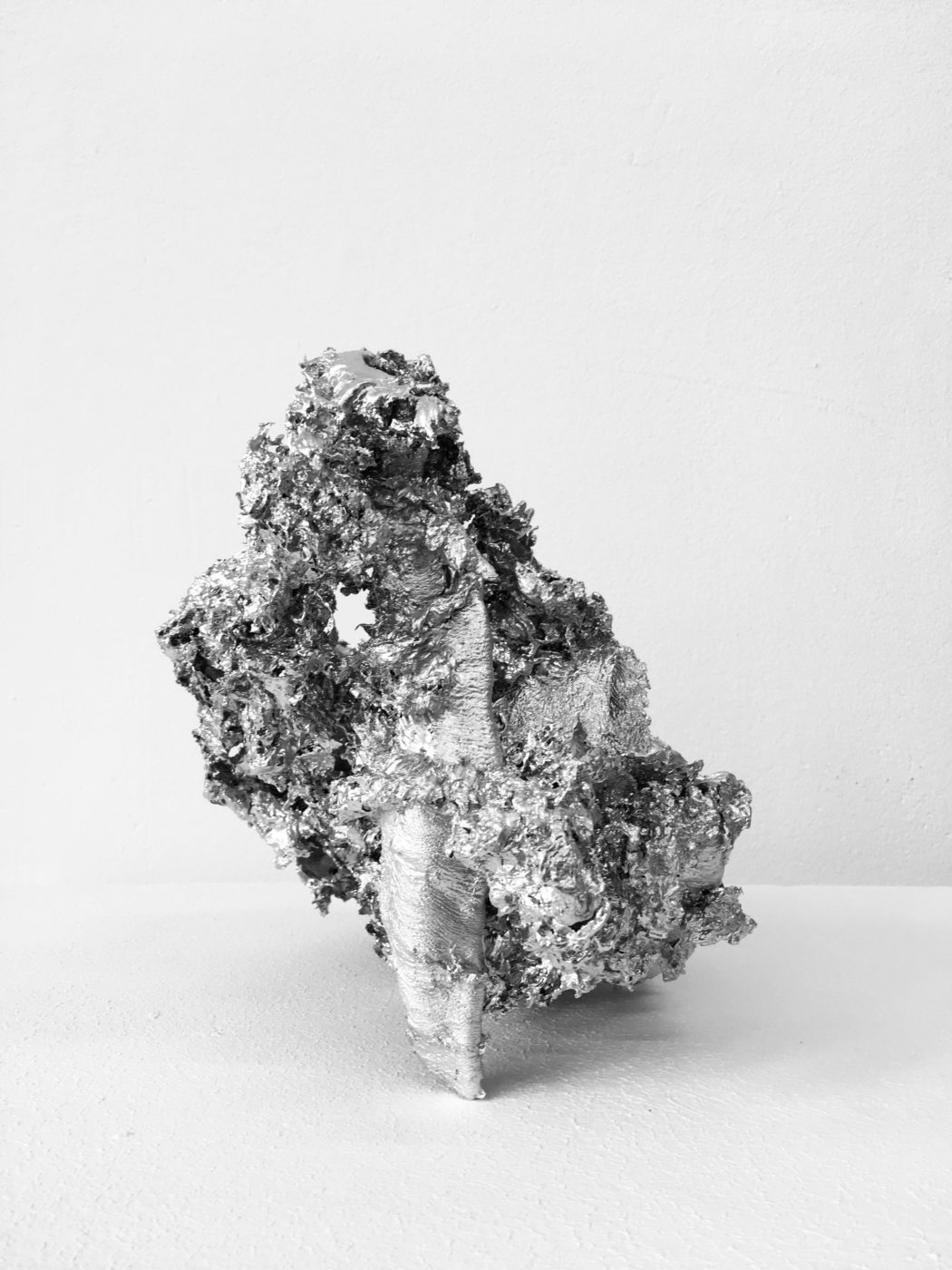 Mother's Shell 2018 Tin Zinn 8 x 6.5 x 7 in 21 x 16 x 18 cm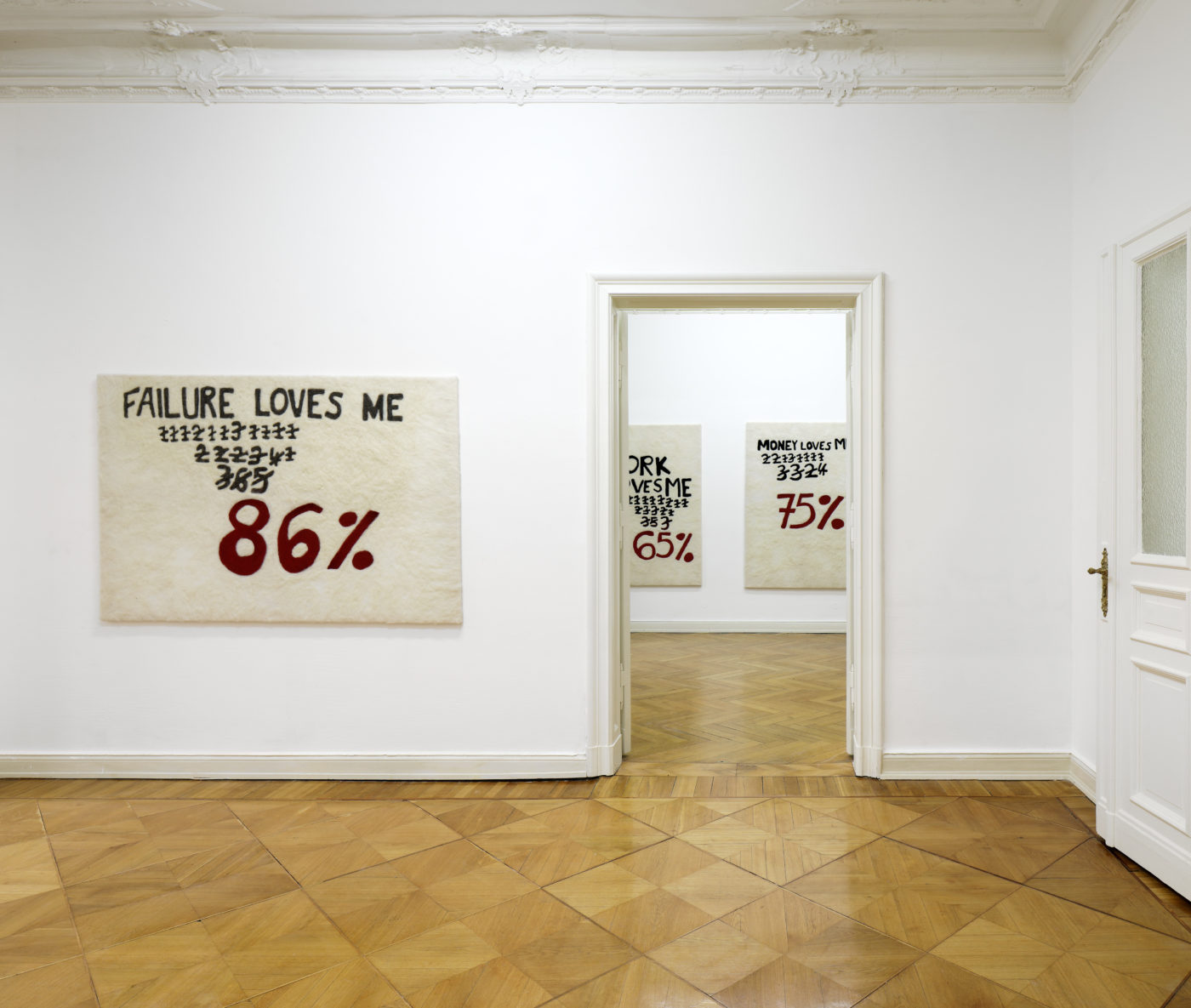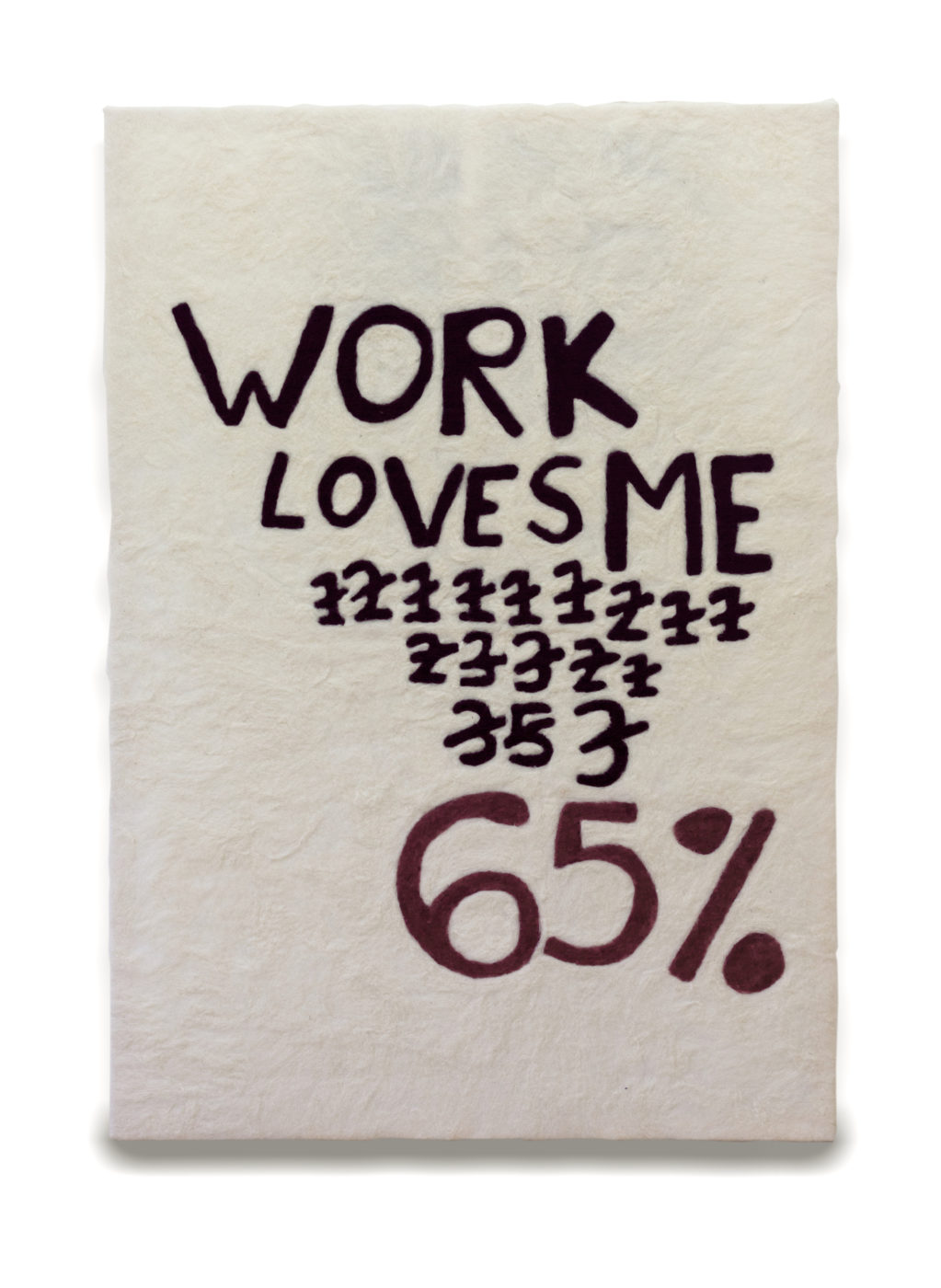 Does Work Love Me? 2018 Hand dyed sheep's wool, textile interfacing Handgefärbte Schafswolle, Textilvlies 75 x 51 in 190 x 130 cm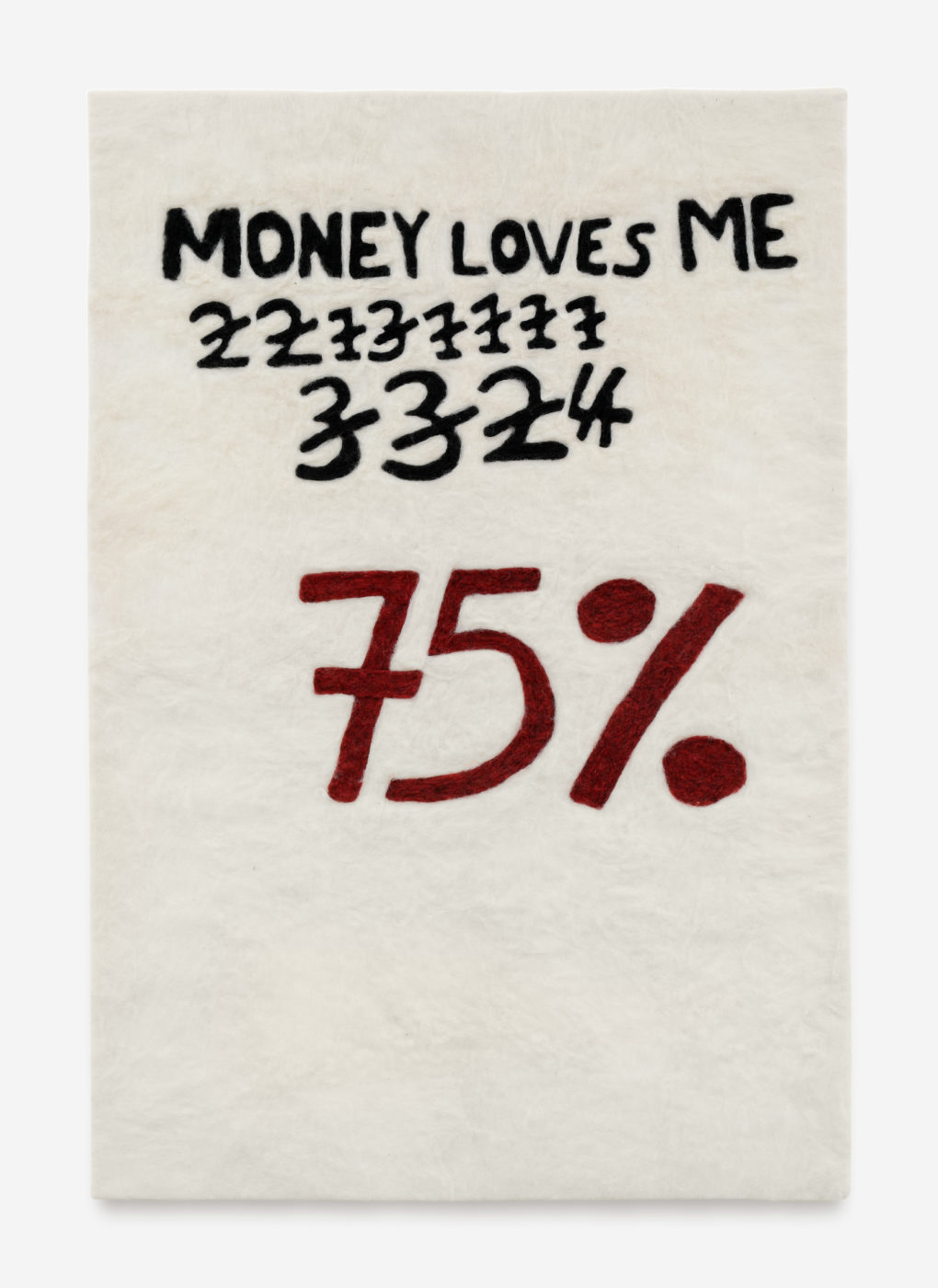 Does Money Love Me? 2018 Hand dyed sheep's wool, textile interfacing Handgefärbte Schafswolle, Textilvlies 75 x 51 in 190 x 130 cm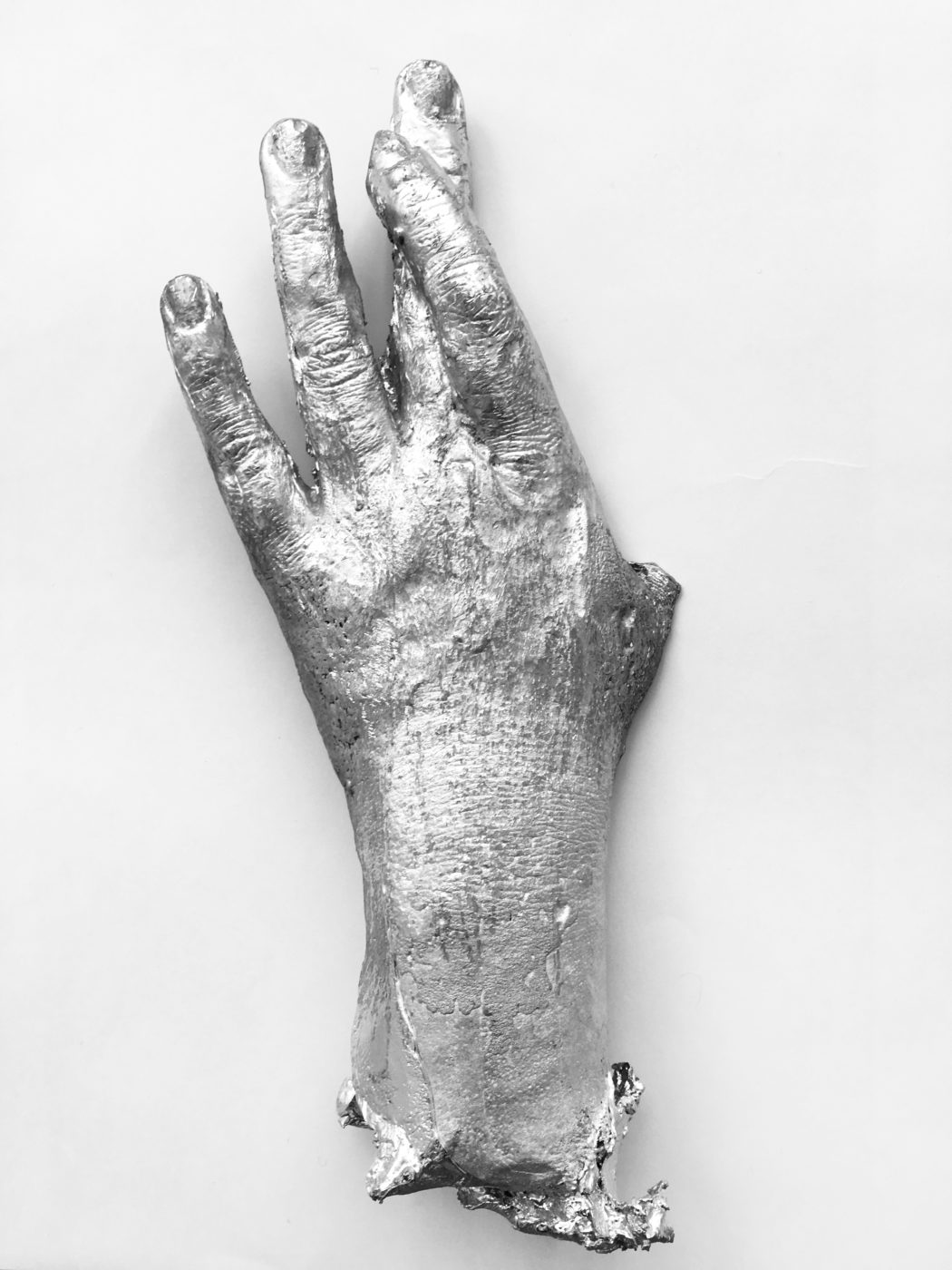 Midas Touch 2018 Tin Zinn 11 x 5 x 2 in 28 x 12 x 4 cm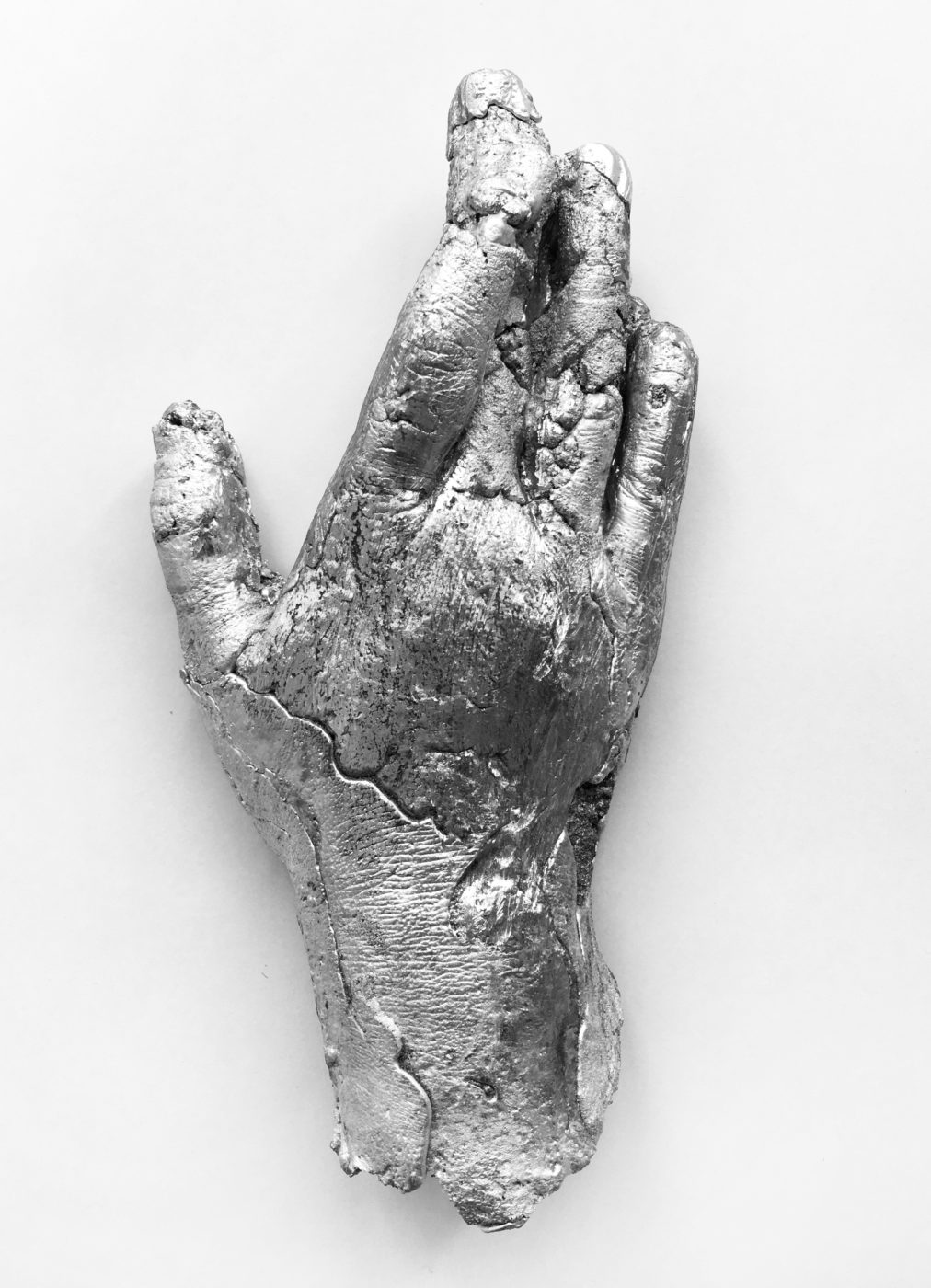 Tender Luck 2018 Tin Zinn 9.5 x 5 x 2 in 24 x 12 x 5 cm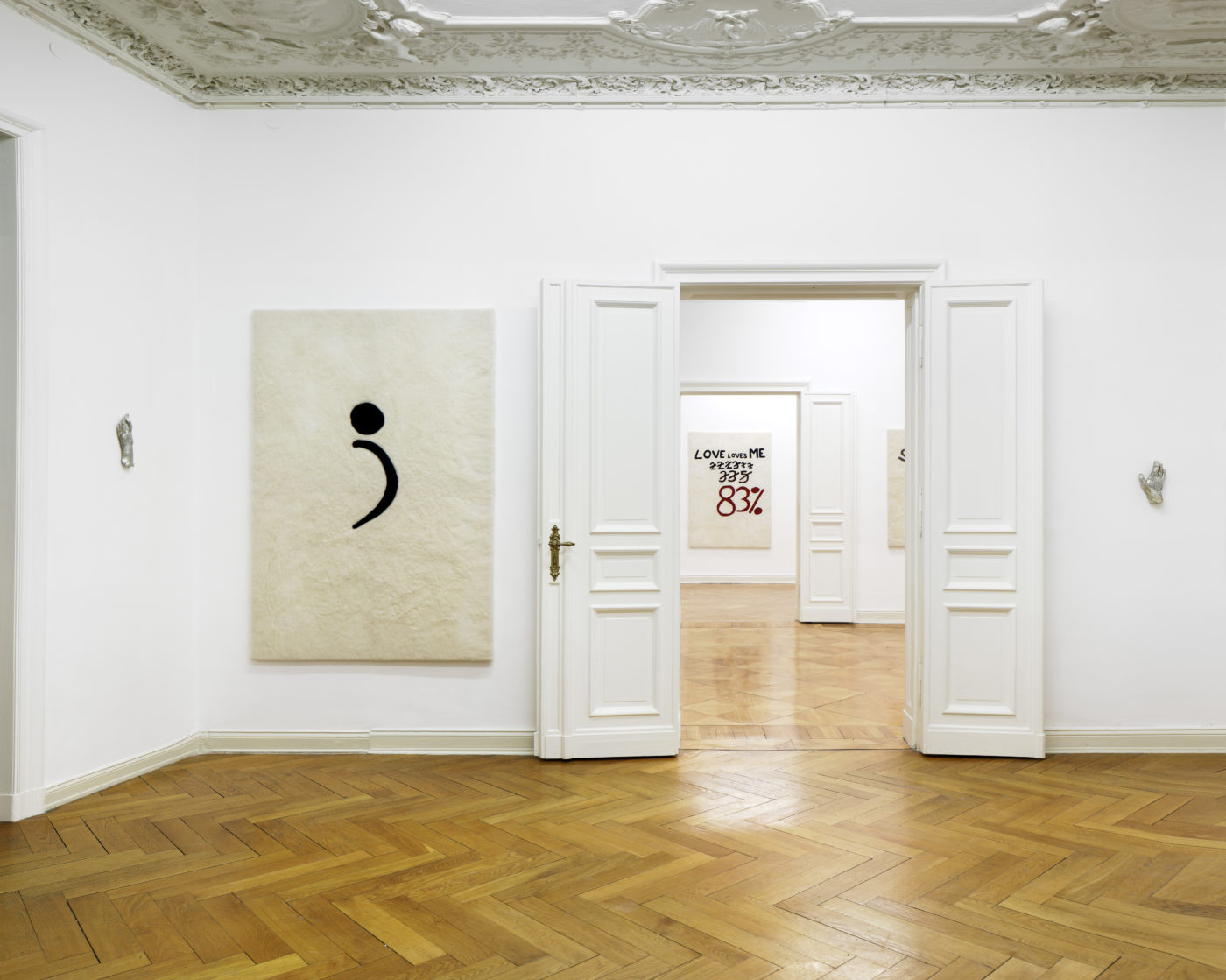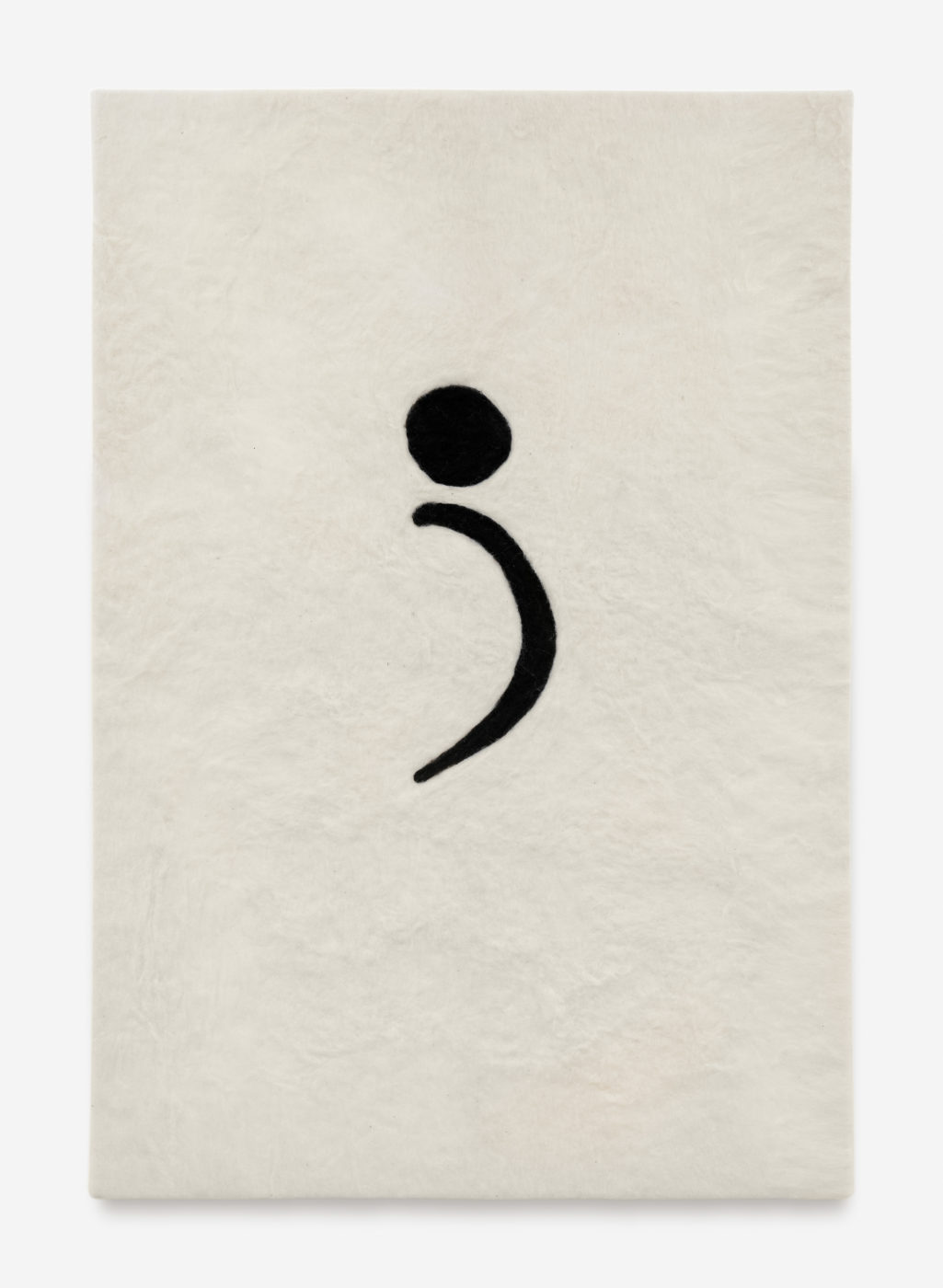 ; 2018 Hand dyed sheep's wool, textile interfacing Handgefärbte Schafswolle, Textilvlies 75 x 51 in1 190 x 130 cm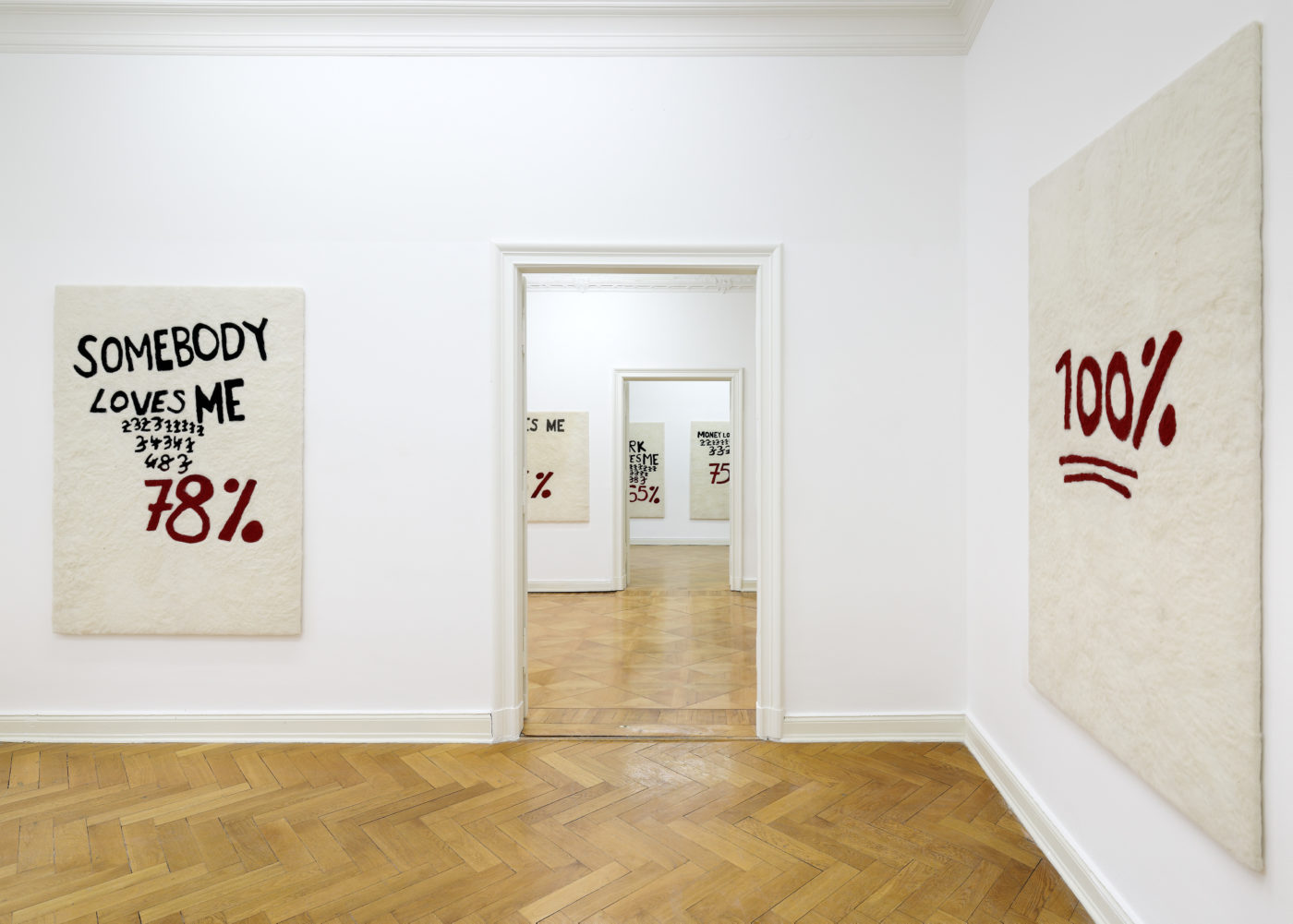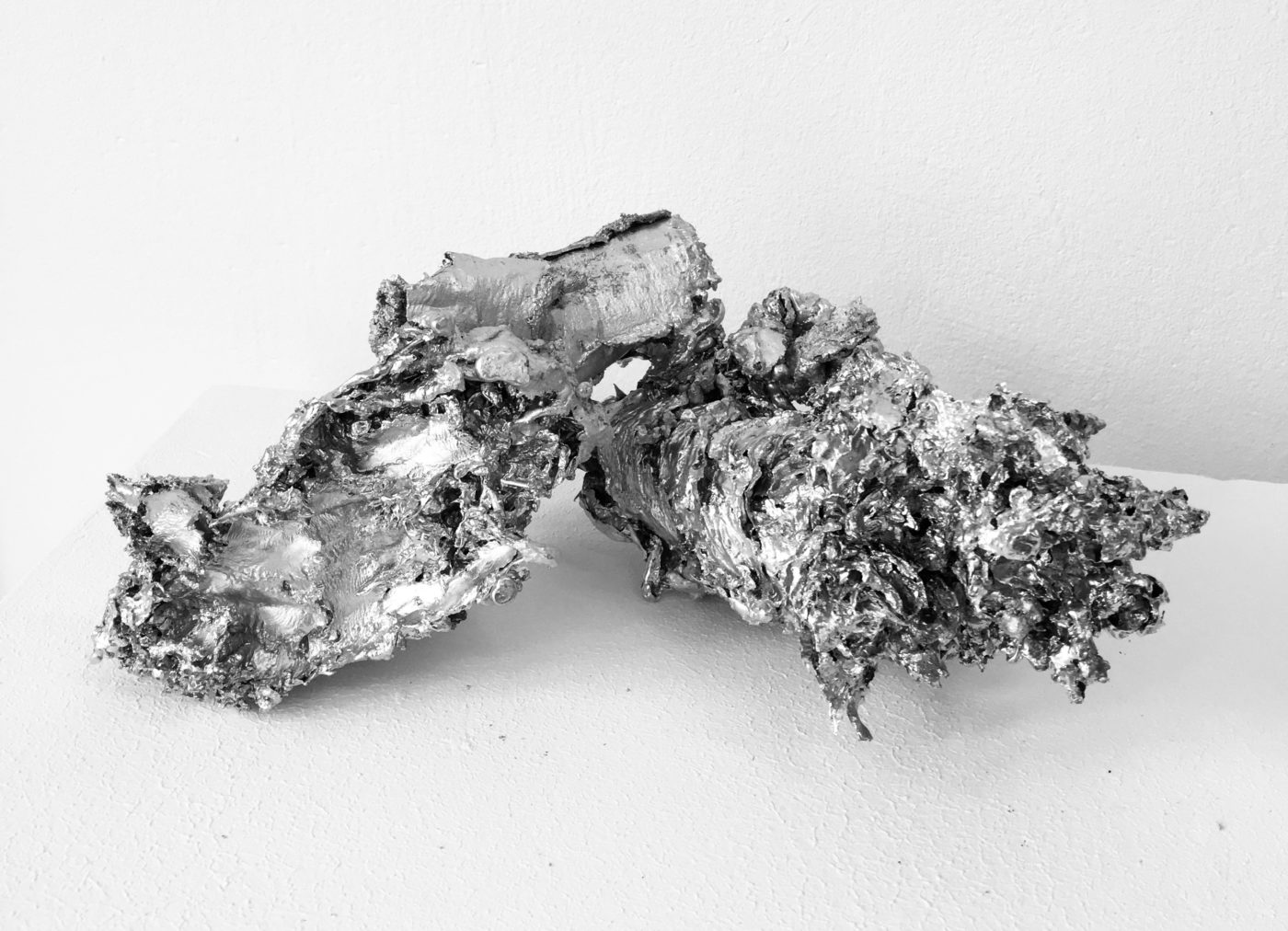 Inner Turmoil 2018 Tin Zinn 12.5 x 8 x 5.5 in 32 x 21 x 14 cm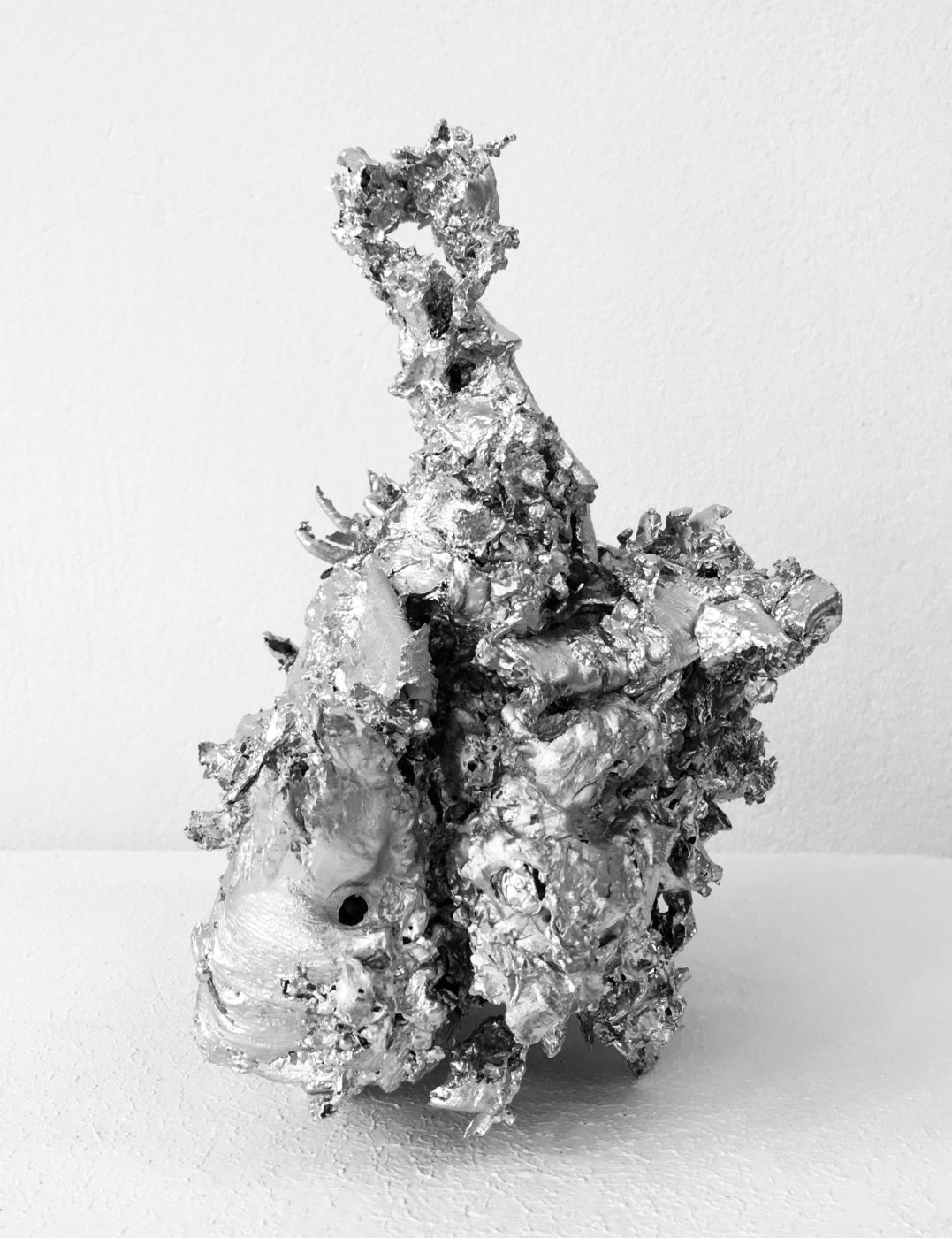 Vermillion 2018 Tin Zinn 8 x 6.5 x 7.5 in 20 x 16 x 19 cm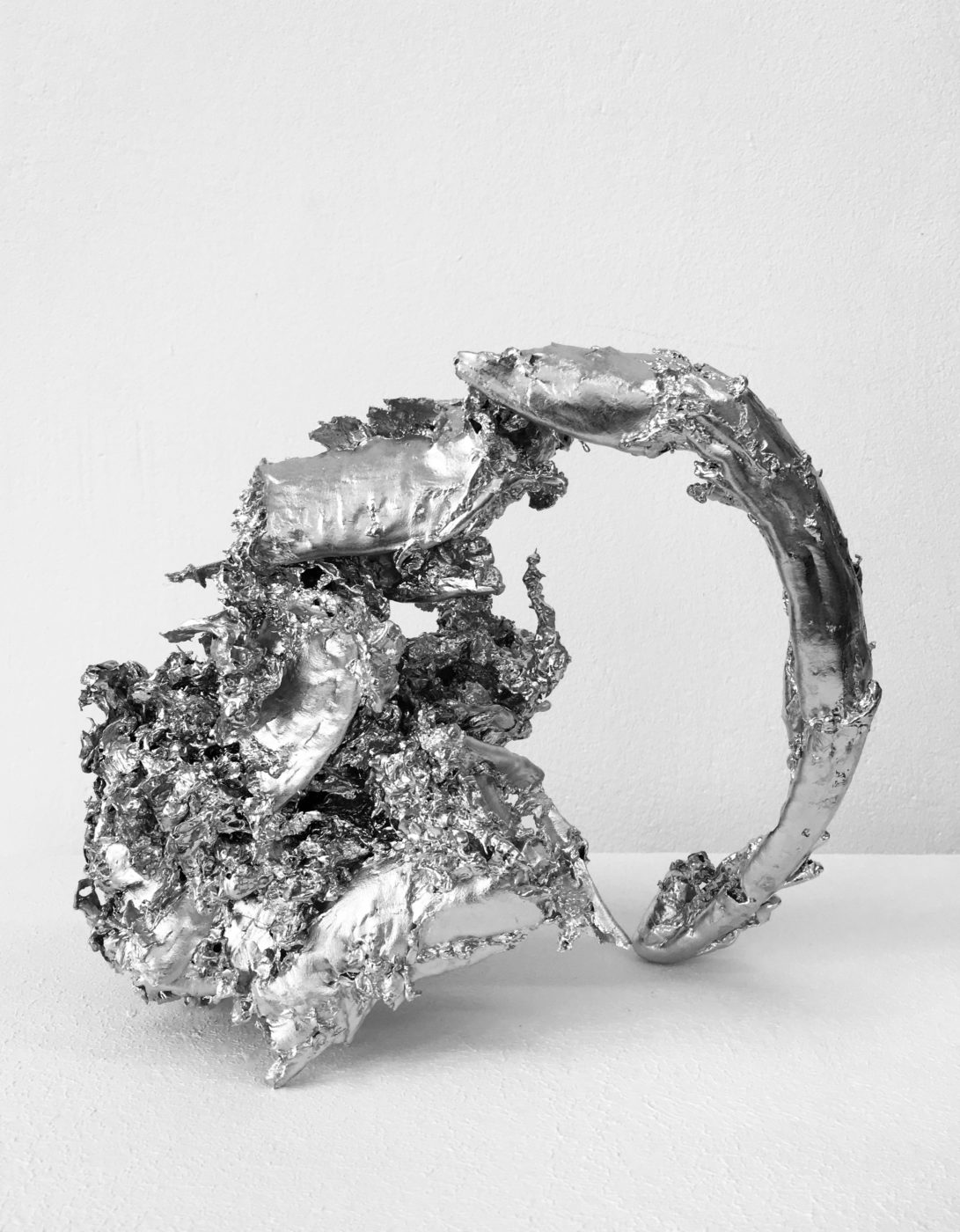 Snake Eating 2018 Tin Zinn 11 x 5.5 x 10 in 28 x 14 x 25 cm
Jealous Starfish 2018 Tin Zinn 9 x 9.5 x 10 in 23 x 24 x 25 cm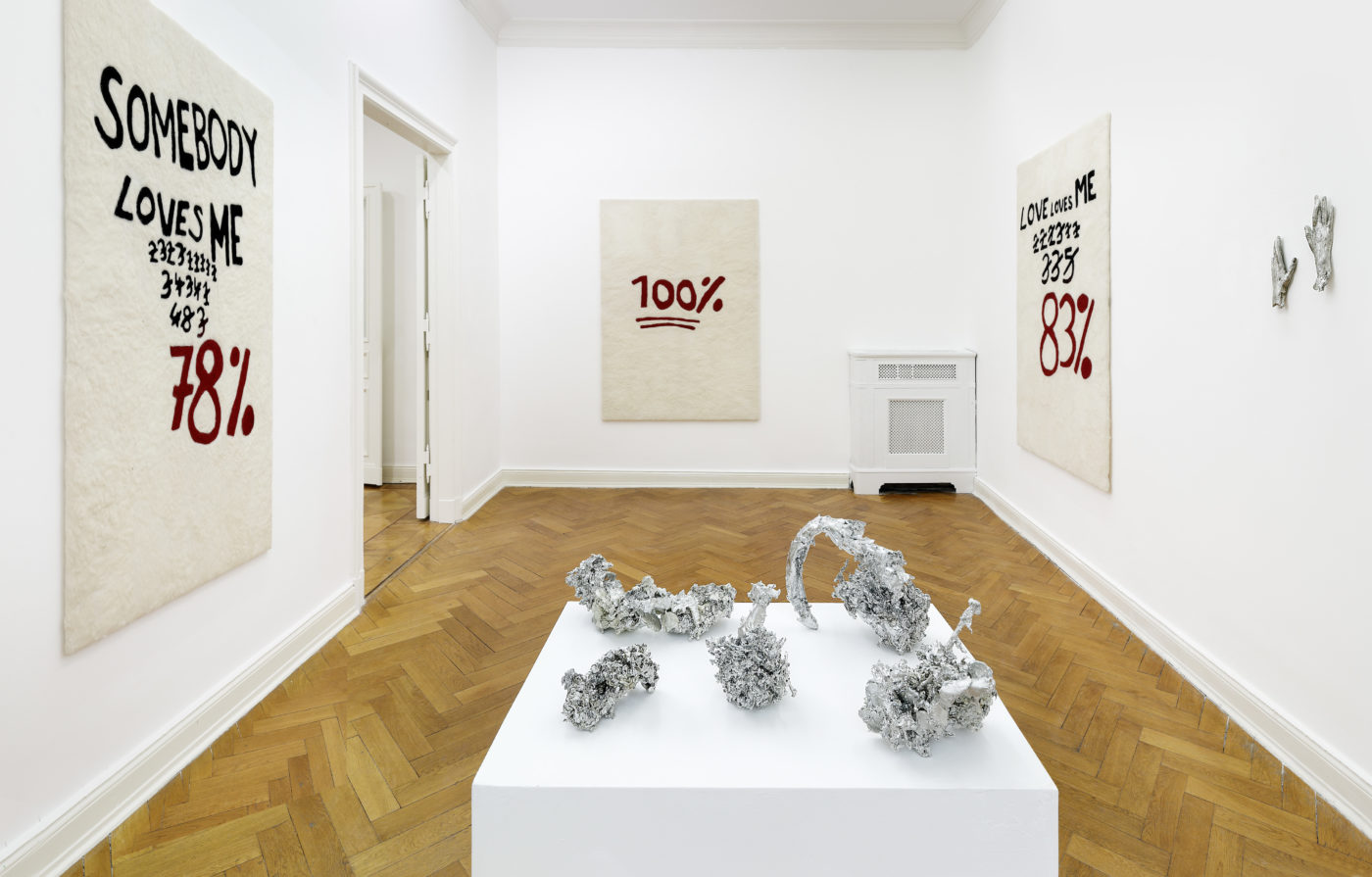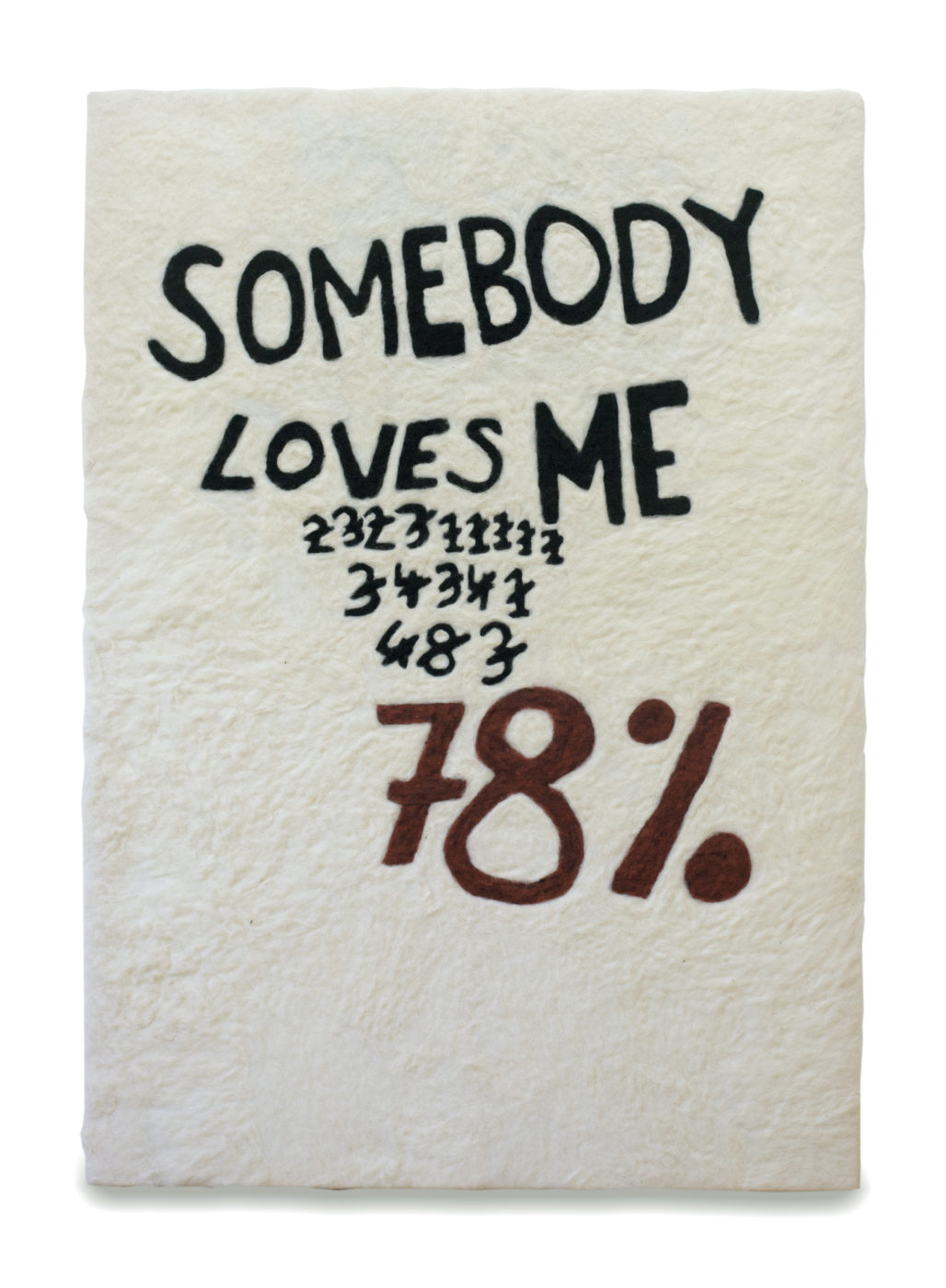 Does Somebody Love Me? 2018 Hand dyed sheep's wool, textile interfacing Handgefärbte Schafswolle, Textilvlies 75 x 51 in 190 x 130 cm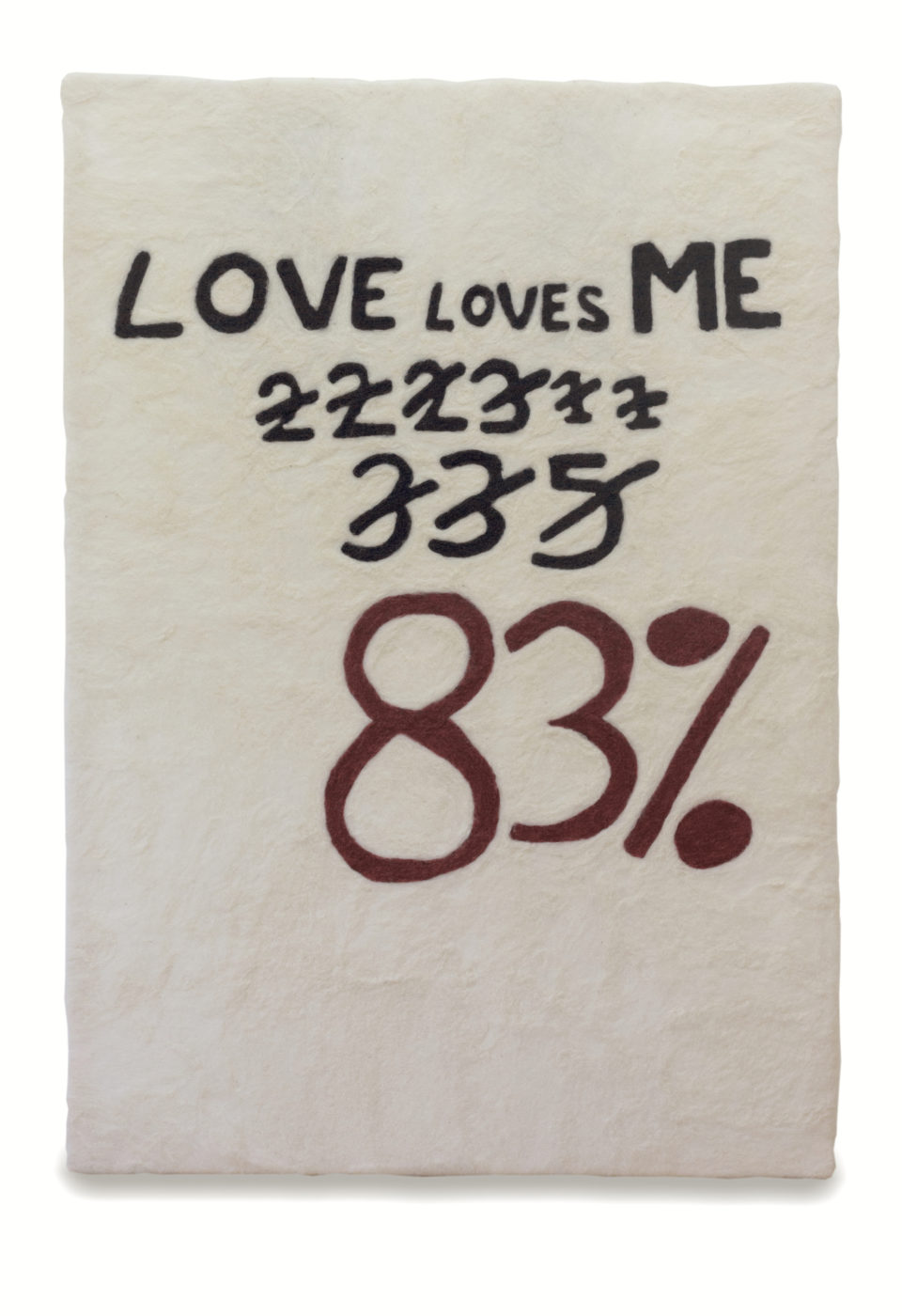 Does Love Love Me? 2018 Hand dyed sheep's wool, textile interfacing Handgefärbte Schafswolle, Textilvlies 75 x 51 in 190 x 130 cm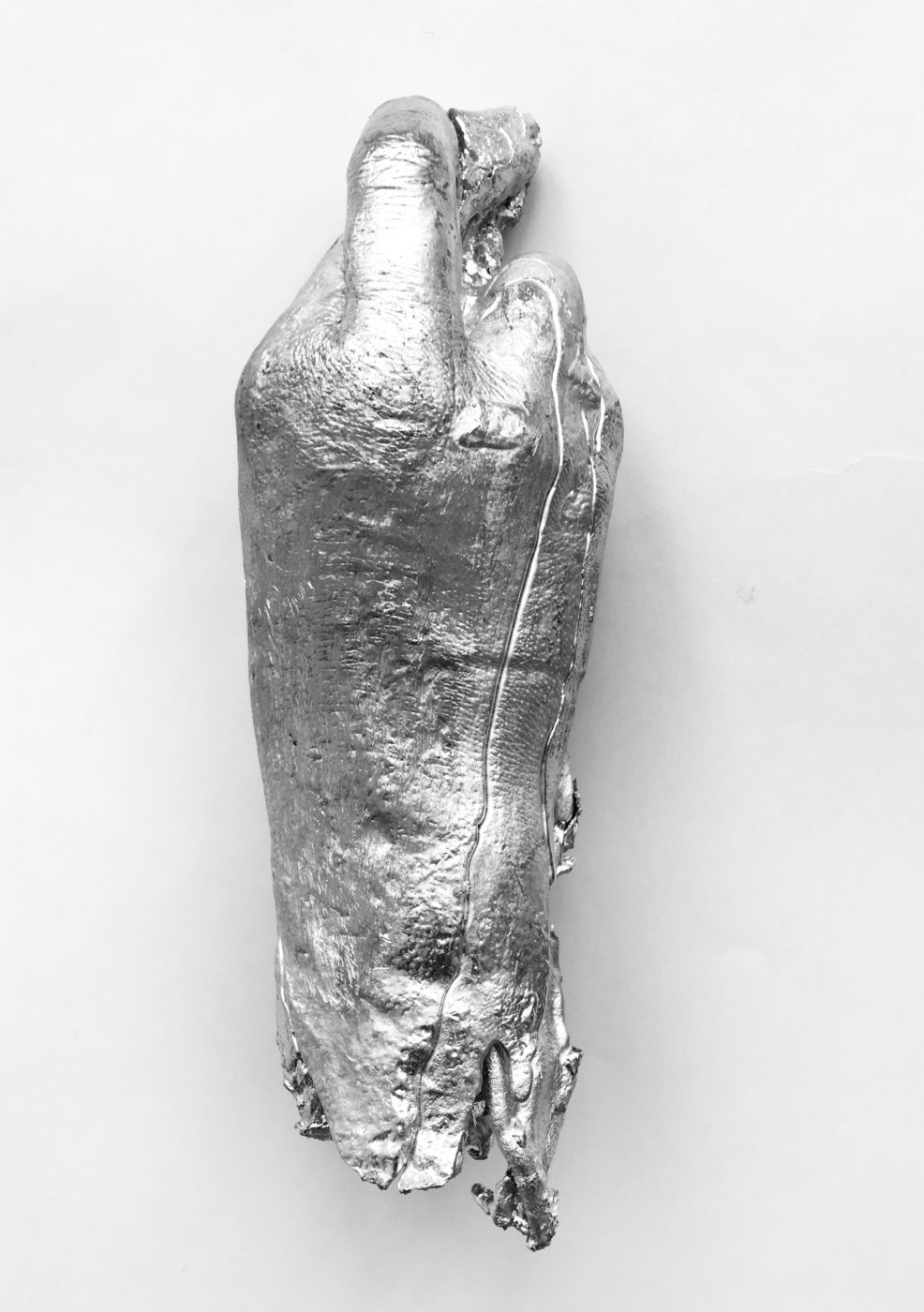 Lucky Strike 2018 Tin Zinn 9 x 4 x 2.5 in 23 x 10 x 6 cm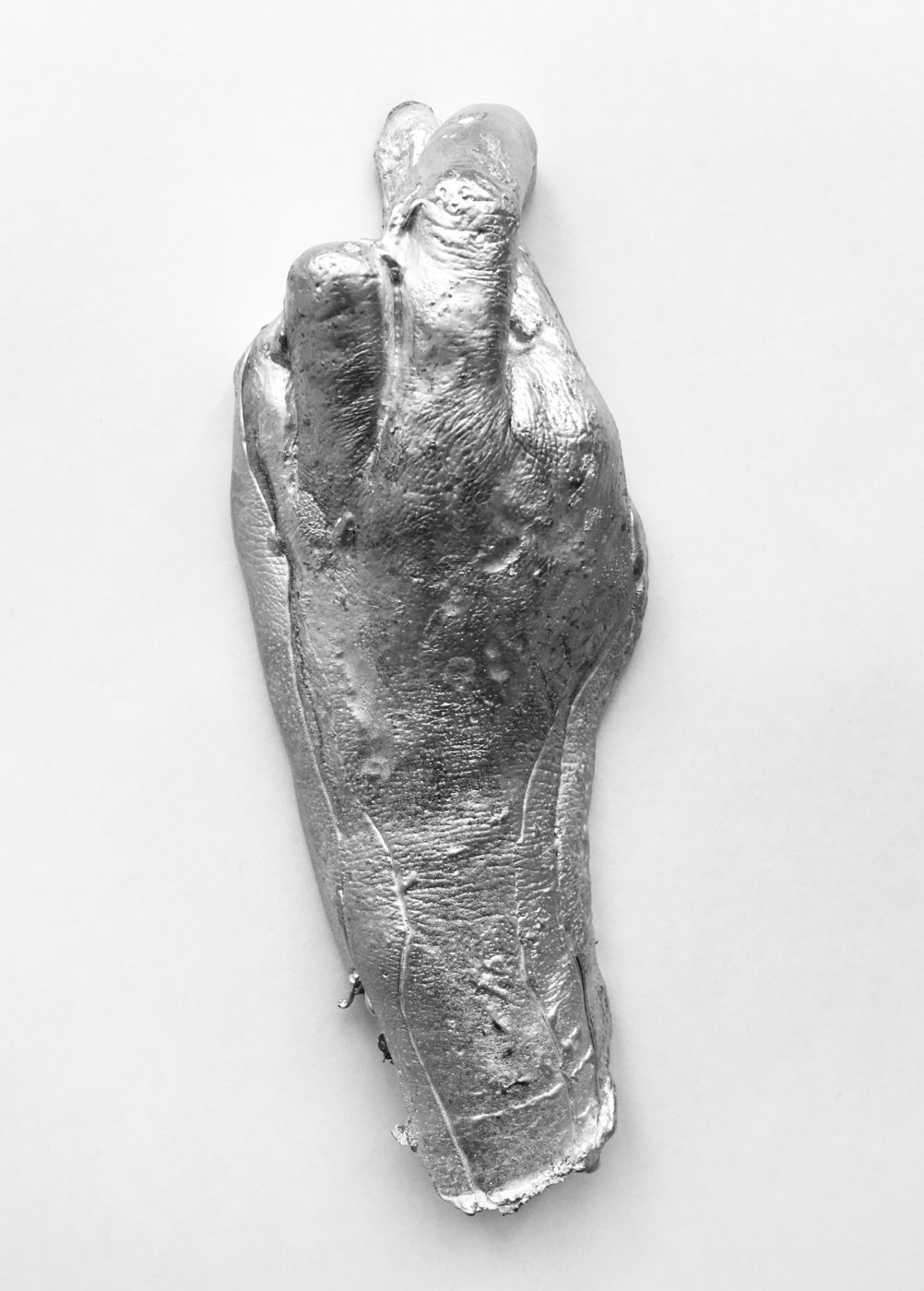 Good Luck 2018 Tin Zinn 9.5 x 3.5 x 2.5 in 24 x 9 x 6 cm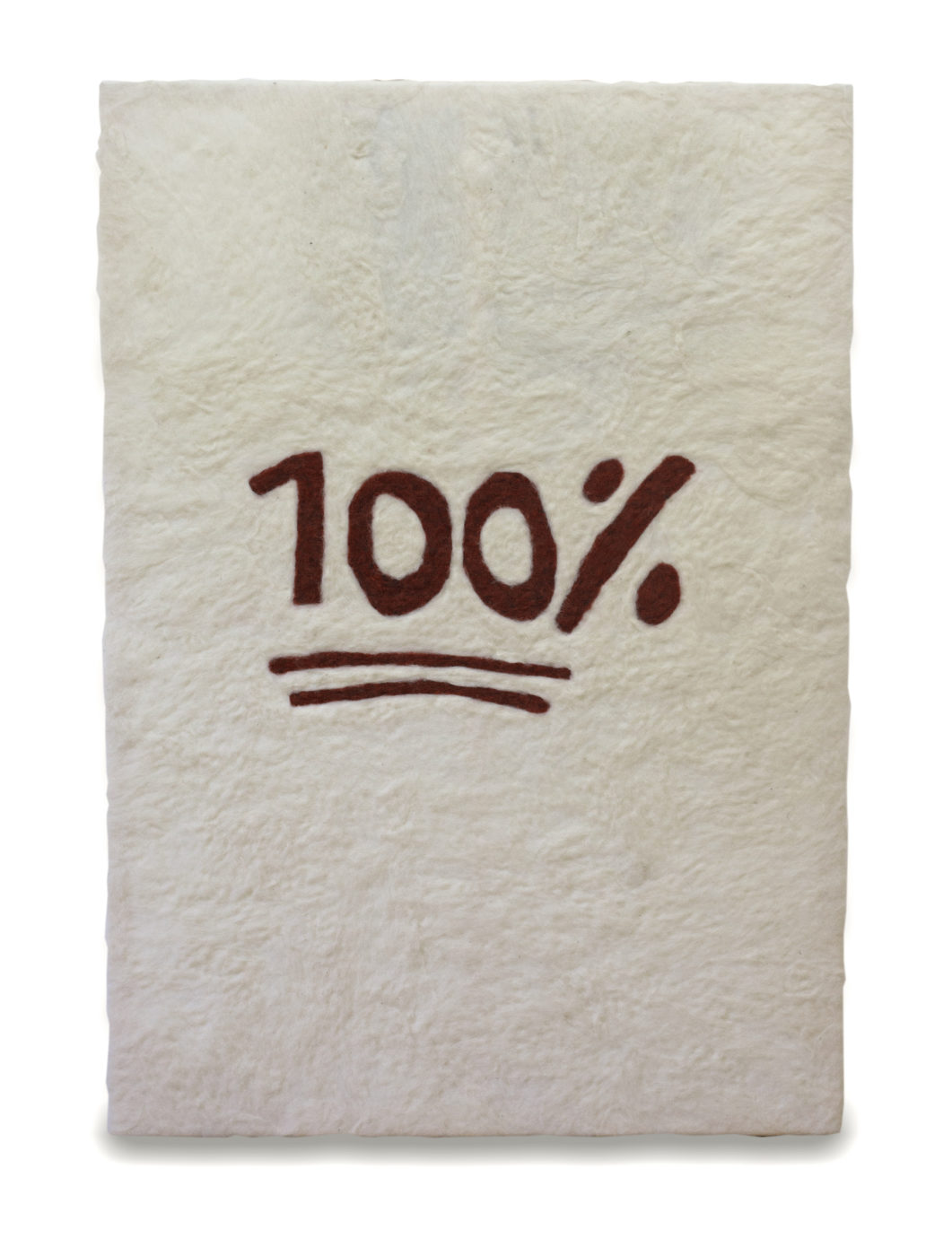 100% 2018 Hand dyed sheep's wool, textile interfacing Handgefärbte Schafswolle, Textilvlies 75 x 51 in 130 x 185 cm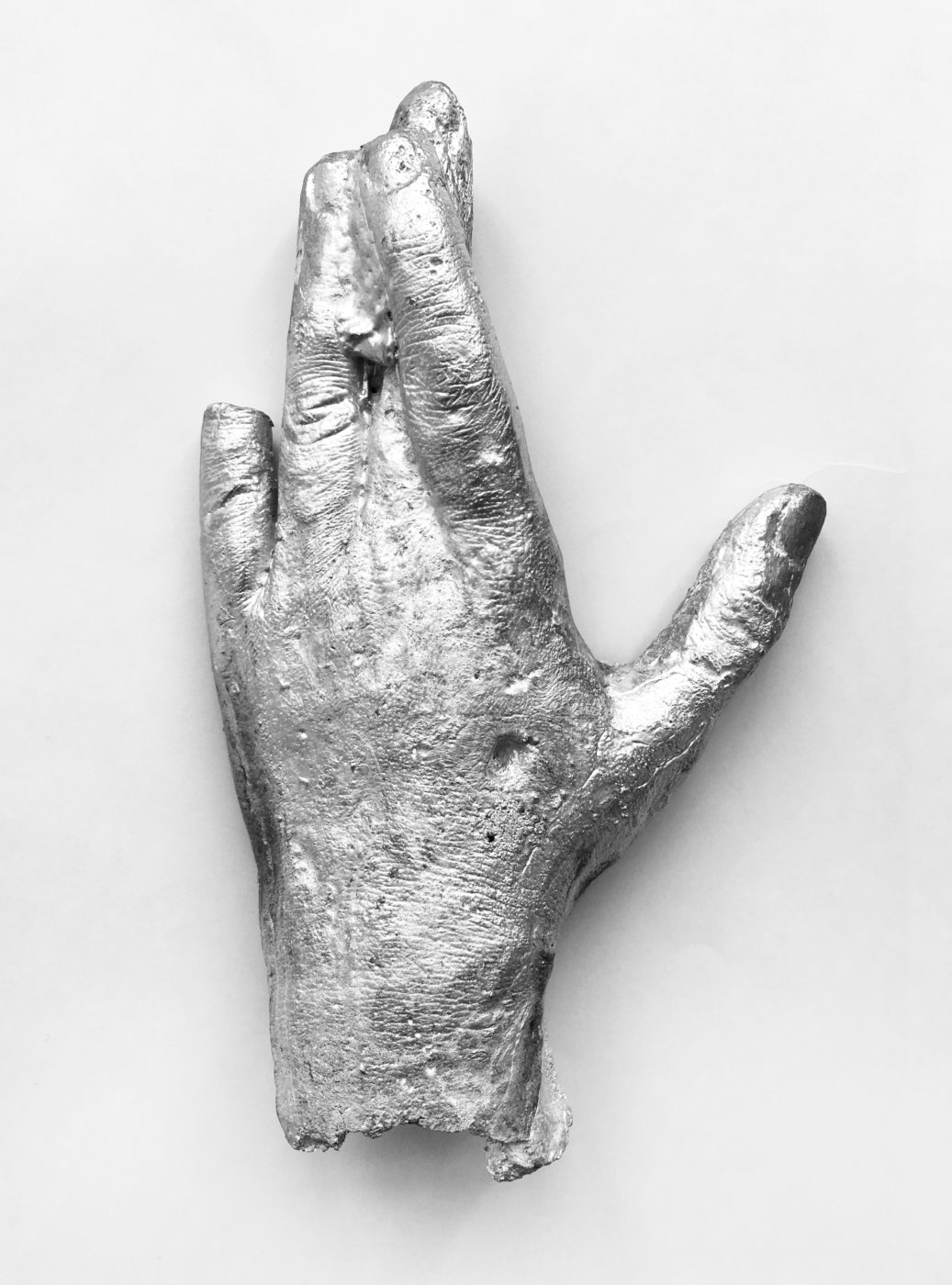 I'm with you 2018 Tin Zinn 8.5 x 6 x 1.5 in 21 x 15 x 3 cm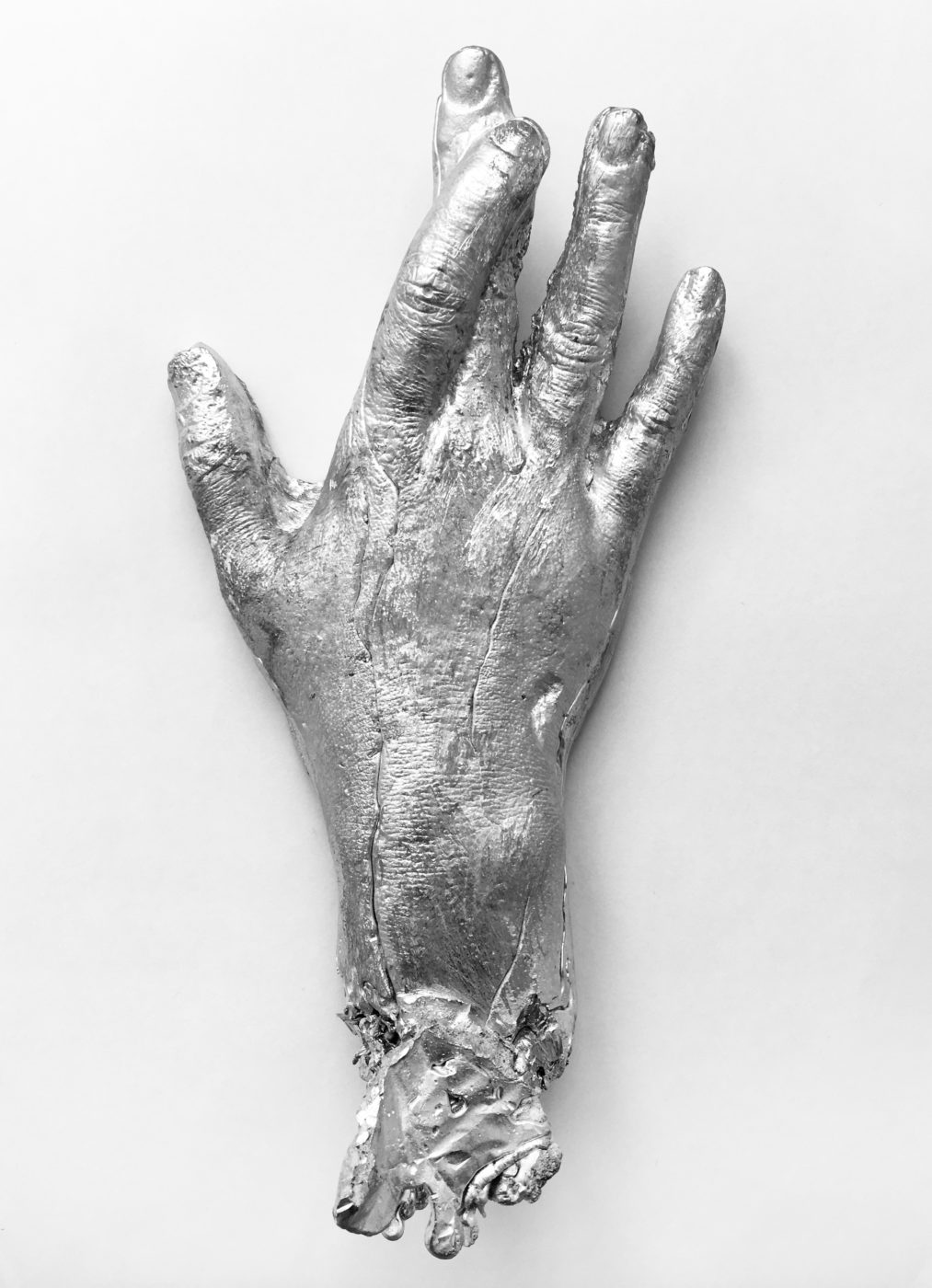 Fluke 2018 Tin Zinn 10.5 x 4.5 x 2 in 27 x 11 x 4 cm